The lowest price ever! TeraBox is going to launch a super discount promotion during this Black Friday, a one-year premium for ONLY $23.99 (average $1.99/month).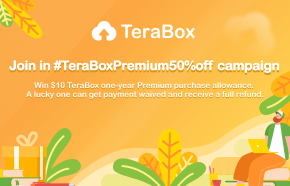 What's more? TeraBox is holding the #TeraBoxPremium50%off campaign on the Official Facebook Page. Users who have purchased a one-year TeraBox Premium will have the chance to receive a Premium purchase allowance. Most excitingly, one lucky user even can get his/her payment waived and receive a full refund. The rules are as follows:
From Nov 22 to Nov 28, all users who have purchased a one-year TeraBox Premium only need to:
1. Take a screenshot of your purchase record for the one-year TeraBox premium.
2. Post the screenshot to your personal Facebook or Twitter account with the hashtag #TeraBoxPremium50%off, and share your experience of using the TeraBox App.
Winners will have the chance to receive a $10 Premium purchase allowance from TeraBox Team. The conditions for winning the prize are as follows: 1. Share the experience of using TeraBox or user feedback; 2. The number of likes, comments, and shares of the post will also affect the winning possibility. A user who shares his/her experience most sincerely can be exempt from the payment for Premium and receive a full refund. Potential winners will also be selected from users who: Follow TeraBox Official Facebook Page, actively share the #TeraBoxPremium50%off campaign through the social media platforms they use, or actively like, share, and comment on related campaign posts.
Follow TeraBox Official Facebook Page here: https://www.facebook.com/TeraBoxofficial
Download TeraBox here:
Don't miss out on this big sale! Get your TeraBox Premium now!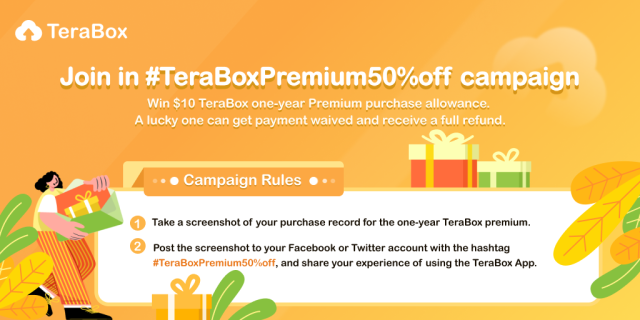 An introduction to TeraBox Premium benefits
The TeraBox Premium has a fantastic memory capacity of 2TB (2048 GB) and is provided in an amazingly cost-effective way. From your portable devices to office computers, TeraBox empowers you with ultra-fast uploads and downloads both through the application and the browser. Once becoming a Premium TeraBoxer, various exciting functions are waiting for you to unlock. As your secure cloud service supplier, the TeraBox premium version can:
Automatically back up your videos at original quality
Provide several multi-speed playback choices when playing videos
Help you get rid of any kind of advertisement
Offer you 2 TB of best-class confidential space
1080P maximum resolution for video playback
Retrieve the deleted files in one month
Maximum file size of 20 GB for uploading (APP&PC)
Generate a Premium badge demonstrating your membership status
PLEASE ALSO BE NOTED
Once the winner/s is announced, he/she is to send a private message to TeraBox Official (@teraboxofficial) Facebook page to claim the prize.
TeraBox admin will also get in touch with you once you have won the rewards. Please leave us a good email for contacting purposes. TeraBox has up to 30 days to deliver the prize to the winner, upon confirmation details of the winner.
If you do not respond within 7 days of being notified, you may forfeit your prize, and admin reserves the right to choose another winner. The judges' decision will be final, and no correspondence will be entered into.
By entering the events, the participants agree to participate in such promotional activity and material as TeraBox deems necessary, within reason.
The prize will not be transferable to another person.
No part of a prize is exchangeable for any other prize.
TeraBox reserves the right to amend these rules at any time. If we amend these rules, we will notify you of the new rules via our Facebook page.
If the competition or promotion is run on Facebook, then it is in no way sponsored, endorsed or administered by, or associated with Facebook. By participating you hereby release and hold harmless Facebook from any liability associated with this promotion.