Cloud storage services like TeraBox have become a crucial part of our digital lives, allowing us to store our valuable photos and videos when local device storage is limited. However, a common question comes up once we've uploaded our files: Can I delete local files after uploading to TeraBox?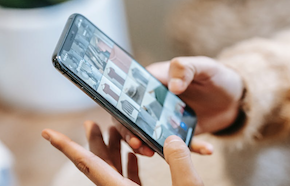 In this article, we'll look into this question that people often ask and give you all the information you need to make a good choice. So, read on to find out if you can safely delete your local files after uploading them to TeraBox, as well as what files can be stored in TeraBox cloud storage.
Can I Delete Local Files After Uploading to TeraBox?
Of course, yes.
Many users wonder if deleting local files means that they will lose their data forever. However, this is not the case when it comes to TeraBox. Once you upload your files to TeraBox, you can delete them from your local storage. The files will still be available on TeraBox, and you can access them whenever you want. In simple terms, the 1TB of free cloud storage that TeraBox offers serves as a backup for your pictures and videos.
Moreover, TeraBox ensures that your data is safe and secure. Except for obtaining three ISO certifications (ISO 27001, ISO 27018, and ISO 27701), it uses advanced encryption techniques to protect your files from unauthorized access. TeraBox also provides two-factor authentication, which adds an extra layer of security to your account. This means that even if someone gains access to your account, they will not be able to access your files without your permission.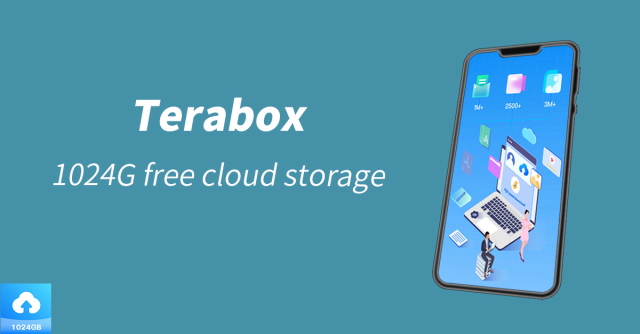 So, feel free to delete your local copies of the files because deleting your local files does not pose a risk of losing your data. The files you save in TeraBox are always available as long as your account is in good standing unless you choose to delete them from your account.
Always double-check that you do not need a file before removing it from TeraBox cloud storage service. Otherwise, you'll get one shot at getting them back. Deleted files from TeraBox will be kept in the Recycle Bin for 10 days (or 30 days for premium users).
What If I Want These Deleted Files Back?
Deleting local files can be a great way to free up space on your device. However, sometimes we may accidentally delete files that we need, or we may change our minds and want those files back. Fortunately, there are a few ways to recover deleted files from your phone.
Method 1: Recover from your recycle bin on your phone.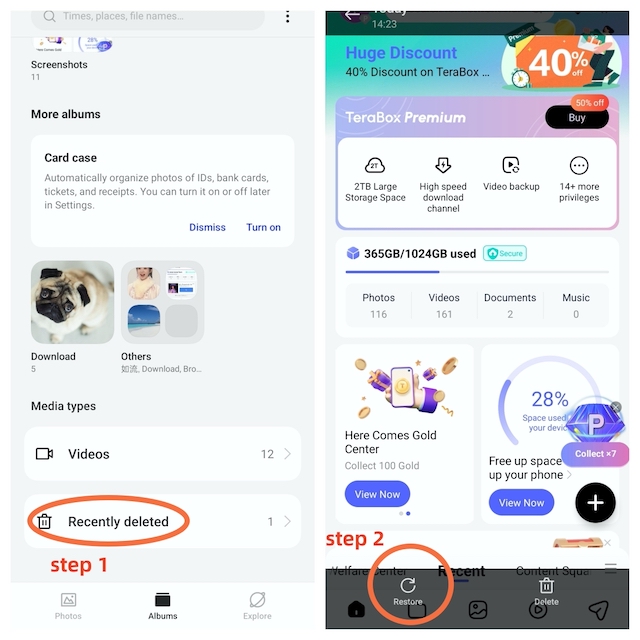 In general, all mobile phones come with a built-in recycle bin function (sometimes called "Recently Deleted") that can help temporarily store recently deleted photos. Some phones save deleted photos for a buffer period of 15 or 30 days after they are deleted. You can usually find the recycle bin function in the settings after entering the photo gallery, or you can create a separate "Recently Deleted" album list directly in the gallery app. To get back photos you accidentally deleted, open the recycle bin or "Recently Deleted" album and choose the photos you want to restore.
Method 2: Download them again from TeraBox cloud storage.
TeraBox is there for you if you can't retrieve the files that you accidentally erased on your device. TeraBox provides a simple and user-friendly interface that makes it easy to locate and download your deleted files. All you need to do is log into your TeraBox account and look for the files you want to recover. Once you find them, you can simply download them to your device or save them to another location on your cloud storage.
Here is a step-by-step guide to backing up and restoring photographs from TeraBox:
Backing Up:
Access TeraBox either through a web browser or the mobile app and log in.

Hit the "Upload" button to create a backup.

Select the file(s) or folder(s) to be backed up.

Once the file(s) is uploaded, it can be accessed at any time.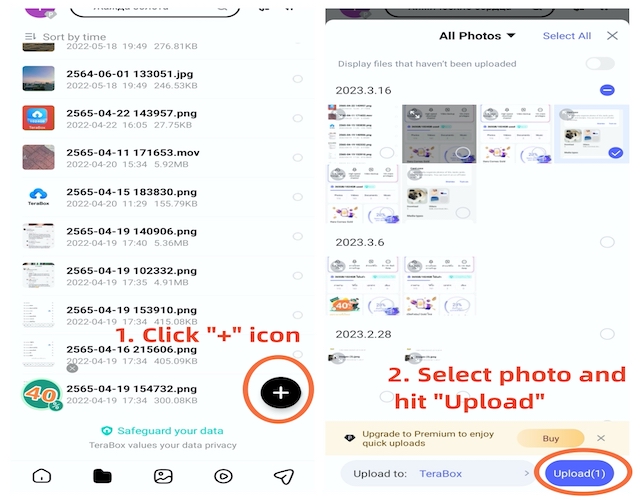 To prevent accidental deletion of important files, it's always a good idea to back up your files regularly to TeraBox. For your good, you could enable the automatic backup feature, which ensures that your important files and data are regularly backed up without the need for manual intervention. 
Restoring:
Log in to TeraBox from any device.

Navigate to the folder containing the desired file.

Select the file you want to restore.

Click on the "Download" button.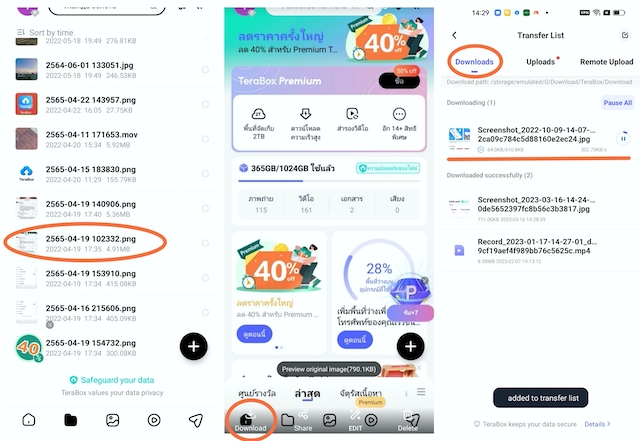 If you have already deleted the file from TeraBox, you can find it in the Recycle Bin of TeraBox. However, as previously mentioned, these files will also be deleted eventually. I suggest that you upgrade to the premium plan so that your files can be stored for a longer period.
But if you deleted files from TeraBox and emptied the recycle bin, those files may be permanently deleted from the cloud storage service. Since Terabox provides 1024 GB of free cloud storage, you can securely store your files in TeraBox until you're certain that you no longer need them.
What Types of Files Can Be Stored in TeraBox Cloud Storage?
In addition to photos and videos, what other types of files can be stored in TeraBox?
TeraBox cloud storage lets users store different kinds of files, such as documents, images, videos, music, archives, and so on. Essentially, any file format that can be stored on a computer can be stored on TeraBox.
Documents

: Word documents, Excel spreadsheets, PDF files, presentations, and other text-based files.

Images

: JPEG, PNG, WEBP, HEIC, and other image file formats.

Audio files

: MP3, WAV, AAC, and other audio file formats.

Video files

: MP4, AVI, 3GP, and other video file formats.

Archives

: ZIP, RAR, 7Z, and other archive file formats.

Backup files

: Disk images, system backups, and other backup file formats.

Application files

: Setup files, executable files, and other application file formats.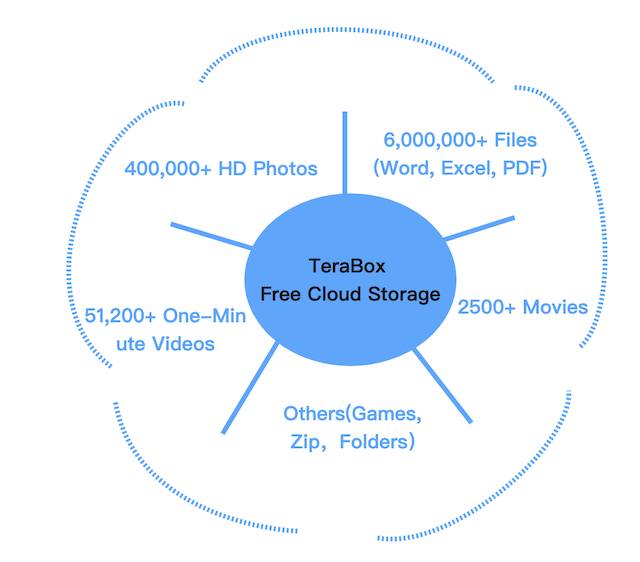 With 1TB of free cloud storage, you'll likely find all the space you need for your data. If the free plan doesn't meet your needs, you can always upgrade to TeraBox Premium to get more storage space and access to more features.
Final Thoughts
We hope that this article has answered any questions or concerns you may have had about using TeraBox as a backup solution and given you more information about its real value in everyday life. It doesn't matter whether you merely want to record every minute of life or if you're a big fan of idols, TeraBox will be your greatest partner to keep your moments alive and well.
So, if you're looking for a reliable and secure cloud storage service, it's never too late to try out TeraBox. Don't wait any longer; download TeraBox today and start backing up your files with ease.