Storing videos is like organizing a one-room studio apartment; you've got to make every inch of video storage space count. Because let's admit it, storage costs a fortune. And as a content creator, you also need to factor in features, security, and whatnot.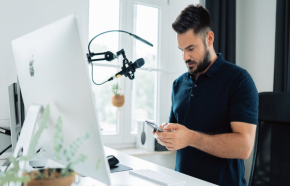 To help you avoid searching around aimlessly, we created this list of best video storage solutions, along with their pros and cons and pricing, just for you.
Why Should You Upload Video to Cloud?
One obvious reason is accessibility. Cloud-based video storage gives you access to your videos wherever you are, as long as you have WIFI. Therefore, you should go for video storage apps that work on as many devices as possible.
Another benefit is security. Local devices or drives can be lost, stolen, or damaged, resulting in the permanent loss of important videos. It's never too late to upload videos to a reliable cloud platform. The best video cloud storage provides automatic video backup.
Last but not least, storing videos in cloud storage can free up space on your local devices. High-resolution videos eat up space faster than you imagine; a 30-minute video in 1080P takes up 700MB, and in 4K, a daunting 10GB. Fortunately, large-capacity free cloud storage is actually available, along with some economical paid plans.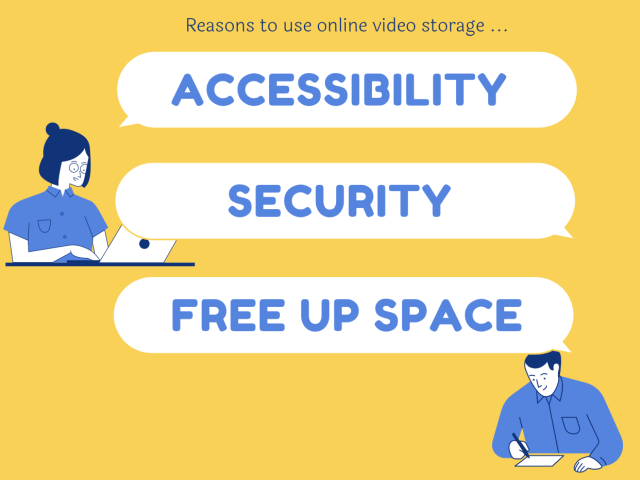 Top 5 Video Cloud Storage
TeraBox – Affordable Long-Term Video Storage
If you are looking for the best way to store videos long-term, TeraBox is the way to go. It is one of those generous cloud services that offers 1TB of free cloud storage. It can be accessed from PC, Mac, Android, and iOS. You can upload a file as large as 4GB for free at commendable speeds. Other benefits you can get from TeraBox include:
Versatile cloud video player that supports different formats
One-click, secure file sharing with a link
Robust security protection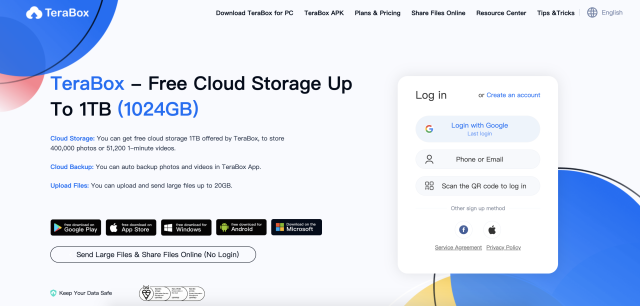 To get 2TB, the price is $3.49/month, or $2.99/month (billed yearly). Meanwhile, you'll also unlock a dozen of advanced features: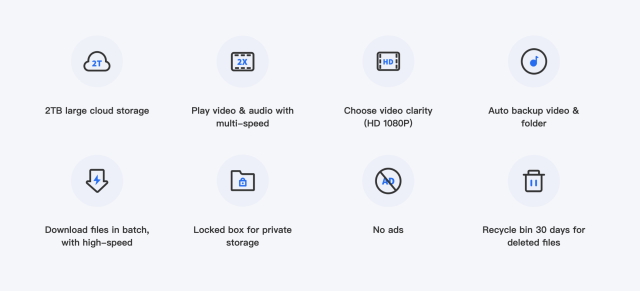 You do have to pay a little money to get automatic video backup, 20GB file upload, and multi-speed playback. Nevertheless, TeraBox is among the most cost-efficient video storage options, free or paid.
Dropbox – Best Collaboration Assistant
Dropbox is another all-platform video storage solution that excels in file syncing and collaboration. When uploading, it goes through existing files in its server to find matching chunks and avoid repeated data, hence greatly speeding up the transfer. It also comes with a built-in media player, as well as easy and secure link sharing.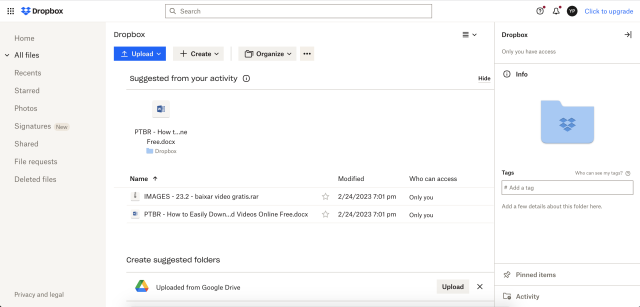 Since it only has 2GB free storage, it may not be the most ideal for storing lots of videos. However, you can gain 500MB for each new user you invite.
For more storage, you need to pay $11.99/month or $119.88/year for 2TB.
OneDrive – User-Friendly Cloud Champ
Similar to Dropbox, Microsoft OneDrive works on mainstream operating systems, but you get the best experience using it on a computer. The desktop app makes access to the cloud storage so easy as if you are storing videos locally. File sharing is made easy with viewing or editing access control.
However, compared with other cloud services, its upload speed is significantly slower. And although its upload limit for each file is a cheering 250GB, it is not of much help unless you buy more storage to add to its free 5GB.
Individual plans come in two options:
100GB for $1.99/month, or $19.99/year
1TB for $6.99/month, or $69.99/year
iCloud – Apple's Favorite
If you work across Apple devices, you might start with this integrated video cloud storage. There's nothing flashy about it, but it knows how to back up photos and videos properly. Once you enable automatic backup on your iPhone or iPad, photos and videos will start syncing immediately, without compromising image quality. Plus, you can access iCloud as a Mac client or on the web.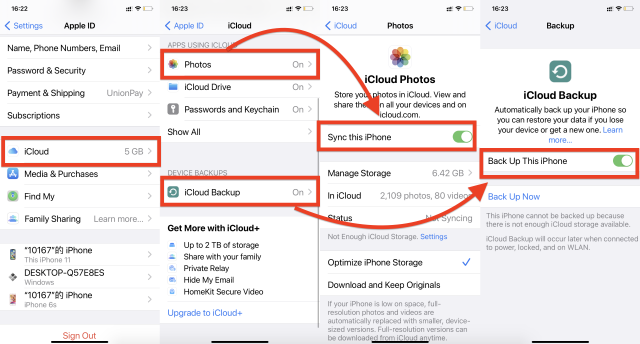 A downside is that you only get 5GB of free storage for backing up an entire phone. Other things like messages and voice memos already consume a fair amount of it, leaving little space for videos.
If you want to upgrade to iCloud+, three tiers are available:
50GB for $0.99/month
200GB for $2.99/month
2TB for $9.99/month
Vimeo – Innovative Video Cloud for Creators
Vimeo has everything related to videos. It is a one-stop-shop video tool adored by artists, creators, marketers, and businesses alike, who want to share works among a wider audience. Videos can be made, played, edited, stored, organized, and shared in the Video Library; you get so much more than just video storage.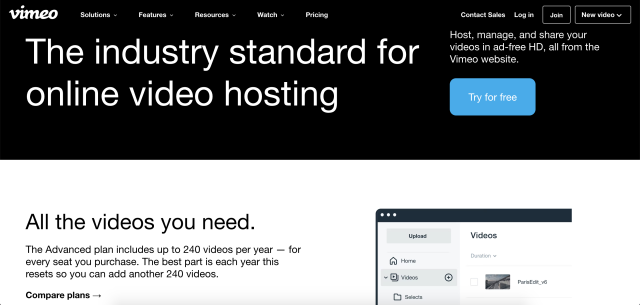 Again, many of these features might go to waste with the free plan, which only allows uploading 2 videos per month and 25 videos in total. Once the cap is reached, you'll have to upgrade to get more video hosting space:
5 videos for $20/month
60 videos for $180/year
120 videos for $360/year
720 videos for $720/year
Final Thoughts
If you are looking for video storage solutions, new and old, our list is a good place to start. TeraBox is the best way to store videos long-term with minimal cost. Whether you need a movie storage app for your Friday nights or a video uploading site for creative work, download TeraBox free today! You won't be sorry.