Online video players come in handy when it comes to playing videos stored in the cloud or third-party servers. We want the best video player to watch online videos, download them, and share them with others. However, there are too many options to choose from, so selecting the one becomes a bit difficult.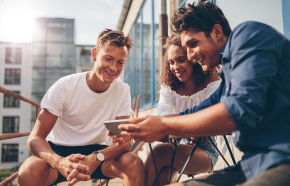 In this article, we will discuss the features of the best online video player and how you can select the one for you. We will also discuss a type of online cloud storage, where you can store your videos safely and play them without downloading them.
What is Online Video Player?
An online video player is basically a web application. It is stored on a server or cloud and offers you the services from there. You can access it through the given link and use it to play your videos. As the application is stored on the web, there is no need to download or install it. All you need is an internet connection.
Online video players have solved many problems. With these players, you can easily play video online without downloading them. A successful example is the OTT platforms, such as Netflix, where people directly watch videos.
There are many benefits to online video players. Different video players have different features. For example, some online video players allow you to share videos. You can share the video with anyone. You can directly play the videos hosted on different websites by using the video link. It makes video playing and downloading a lot easier for users.
A downside with many online video players is that it creates various issues when you don't have a stable internet connection. For instance, if your internet is not working or the speed is too slow, you will experience a lag in the video playback. Plus, when you do not have the internet, you cannot use the video player.
Key Features to Look for in an Online Video Player
There are various online video players available, and all of them have distinct features and pros & cons. While choosing an online video player from the internet, you need to look for some key features to help you choose the best video player easily.
Basic Playback Options
All video players have basic playback options, which means you can play/pause, sneak in time, and do other things. This is basic, but you need to check whether these basic playback options have some advanced features and options, so that your video watching experience can be optimal.
For instance, some video players have the option to forward and backward the video for 10 seconds. It helps in watching the video and repeating the desired scene. Some video players have keyboard shortcut keys associated with these basic playback options to control the video with ease.
Moreover, you will also find that some video players remember the instant when you left watching the video or closed the video. Therefore, when you start again, the video starts from there. These extra features enhance the basic playback options. You need to check these things by using the video player.
Drive Space
Some online video players also offer you cloud storage, where you can store your videos in the cloud and easily share them with others. Due to this storage space, you can save videos and play them online whenever you want, without having to find or locate the available sources desperately. Some video players even offer unlimited online drive space, so that you can save tons of videos online.
In addition, some online videos players that comes with cloud storage also allow users to download videos to their devices. This means you can actually watch those videos without internet connection, and that solves a big problem.
Video Quality and Format
Video quality is very important for the user. Every video player has the capability of playing different types of video quality. The player that you are going to select should play high-definition video without any lag or stuttering. If it allows you to change the video quality, it would be an additional benefit.
Secondly, you need to check what type of videos the video player can play. You need to check the supported video and audio formats. Some online video players can only play the commonly used formats, such as MP4 and MOV. Therefore, you need to ensure that your video player can play most of the video formats available.
Speed Control
Speed control is not available in all online video players, but it's a good-to-have feature.
Sometimes, when you want to slow down the video to listen to the soundtrack or see the images more clearly, this feature is quite helpful. You might also want to skip some scenes of the video at high speed, so keeping the speed to 2X is a better option.
Therefore, it is better to have the speed control option on the video. You can adjust the speed according to your needs.
Playlists
Playlists help you add the desired videos together so that you can toggle between them easily. You can use this feature when you are watching episodes or series of dramas, movies, etc. You can switch to the desired video with one click.
Usually, you won't find this feature in most online video players.
Sharing Options
Binging the hottest dramas and movies is fun, but what's even more fun is that we share them with friends. Therefore, it would be a great plus if the video player we use also have a video sharing option, not only sharing the web page, but also sharing the clip that others can actually open and watch. Luckily, some online video players have the option of sharing videos in the form of a link or through email.
Why is TeraBox the Best Video Player?
TeraBox is the best video player because of the extraordinary features that it offers. You won't find these exceptional features in other online video players.
Firstly, TeraBox offers 1TB of free storage where you can store videos, photos, documents, or whatever you want. With that being said, you can store your videos and easily watch them whenever you want. In this free storage, you can store 51,200 one-minute videos or 250 movies. Plus, you can also upgrade storage for free to 3TB, so you can get more space for your data.
The online video player allows you to play the videos stored in the cloud. You do not need to download the videos. Therefore, you can save space on your computer and smartphone and play video online directly from the cloud. You can access the stored videos from your Android, Mac, PC, and iPhone.
The video player has all the basic playback options and advanced features. You can also use the keyboard shortcuts. Along with the common forward and backward options, you can use the 10 seconds forward and backward feature to easily control the timeline. Most importantly, you have default and history playlists to toggle around the videos.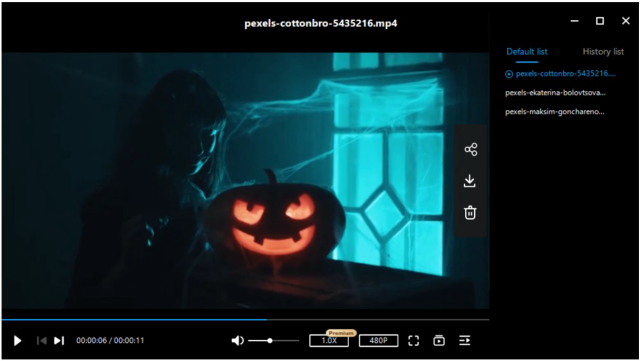 The most important thing is that it supports HD video, so you get the best quality and most immersive video experience. Plus, you can also adjust the video quality as per your liking. Your videos run smoothly, without any lag or stuttering.
There is also speed control on the video player. You can adjust the speed at 0.75, 1, 1.25, 1.50, and 2.0X. You have complete control over the speed.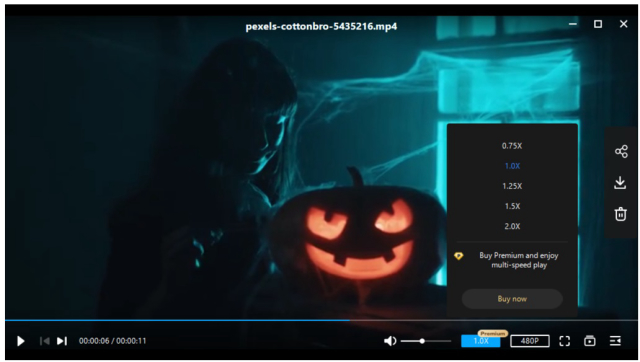 TeraBox is also an online video downloader. You can download the video from third-party servers through its link. There is a dedicated remote upload feature in which you can paste the link. It downloads the video and saves it to the cloud. Most importantly, it can download .torrent BT files through the BT task. You can also download Facebook videos, Instagram videos or any type of video from the internet through a link. Once the video is saved to the cloud, you can also download it to the device.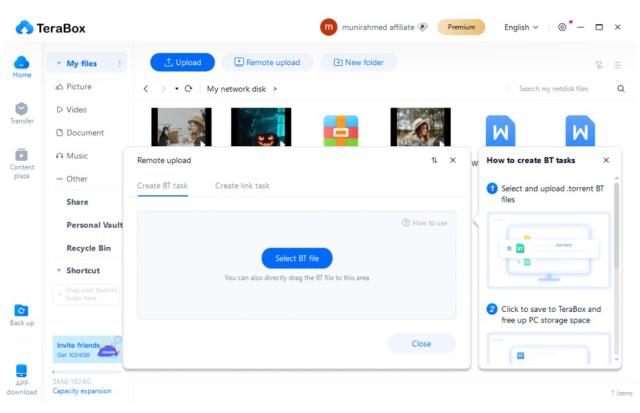 With TeraBox, you can share videos or any other file without any hassle. The video stored in the cloud can be shared with anyone. It supports large file sharing of up to 20GB. So, you can even share hours of videos in no time. The best thing about the file-sharing feature is that you can enter the emails of multiple recipients. Secondly, you can select the expiration date of the link and set a password for additional security.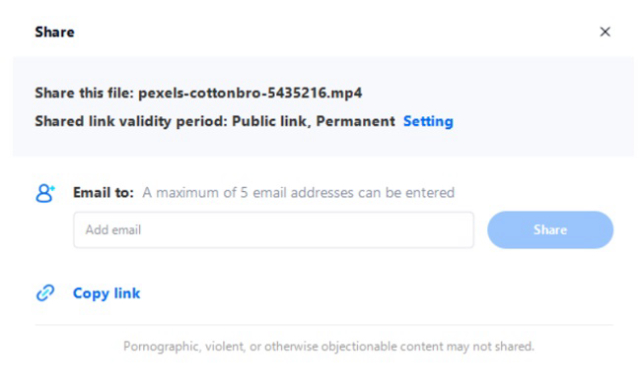 Final Thoughts
Online video players offer some exceptional and advanced features, such as sharing options and cloud storage, so you can easily play your videos online without downloading them. We have discussed the features that you need to look at while selecting an online video player. TeraBox is undoubtedly a splendid option because it offers 1TB of free storage where you can store all your videos and other data. You can download the videos directly to the cloud and share videos without any hassle. It offers an immersive video experience through its high-definition video support.
Download TeraBox free, save your videos in the cloud and watch them online.