Nowadays, you need to use tools that will make your everyday life easier than ever before. Taking advantage of free cloud storage with remote upload will allow you to gain easily gain access to your files from anywhere in the world and on any device.
In this article, you are going to discover the TeraBox remote upload feature that will change the way you back up and share your files.
Why You Need Remote Upload
Remote upload is a feature that anyone will find extremely useful. There is no denying that everyone needs some extra storage space that is not tied with a specific device. This practically means that you won't need to use your device's memory space to save and share your files, regardless of their size.
In more detail, free remote upload allows you to save files directly from the Internet or via torrent to your file management system. You can upload any file into TeraBox by linking it. This way, the next time you see something you need to save it for later, you can just use the upload by link. Once the file is saved on your TeraBox folder, you will gain access to it from all.
TeraBox Remote Upload
TeraBox is a one-of-a-kind application as it offers free cloud storage with remote links upload. In essence, you can use any magnet task link, HTTPS, HTTP, and even a .torrent file to upload any type of data to your TeraBox folder. For this reason, this file management app isn't just a free 1 TB of storage space that you can use, it is also a convenient application that can fit the demands of your everyday life.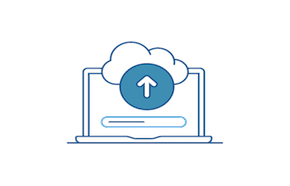 And to top things up, you can take advantage of remote upload with TeraBox as this feature is included in the free plan.
Apart from the remote links upload to TeraBox, there are many other reasons why you need to install this app on your device. First and foremost, it gives you 1TB of free storage space to back up and share all of your files. Namely, to fill this much storage space, you would have to upload roughly 300,000 photos, 2,500 movies, and 6.5 million documents. And if you find that you need more space, you can easily upgrade your plan more affordable than in any other file management tool in the market. It's only $2.99 per month, and there's a 7-day free trial to see if it's right for your needs.
In addition to this, TeraBox is a tool that has invested in protecting the files stored in the cloud as well as its users' personal data. In this day, it is important to be sure that your sensitive information is secure.
A Quick Guide on How to Upload Files Remotely
The TeraBox Remote Upload is a feature with which you upload files from anywhere via a link. This useful tool is essential so that you never lose what piques your interest and you don't want to fill the memory space of your device. The great thing about TeraBox is that it has an intuitive user interface, which you can easily learn how to use.
Step 1: Download TeraBox. You can get the computer application from the TeraBox Official Website or get the Android/iOS version from Google Play or the App Store.
Step 2: Install the app and Log in to your account.
Step 3: Once mobile users see home screen, select 『more』, then locate the button『Remote Upload』 and click on it.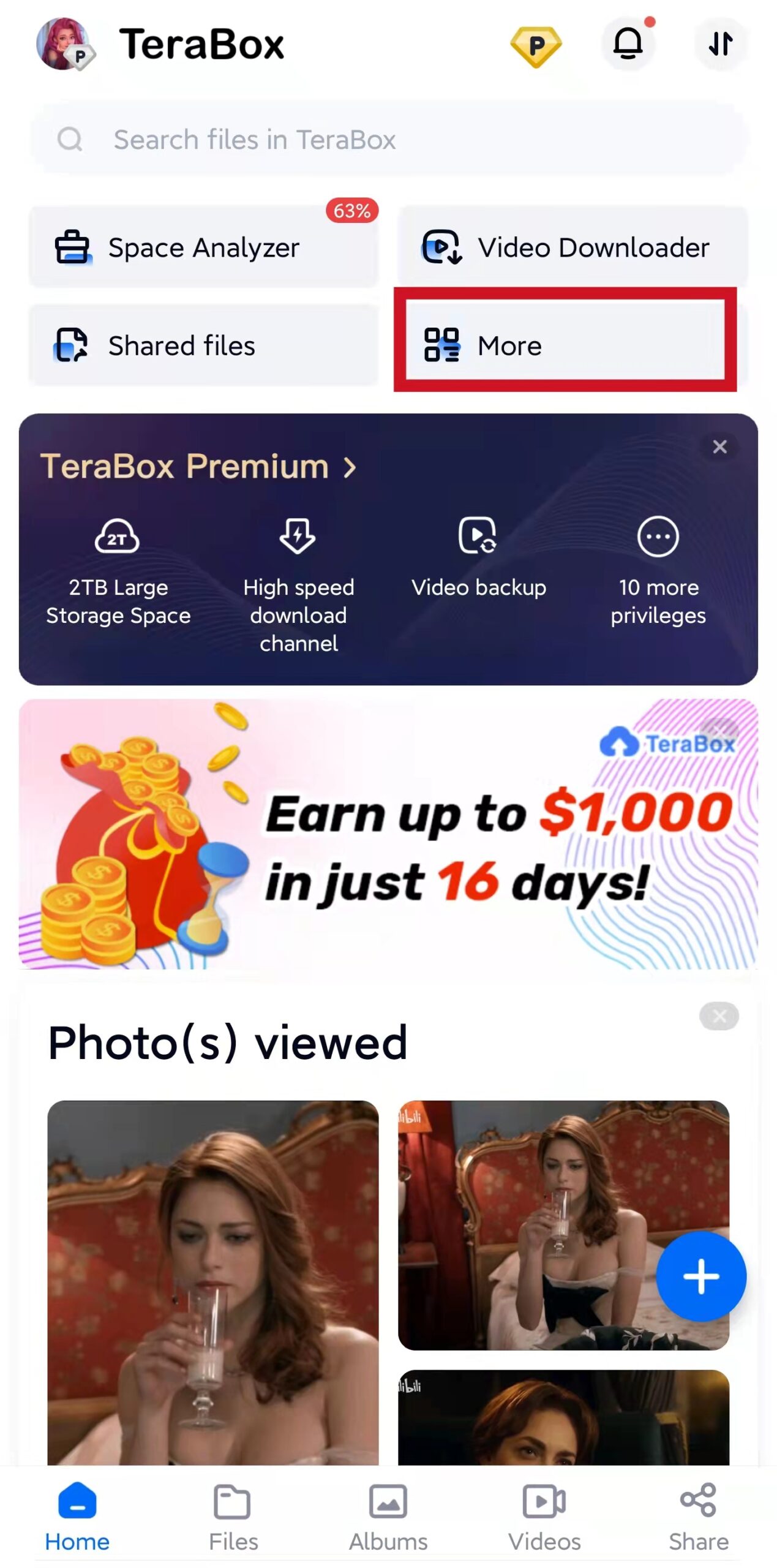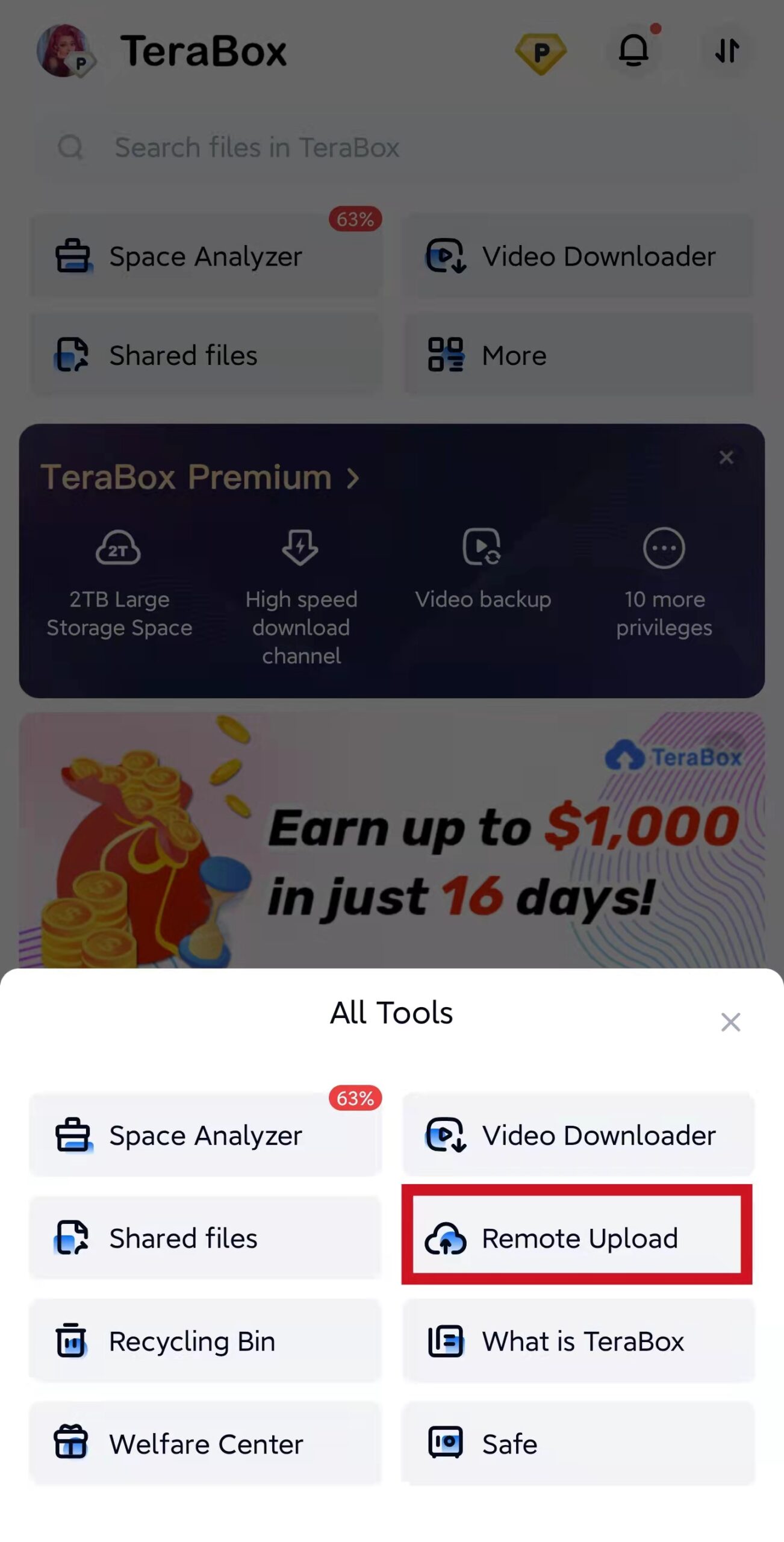 Computer users can click here to start remote upload: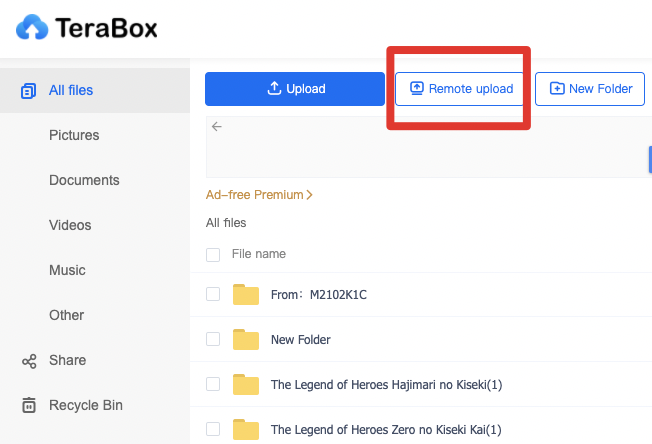 Step 4: Then, you will see a page to select the files that you want to upload to your TeraBox folder. The first option is to copy the HTTPS, HTTP, magnet links of the files you want to save. The second option is to select a BT torrent file.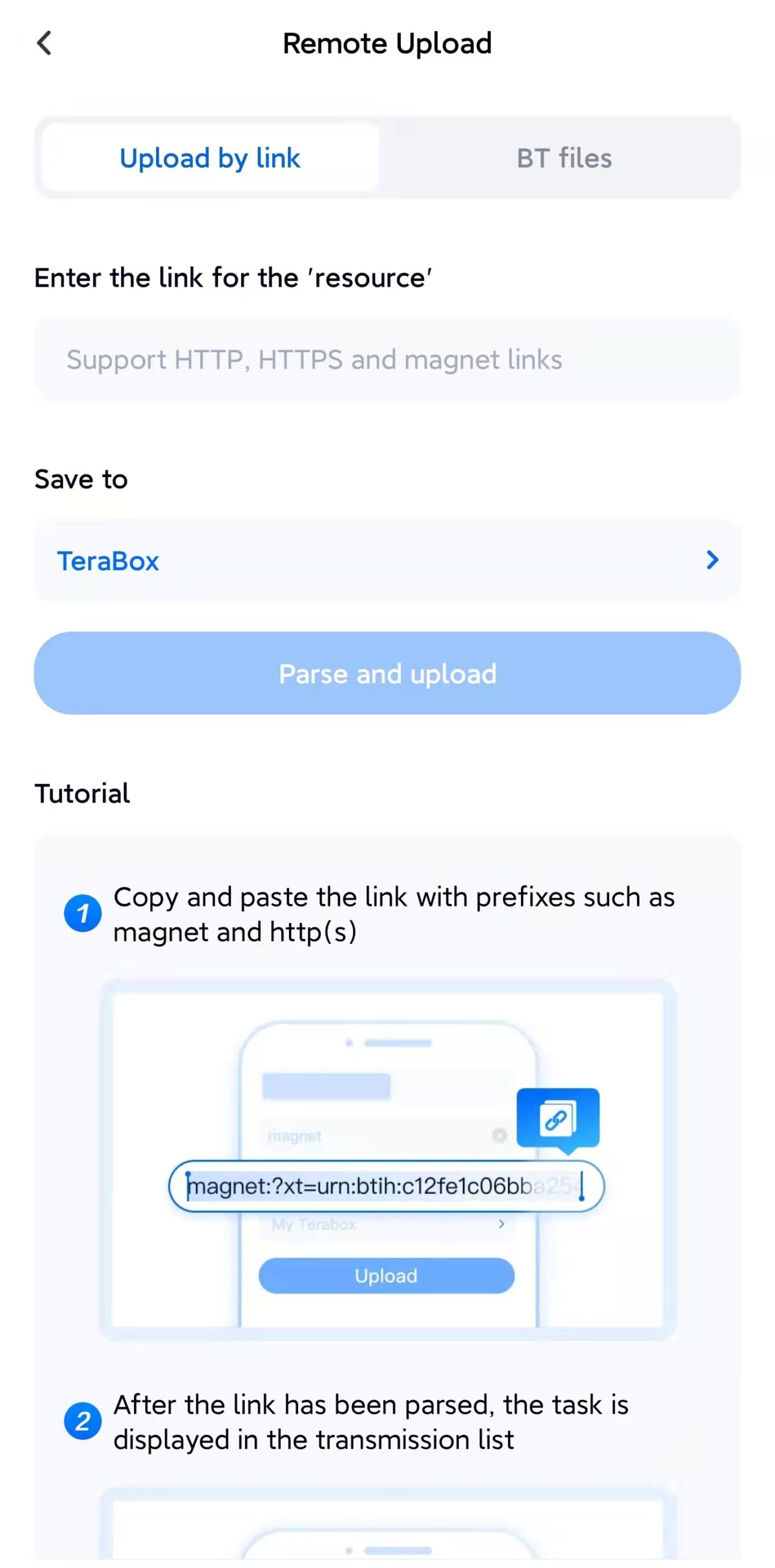 Step 5: Wait until the process is completed. The files will appear in your TeraBox folder.
If you still have problems, you can watch the video below!⬇️⬇️⬇️
The Bottom Line
Free remote upload feature will bring convenience to your life. Get TeraBox to transfer your files and free up space on your device.