Backing up your Android phone to your personal computer may seem unnecessary, but there are many reasons you should do so. Whether you want to transfer photos or media to or from your phone quickly, or make sure that you have an up-to-date backup of your phone's important files, backing up to a computer is the best way to ensure that everything on your Android phone is safe and accessible whenever you need it. The good news is that it is very easy to do an online storage backup and there are many ways to do it.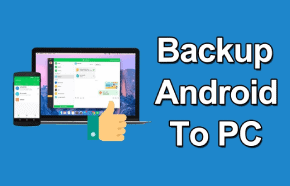 When you use your Android phone, you store tons of critical personal data, such as contacts, photos, videos, and SMS messages. As such, it's important to be able to back up your Android device at regular intervals to a computer, so that when you lose or damage your phone or get a new one, you can easily recover all the data in seconds. While you can do this in various ways, we'll look at the three best ways to back up Android phone to PC free so that nothing gets lost when things go awry.
How to Backup Android Phone to PC in 3 Different Ways
There are different ways to back up Android phone to PC. We'll go over the three most popular methods and explain why they're the best options.
Method 1: Backup Android Phone to Computer with a USB Cable
This is the most common way of backing up your Android phone. You can connect your Android phone to the computer via USB cable and transfer files from one device to another. This method is very simple because you don't need any third-party tool or app. However, the only drawback is that transferring all your data from the device to the PC takes a lot of time.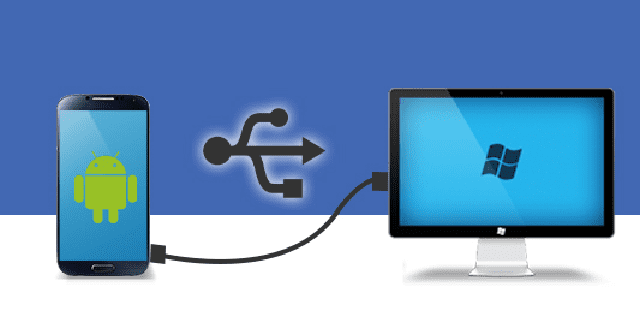 Method 2: Use an Android Data Transfer App
You can use an Android data transfer app to back up your Android phone to your computer. They can transfer data between Android devices, from Android to PC, and vice versa. These apps help you back up your important data wirelessly, and the transfer speed is generally faster than using cables. Yet their downsides are also quite obvious. The process to connect the devices can be complicated and straining. Furthermore, some apps can only transfer limited data types, resulting in huge data loss.
Method 3: Use a Cloud Storage Service
The third and most efficient way to back up Android phone to PC is by using online cloud storage. In terms of data backup, they are fast, secure, and easy to use. Many cloud storage services are available in the market, but we strongly recommend using TeraBox for three compelling reasons.
First and foremost, TeraBox is a secure cloud storage platform. Security is among the top issues that users are concerned about when backing up their data to any cloud service. With TeraBox, users can feel at ease. Equipped with multi-layer security measures and cutting-edge data encryption technology, you can back up your Android phone data to TeraBox with confidence.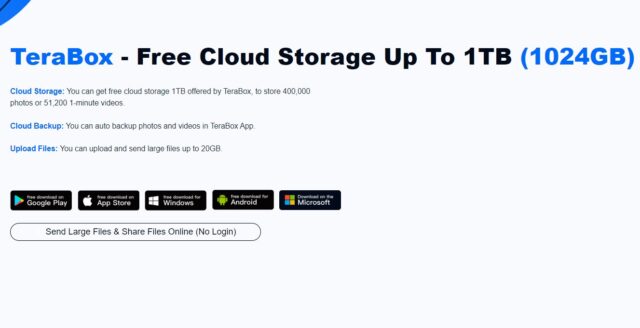 Another advantage of TeraBox is its cross-device compatibility. In other words, you can back up data on your Android phone using the mobile app, TeraBox APK, and then access it on your computer on the TeraBox desktop application. All of your backup data will remain exactly the same, and when you make changes, it will be synchronized across devices.
In addition, TeraBox provides you with 1TB of free storage for life, making it the best cloud storage platform. That is 250,000 pictures, 250 movies, or 6.5 million documents. With this amount of storage, you can make a full backup of your Android phone, no matter how much data you've got on it.
How to Take Full Backup of Android Phone on PC Using TeraBox
As we discussed earlier, TeraBox is one of the best apps for backing up Android phones. It allows you to take a full backup of your Android devices and store it on your PC. You can restore all your files easily whenever you want.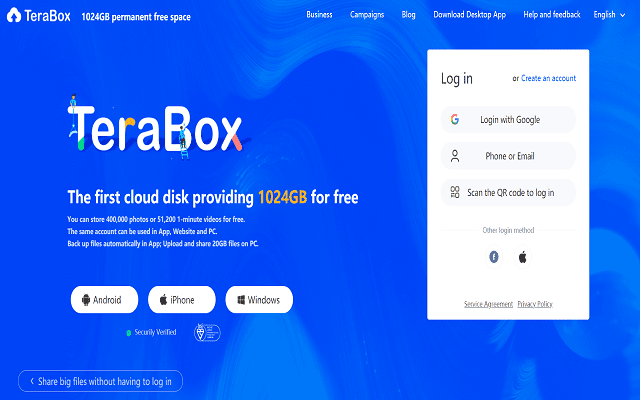 Here's how you can fully back up your Android phone on PC using TeraBox:
Step1: First, download the TeraBox app on your Android phone from Google Play Store or from our official website.
Step2: Open the app and sign up to create a free account. Once you sign up and verify your email, you will receive 1TB of free storage.
Step3: Now back up data on your Android phone to TeraBox using the app.
Step4: Once you have the backup in the TeraBox cloud, go to your PC and log in to the same account.
Step5: Download the Android backup to your PC.
And there you have it. You have successfully backed up your Android on PC. The best thing here is that you can also set up "Auto Back" on TeraBox mobile app, so you won't need to back up your phone manually every time.
How to Automatically Back up Android Phone to PC Using TeraBox?
TeraBox Auto Backup is an excellent feature for automatically backing up all your data from one device to another device without any need for interaction from yourself whatsoever. With TeraBox, it is possible to automatically back up all your photos to cloud in a few minutes. To turn on Auto Backup, log in to TeraBox, tab on your profile picture, and find "Automatic backup".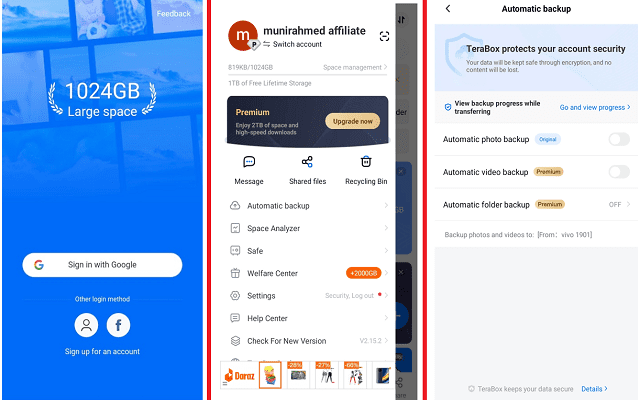 The first 1024 GB of storage space you receive after signing up for TeraBox is free. A simple smartphone setting allows you to back up data for free automatically. To back up videos and photos automatically, you can also become a TeraBox Premium user by paying at least $2.99 per month.
Conclusion
TeraBox is a free cloud storage service that offers the simplest way to back up Android phones to PC. Packed with powerful features, it allows you to take a full backup of your Android phone to your PC, so that you don't have to worry about any data loss. What's more, it is designed for both experts and novices, so can transfer your data within a few steps. As long as you have an internet connection, you can download TeraBox APK for free and it will constantly and automatically sync your Android phone to your PC. It's easy, powerful, and reliable!