The only way to keep your photos safe, secure, and accessible from anywhere anytime is through the cloud. Stay with us, and we will tell you how to backup photos to cloud without any hassle.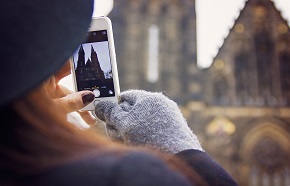 Why Do We Need to Backup Photos to Cloud?
Photos are the memories that take you back to the past. Your lovely moments are captured in your photos. Therefore, you will never like to lose them. But unfortunately, in many cases, you lose the locally stored data.
For instance, if your images are stored on your computer, in the case of hard drive failure, you will lose all your data, including your photos. Similarly, there are many causes of data loss, such as accidental deletion, lack of space, hardware failure, virus attacks, system crashes, mobile restoration, and many more. Therefore, it is of utmost importance to create a backup on the cloud.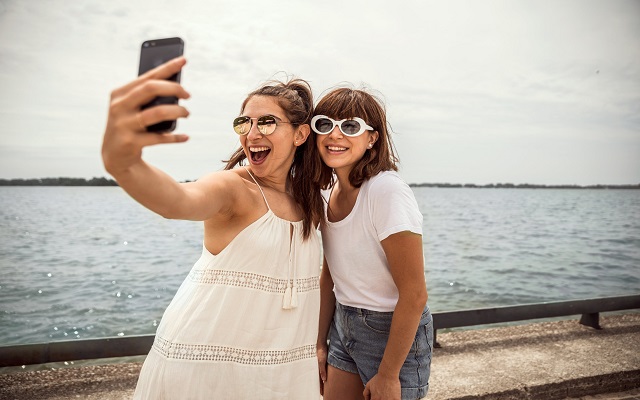 When your data is backed up in a cloud, it is safe and sound. You don't need to worry about anything as your data will always remain on the cloud. Cloud service is also the perfect option for professionals to store their work and keep all the files safe.
Let's see the 3 methods to backup photos online.
3 Methods to Backup Photos Online
TeraBox
The easiest and free method to backup photos online is TeraBox photo storage. It gives you 1TB of free storage space where you can store almost all types of data without paying anything or subscribing to any plan. You only need to create an account, and you will have a 1TB space and 200 MB private space to store your data.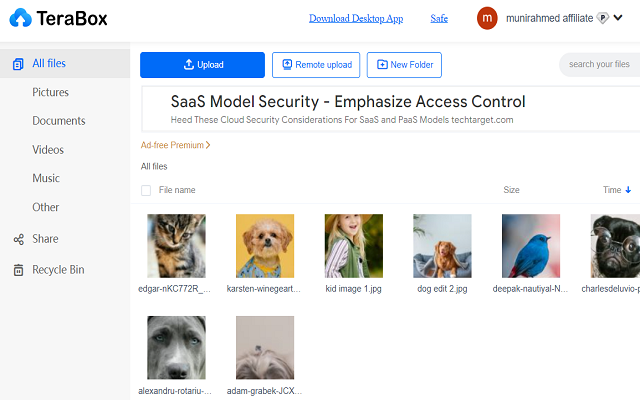 You can store about 400,000 photos in the free storage, which is more than enough for all your photo backup. Even if you are a professional photographer or graphics designer, you can store everything in this free cloud service. If you want to upgrade your plan and increase the storage to 2TB, you only need to pay $2.99 for a monthly subscription, and this is a pocket-friendly price for massive storage.
Using TeraBox, file transmission is much easier and faster. The user can transfer up to 20 GB of data without any hassle. It can also help in transferring data between different devices, including PC, Mac, Android, or Mac. You can use the application on mobile or use the web application on any internet browser. In addition, TeraBox also makes the sharing of files easier. The files can be shared with password protection and validity time.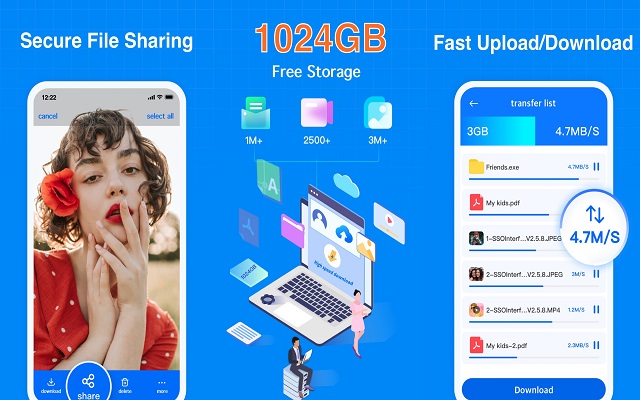 TeraBox also has the auto – backup feature. You can backup photos and videos from any storage. This way, it keeps your important photos safe and sound, and they can be accessed from any device and anywhere.
iCloud
iCloud can also be used to back up photos to the cloud. It also has the auto backup feature that updates the backup on its own. You can use iCloud on Windows or any Apple device. It helps in backing up all photos in one place. You can also use the web application on any browser to access data quickly on any computer.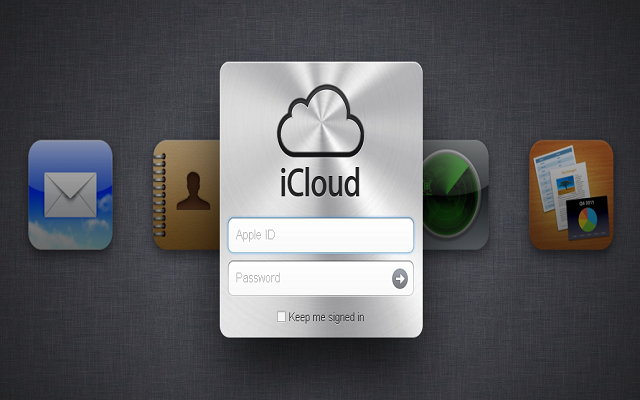 iCloud offers a free space of 5GB. You can upload your images here and create a backup for the data. You can upload your photos, videos, files, or anything else you like. The free 5GB space is not enough, and it will fill up quickly. Then, you will have to remove some of the files or upgrade to the premium plan. If you have only a few images, it is suitable. Otherwise, the premium option is the right choice.
Only 5GB of space is free, and you can upgrade the storage to 50GB, 200GB, and 2TB. These are the three plans available, and you can choose anyone according to your needs. The cost of the plans ranges from $0.99 to $9.99 per month.
DropBox
DropBox can also be used to backup data to the cloud. You can backup photos from your computer or mobile and share them with others without any hassle. If you are collaborating with team members on the photos, it is the right choice as it is compatible with different applications, even Adobe Creative Cloud.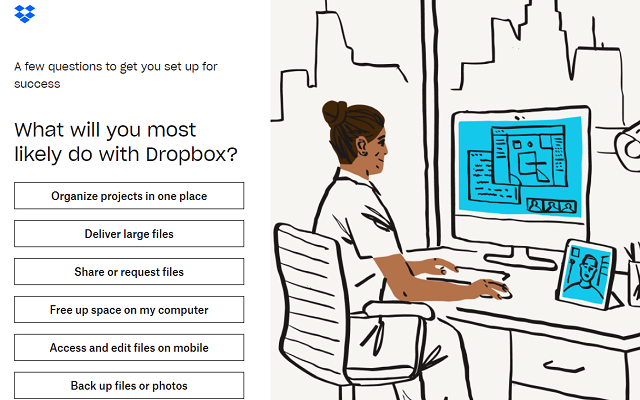 DropBox only offers 2GB of free space, which is quite less. You can only use this free space to test how it works and store a few photos. For using DropBox for photo backup, you need the premium plan. The plan is very expensive as it costs you $9.99 for 1TB (this space is free in TeraBox).
It is mostly used for business purposes, and if you are looking for a free cloud service space, this is not the right option.
The Best Solution to Backup Photos Online
Now, it can easily be seen that the best solution for photo cloud backup is TeraBox. We are considering TeraBox as the best because of the free space that it offers and its features. You have 1TB of free storage on the cloud, and you can store almost 400,000 photos in this space. It means it can store all your photos of your entire life in this photo storage online.
You can use TeraBox on your Android or iPhone. It is also compatible with Windows, macOS, and Linux. The best thing is the web application that can be used on any device. Therefore, it is quite easy to transfer data between devices and access it whenever needed.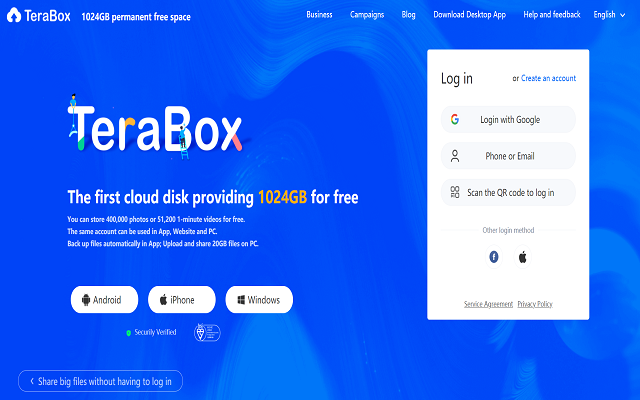 You can also share your data easily with anyone using TeraBox. The validity and password of the shared link can also be set. TeraBox also offers the remote url upload feature that allows you to upload your files and access them from anywhere using a link.
There is a dedicated private space in TeraBox. The space can be used to store private files and can be protected from intruders. It works like a vault. If you are out of space, TeraBox is the right option to store your data. Moreover, the data can be backed up automatically, and you will never lose your data if it is backed up with TeraBox.
Steps to Activate Automatic Backup on TeraBox
Step 1: Download the TeraBox application on your mobile from the Play Store. Open the application. Create a new account if you are new or sign in using an old account.
Step 2: On the top left corner of the screen, tap on the profile icon. Now tap on Automatic Backup.
Step 3: There will be different backup options. For the photos backup, tap on the toggle button next to Automatic Photo Backup.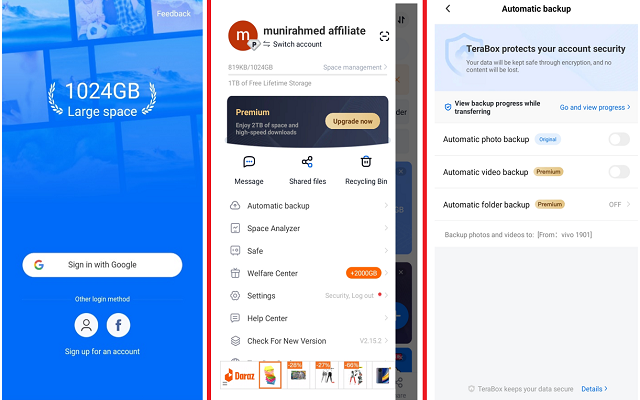 Final Thoughts
To give off all the worries of losing your most cherished memories, you really should try to backup all your photos to the cloud. Now you have seen three methods to backup photos to the cloud, and the best choice is obvious. TeraBox as it is a completely free tool with 1TB of cloud space to store the photos of your entire life. You only need to sign up using your social media account or mail address, and you will get the free space. Download the photo storage online today and enable automatic backup to ensure the safety of your photos!