You can watch short videos, movies, captured videos, and almost anything on your Android device. However, for the greatest experience, you need to use the best MP4 video player for Android. A good video player ensures the best quality and smooth experience and offers various features that make using it easier and more beneficial.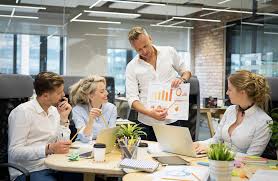 In this article, we will discuss why videos do not play on Android devices. We will also share the best Android video player along with the best cloud storage for your videos.
Why Won't Videos Play on My Android Phone?
There could be multiple reasons why you cannot play videos on your Android device. You might be looking for an effective solution, but before you try to fix it, you need to understand the problem and the reason behind it.
The most common reason is the corruption of the video file or the storage where you have saved it. For instance, if you have saved the video on an SD card, then there could be a problem with the card, which can lead to the corruption of the file. The card could be affected by a virus or malware, and in such a case, you cannot play any video on the device, irrespective of the format.
The second common reason is the unsupported format of the video. Most Android devices support commonly used video formats, such as 3GP, MP4, WebM, and MKV. However, some video formats are not supported. Androids cannot support AVI, so if your video has the same format, you cannot play it directly on the device; there is a need for a third-party application. Moreover, some resolutions and other video specs might not be supported by the device. Make sure you have the right MP4 video player to play the video.
A video file has a header that contains essential information, such as format, resolution, size, etc. Therefore, it is a necessary component of the file, and if it gets corrupted, you won't be able to play the video on the device. Thus, another reason for the video not being played is the corruption of the video file header.
A video file consists of a container that has video and audio data coded in their special formats. These two things are synchronized, and their information is also in the container. If there is any issue with any of the components or synchronization, the video will not play on any device.
These are the common reasons why won't videos play on my Android phone. It is necessary to figure out the problem and then fix it.
What Is the Best Android MP4 Video Player?
If you are looking for the best Android video player, you should try TeraBox. It is actually cloud storage to store data, but it offers some exceptional and extraordinary features that make it one of the best MP4 video players for Android devices.
Simple Built-in Video Player
TeraBox has a built-in video that allows you to play videos directly on the cloud. You do not need to download the video player or install it; the TeraBox application has everything built in. You just need to select the video stored in the cloud and open it. The video will automatically be played in the video player of TeraBox. It is quite easy to use, and beginners can play videos without any hassle.
1TB to 2TB Free Storage Space
Download TeraBox and you will get 1TB free cloud storage for a lifetime. You can store about 51,200 one-minute videos or 250 long movies. You can store whatever you want without paying a penny. Plus, you can also increase this free storage up to 2TB by completing some simple daily and weekly tasks.
The best part is that all your videos are properly organized in one place. You can access them easily and find the desired video without any hassle. Moreover, you can also use the Personal Vault to store your important videos with additional security.
Auto-backup and Syncing
The special feature of TeraBox is automatic backup. It means that it can back up the videos, images, and other data automatically to the cloud storage. You just need to enable this extraordinary feature, and TeraBox will handle the rest. With that being said, you will never lose your videos or captured shots because they will be saved in the cloud in real time.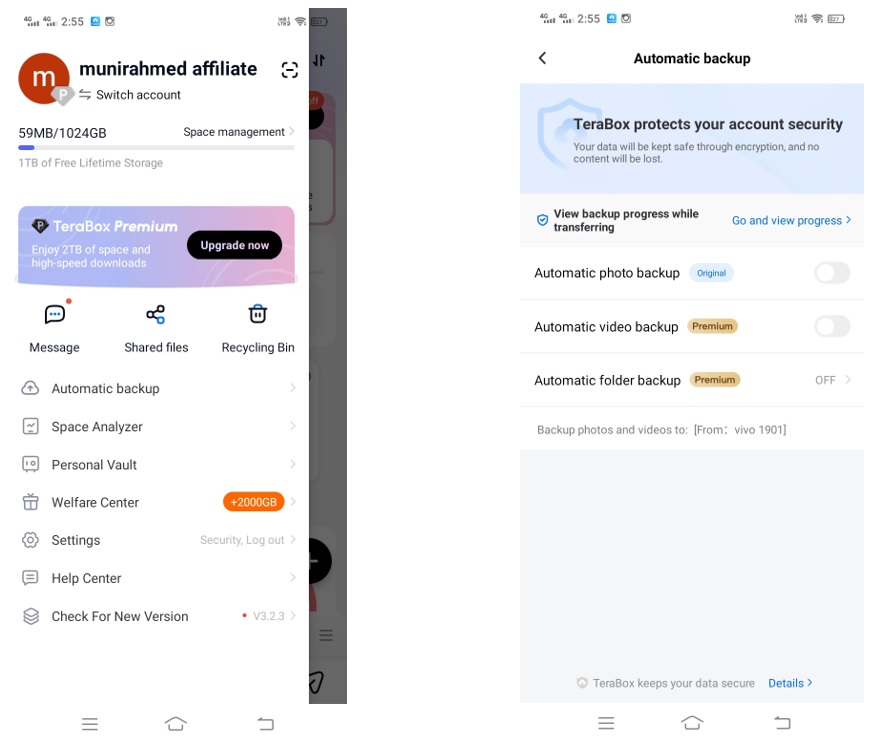 The next important thing about TeraBox is syncing. Whatever you upload to the cloud is synced with multiple devices. So, you can access your videos, images, or other data from your smartphone, computer, or someone else's device. Therefore, you can upload videos from any device and download them to any other device using TeraBox.
Fast Upload and Download
TeraBox offers you an excellent upload and download speed, so you don't need to wait for a long time. The best part is that the transfer is carried in the background, so you can do other tasks without any hassle.
The speed can reach up to 4.7 MB/sec, which is incredible. Your videos and other data are uploaded in no time. You can even upload large videos in one go. Plus, you can also check the progress of uploads and downloads.
If you want to restore your videos, you can download them, and due to the high transfer speed, it won't take too much time.
Internal Storage Space Saver
Videos take up too much space on your device. So, if you are storing them in your Android's internal memory or SD card, the storage will fill up in no time. Therefore, you can use TeraBox and shift all your videos to the cloud. It will free up a lot of space on your device.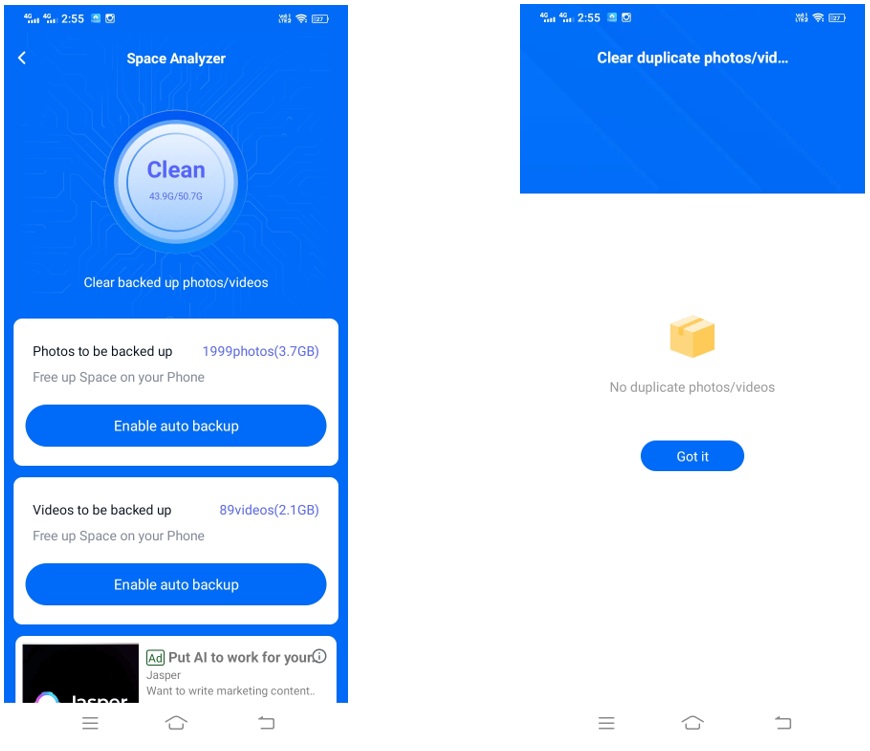 The important feature of TeraBox is the Space Analyzer. It analyzes the device storage and allows you to remove the videos, images, and other data that is already stored in the cloud with one tap. Therefore, you can free up the space on your device in no time.
How to Use TeraBox as the Best MP4 Video Player for Android?
The built-in video player of TeraBox is very simple, but it has every feature you need. First of all, there are some simple playback options that you see in every MP4 video player. You can control the video and play it if you like. Most importantly, you can go 5 seconds forward and backward in the video by moving your finger on the screen left and right.
Everyone would like to see HD or high-quality videos on the video player without any distortion or lag. TeraBox supports high-quality videos and resolution. It can play those videos directly on the cloud, and the best part is that there won't be any lag or stuttering.
Other than these features, you have speed control. You can slow down the video or increase its speed according to your liking. You can also use a screen lock button to lock the screen so that you or the viewer can enjoy the video without any disturbance.
If there are subtitles in the video, you can select them easily from the list. Last but not least is the playlist option which makes it easier for you to navigate and choose the right video with one tap. There are some exciting features of the TeraBox MP4 video player. Now, let's see how you can share videos using a link.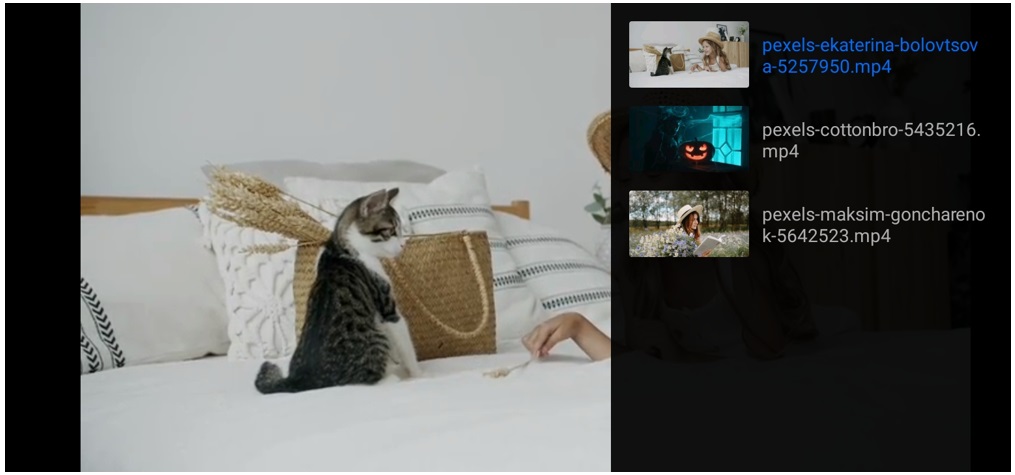 Steps to Share Videos Through TeraBox
TeraBox is also the best option for sharing your videos. It allows you to share large videos in one go, and the file size can be up to 20GB.
Step 1: Log in to your TeraBox account.
Step 2: Select the video that you want to share. Tap on Share and tap Copy Link. You can also play the video and tap on the Share button, and then copy the link.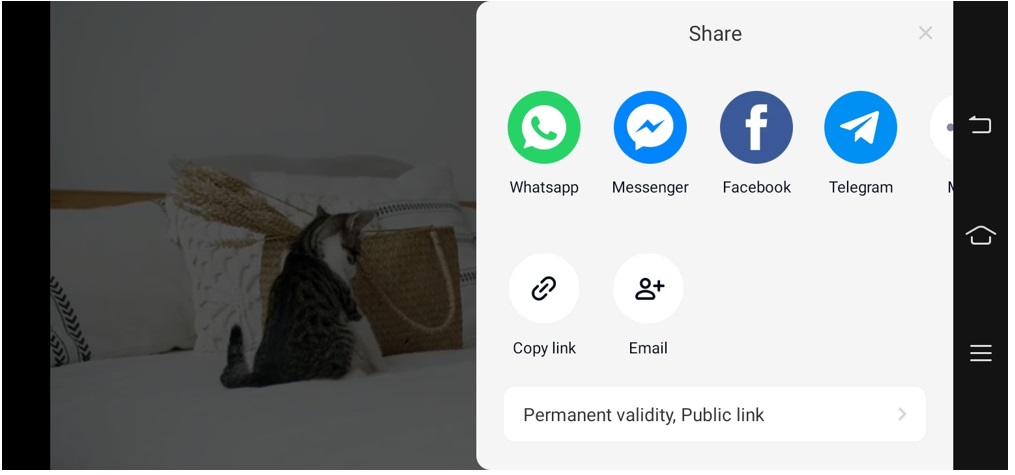 Step 3: You can add a validity period and password to the link as well. Plus, there is also an option to set up a private link.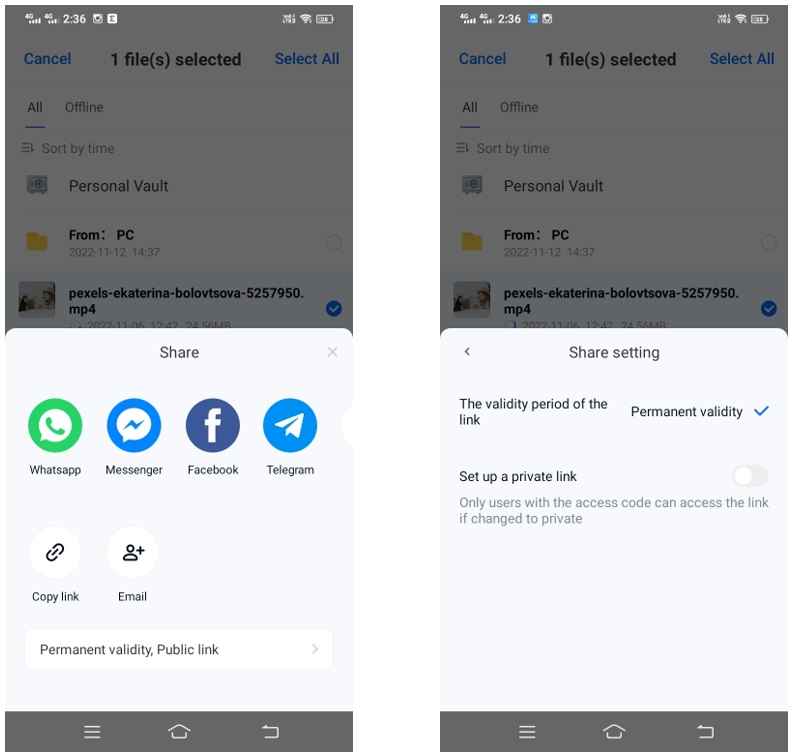 Step 4: Now, you can share the video with anyone. Send the link via email, social media, or any other source.
Final Thoughts
A video player plays a major role in playing the video smoothly and offering a memorable and hassle-free experience to the viewer. Sometimes, your Android device does not play videos or creates various issues, such as lags, stuttering, and low resolution. If you are also facing these issues, you can install this video player APK: TeraBox. It is the best MP4 video player that offers 1 TB of free cloud storage for your Android device.Therefore, you can watch videos as well as save them in the cloud. It offers some incredible features that make your video-watching experience amazing. Download TeraBox APK and get storage, a video player, a backup option, and everything else for free.