Photo sharing app is essential for keeping the family memories alive. Find out what is the best photo sharing app for families in this article.

In our lives, a lot of fond memories were created with our family. Thanks to photos, we are able to relive those moments again with our loved ones. Many families have a habit of sharing photos, for it is a good opportunity for family members to bond over memorable experiences, and keep updated with each other's social life.
How to find the best photo sharing app that everyone in the family will love to use? Is there a free photo storage app you can use to share thousands of photos effortlessly? If you are looking for the best family photo sharing app, you've come to the right place.
Why Do We Need a Family Photo Sharing App?
Sharing photos within the family is an age-long tradition. Since the time when people flipped through their family's chunky album of black and white photos, photo sharing has evolved significantly. Many tools have been invented for this purpose, but none of them is as efficient and convenient as a photo sharing app.
Before cameras and smartphones sufficient storage space were popularized, we kept photos in an album. But over time, we filled up one thick photo booth after another, which isn't exactly ideal for photo sharing among the family. It takes a lot of organization work, and you can only share photos in person when you visit families.
This method was soon replaced by social media and instant messaging. People can send pictures of what they are doing to their families, and update their status by posting recent photos. But sometimes transmitting photos via social media will compromise the image quality, and you can only send a handful of pictures at a time. Privacy has also become a problem, which is s why people are getting more reluctant to send anything personal.
This is where family photo sharing apps come into play. They preserve the advantage of sharing photos over the internet, which is not confined by time and place. They allow us to share as many photos as we want, and some even help organize photos automatically in creative ways. If privacy is your concern, you simply need to do a little homework and choose a secure file transfer app for sharing family photos. Nothing beats photo sharing apps when it comes to fast, smooth, and secure family photo sharing.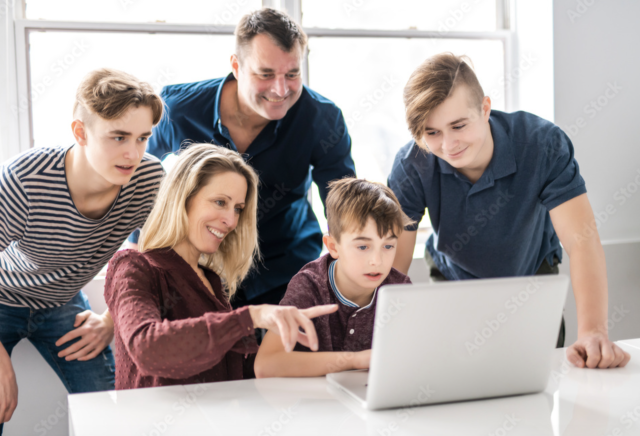 How to Choose the Best Family Photo Sharing App?
That being said, with all the apps in the market, it still takes a bit of effort to single out the best family photo sharing app for yourself. Here are the must-haves and good-to-haves you should be looking for in a photo sharing app for families.
Must-haves:
Secure file sharing: The best family photo sharing app needs to have the best security protection measures. This ensures your photos can be accessed by families and families only, and minimizes the possibility of scams and blackmailing due to data breaches.
Free and easy-to-use file sharing: Not every self-proclaimed "best photo sharing app" can handle the basic task of file sharing. Some limit the number of pictures you can share, others charge a monthly fee for doing so. The best family photo sharing app must make it fast and easy to upload and transmit photos for free.
Robust photo organization and management: The best photo sharing app should have inbuilt functions of photo organization, which sort your photos automatically, either by timeline, object, or other categories.
Good-to-haves:
Enough storage space for photo backup: Since we take tons of photos with our families and we don't want to lose any of them, it is always better to have sufficient online photo storage that comes with the app. The best photo sharing app allows you to share photos and create a secure backup copy at the same time.
Photo editing and compiling: It would be a huge bonus if you can beautify the family photos by adjusting the parameters and adding stickers and frames before sharing them. Some apps are thoughtful enough to compile a photo collection in the form of album or video, so that you can enjoy it with families on special occasions.
Engagement features: It is not sharing if you cannot interact with your families. Like social media, some photo sharing apps provide engagement features, such as like and comment, to include everyone in the conversation.
What is the Best Photo Sharing App for Families?
By these standards, here's our list of the 3 best family photo sharing apps.
TeraBox
TeraBox tops the list as the best cloud storage for photo sharing. Its link file sharing feature ensures maximum security and minimum hassle. You can share an unlimited number of photos without restrictions whatsoever. Before sharing, you can also set an extraction code, which serves as a password, and an expiration date, after which no one can access the photos.
TeraBox provides one-of-a-kind 1TB free cloud storage for photo and video backup; that equates to more than 260,000 high-resolution pictures. With its intelligent classification and automatic space cleaner, TeraBox makes a perfect photo management tool. This easy-to-use photo sharing app is used and loved by numerous families.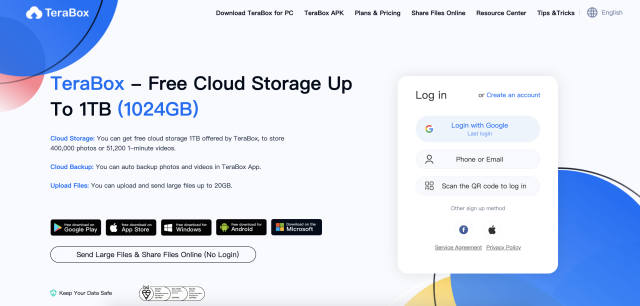 23snaps
If you want a mind-refreshing solution, 23snaps is the best photo sharing app for you and your family. It works just like social media, but a private one where your content is only accessible to your family. Families get an email notification when new photos are share. In terms of photo organization, it sorts your photos into calendar, timeline, and gallery views. The most interesting part is the "Time Machine" feature, which it generates a collection of random photos with a shake of the phone.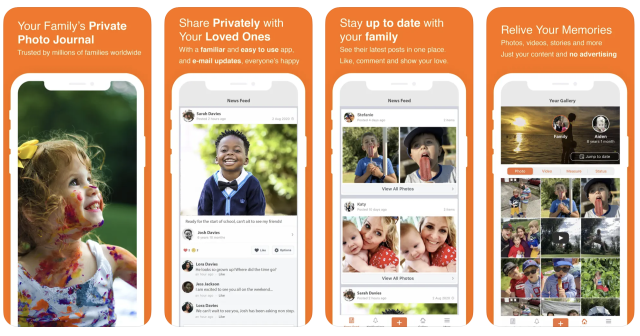 Google Photos
Google Photos also makes a good family photo sharing application because of its impeccable collaborative feature. As a professional photo storage and management tool, it provides robust a search feature, and it organizes your photos and videos into six categories, such as selfies and motion photos. Except for the mere 15GB free storage, Google Photos is one of the best family photo apps you can find.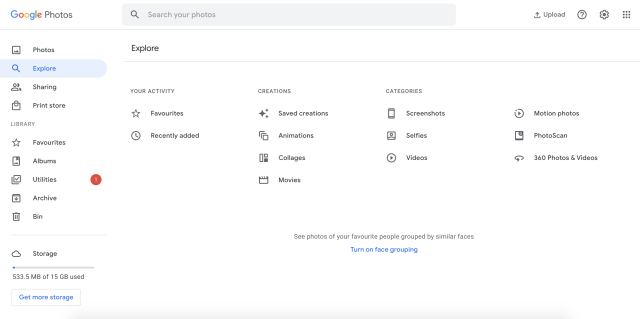 How to Share Photos with Families with TeraBox?
As the best of the best family photo sharing apps, TeraBox is very versatile; you can use it for sharing photos in different ways. You can start by sharing photos with a TeraBox link:
Step 1: Download TeraBox from the official website and sign up for an account. Don't forget to invite your families to join TeraBox by sharing your exclusive invitation link, which can be found in the app. In this way, you and your families can all get 1TB free cloud storage.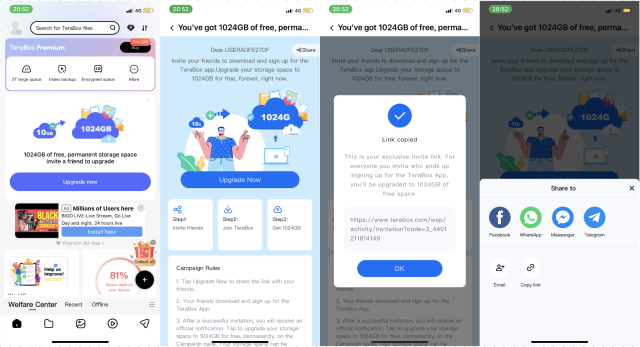 Step 2: Upload the photos you want to share, and tap "Share". Set an extraction code or expiration date to enhance privacy.
Step 3: Send the link to your families via Facebook, Whatsapp, or any other channels.
Step 4: After that, your families will be able to view the photos online, save them to their TeraBox, and download them to their phones.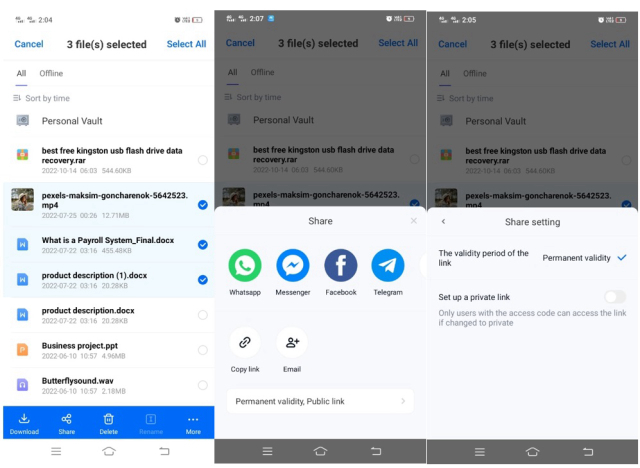 Another way is to create a TeraBox account for the family. TeraBox is available on all smartphones, tablets, and computers, so you and your families can access the same content using one account and keep everything synced. Simply upload photos from wherever you are and organize them with folders to contribute to the creation of a huge family photo album. The whole family can share the 1TB free cloud storage, or upgrade to 2TB at an extremely affordable price.
Final Verdict
Sharing photos is an indispensable part of many families. To find the best photo sharing app for families, we should consider the security and efficiency of the app. What makes TeraBox the best photo sharing app is its fast and secure file sharing, powerful photo management, and 1TB free cloud storage for photo backup. Download TeraBox free today for sharing family photos!