People usually collect their memories and lovely moments in the form of photos. They have collected tons of images in their online photo storage over the years and decades. Other than these precious moments, they also have photos that they have received and important images and screenshots. They cannot lose their photos or images because it means a lot to them.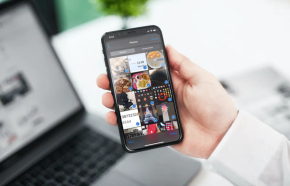 They cannot think about deleting these files to free up some space on the device. Thus, there is always a problem with storage scarcity. For iPhone users, there is a need for extra storage where they can store their photos and free up some space on the device. Therefore, they look for free online storage.
In this article, we will tell you how you can get free online photo storage for your iPhone to solve that problem. We will share an incredible cloud storage service that you can try and use its various methods to backup files and make additional space for new data.
iPhone Storage's Full, but Can't Delete Any Photo?
For many users, photos and videos take up a majority of their storage. Photo management is a vital part of iPhone storage management. However, when your iPhone storage gets full, you might not be able to delete any photo because they are simply too important.
Then, users might first try to delete other unnecessary data on the device. But sometimes, even after deleting everything that was unnecessary, there is still not enough space.
Another problem with iPhones is that you cannot insert an SD card to increase the storage, so you are left with nothing except deleting the data.
iPhones have enough storage, depending on the choice of your storage plan, but it does not mean that you can store unlimited data or photos. With time, the photos increase, and if you cannot delete them, the only solution is an extra space where you can store data. But if you have iCloud storage, the space is added to your device, and it can be used to store your photos. You can free up some space on your device by uploading some of your data to iCloud.
Everything seems fine until you see the price of iCloud. It offers you only 5GB of free space, and the premium space is expensive. You get only 200GB for $2.99 and 2TB for $9.99. Not everyone likes to pay for cloud storage, so the best solution is finding a free cloud service.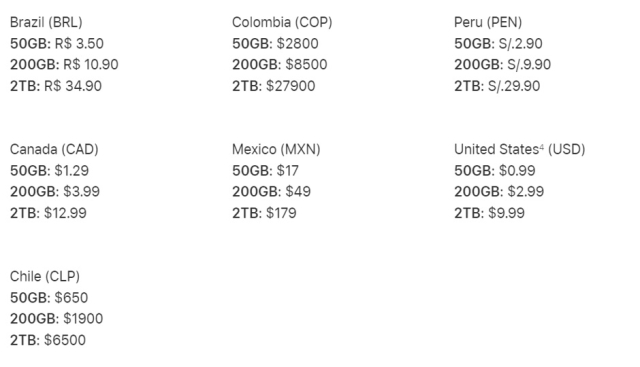 In this case, you can try TeraBox. It offers you 1TB of free space that you can use to store almost 400,000 photos. You can store the photos of your lifetime because the storage is more than enough. It is free photo storage, and you don't need any subscription or premium plan; you get 1024GB for free, so that you won't have to worry all the time that your iPhone storage gets full but you can't delete any photos.
Best iPhone Photo Storage App: TeraBox
TeraBox is the best iPhone photo storage app because of its exceptional features and service. Firstly, it offers 1TB of free storage space, which is more than enough to store all your photos. It strives to make its slogan a reality, "Memories will Always be Here," by offering free photo storage. The 1TB storage could be 3-4 times as the internal storage. You can get free space without spending a penny, and it is free for a lifetime. Therefore, it is much better than iCloud and online photo storage, which charge a hefty amount.
The free storage is not limited to 1TB. You can also win more storage by signing in daily, completing weekly challenges, and sharing the application with your friends. You can get additional free storage of 2TB or more. After all, if you want more space, you can get 2TB of storage for only $3.49.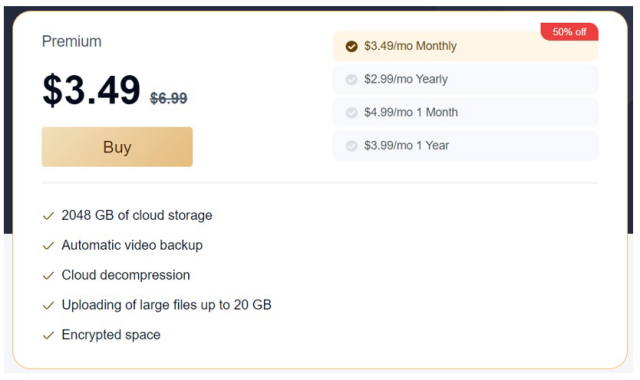 The application is available on various devices; you can use it on your iPhone, Android, Mac, or PC. That means, you can upload photos from your iPhone and access them on your Mac or PC.
The most important element makes TeraBox the best iPhone storage app is definitely its exceptional privacy. It is secured using advanced encryption techniques and methods. Your photos are safe here; even the workers of TeraBox cannot access them because they are encrypted at the customer's end. The best thing is link-sharing security. You can set the password and expiration date for the link, so that you have complete control over what you share.
An important security feature of TeraBox is the personal vault, where you can store your important files and images. You can protect this storage space through an additional password. It keeps your photos even safer.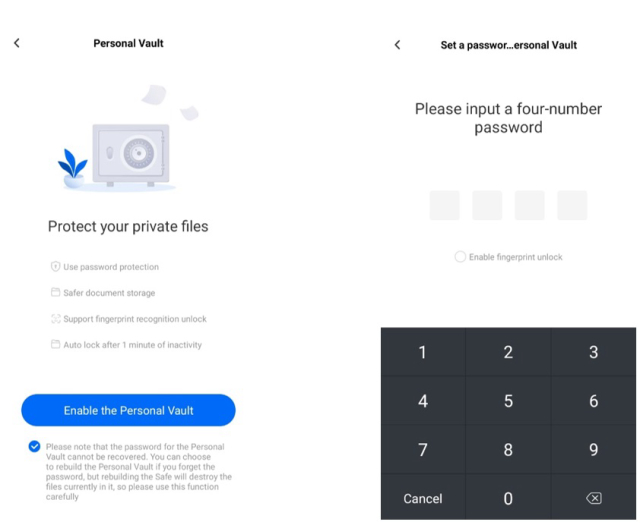 Free Photo Storage and More
TeraBox offers some exceptional features that make it ideal for free photo storage. Using its tools and features, you can make photo storage and management smarter. Let's see how you can use some tips and tricks to make your online photo storage work better for you.
Tip 1: Automatic Backup
The first important feature of TeraBox is the automatic backup. The images of your iPhone can automatically be uploaded to the online photo storage. It syncs the folder, so the files in it are automatically uploaded. If you make changes later, the cloud storage is also updated.
With that being said, there is nothing to worry about storing files manually. It keeps your data safe, and if anything happens to your device, you can restore the data from TeraBox in no time. Once the folder is synced, you can delete the files from the internal storage and free up some space.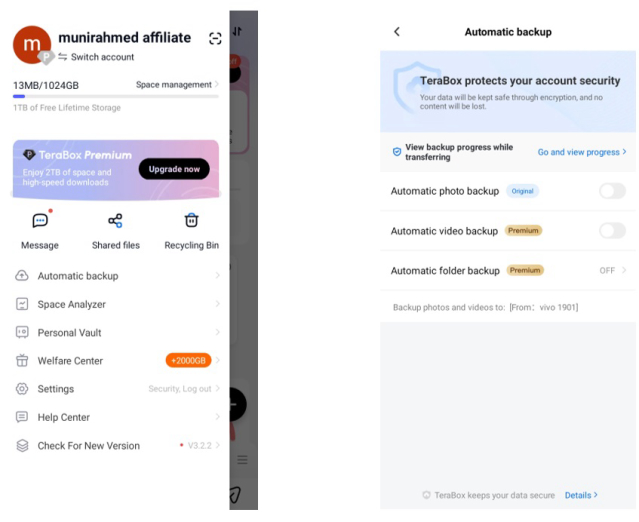 Tip 2: Share Photos/Videos in Bulks
TeraBox makes file-sharing easier than ever before. It allows you to send large videos, images, and multiple files in one go; you don't even need an account to do that. You only need to upload the files to the cloud. Once the data is uploaded, you can share the link with anyone. The link can be generated with one click. But if you want to set the password and expiration date, it can also be done.
TeraBox supports the sharing of large files that can go up to 20GB. After uploading the images to the cloud, you can free space on the internal storage. Then, you can share the images with the recipients through their email and share the link on their social media or text inbox.
Tip 3: Photo/Video Sweeper to Free More Space
This feature of TeraBox is exceptional. You will not find it in many other cloud storage services. There is a special Spare Analyzer that analyzes the internal storage. It keeps track of the data that is already uploaded to the cloud or the data that should be uploaded.
You can clear or delete the uploaded images from the internal memory with one tap. The files are deleted without any hassle. There is no need to see the files manually or delete them one by one. This feature of TeraBox is a lifesaver.
Moreover, if you want to upload more content to the cloud, you can enable auto-backup from them with one tap. After uploading, the data on the internal storage will be deleted to free up space. Thus, using the free photo storage of TeraBox, you can easily manage the storage of your internal device.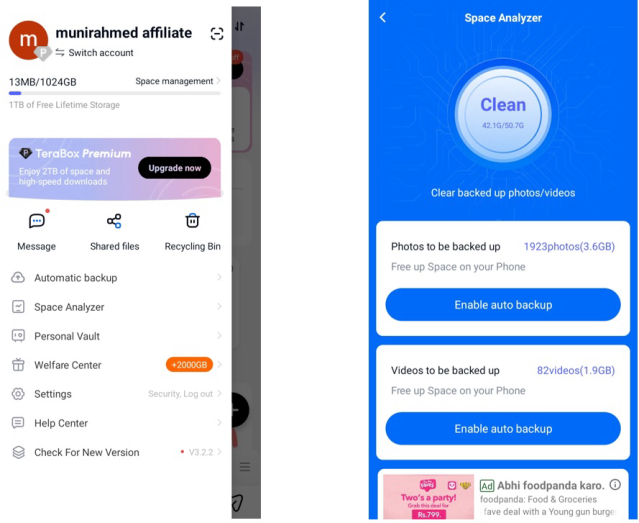 Final Thoughts
An iPhone has limited storage that cannot store tons of images and videos. It will fill up soon if you do not delete the old images and keep adding new data. There is no other option than getting online photo storage to free up some space on the drive. The first cloud storage that comes to mind for the iPhone is iCloud. It is definitely an amazing service, but it is very costly. Therefore, users look for an affordable option.
We have introduced the best iPhone storage app, TeraBox. It offers 1TB of storage space for free. You do not need to buy any subscription or plan; the storage is free for the users. It also offers some incredible features, such as large file sharing, privacy, and a personal vault. Along with that, it also offers auto-backup, with which your images are automatically uploaded to the cloud. It also offers a Space Analyzer that uploads data and frees up space on the device on its own. It is undoubtedly an incredible service available for iPhone, Android, Windows, and macOS.
Download TeraBox for iOS Phone and iPad now, and free up space for your devices.