"Why do photos lose quality when uploaded to TeraBox? You might as well consider them lost."
As phone storage is often limited, a growing number of users have turned to TeraBox as their "second album". TeraBox's 1TB of free cloud storage and secure automatic backup have made it an ideal choice.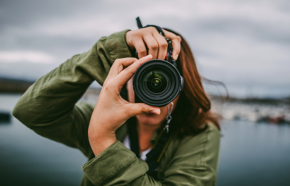 As has been reported with other cloud apps, perhaps you have heard about some concerns that image quality may deteriorate over time when stored in TeraBox. But are those concerns reasonable? Do you need to be worried?
In short, TeraBox does not diminish image quality. This article will demonstrate this with an experiment, and examine some of the possible reasons causing blurry photos.
Experiment: Does TeraBox Affect Image Quality?
To carry out the experiment, we will use a collection of high-quality photos in different file formats, including JPEG, PNG, and RAW. We'll upload these photos to TeraBox and then download them to our local device to assess their quality before and after.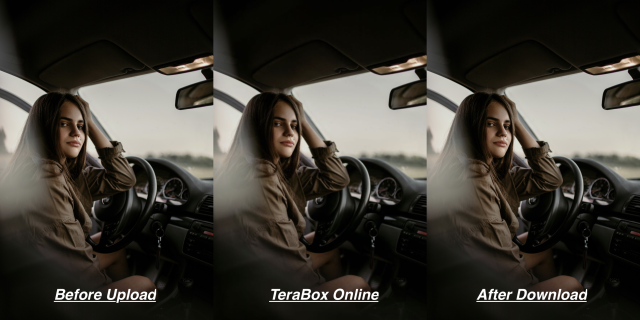 To ensure the fairness of the test, the same device (MacBook Pro, Intel Iris Plus Graphics 645 1536 MB) and tools (Diffchecker & Adobe Photoshop) will be used to view and analyze the photos.
The photos will be compared in the following aspects:
File size before and after download
Pixelation, color shifts, or other distortions by zooming in
Without further ado, let's reveal the results:
File Size
As shown in the file information details, the original and downloaded copies are of identical size, suggesting that the photos are transferred without any data loss or corruption.
JPEG: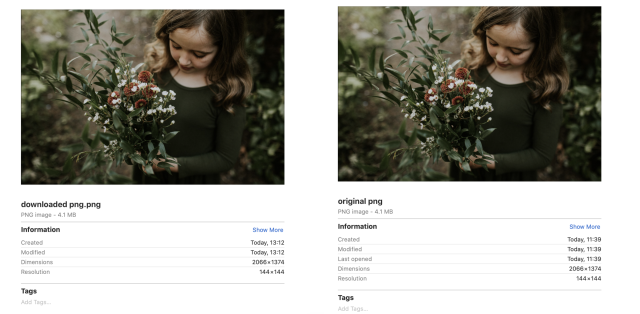 PNG: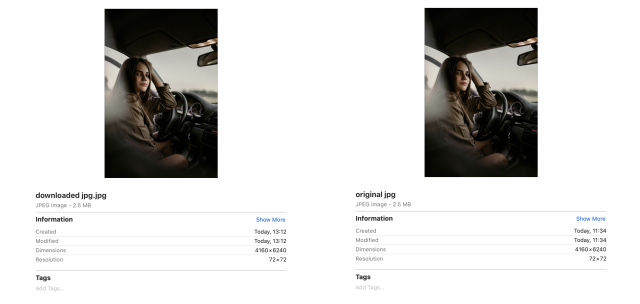 RAW: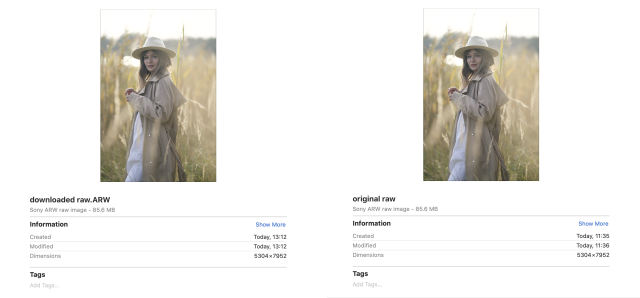 Zoomed-In Details
We can see with our bare eyes that the image quality remains unchanged when we zoom in on the photos with Diffchecker. Even with lower-resolution JPEG files, there are no pixelation effects when magnified to 400%; the corners are smooth as in the original photo. The colors are still authentic, and the intricacies are preserved. Overall, there are no distortions in resolution and color, indicating that the image retains its high level of clarity and sharpness even at high magnification levels.
JPEG:

PNG: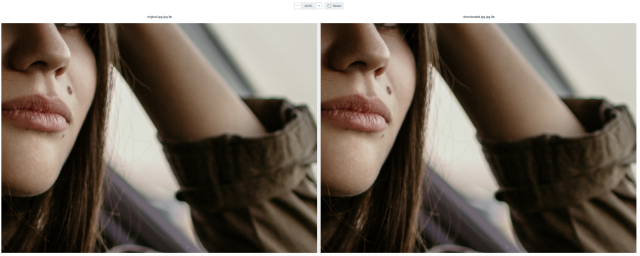 RAW:

Why Are My Photos Blurry?
Although the photos stored in TeraBox are not susceptible to quality degradation, it has been reported by users that their photos appear blurry when viewed online. However, TeraBox isn't the only one hearing these complaints; this issue is endemic among cloud storage apps. When we view photos online on cloud storage platforms, such as Google Drive and Dropbox, a certain degree of blurriness and color distortion is often observed, as illustrated below.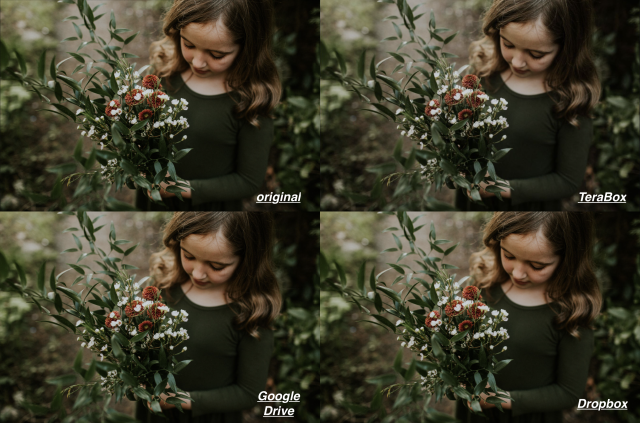 Nevertheless, it doesn't mean there's nothing you can do about it. Blurriness in TeraBox is most likely caused by some nonoptimal settings or external issues, and there are some ways to alleviate the problem.
View Original Picture
When you preview photographs in the TeraBox app, they are displayed at a lower resolution so that they can load faster in case your internet connection is sluggish. If you wish to see them in better resolution, select "View original picture".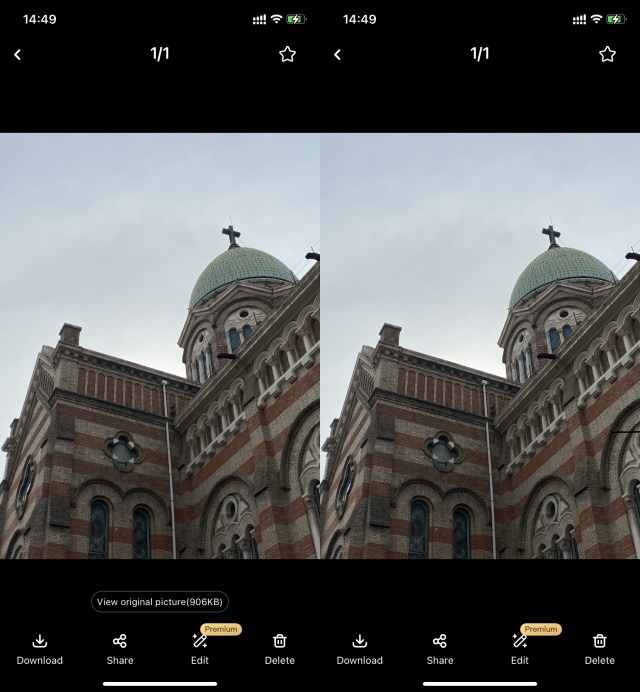 Backup Videos in Original Quality
When backing up videos automatically, it is recommended to select "Original quality". In TeraBox, photos can be backed up automatically in full quality for free, while videos require TeraBox Premium. Free trials are available if you want to get a taste of this feature.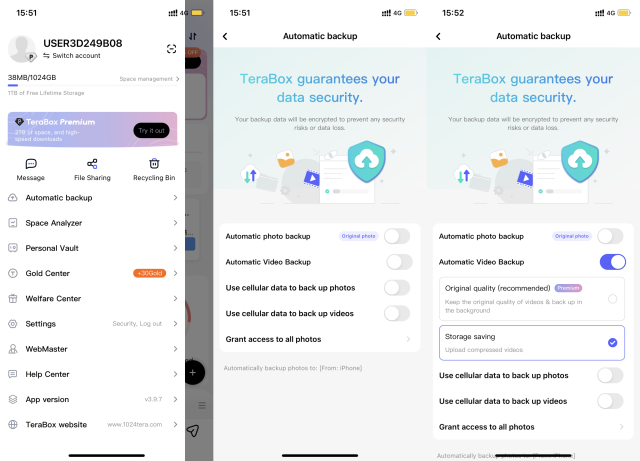 Video Playback Resolution
Another benefit of having TeraBox Premium is that you can play your videos in the highest quality possible. Depending on your Internet speed, you can watch videos at up to 1080P.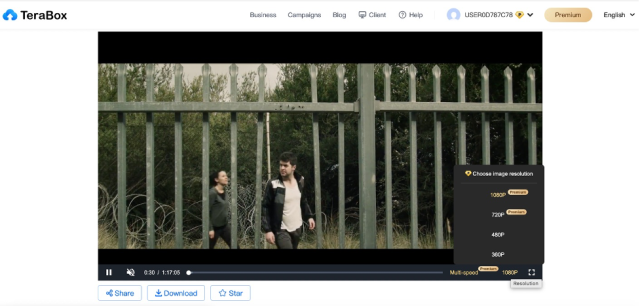 Network Error
Photos will load at an extremely slow speed if your network connection is poor. They will be quite fuzzy before they finish loading. In this case, check the status of your network and try opening the photos again.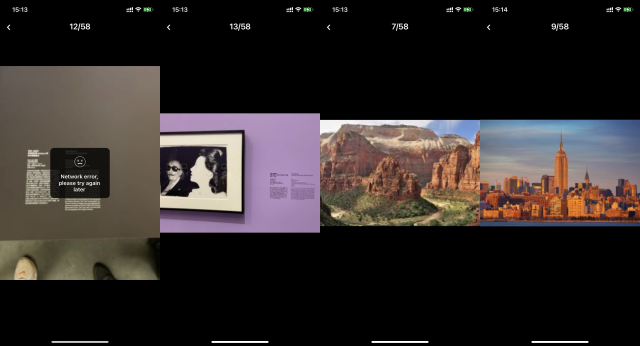 Pre-processed Photos or Videos
If the photos and videos have been cropped, adjusted, or retouched before upload, their image quality will be significantly reduced. This can also happen with other cloud storage apps. If you want to have your cake and eat it as well, try TeraBox's built-in photo editing tools, which allow you to edit photos and save the changes directly in the cloud.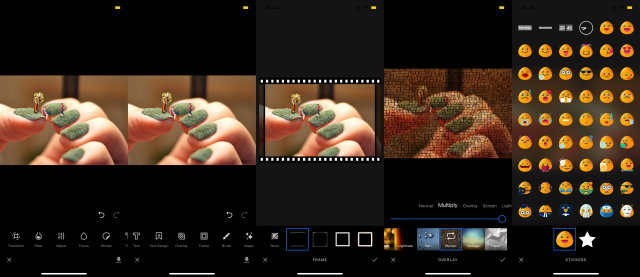 FAQ
Q: How long does it take to upload or download photos from TeraBox?
A: The upload speed of TeraBox is typically 3-4MB/s; you can upload one regular JPEG photo per second. The download speed for free users varies between 1.5 and 6.25 MB/s depending on the Internet bandwidth, while Premium users can easily enjoy download speeds of 15-20 MB/s, downloading several photos per second.
Q: TeraBox iOS doesn't download photos back to the phone, or anywhere else.
A: To download photos and videos back to iPhone or iPad's local storage, select them in your folder and tap "Download". A window will appear, asking you if you want to download them to your phone back or simply make them available offline in TeraBox. Tap "Save to Mobile Phone Album". In this way, you can backup and restore photos smoothly on iOS.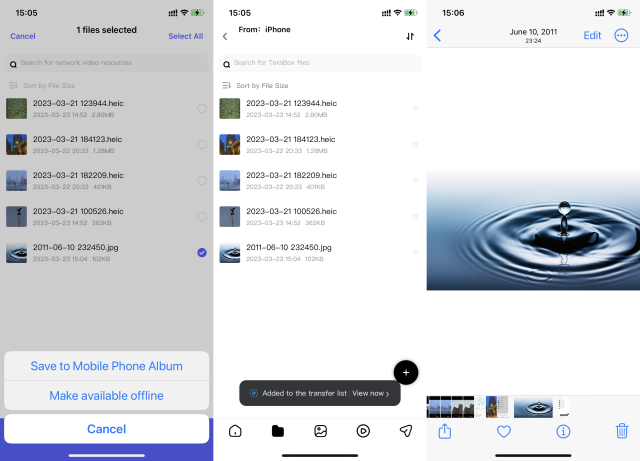 Q: How do I backup photos on TeraBox PC?
A: Automatic folder backup is available on Android as well as PC. To upload photos and videos automatically from any Windows computer, put them in a folder and enable automatic for this folder in TeraBox.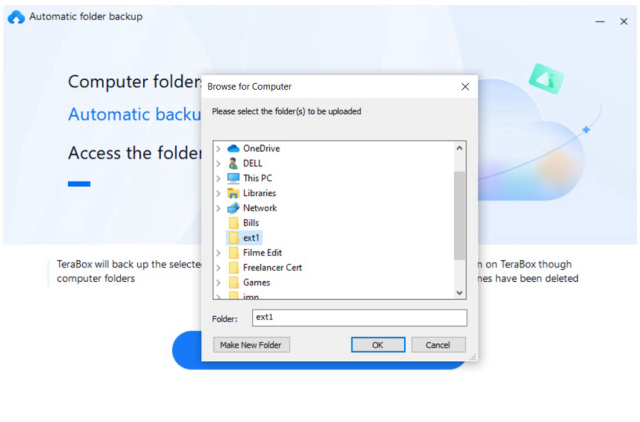 Final Verdict
TeraBox keeps the original quality of photos, whether you upload them automatically or manually. You can upload any photo or video to TeraBox and then recover the exact same file to your phone without losing image quality. If you need extra space to backup your photos, download TeraBox free today and save photos in maximum quality!