Nothing is better than getting 1 TB free cloud service, and now you can make it your own. If you are constantly using your mobile devices, you will surely run out of memory. When this happens, you will no longer be able to download any files, apps, or even take photos or videos with your device. To avoid this issue, you will have to delete some of your files, thus running the risk of losing them.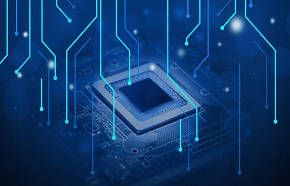 Many users have found that the solution to this problem is getting a file management tool. These apps provide you with cloud service so that you upload all of your files there. Then, you can reach them whenever you wish to by logging in to your account. In fact, there is one tool that offers 1 TB free cloud service. This means that you get 1024 GB just by signing up for its services.
How much does it cost to store 1TB on the cloud?
If you perform a quick online search, you will find that numerous tools provide users with cloud space. However, not all of them offer the same amount of storage either for free or paid. If you are looking for a platform that provides you with 1 TB free storage, then TeraBox – free cloud storage is your best and only option. Other well-known tools of this kind are Microsoft OneDrive, pCloud, Box, and Backblaze.
Cloud Storage
Free Plan
Premium Plan
TeraBox
1 TB
2 TB for $2.99/month with automatic renewal
Microsoft OneDrive
5 GB
100 GB for $19.99/year
pCloud
10 GB
500 MB for $49.99/year or

2 TB for $99.99/ year

Box
10 GB
100 GB for $14/month
Backblaze
No free plan
Unlimited for $7/month
#1 TeraBox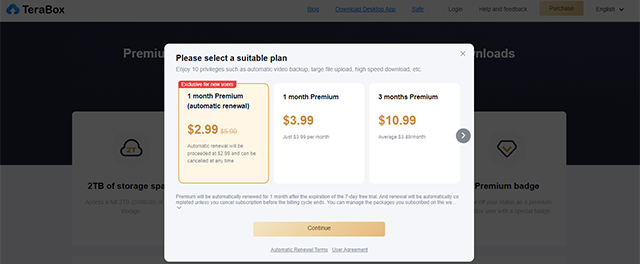 Pros
·            Upload via links feature

·            Encrypted safe space for enhanced security

·            Automatic photo upload

·            1 TB free cloud storage for every user

·            Multiple file sharing options
TeraBox is the perfect file management system for every user that wants a dependable app for his files. With TeraBox you get 1 TB free cloud storage, no matter if you are only using the free plan. In addition to 1 TB storage, the tool has also multiple features that make the management and sharing of your data easier than ever before.
#2 Microsoft OneDrive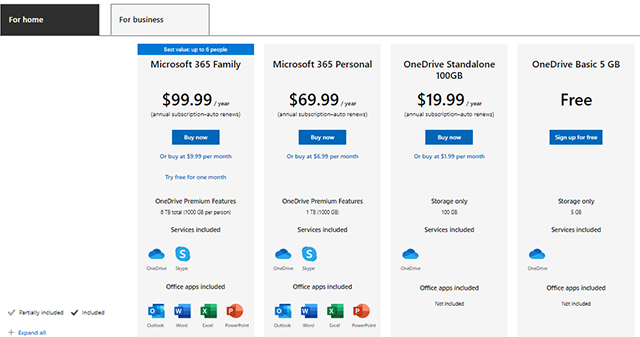 Pros
·            Integrates perfectly with Microsoft Office

·            Online editing feature

·            Great for teams

Cons
·            Doesn't support Linux

·            Limited cloud storage even in premium plans
Microsoft OneDrive is a tool that Windows users will find very convenient as it works perfectly on this operating system. Its online editing feature makes it a great app for collaboration as each member of the team can make changes. However, OneDrive doesn't have many advanced features and the available storage space is limited.
#3 pCloud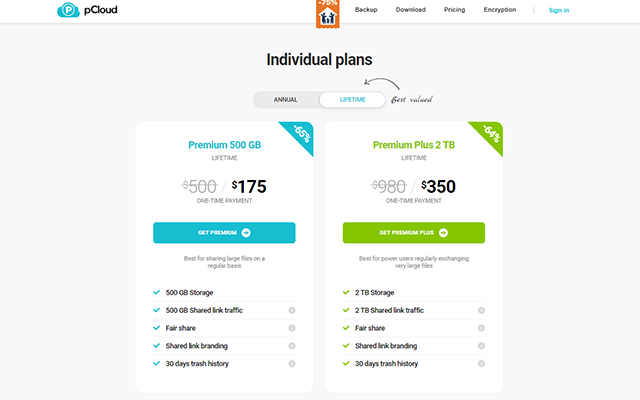 Pros
·            Has introduced a lifetime plan

·            Web browser extension for instant upload

Cons
·            Very expensive

·            Doesn't support automatic upload
pCloud is a file management platform that has been one of the most used apps of its kind for years. With a user-friendly interface, it is a tool that can cover most users' needs. It is very interesting that pCloud has a lifetime plan, which is something that we rarely see happen. However, these plans cost a lot of money and require a big investment.
#4 Box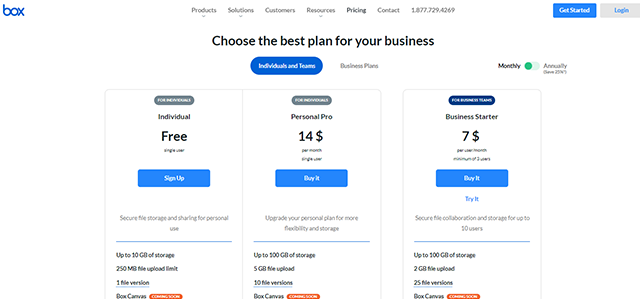 Pros
·            Integrates with numerous productivity tools

·            Perfect for collaborations

·            Enhanced cybersecurity

Cons
·            Doesn't support Linux

·            Confusing desktop app
Another amazing app that offers cloud storage is Box. This specific tool is ideal for businesses or for teams that aim to increase their productivity. For this reason, the app works perfectly with more than 1,500 productivity tools. However, it is important to note that even the premium individual plan offers only 500 GB of storage space.
#5 Backblaze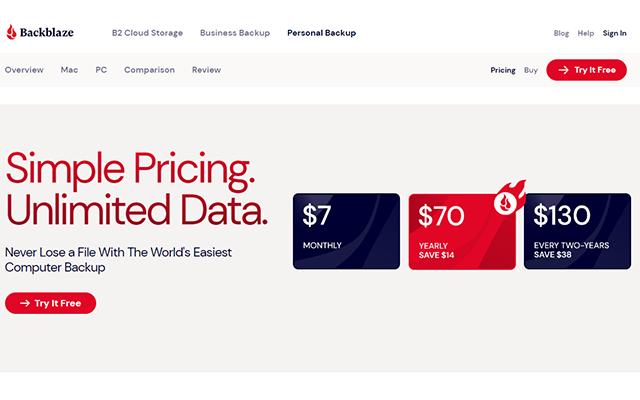 Pros
·            Unlimited file backup
Cons
·            Doesn't offer free storage space

·            Doesn't offer any other features

·            Can only add one PC per account
Backblaze is a one-of-a-kind tool since it is the only one on this list that doesn't offer a free plan. Instead, you can simply buy unlimited cloud storage space for $7 per month. Despite this, you cannot use Backblaze for anything else rather than backing up your data.
Which cloud storage is free unlimited?
Most file management systems provide you with a few gigabytes of storage space. This might be enough in the beginning. However, your cloud storage will quickly run out of available space since you will constantly be adding more new files. For this reason, TeraBox is truly the only tool you will need. With 1 TB storage without having to pay a monthly fee, it is your cheapest and most trustworthy option.
To put things into perspective, only think that 1 terabyte storage can fit around 400,000 photos, 2500+ movies, and even almost 6.5 million documents. This practically means that you will never need another tool to satisfy your storage needs. All of your files can be stored safely in TeraBox.
Final Thoughts
Every cloud storage platform offers its users some space that they can use for free. Nevertheless, only TeraBox makes 1 terabyte of cloud storage available to users that have signed up. Everyone that downloads the app and creates an account can use all this storage space in whichever way he chooses. Get TeraBox FREE from the official website, Google Play, or the App Store to back up your files and share them with your friends.