We have come far beyond the days when people used to get awestruck by 32 GB phone storage, most of which had already been occupied by the pre-installed apps. In the present world of fast-paced evolving technology, the immense need to keep all the necessary files at hand has set new demands for storage space.
To lessen all our stress while providing free 1TB cloud storage to save all sorts of data, from documents to pictures, TeraBox has become the champion of the cloud storage world in no time.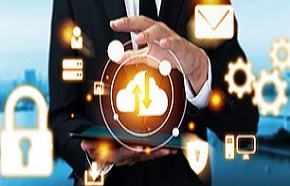 TeraBox Promises Ease
The primary factor behind the increasing popularity of TeraBox among users is its ease. It takes just a few minutes to get yourself registered at TeraBox's official website, and the second you're done, you will enjoy the biggest cloud storage free.
TeraBox's 1024GB cloud space is enough to save as much as:
4,000,000 photos
2,500 video files
Documents of 6.5 million pages
500 HD quality series
These remarkable selling points have made TeraBox the most satisfying investment for millions of users in about 214 countries.
But to add further surety, we want you to make an informed decision rather than getting influenced by opinions. So, let's explore the details of the best biggest free cloud storage space.

What is TeraBox?
TeraBox is a cloud storage and sharing app that offers the best ways to organize and secure data with the facility of scheduled backups.
Whether you're a university student dealing with a lot of assignments, lectures, e-books, and voice notes, a businessman who needs to keep a strict record of all the documents, or a housewife planning the next family movie to watch on the weekend, TeraBox could be your best go.
Features of TeraBox
Here are the main features of this trending cloud storage app that stands out from the average.
1TB Free Space
TeraBox is a blessing for everybody dealing with space management problems. It offers a huge cloud space for free to ensure you "worry less and enjoy more."
Imagine those days when you have to give up on some of your precious pictures and videos to get your zoom lecture downloaded. What about those vacations where you couldn't capture all your special moments due to insufficient storage? And how could you forget the time when you had to make a preference between your favorite series due to storage issues?
Once you get registered on TeraBox, you could take a chill pill and make the most out of each memory without getting stressed at all.
Auto-backup
Doing manual backup with our pre-occupied daily schedules is no less than a challenge. Consequently, most of us get our important data lost in the long run. However, TeraBox, like everything else, has the solution for backups too!
It has a quick and reliable auto-backup feature that provides regular backup of all your photos once you permit it to do so, thus cleaning extra space and ensuring your peace of mind.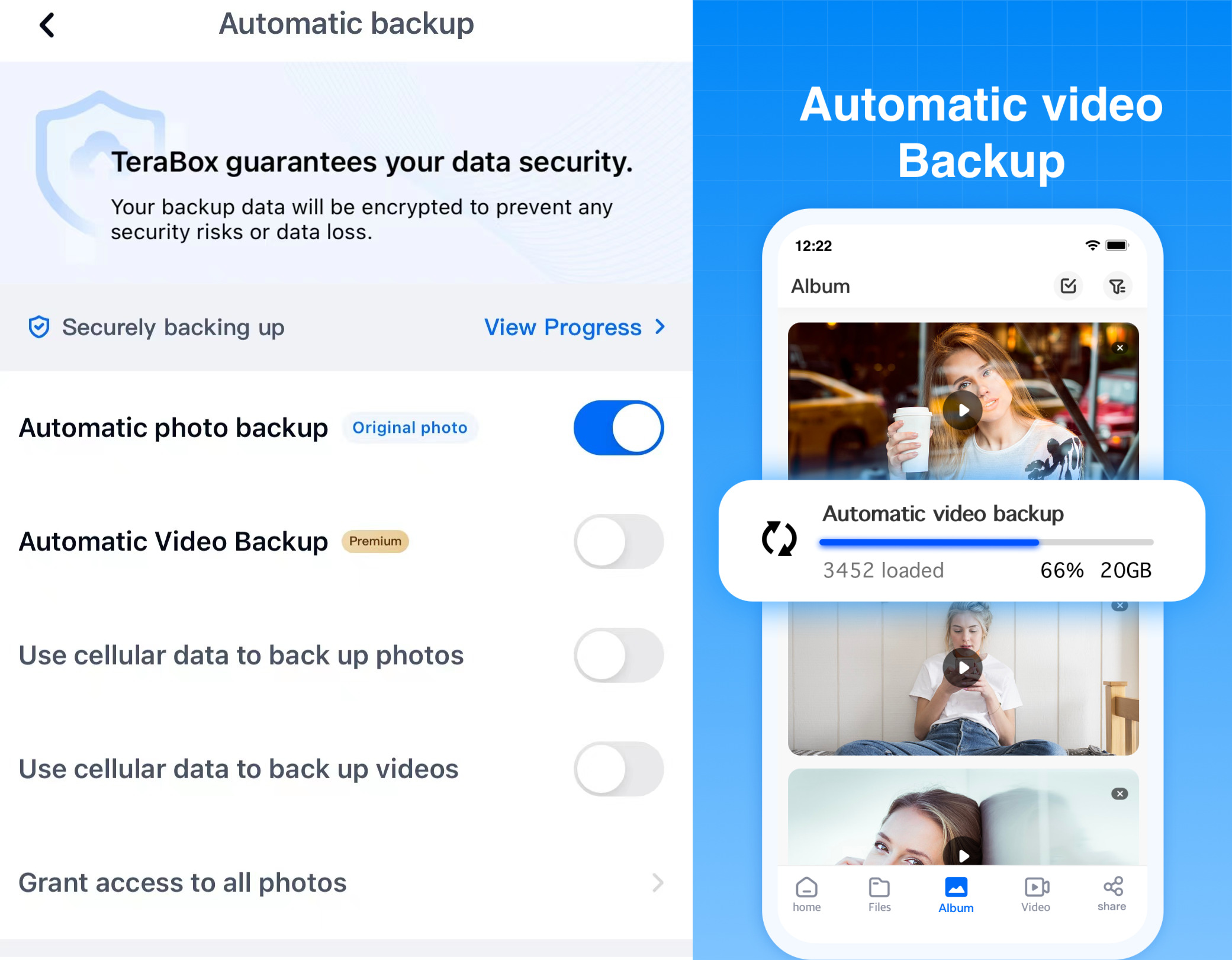 File Transmission
Cloud storage has never been so cost-effective before TeraBox. There were times when you had to pay extra bucks to transfer large files. But TeraBox brings you the comfort of uploading as much as 20GB of data at ultra-fast speed with its premium registration.
However, if you want to test its credibility, you could try the free user type to upload as much as 4GB of data at one time.

File Sharing
TeraBox changes the way of file sharing through its amazing share link. It provides users with free options to share their files via various social media, emails, and share links.
In terms of private files sharing, TeraBox comes up with a special share link with a randomly generated extraction code and an optional expiration date, best securing the contents in the link.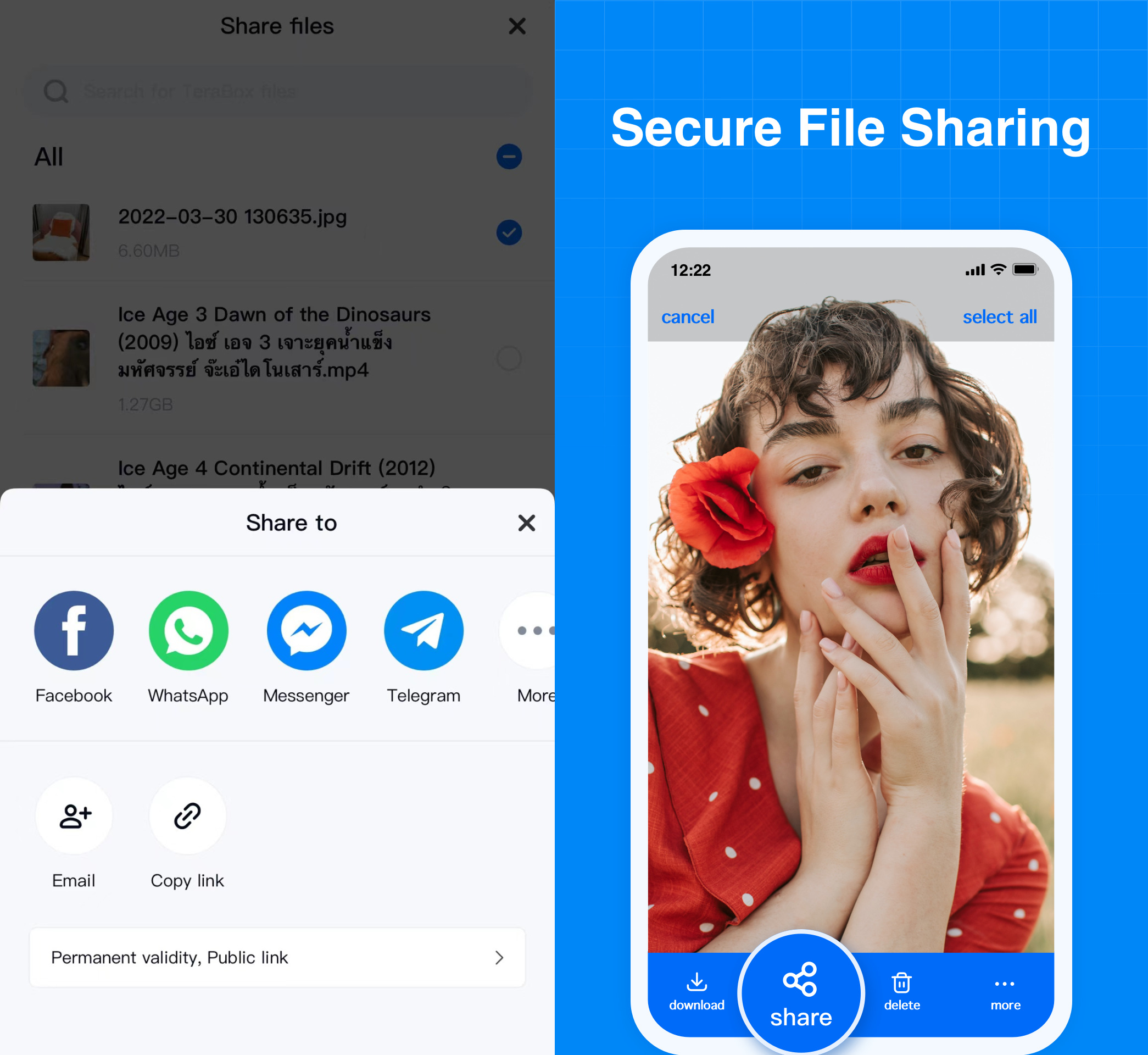 Private Space Protection
TeraBox has become the largest cloud space for its quality. It has worked with blood, sweat, and tears to win the confidence of its users.
Being the best in the free cloud storage world, it strictly maintains the security service. It provides the users with a private space. With an option for setting a password, they can upload their private data, including documents, pictures, and videos.
"We'll never violate TeraBox privacy policy!"

To Wrap Up
So now you know how much you could avail yourself of a 1TB free cloud storage.
With TeraBox's fantastic features, you will no longer worry about your data management problems.
Its easy-to-use interface has many surprises to offer. To learn more, register yourself on TeraBox today!