The most innovative way to transfer large files and store data using cloud storage in2022 is "TeraBox". This software aims to make lives easier and happier with its fantastic features.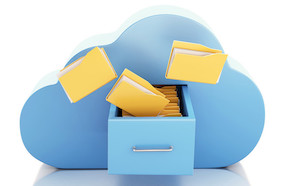 Gone are those days when backup, sync, access issues and sharing large files get your head spun. A TeraBox account comes with 1024 GB storage space, which is hundreds of times greater than that provided by comparable products. This cloud software works super hard to protect all the data of its 20 million users while ensuring strict privacy. With TeraBox in your access, you can easily store 400,000 photos, 2500 movies, 2 large games.
And still, have a 1TB drive to go. Yes, you get it all for FREE!
Once you sign up with TeraBox for free, you win a free space of 1 TB, which expands to 2TB the minute you switch to the premium version.
Don't worry about the money, as the premium version of TeraBox is far less expensive than most other cloud storage services.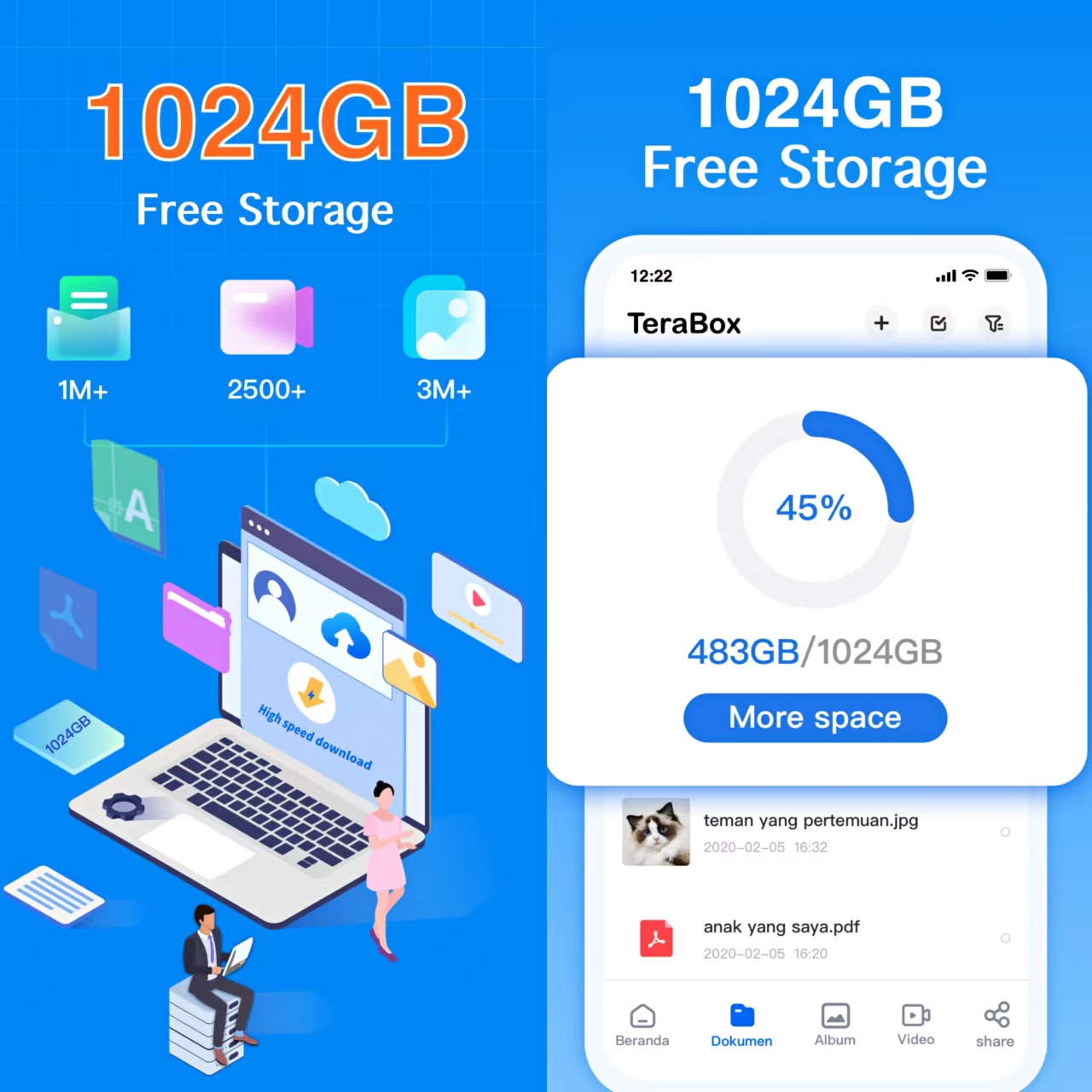 Salient Features
Here are some features of this fantastic cloud disk that make it universally the best file transfer app.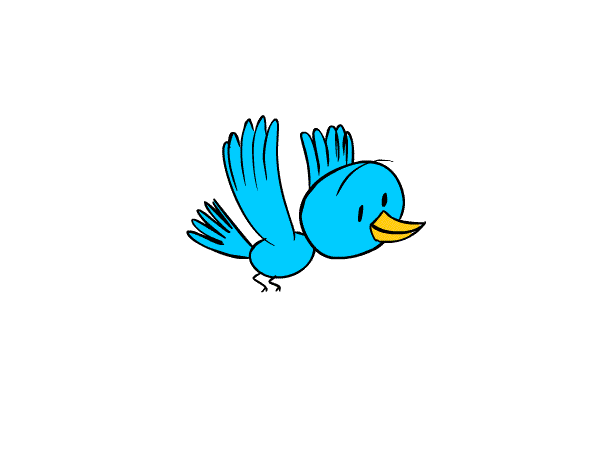 Safety of private space
When other cloud storage products offer no private space or one with limited space, TeraBox steps in to address your privacy concerns.
TeraBox includes a Safe area that is mainly designed to store confidential information. When connecting to TeraBox, users can create their private space passwords for secure file transfer. They must first go through password verification every time they log in to access the Safe space, further protecting the user's privacy and data security.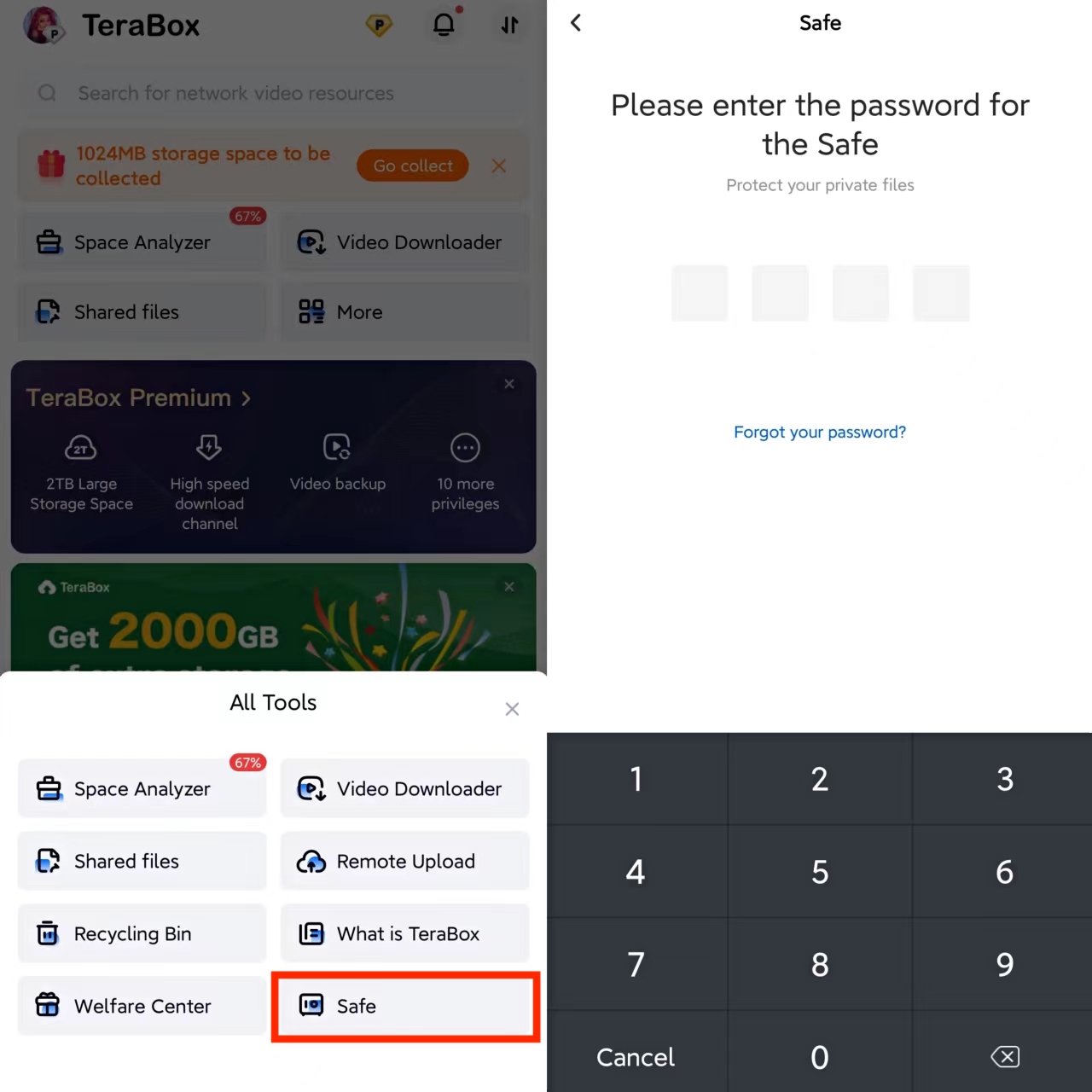 Back up photos & videos
There is no lie that all of us seek a reliable cloud service that eases our data management struggle. TeraBox's functional design and user interface are exclusively designed to meet customers' demands.
TeraBox can automatically back up photos and videos as long as the automatic backup setting is turned on. So even if your phone is lost, you don't need to worry, as long as you back up your data to the cloud, you can still see unforgettable memories from the cloud after you get a new phone.
It ensures automatic backup of photos from your phone to an ultimate 1TB space.
Additionally, it offers video playback and online photo preview features to keep everything as smooth as possible.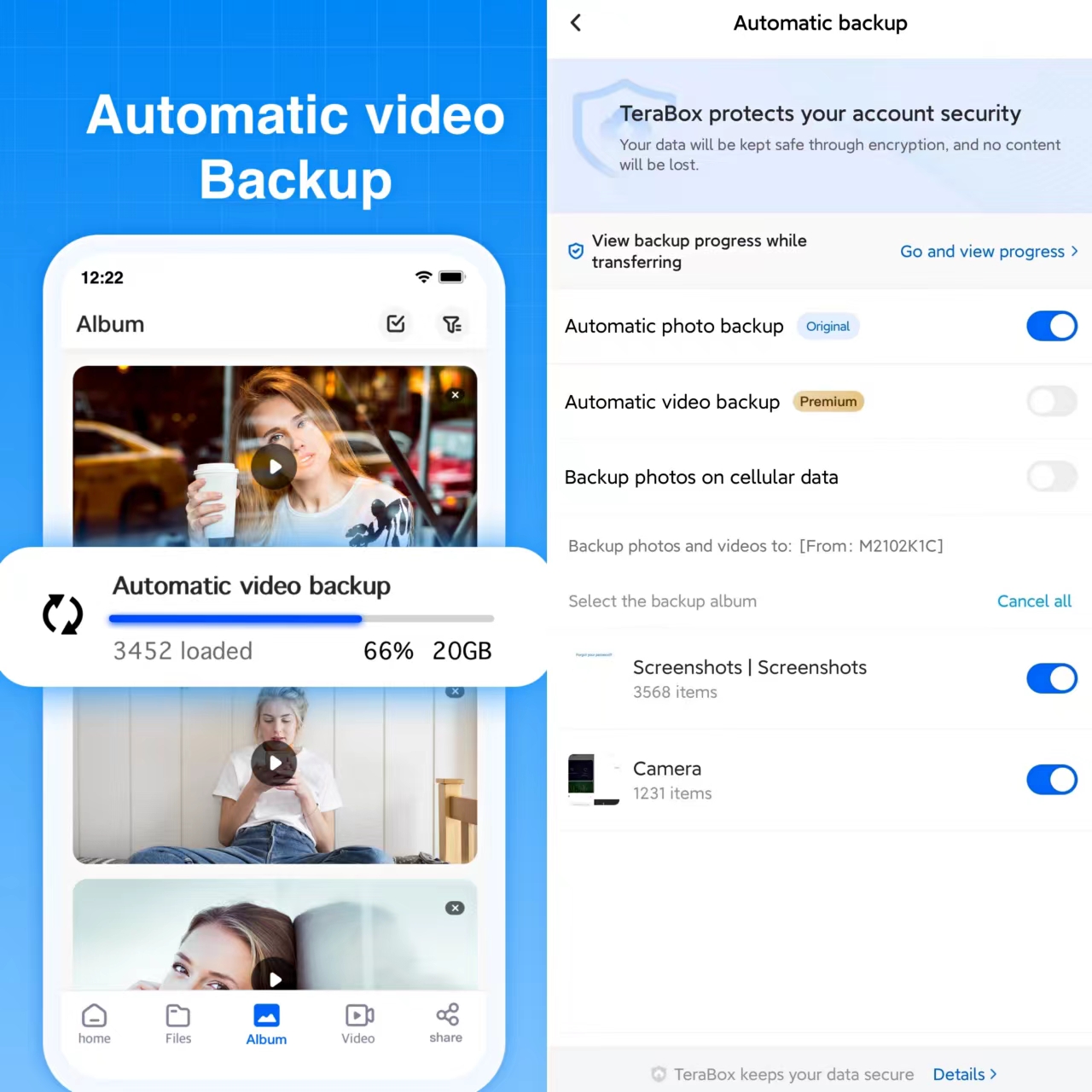 Search
What makes TeraBox the first choice of 20 million users is its user-friendly features. It is a universal solution for all data-storing individuals. From your favorite movies to critical business files, TeraBox makes sure you find the correct doc as fast as lightning.
Just type the name or the keyword, and you get your required file!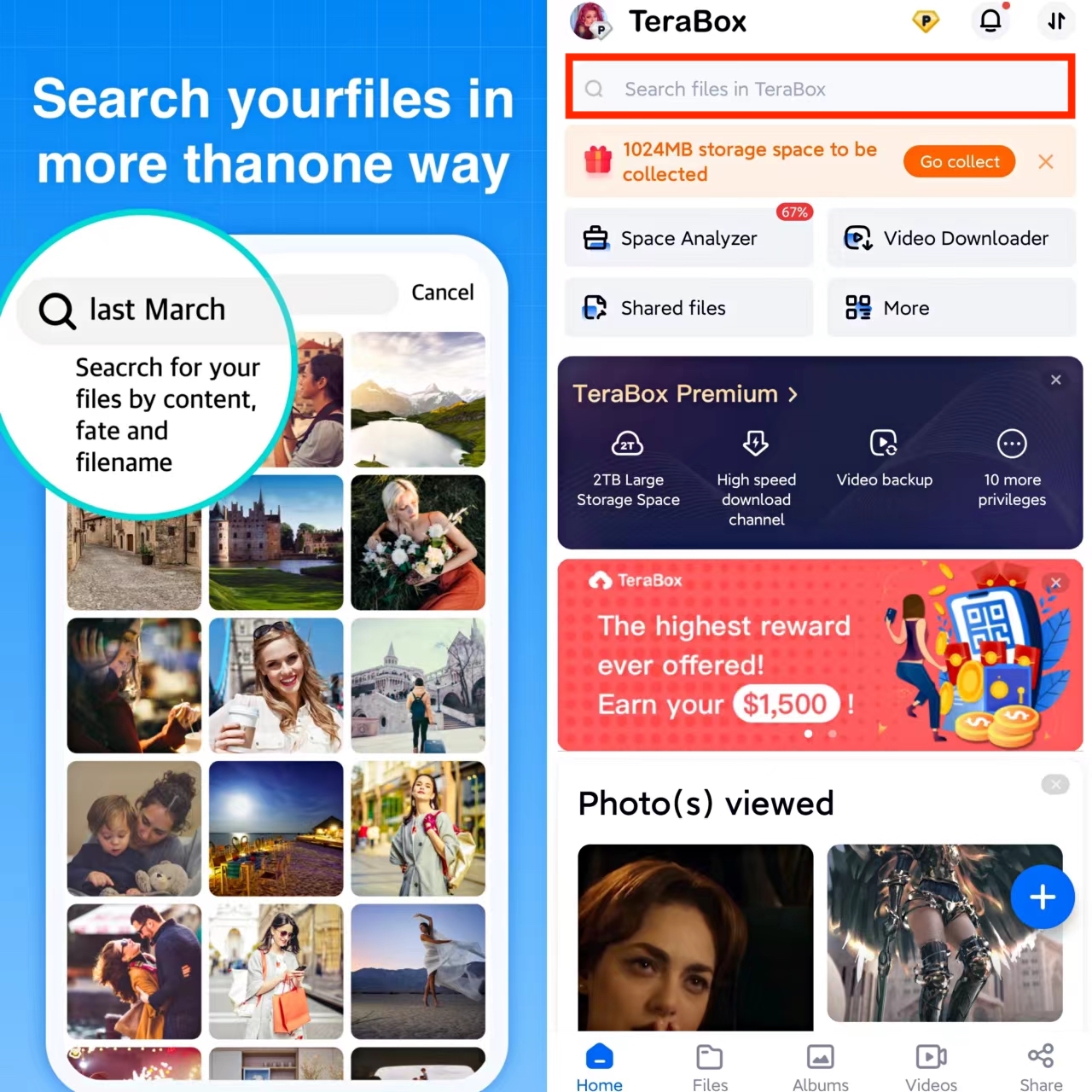 Remote Upload
You've run out of space on your phone's memory and can't download more games. Now what? The solution is as straightforward as pie. Using the "Remote Upload" feature of TeraBox, you may download all sorts of Internet content like applications, videos, and games to your device.
TeraBox allows numerous download links such as HTTPS, HTTP, and magnet links.
To remote URL upload files, you must go to the home page, click [more], and select [Remote Upload].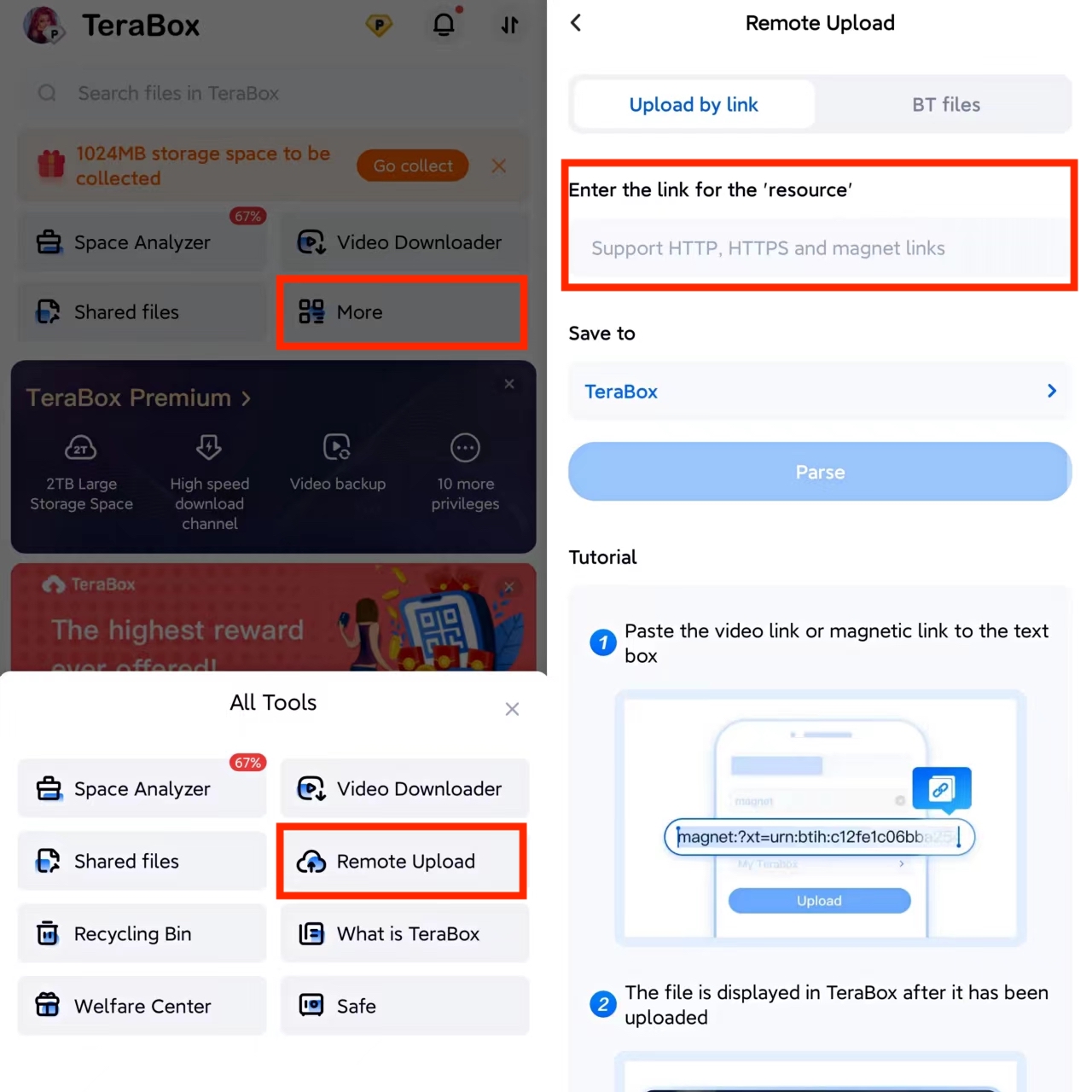 Large File Transmission
TeraBox transfer function is very powerful, if you want to transfer large files to the cloud, or want to download movies to your phone, then you must choose TeraBox.
TeraBox can upload large files for free. Regular users can upload large files up to 4 GB, TeraBox Premium users can upload large files up to 20 GB,
At the same time, TeraBox can support high-speed upload and download, and the speed can reach 4.7M/S.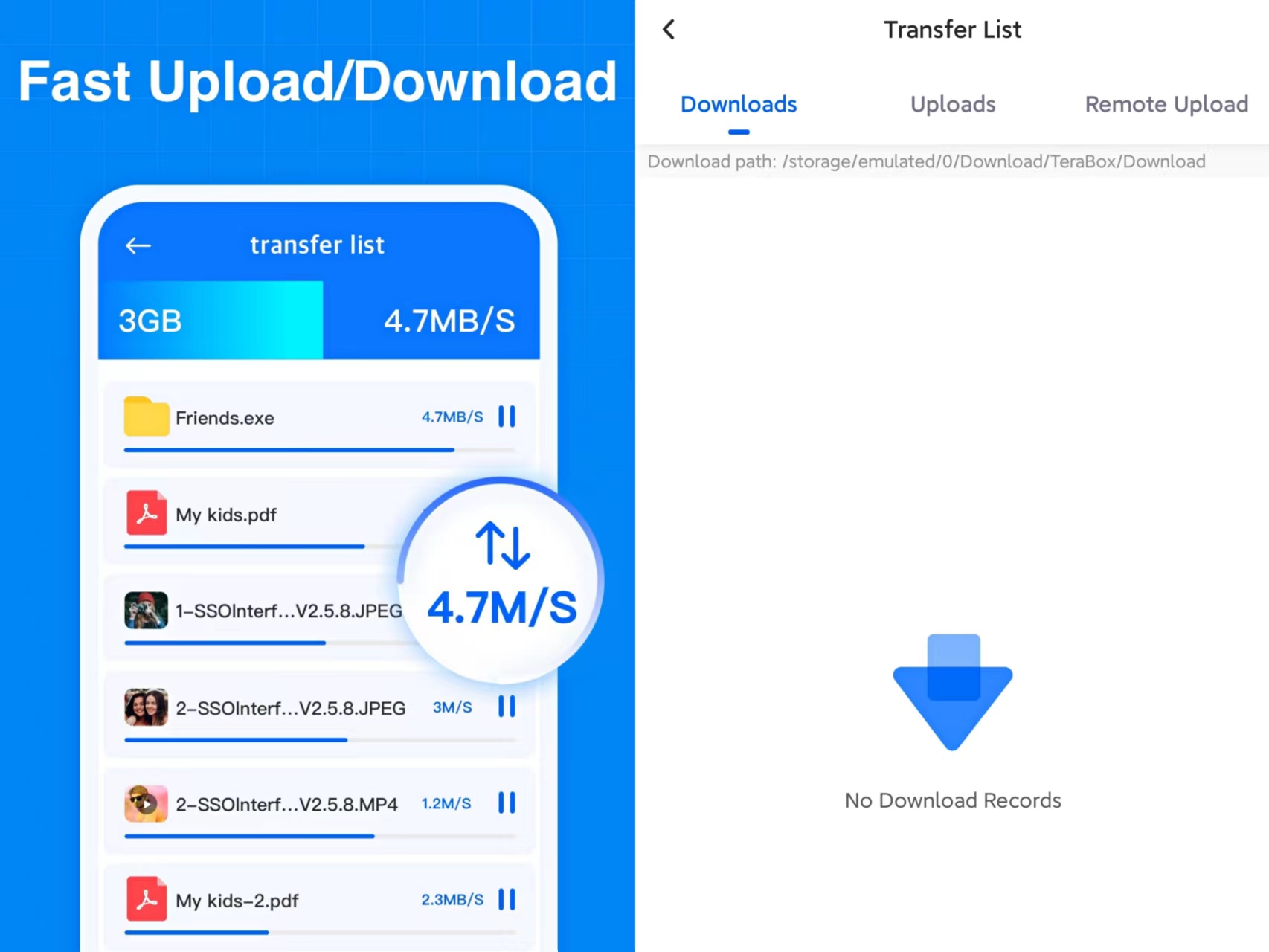 Available on a Variety of Devices
TeraBox is compatible with a wide range of devices. Syncing files across many devices at any time and from any location is a snap (for iOS, Windows, Linux, macOS, and all other popular networks). It means you can store files in the app and view them from any device, including your computer, mobile phone, or tablet, at any time.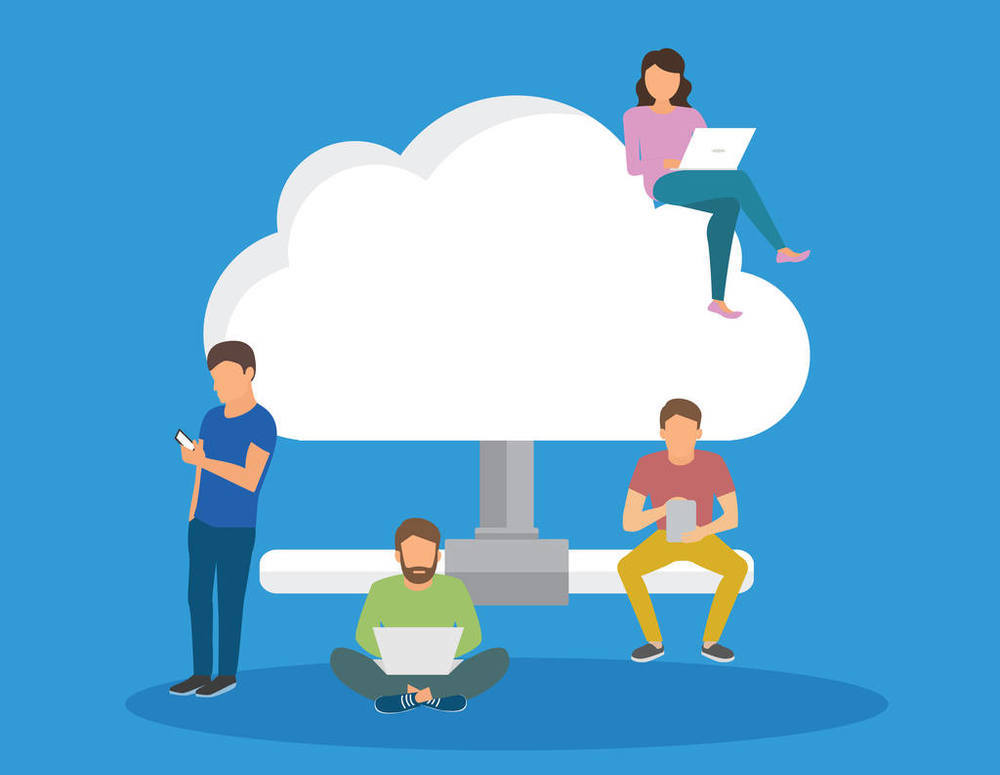 In Conclusion
Last but not least, TeraBox offers convenient login and is already used in about 214 countries around the globe. Sign up now to enjoy 1024GB of free storage space!