Discover the seamless and lightning-fast method to effortlessly transfer file between iPhone and Mac. Get ready to take your file transfer game to the next level!
iPhones are certainly among the top-of-the-line smartphones around and are considered a symbol of luxury. They have great capabilities and the tech is continuously evolving to give you great cameras to capture real moments, bright and sharp displays to make viewing a joy, and powerful processors so that you never have to experience lags when using the most demanding apps and games.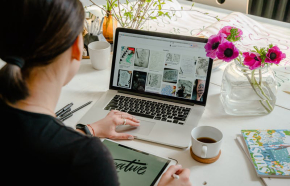 But do they have ample storage? Well, iPhones do offer a lot of storage space, but if you consider the amount of space individual photos captured with high-end iPhone cameras take, you'll run out of storage soon enough. The way out? Look for ways to transfer file between iPhone and Mac and de-clutter your iPhone storage.
You can also use the best cloud storage to create some space on your iPhone, but if you want to keep your important stuff on your mac, there are a few options you can try.
5 Ways to Transfer File between iPhone and Mac
If you want to transfer files between mac and iPhone, there are a few options you can try to do that. Let's explore them in detail and find out how you can do that.
1.Transfer Files Between Mac and iPhone With iTunes File Sharing
iTunes File sharing can be used to transfer files from iPhone to Mac without any hassle. However, you can use this option to move files between mac and iPhone only if the feature is supported by the app in which the files are created. The supported files for this method include ones that are made using Keynote, Pages, and Numbers.
It won't take long to transfer file between iPhone and mac with this method. All you need to do is to connect your iPhone to your mac and use the 'File Sharing' option in iTunes to share your desired files from iPhone to mac and vice-versa.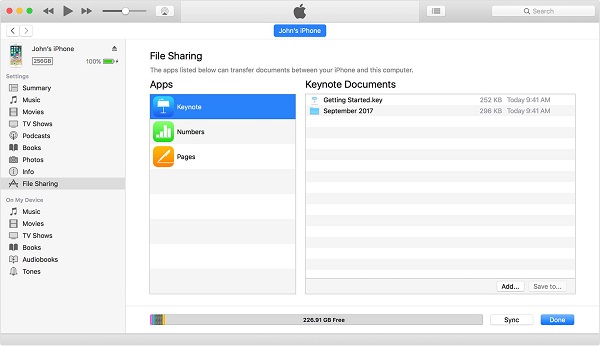 Once the file transfer is complete, the files will be available in their corresponding location or app.
2.Transfer Files From iPhone To Mac Through Email
This could be one of the most straightforward ways to move files from iPhone to mac. Any file that could be attached in an email can be easily transferred between your Apple devices. This method can be used effectively for transferring documents, videos, and photos to your Mac.
All you have to do is to compose an email on your iPhone using your preferred email service provider and attach the desired files to be sent to the desired email (even your own email address). Once the email has been sent, you can open it on your Mac and download the files there. However, it may take long to attach and send files from iPhone to mac using this method. Besides, there are often limitations on the sizes of the files you could send as an attachment.
3.Use iCloud Drive to Sync Files Between Your iPhone and Mac
Using iCloud Drive, Apple users can keep their files in the iCloud and sync them across devices. The files stored in the iCloud are accessible through iCloud.com, PCs, Macs, iPhones, and other iOS devices. With this method, you can share file between iPhone and Mac and access it anytime on your desired device. Syncing files between your Mac and iPhone through iCloud Drive is easy. Just enable iCloud Drive from Settings on your iPhone and turn it on in System Preferences on your Mac. You can then upload files to iCloud and download them on your target device.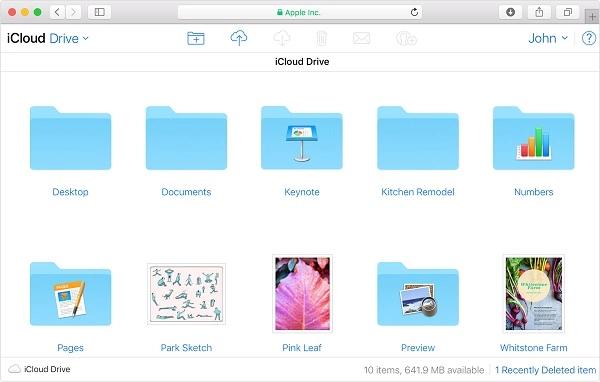 4.Share File Between iPhone and Mac With AirDrop
If you aren't familiar with AirDrop, it's the built-in utility for file sharing on Macs and iOS devices. When enabled, you can use it to transfer photos, videos, locations, websites, etc., between your iPhone and Mac over Wi-Fi and Bluetooth connections. It's an efficient way to transfer files wirelessly between your iPhone and Mac. However, the process is a bit complex, and you need to have a stable connection to make the transfer possible.
5.Data Transfer Software
While all the options above work, they do have their pros and cons that make them not an ideal solution to transfer file between iPhone and Mac. Some methods may need a physical wired or USB connection between the two devices, while others would need a stable internet or Bluetooth connection. Besides, they have certain limitations on the file size and type to make the transfers possible. To avoid that, reliable data transfer software is the ultimate solution. Want a name?
TeraBox is the best file transfer software that offers a whopping 1TB of cloud storage for free. Yes, it's completely free and gives you an efficient way to may file transfers possible between your iPhone and Mac. The tool can be used for moving big files, up to 20GB, between your Apple gadgets quickly and easily. Whether you want to transfer files to another device you own or you intend to share files with your colleagues or friends, TeraBox will never disappoint you. It's a safe and secure method to send file from iPhone to mac efficiently.
What Makes TeraBox the Best Data Transfer Software?
While you can come across many different software online that claim to be the best tool for data transfer, TeraBox is leagues ahead. The software is equipped with a range of useful features that make it easy for you to transfer file between iPhone and Mac. Here are 5 reasons why TeraBox is the best data transfer software for iOS products.
1.Certified To Offer the Best Security
TeraBox is ISO/IEC certified for cloud security. It employs an SSL certificate to ensure safe data transfer between your Mac and iPhone. With TeraBox, you have the peace of mind that you can go ahead with secure file transfer and that the best security measures are in place so that no intruders could steal your precious data.
2.1TB of Free Cloud Storage
TeraBox is the only cloud storage solution that gives you a whopping 1TB of cloud storage for free. With that much storage space available, you can store up to 500 HD movies of 2GB each, thousands of amazing photos, and millions of documents. It lets you safely sync, share, access, and back up your valuable data.
3.Automatic Photo Backup
You can enable automatic backups in your TeraBox account so that all your iPhone photos are automatically backed up on a set schedule. It ensures your precious memories are safe and can be downloaded from the cloud anytime if you lose them. You can also download them to other devices like Mac if you want to transfer files from iPhone to Mac.
4.Easy File Sharing
File transfers are super-easy with TeraBox. You can share files with your friends, family, and colleagues easily with a shareable link. Rest assured that your important data won't be compromised in the process. You can even create password-protected links with TeraBox and set a certain validity period for your links to enjoy easy and safe data sharing.
5.Privacy Safe For Added Security
TeraBox also gives you a dedicated privacy safe to keep your files secure in the cloud, protected by a password. If you have any sensitive files and data that you want to transfer between iPhone and Mac, you can keep it in the privacy safe until the transfer gets through for added security and peace of mind. Anyone trying to access this data will have to provide the password first to access your files.
How to Transfer Files between iPhone and Mac with TeraBox?
Now, let's explore how you can use TeraBox to send file from iPhone to Mac. There are a couple of ways you could share files online with TeraBox, and we have detailed both methods here.
File Upload
You can use TeraBox to upload your data from your iPhone to the cloud and then download it on your Mac using your TeraBox account. Here's a step-by-step guide to do that.
Launch TeraBox on your iPhone
Tap the upload icon at the bottom of the screen
Select files and photos you want to upload and share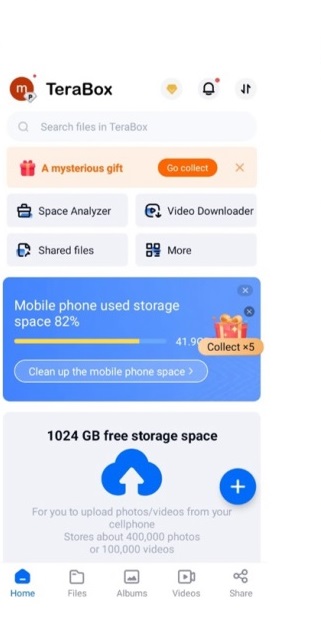 Open TeraBox on your Mac and Log In to your account
Select the files you want to download
Click the Download button at the top

File Sharing
Another option you have to transfer files between mac and iPhone is File Sharing. You can create a shareable link to your files and share it with anyone else through email or direct message. Follow the steps below to send files from mac to iPhone using this method.
Launch TeraBox on your iPhone
Tap the share button at the bottom of the screen
Select files or folders you want to upload and share
Tap the share button, and copy the link to share it with anyone you like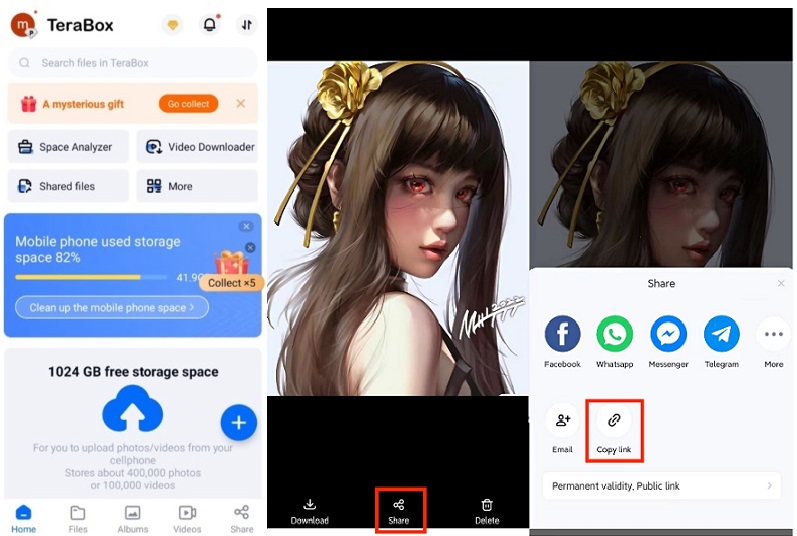 Then the shared files may then be accessed on any device, including Macs, iPads, and more. Transferring data from your iPhone to your other Apple devices is a breeze with TeraBox.
Final Thoughts
Keeping your files and photos on your iPhone will only lead you to pile them up and run out of space on your iOS gadget. It's better to transfer them to your Mac where you have the luxury of more space. While there are multiple ways to do that, TeraBox gives you a foolproof method to securely transfer file between iPhone and Mac. TeraBox offers you a plethora of free space to keep your heavy files in the cloud with added security features. You can download the files you want to move on your Mac anytime.
Alternatively, you can use file sharing via a link to transfer files between mac and iPhone. It is pretty easy to transfer files from iPhone to Mac using TeraBox, and you shouldn't worry about the security of your important data. So download TeraBox as soon as possible!