Videos take up too much space on your device, which is why it is preferred to store them in video cloud storage. Otherwise, you will soon run out of space, and the device will need more space to function properly.
People usually capture their memorable moments of vacations, trips, weddings, and other special events in the form of videos to recall them in the future. This is a massive collection, and it increases with time. Therefore, storing all videos in built-in or internal storage is not possible.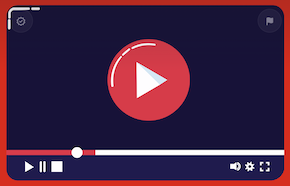 Secondly, you can't store a video in normal storage because the data can get leaked, the hard drive can get corrupted, and there could be tons of issues. You can't afford to lose this important data. Thus, there is a need for reliable, affordable, and safe cloud storage for videos that can store all your data.
You will find dozens of free cloud storage services, but not all of them offer the required security, protection of privacy, ease of use, and other features. In this article, we will share the top 6 video cloud storage service providers and discuss their pros, cons, features, and pricing for your ease. It will help you pick the right one to keep your videos safe without worrying about storage.
Free Storage Summary Table for Video Storing Solutions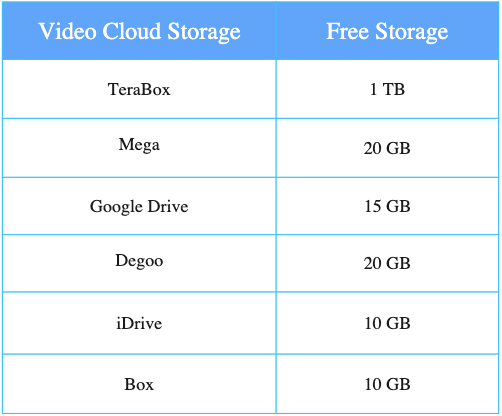 1. TeraBox – Best for Unlimited Free Video Storage
2. Mega – All-in-One Video Cloud Storage
3. Google Drive – Ideal for Google Ecosystem Integration
4. Degoo – Optimal for Secure Cloud Video Storage
5. iDrive – Top Choice for Multi-Device Video Management
6. Box – Perfect for Business Owners
Key Features to Look for in a Video Cloud Storage Service
While looking for a video cloud storage service, make sure to check the following features and factors.
Storage Capacity
A video can even take up to several GBs, which is the reason there is a need for massive storage. If you go with a storage of 20-50 GB, it will fill up soon, and then you will have to look for another cloud video storage tool.
Make sure the storage service offers enough storage for your needs. It should be several hundred GBs at least to store your initial data. The more storage, the better it is. Secondly, there should be an option to upgrade to several TBs in the future.
Ease of Use
Cloud storage should be easy to use. It should have a simple interface, fast uploading, easy file-sharing, video playback options, etc.
Accessibility
Ideally, there should be only one cloud storage that can be controlled and used from your smartphones and computers. It should be accessible on iOS, Android, Windows, macOS, and other operating systems you use. Secondly, there should be a web application so that you can access your data from any device in no time.
Security
Finding secure cloud storage for videos is important because it ensures your data is safe from hackers and malicious attacks. It prevents data leakage and protects through advanced security protocols. Secondly, the privacy of the data is important. Everything in the cloud should be encrypted end-to-end so that only the users can access their data.
Top 6 Cloud Storage for Videos in 2023
1. TeraBox
TeraBox is the only free cloud storage that offers up to 1 TB of free storage where you can store all your data without any hassle. This space is enough to store 51,200 one-minute videos. If your devices are out of space, this one storage option gives you plenty of space for your videos, photos, and other files.

You can use the TeraBox app on your PC, Mac, iOS, or Android and access data anywhere you want. Most importantly, you can create an auto backup for your images, videos, and other files. Your data is automatically synced to the cloud, and there is no need to worry about data loss. Plus, the shared links can also be password-protected and restricted.

The software has a recycle bin, backup option, large file-sharing support, and tons of extraordinary features that make it ideal cloud storage for videos.
Price: 2TB only costs around $3.45 per month
Supported Operating Systems: iOS, Android, Windows, Mac, and Web app.
Features:
Secure cloud storage with end-to-end encryption
Personal Vault where you can store your data with additional password protection
Built-in video player
Pros:
1TB cloud storage for free
Easy to use and ideal for beginners
Automatic backup for photos, videos, and folders
Filters all your photos and manages them properly in the cloud.
Excellent uploading and downloading speed
Cons:
The ads can be irritating in the free version

2. Mega
Mega is one of the most popular and trusted video cloud storage that people use for personal as well as business purposes. It is an all-in-one platform for secured storage, chat, calls, and meetings, and you can use it on your computers as well as smartphones.
Price: €1.56 per TB per month 
Supported Operating Systems: iOS, Android, Mac, Windows, Linux, and Web app.
Features:
Zero-knowledge encryption
20GB free storage after creating an account
Storage can be expanded to 16TB
Pros:
Data is safe from leakage, hackers, and other security issues.
One cloud for computers as well as smartphones.
Even if someone steals the data, it will be useless.
Easy video and file-sharing
Cons:
Prices of plans are high
Issues with customer support
Fewer collaboration features

3. Google Drive
Google Drive is another reliable cloud video storage that does not need an introduction. If you have a Gmail account, you get 15 GB of free storage to store your videos, photos, and other files.
It is undoubtedly a secure option that keeps you in control of the data. Your privacy and data are protected.
Price: $1.99 per month for 100 GB and $9.99 for 2 TB
Supported Operating Systems: iOS, Android, Mac, Windows, and Web app.
Features:
Google One stores your data from Google Drive, Google Photos, and Gmail.
Photo editing, family member sharing, and access to Google experts.
Pros:
Reliable and secure
Easy to use and access data and sharing
Widely used in different devices
You get free space along with the Gmail account.
Cons:
Security and privacy concerns
Limited offline file access
4. Degoo
Degoo is cloud storage specifically for storing and securing your lovely memories. It is a video storage cloud where you can store all your files without worries.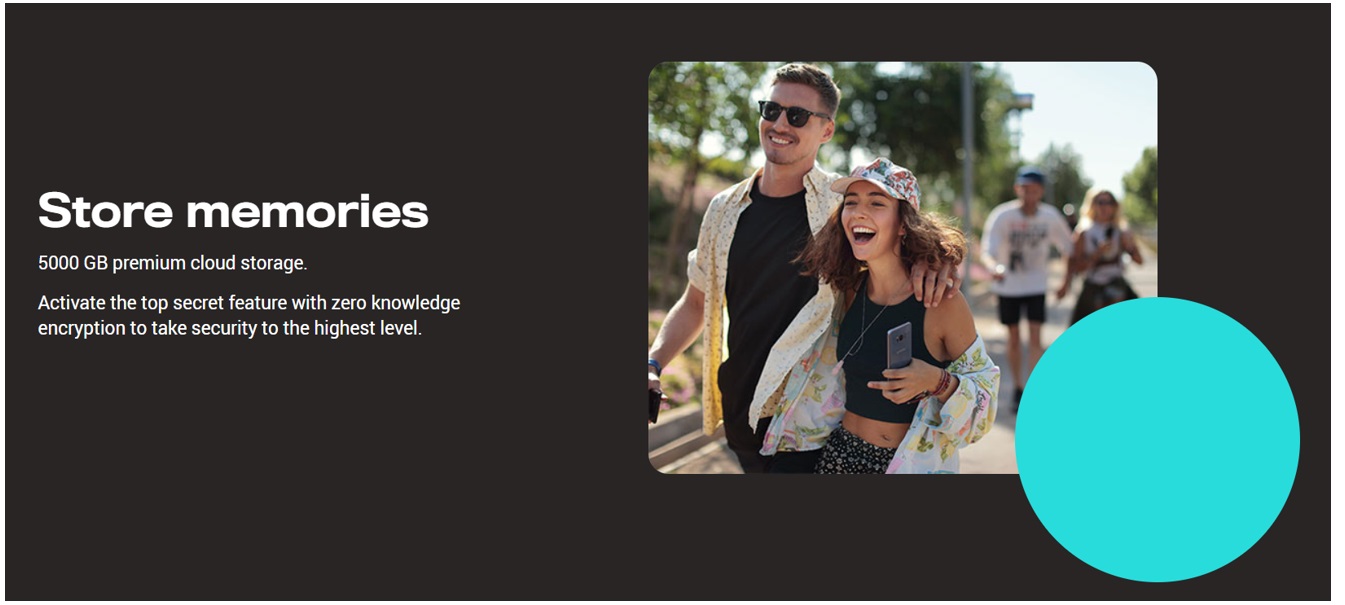 It is a great option for using cloud storage of multiple devices at a time. You can install the application on your smartphone and access the web app easily.
You can share your videos up to any size. It ensures video quality and secures it end-to-end. The recipient does not need a Degoo account to access the data. It is an excellent way to share and store life memories.
Price: $2.99 per month for 500 GB and $9.99 per month for 5000 GB
Supported Operating Systems: iOS, Android, and Web app.
Features:
Data is secured through zero-level encryption
You can enjoy 20GB of free space to share your memories.
Pros:
No size limitation on video sharing
Special photo storage maximizer to optimize space usage
For massive storage around 5TB, the cost is affordable.
Cons:
No app for desktop users. They need to stick to the web app.
Limit on the devices you can use.
The free plan is not safe to use
Not user-friendly
5. iDrive
iDrive is a cloud backup and storage service. It keeps your videos, photos, contacts, and other details secure by creating a cloud backup. You can access the data whenever you want, and there is no need to worry about data loss even if your device encountered any problem.
Its cloud storage and backup options are available for Android, iPhone, iPad, and computers. With this storage, you can ensure personal and business data safety.
Price: 100GB starts from $2.99 per year 
Supported Operating Systems: iOS, Android, Windows, Mac, Linux, and Web app.
Features:
Offers private key encryption.
File-sharing is quite quick and easy.
Offers 10 GB free storage space
Pros:
Can be used on unlimited devices
Affordable pricing, especially for the first year
Cons:
No monthly plan
Could be a bit difficult for some users.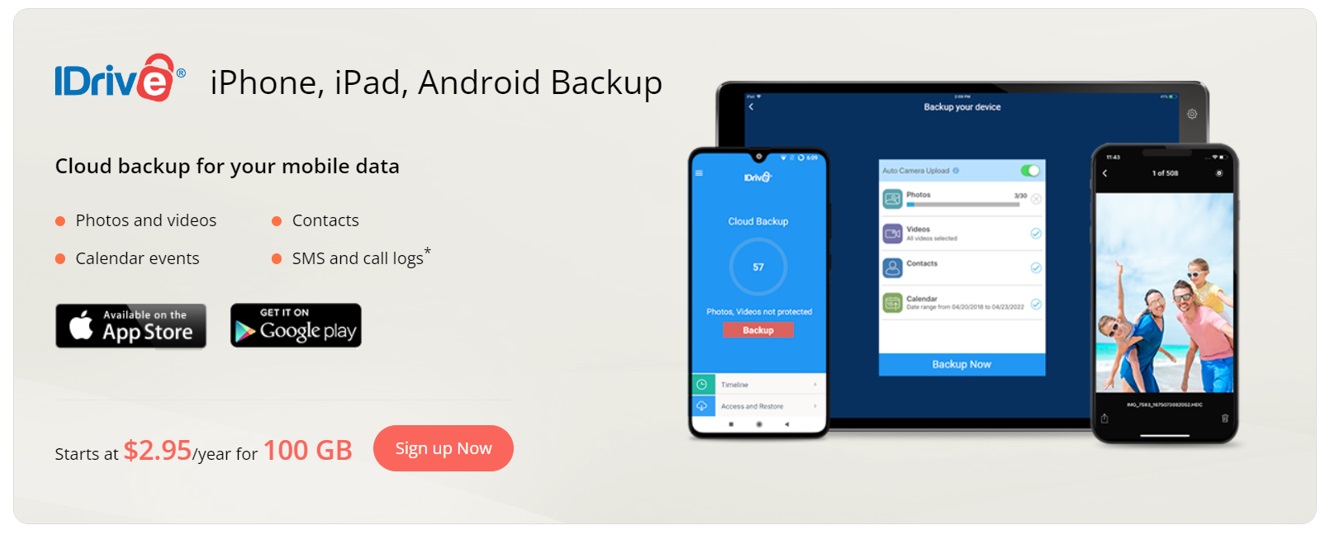 6. Box
For business owners, Box is a good choice. Not only can they store their videos and photos but also store office files and collaborate with their colleagues.
If you are a video editor, it could be an excellent option. The integration of apps in the cloud storage to take care of all types of content.
You also get threat detection to keep your data safe from hackers. Plus, your privacy is ensured.

Price: $15 for 100 GB per month and unlimited cloud storage on other plans.
Supported Operating Systems: iOS, Android, Windows, Mac, and Web app.
Features:
A good choice to store videos and photos along with office files
Incredible app integrations
10 GB of free cloud storage space
Pros:
It makes file-sharing and collaborations a lot easier.
The security of Box is up to the mark.
Cons:
Quite expensive
No client-side encryption
Speed issues while uploading, sharing, and downloading
How to Back Up Videos to the Cloud with TeraBox?
TeraBox stands out from the crowd with its remarkable offering of 1TB of free cloud storage for videos, setting a new standard in the market of digital storage solutions. Meanwhile, it can be used on a computer or smartphone.
Here, we are going to share step-by-step instructions on how to use video cloud storage and backup videos on both.
Windows:
Step 1: Download the TeraBox application from the official website and install it on your computer.
Step 2: Open the application and create a new account. You can register through your Gmail, Facebook, and Apple account.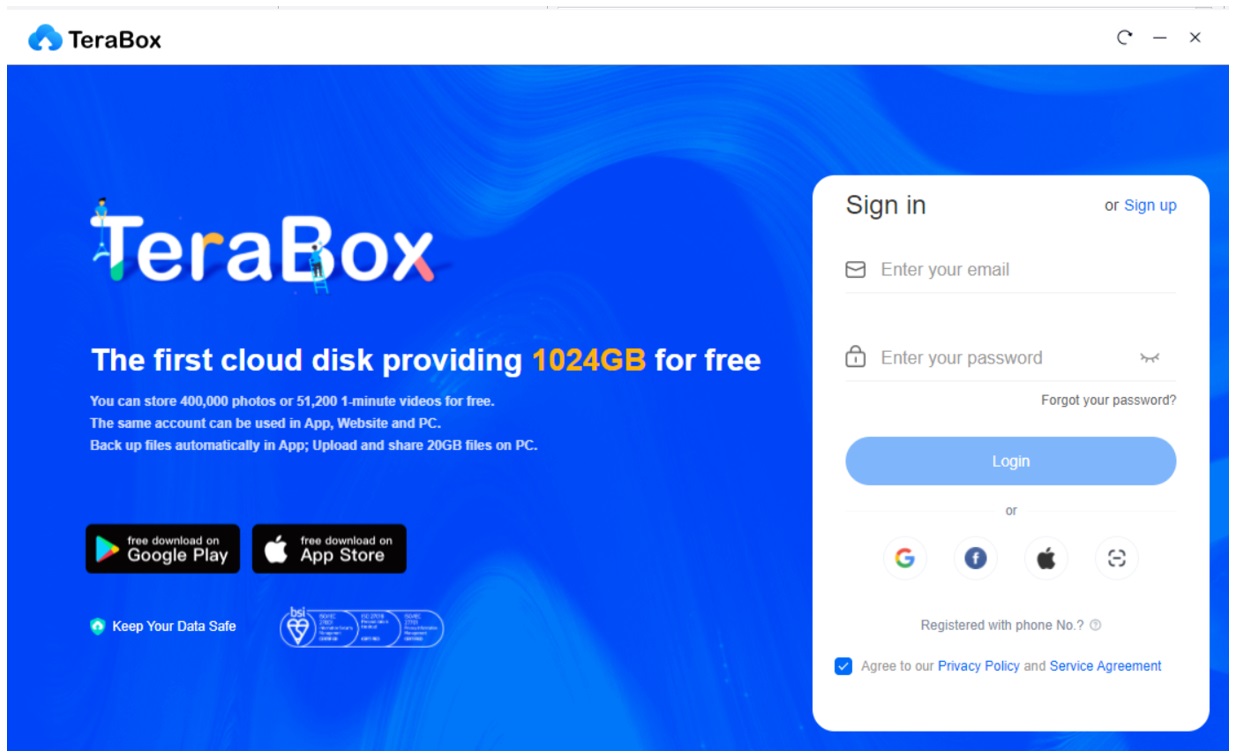 Step 3: Click on the Upload button at the top and select a video from the device to upload it. The uploading will start instantly.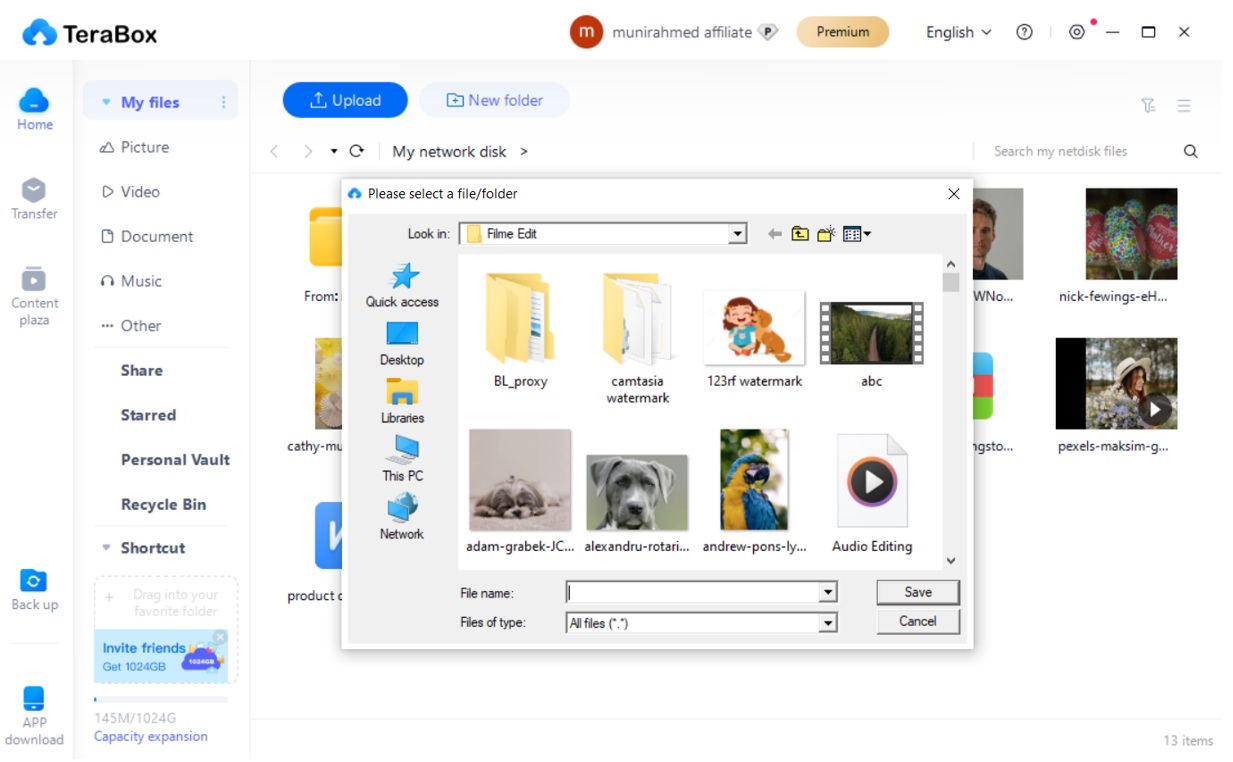 Step 4: Once the video is uploaded, double-click to play the video. The built-in video player will open. You have the basic playback options, speed control, and video quality settings. Moreover, you can also switch between different audio tracks easily.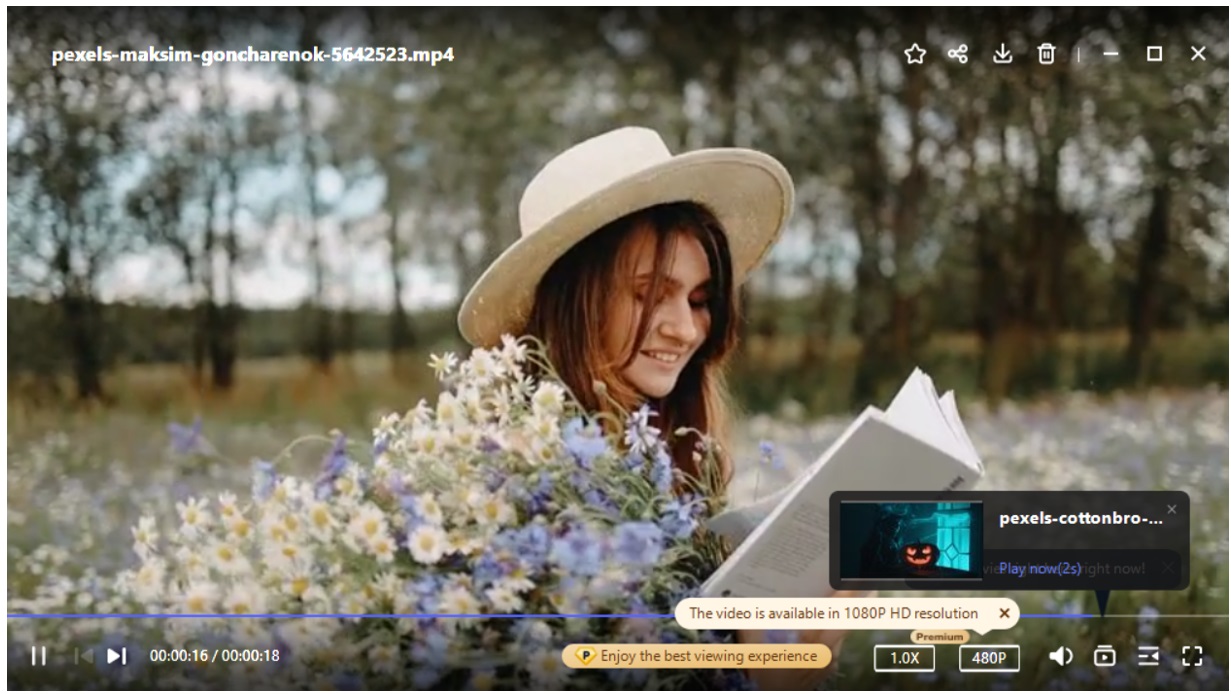 Step 5: To enable automatic backup, click the Backup button at the bottom left corner. Select the folders and click Back Up Now.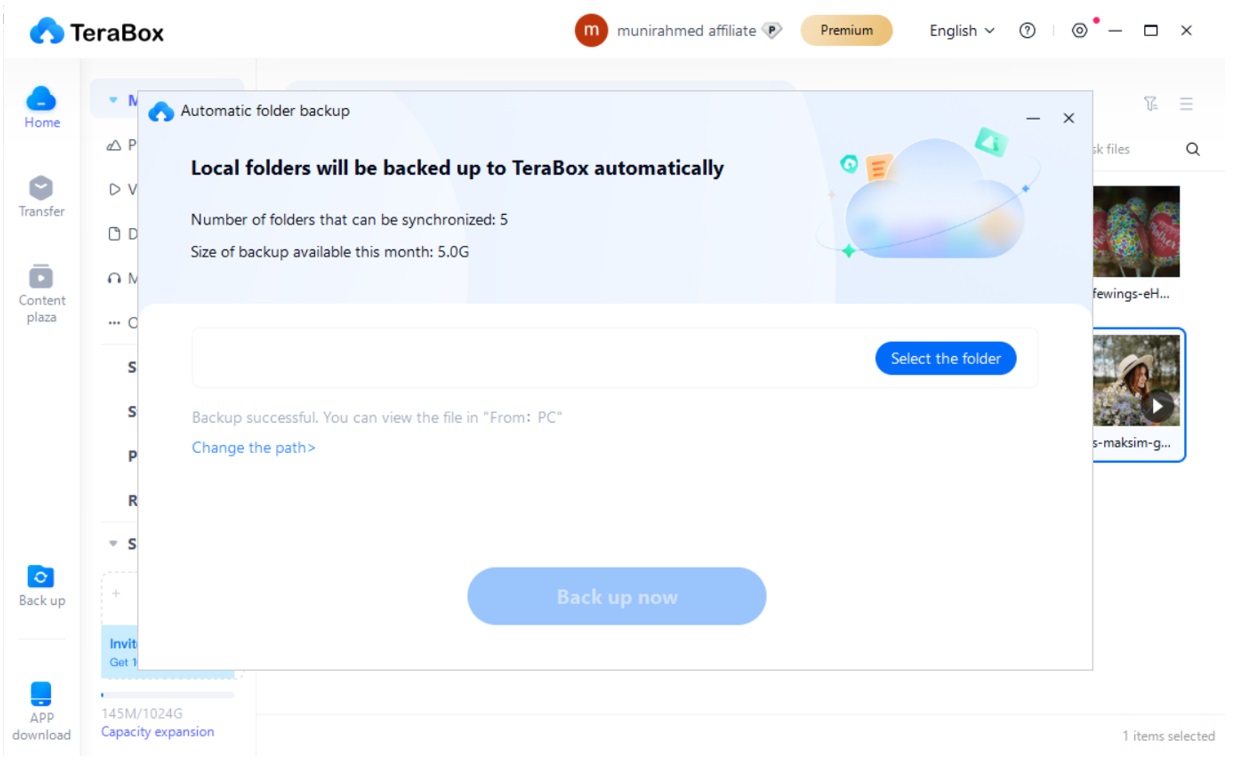 On iOS:
Step 1: Download the application from the App Store and create a new account.
Step 2: Tap the "+" button and then tap Videos. Select the videos you want to upload.
Step 3: The uploading will start instantly and once it completes; you will see the video in the cloud storage.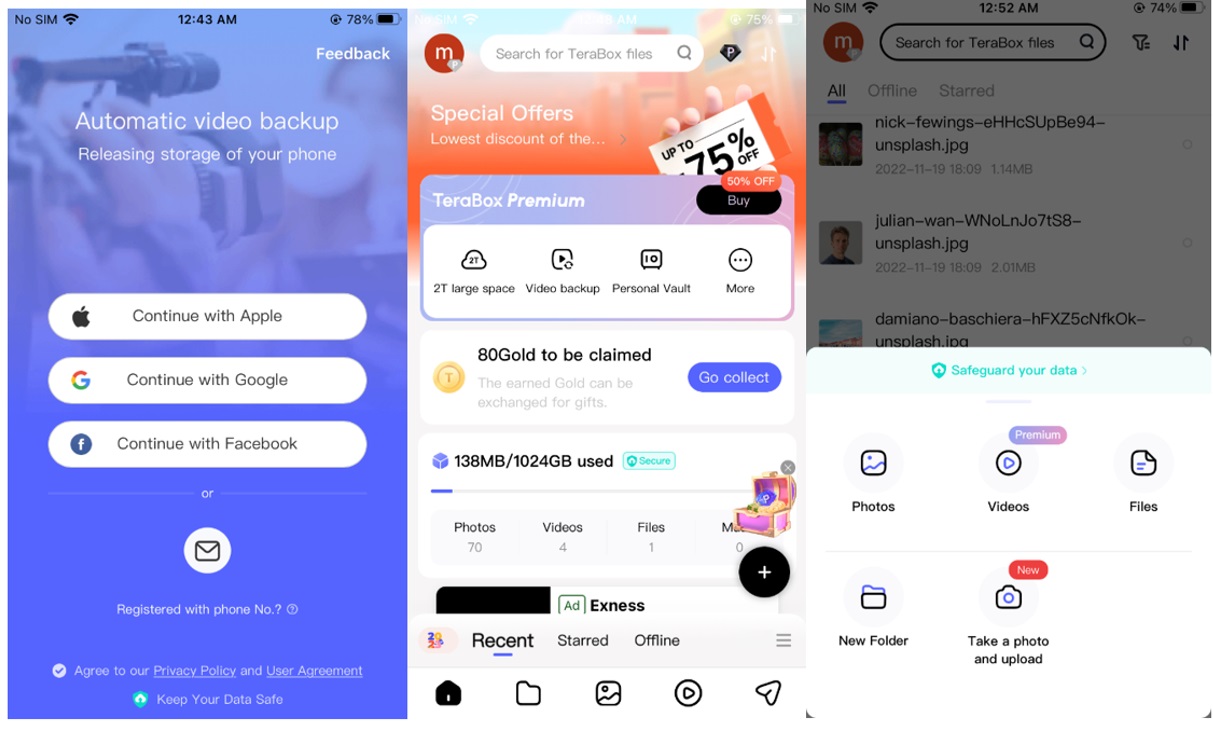 Step 4: Tap on the video to play using the built-in video player. Now, you can watch videos without any lag. The video quality and other settings can be adjusted.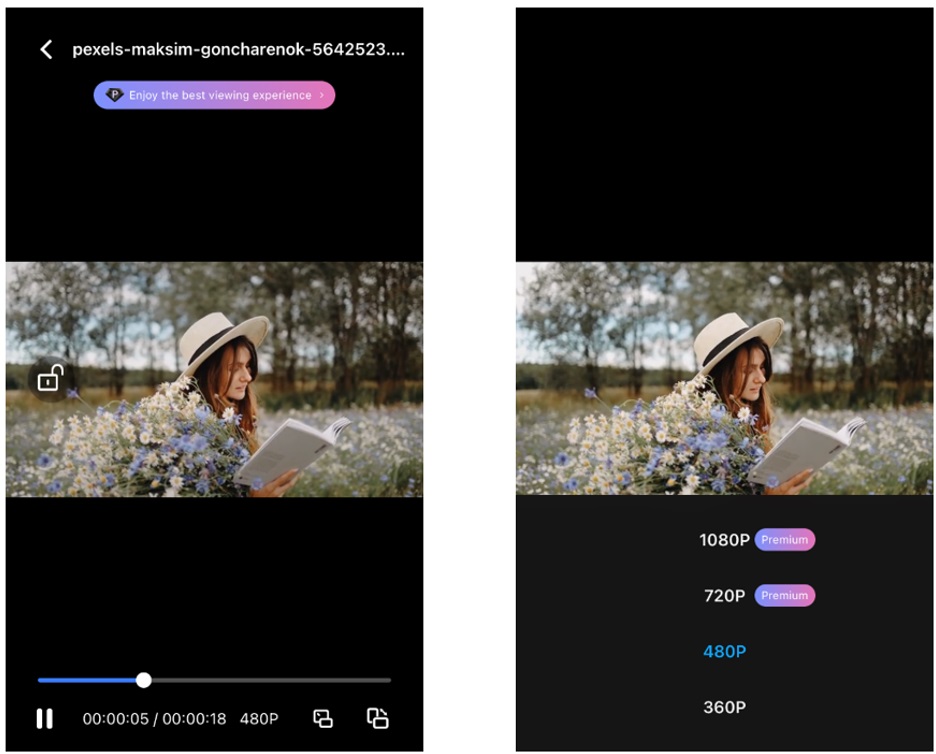 Step 5: For video backup, tap on the profile icon at the top right corner. Tap Automatic Backup. Now, enable photo and video backup. It will automatically upload the media from your device to the cloud.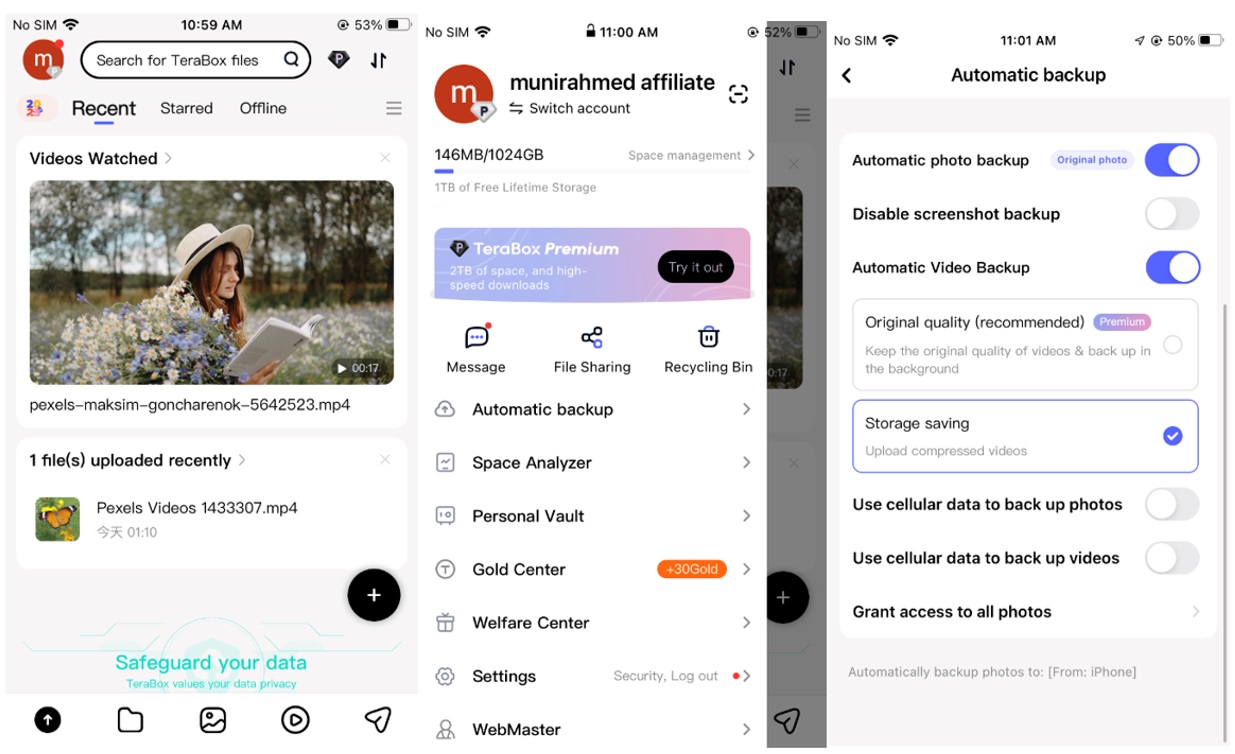 Moreover, if the video you upload has different audio tracks, you can change audio language in TeraBox!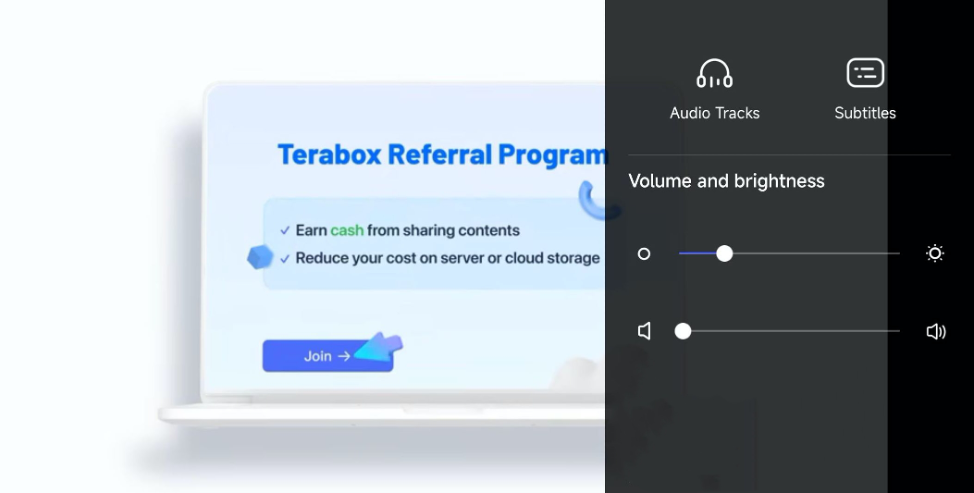 In addition, TeraBox offers free video storage to its users, and this storage space can also be increased. You can invite friends and complete some simple tasks to earn Gold, which can be used to redeem wallpapers, extra storage, a premium plan, and tons of other things. Download TeraBox APP to explore more space upgrade promotions!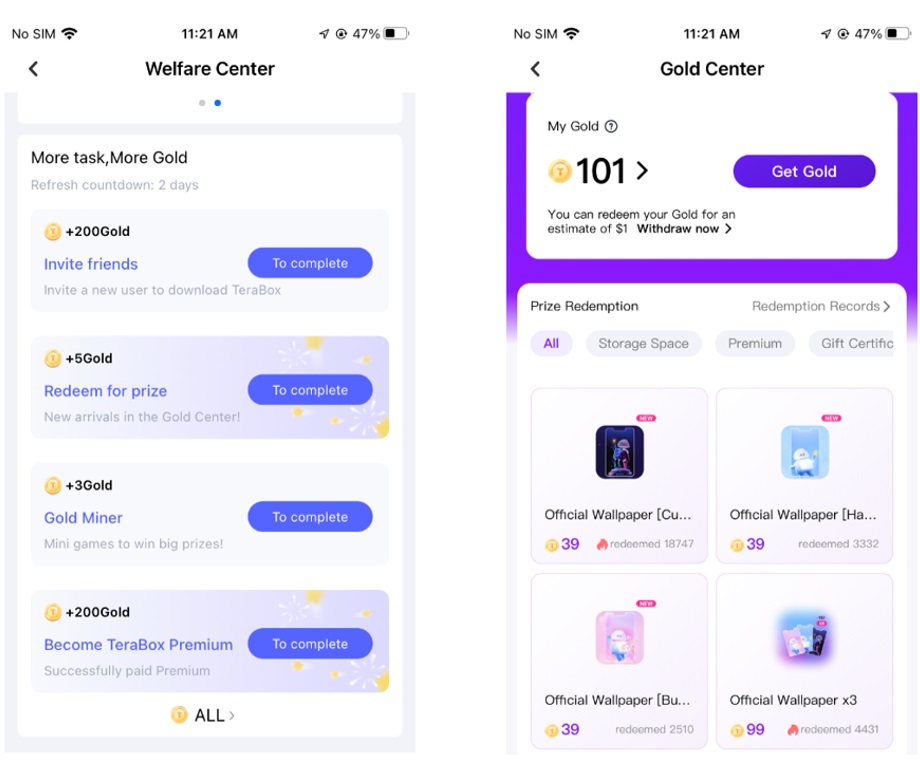 Final Thoughts
A dedicated video cloud storage is a must because it keeps your videos and other important data safe. It offers enough storage where you can store lengthy videos without any hassle and save the device storage space. The most important benefits of the video storage cloud are the backup and syncing.
Not all services offer what you need. TeraBox is an amazing cloud storage service for videos, images, documents, and all types of data. It offers up to 1TB of free storage space, automatic backup, a private vault, a built-in video player, and tons of incredible features that make it an excellent option for storing videos and other data. Download TeraBox for free and secure your videos and other data without any hassle.