Looking for the perfect app to transfer data from Android to Android? Today, you will learn different kinds of Android data transfer app and find out the best one for free large file transfer.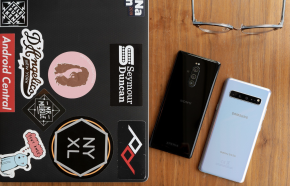 When Do You Need an Android Data Transfer App?
A good Android data transfer app comes in handy in many situations. Most commonly, people use it to move data when switching to a new Android phone. They want the app to support as many types of files as possible to prevent data loss.
In addition, Android data transfer app is used to transfer files to other Android users. Whether it is for school, work, or fun, users attach great importance to the convenience and security of the data transfer process.
But whichever scenario it is, we can help you find the right data transfer app that suits your needs.
3 App to Transfer Data from Android to Android
Though there are a number of apps to transfer data from Android to Android, we have narrowed them down to three categories that work in different ways, each represented by one app.
MobileTrans: Transfer with a Cable
MobileTrans is a widely used data transfer app with incredible cross-platform compatibility. Not only can it transfer data from Android to Android, but also perform seamless transfer between different phone models that apply the Android system, such as Samsung and Xiaomi.
So how to use MobileTrans? This type of app requires you need to connect both Android phones to a computer and launch MobileTrans on all three devices. Then, select the data you want to move from one phone to the other, and initiate the transfer.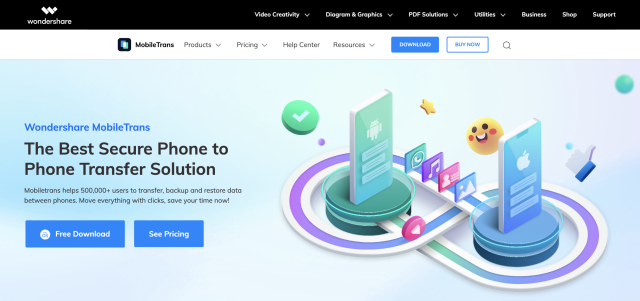 Price:
Paid Features (WhatsApp Transfer, Phone Transfer, and Backup and Restore): each costs $29.99/year.
Bundle price of all paid features: $39.99/year.
Monthly license not available.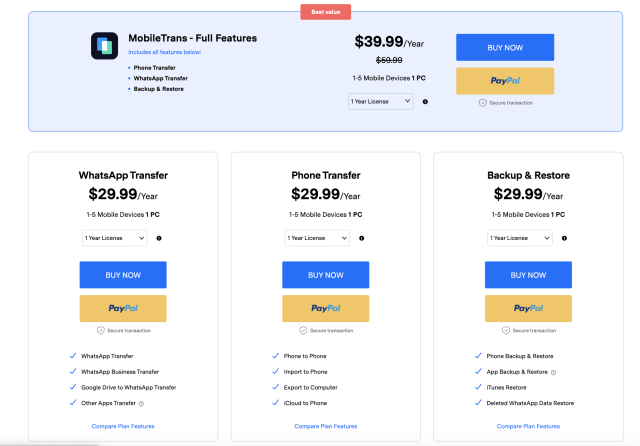 Pros:
Transfer of 18 types of files between Android phones, including messages, contact, call logs, etc., which is ideal for moving data to a new Android phone.
Cons:
You can only transfer 10 files between phones with the free version.
Relatively slow transfer speeds.
Sometimes fails to transfer some types of files, such as ringtones, wallpapers, and reminders.
SHAREit: Wireless Nearby Transfer
To circumvent the trouble of using a cable, apps like SHAREit provides wireless nearby transfer. It is a dedicated data transfer and file sharing app with more than 1.8 million users.
SHAREit supports WiFi, data, and Bluetooth transfer. To use the app, first, you need to place two Android phones close to each other, and enable both WiFi/mobile data and Bluetooth. Tap "Send" on one end, select the files you want to transfer, and tap "Receive" on the other.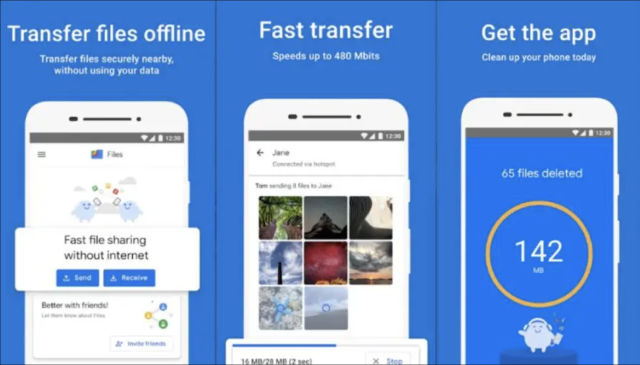 Price:
All features are free.
Ad-removal: $2.99.
Pros:
Transfer multiple types of data, such as apps (app data not included), messages, contacts, and wallpapers.
Does not consume mobile data.
No file size limit on the transfer.
Cons:
Too many pop-up ads.
The transfer speeds are low and unstable.
The connection procedures are complex.
TeraBox: Large Free Cloud Storage
As one of the best free cloud storage, TeraBox enlightens a whole new thinking for Android data transfer app. The highlight of this app is its 1 TB of cloud storage, provided free of cost and available across all devices. Considering how much storage space is 1TB, TeraBox is unparalleled when it comes to transferring large files.
To transfer files between Android phones, there are two ways to achieve it in TeraBox: cloud backup and file sharing, which we will get to in a moment. Its versatility and security make it the best app to transfer data from Android to Android among its kind.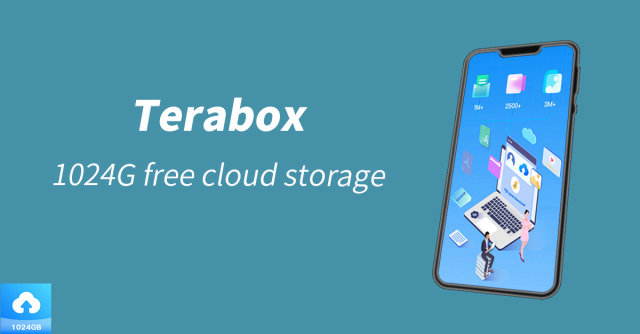 Price:
The basic 1 TB plan is free.
Premium Plan (2 TB of cloud storage, large file upload of 20 GB): $3.49/month or $2.99/year.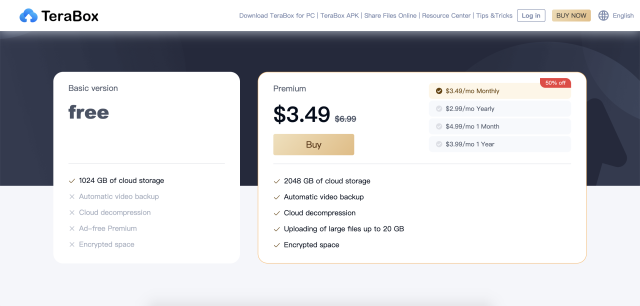 Pros:
Transfer multiple types of files, including photos, music, videos, documents, and folders.
Remote file transfer, which means you don't need a USB cable or place two phones together.
Transfer and backup files at the same time.
Upload a file of up to 4 GB for free, and up to 20 GB at a small cost.
Cons:
Does not support the transfer of contacts, text messages, etc.
Amazing upload speeds, but slightly slower download speeds.
Therefore, among all the apps to transfer data from Android to Android, if you are looking for a cheap, convenient, fast, and sustainable solution, TeraBox is your number one choice.
How to Transfer Data between Android Phones with TeraBox?
To move files between Android phones in TeraBox, you don't have to use a cable or get in the same room with other Android users. Just get your phones ready, and let's see how to ace it:
Step 1: Download TeraBox APK, and sign up with your phone number, email, or third-party accounts.
Step 2: The initial storage is 10 GB, but you can upgrade to 1 TB by inviting a friend to join with your exclusive link. After your friend signs up and logs in TeraBox, your storage will be automatically upgraded.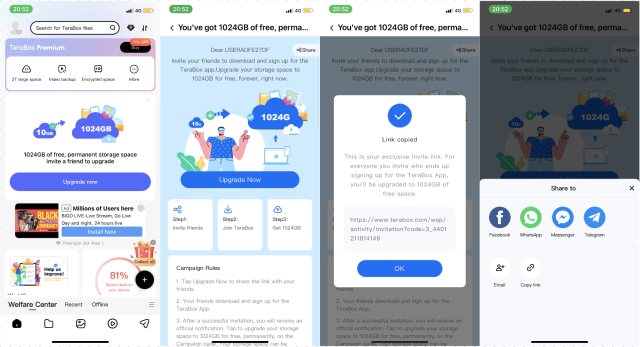 Step 3: Upload photos, videos, documents, or folders by tapping the "+" button. You can also enable automatic backup for those. Check the progress of upload in the upload list.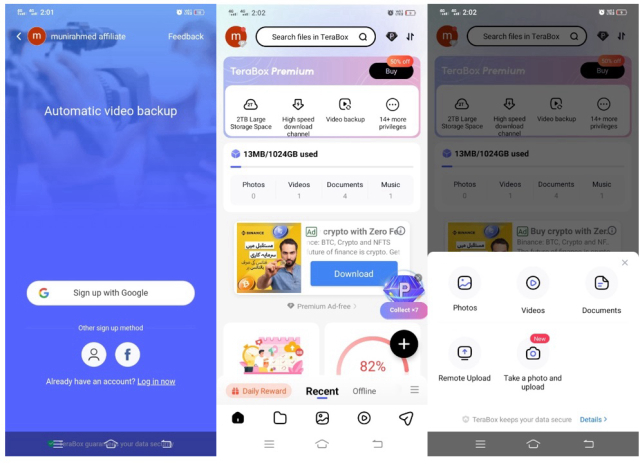 Step 4: After the upload is done, get on your other Android phone, and log in TeraBox with the same account. You will see the exact same files you have just uploaded.
Step 5: Select the files you want to download, and hit the "Download" button. You have just completed a successful Android data transfer!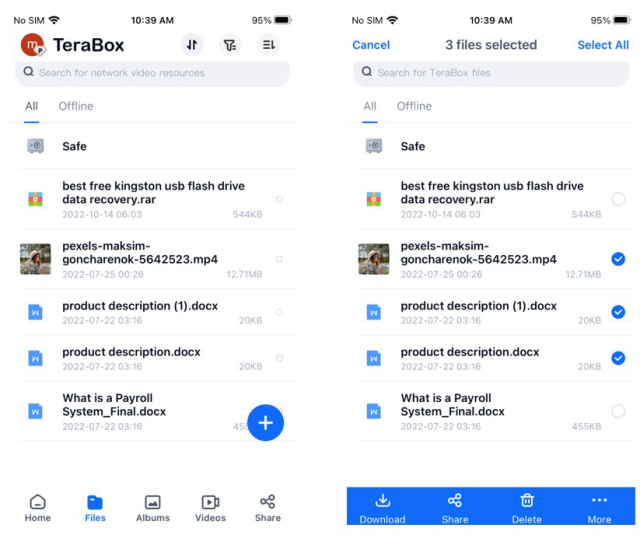 Another way to transfer data from Android to Android is using a TeraBox link. It is quite simple, too. Here's how:
Step 1: In your TeraBox, choose the files you want to share with other Android users, or basically anyone else.
Step 2: Tap "Share". Enable secure file sharing by designating an expiration date, after which the link will be invalid. You can also choose to create a link with an extraction code.
Step 3: Create the link, and send it to others. When others open the link, they can download the files to their Android phones.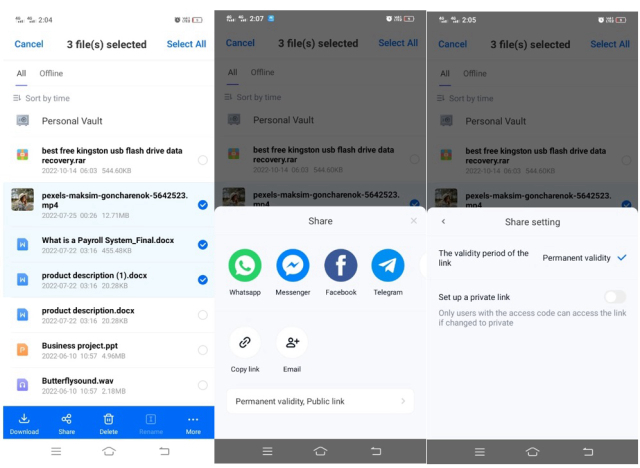 Conclusion
Transferring data from Android to Android isn't as difficult as it seems after all.  The three types of android data transfer app we have introduced function in vastly different ways. The most time-efficient, smooth, and affordable one is free cloud storage like TeraBox. It makes an impeccable app to transfer data from Android to Android, because of its 1 TB free cloud backup, secure file transfer, and one-click link sharing. Download TeraBox today, and transfer data between Android phones like a pro!