Just getting started about data loss prevention? Keep reading to learn about what are the best data prevention tools, and find out the best data loss prevention solutions for you.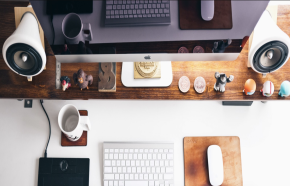 Data loss is almost inevitable at some point in our life. It can happen due to intentional data theft, viruses, or malware attacks, where the security of your storage is compromised. It can also result from sudden power failure, which shuts down your devices and interrupts the data transmission process. Or sometimes, it is our own errors and improper handling of data that result in data loss.
Whatever the reason, we want to prevent data loss by all means, for it can cause huge economic and human costs once it occurs. Data loss prevention is the key to having a worry-free, sweat-free digital life. In this article, we are going to introduce 3 best practices for data loss prevention. We will also discuss how to create an online storage backup with one of the best data loss prevention tools.
3 Best Practices of Data Loss Prevention
Nobody likes seeing their screens suddenly going blue, especially when they are processing some critical data. Here are the 3 best methods of data loss prevention so that you can avoid it.
Backup, Backup, Backup
It is never too much to stress the significance of creating a backup for your important data. Having a backup is the first lesson of data loss prevention, and the last line of defense when something awful happens.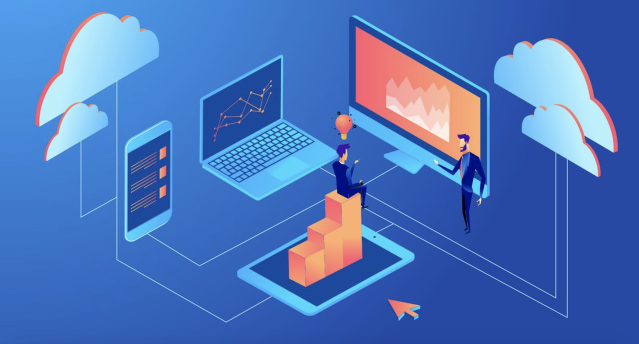 When taking a backup of your devices, one thing you should keep in mind is that you should choose a secure cloud service that offers enough space capacity, such as TeraBox. Having large, permanent cloud space like 1 TB allows you to take a full backup, and makes sure you can continue to upload documents and prevent data loss in the future.
It also matters to have a habit of backing up regularly, which ensures data integrity in the cloud. However, for those who might fail to keep track or are too busy to stick to the task, you can always rely on the automatic backup feature that some cloud apps provide. It is certainly a trump card in the game of data loss prevention.
Last but not least, backup also takes practice. It is advisable to do some "fire drills" in your free time. Try to practice backing up and restoring data, so that nothing gets too hustling in case of emergency. Luckily, by the end of this article, you will have the chance to learn how to do just that.
Develop Security Habits
Data loss prevention is all about developing good security habits. The most fundamental rule of thumb is to use strong passwords to secure all your accounts. Besides, you can also run reliable anti-virus software to guard against cyber-attacks. For more advanced data loss prevention solutions, you can also learn to encrypt sensitive data, so that when it is unfortunately breached, the information will be meaningless to everyone else.
Create a Physically Safe Environment
This might sound a bit too intuitive, but lots of users don't actually pay attention to this basic data loss prevention tip. Whether at home or at work, it is always a good idea to keep digital devices in a safe, dry, and dust-free area to minimize the chance of physical damage. You may also want to protect devices from static electricity, which will cause heat damage and "fry" the sensitive circuitry inside your tech gadgets. Finally, a no-food-and-drink habit will go a long way when you are around your smartphones and computers.
How to Choose the Best Data Loss Prevention Tools?
Data loss prevention is an intricate, sometimes complicated, but necessary thing to do. To do it as hassle-free as possible, the one step you'll need is to choose credible data loss prevention tools that does all the tedious tasks for you, so that you can focus on what is important. This is why you'll need TeraBox, the best of all data loss prevention solutions.
As a cloud platform that offers the biggest free cloud storage in the world, TeraBox enables you to keep a backup copy of your data in the cloud. The benefit of using cloud storage is that your data is stored remotely in the servers of the cloud provider, so that you don't have to worry about any calamities that will destroy the storage, but it is the provider's responsibility to protect the storage.
The best thing about TeraBox as a data loss prevention tool is that it truly frees users from the trouble of data backup and recovery. Its Automatic Backup feature, as its name suggests, does all the work itself. The seamless backup of photos, videos, and folders makes sure nothing is missed out.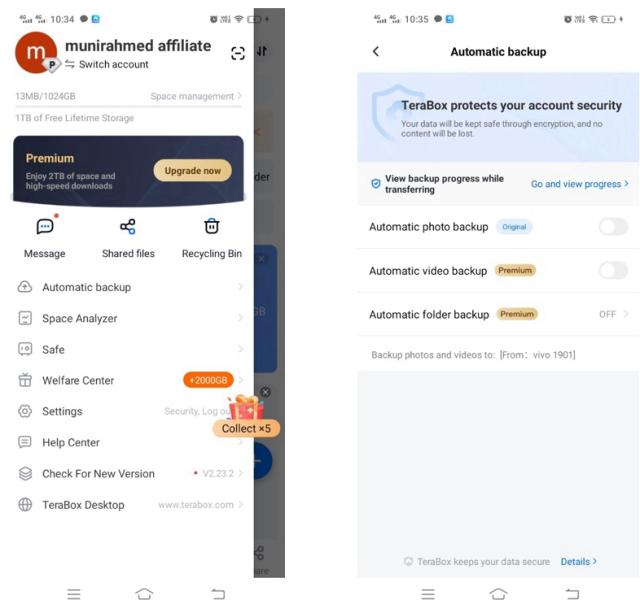 Once you start using the app, you'll also find the Recycle Bin a lifesaver in terms of cloud data loss prevention. If you have accidentally deleted a file, it can be found in this space within the first 10 days. You can also extend it to 30 days by subscribing to the Premium plan, which comes with many more privileges.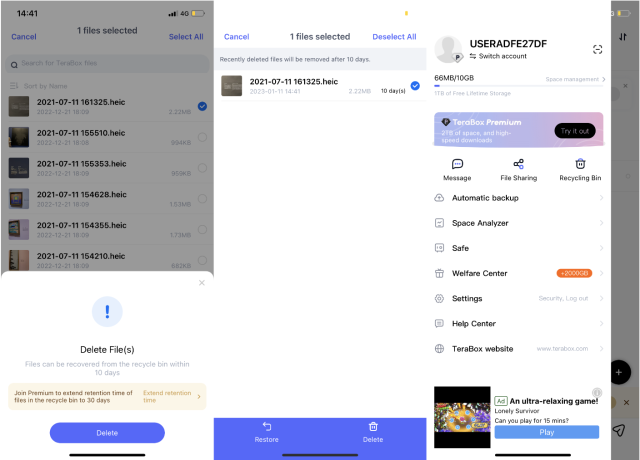 But is TeraBox safe? Some users may have concerns about TeraBox causing data loss instead of preventing it. However, as a cloud service provider with three credible ISO certifications, TeraBox not only prevents accidental data loss by users, but also provides a security and privacy guarantee that no data loss occurs in the cloud.
Final Thoughts
Data loss prevention is central to the use of any modern digital device, and cloud backup is the first rule of data loss prevention. Whether for beginners or masters, TeraBox is one of the most ideal data loss prevention solutions. It is the one data loss prevention tool you need, for it offers 1 TB of free, secure cloud storage for you to backup all your important files. With professional ISO certifications, TeraBox is eligible to store private data for users, and is able to prevent data loss in the cloud. Download TeraBox free now, and start backing up right away!