Cloud storage is the perfect solution to running-out device storage. But how much does it cost?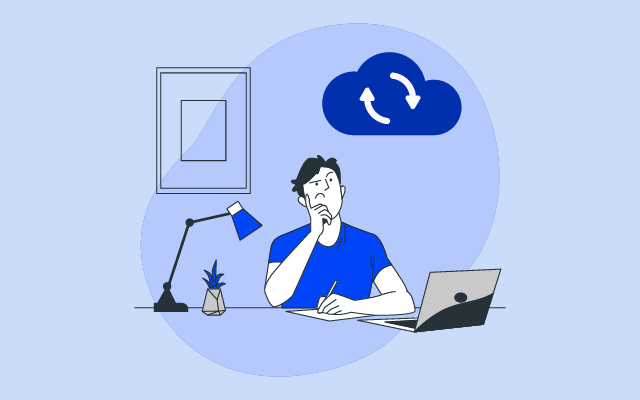 If you've been using a computer or a smartphone in recent years (which, we bet you have!), you know how easily your storage is filled up. Take a few hundred photos and videos, store some movies, downloaded a couple of heavy games — and boom, your 128GB mobile storage is full.
That's where cloud disk comes into play. With a cloud service, you can save your files, like images, videos, documents, and anything else for that matter, into internet storage. You can access the stored data from anywhere, anytime.
However, many users don't know how much cloud service costs in 2022, and whether it's worth getting. Well, this article has all the answers you might be looking for.
Is It Worth Paying for Cloud Storage?
Well, it depends.
If you don't have a lot of spare cash to throw away, and you choose an expensive, not-so-worth-it cloud service at the same time, then it's safe to say it's a bad decision. You shouldn't spend on cloud services that charge a premium for small storage capacities.
That's where TeraBox – Free Cloud Storage comes into play. With TeraBox, you get 1TB of cloud storage for free. Yes, you read that right, you get 1024GBs of fast cloud storage without having to pay a dime. Now free cloud storage 1TB is a deal you can't ignore, can you? Not only that, TeraBox comes with a plethora of other features that set it apart.
That said, you might want to know how other cloud storage services stand up against TeraBox in terms of value. To clear that up, let's look at some common cloud services people use these days.
How Much Is a Cloud Service per Month?
The pricing of cloud storage depends wildly on the service you choose.
Many services don't provide any free storage to you. Some of them provide a free plan, but the storage space in it might be pretty low. However, TeraBox is not like that. Here's a quick rundown of some popular cloud storage services on the market right now.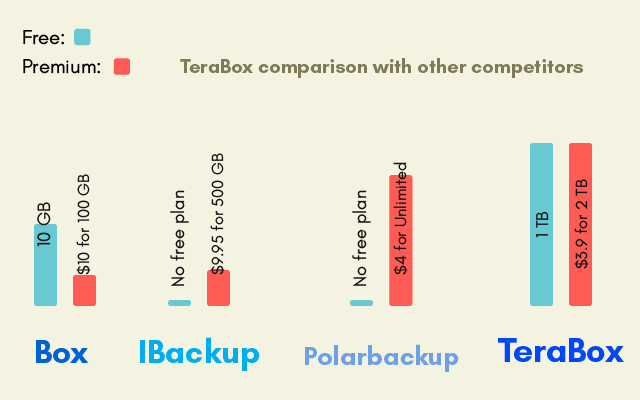 IBackup provides only 5GB of free storage, which is barely enough to store a few hundred photos and short videos. Simply put, it would be filled up before you know it. If you go for the paid version, you have to pay $9.95 per month for 500GB of storage.
Polarbackup doesn't offer any free plan at all. However, the unlimited storage plan is a pretty good deal for $4 per month. However, the no-free-storage policy is still a bummer for most people.
If you opt-in for Box, you only get 10GB for free storage — which, again, isn't sufficient for most people. To go pro, you'd have to pay $10 per month for only 100 gigs of storage.
In the end, you can see TeraBox provides the best bang for you buck if you decide to go for the premium plan. If you don't want to spend anything, that's fine too — you get 1 terabyte storage from TeraBox for zero investment!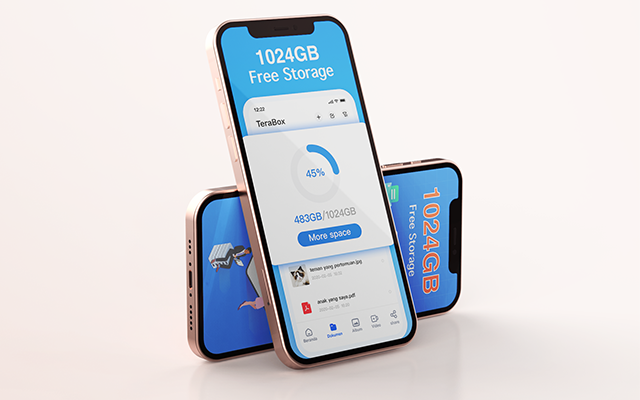 TeraBox isn't only about the best value for money though. It comes with tons of features that set it apart from the competition. Signing up with TeraBox is really easy, it literally just takes just a few seconds. There's a handy collaboration feature, which lets you edit files with your colleagues in real-time. There's a lot for you to explore in TeraBox.
The best part is that you don't have to pay anything to get started. Sign up for TeraBox FREE, get your 1TB storage, and be done with it!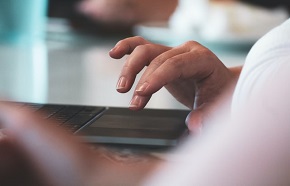 The Bottom Line 
"How much does cloud storage cost?" — that's a common question asked by many people who have their device storages full. But not anymore!
In this post, you've learned everything you needed to know about the pricing of cloud storage services on the internet. More important, you've learned about TeraBox — the best bang-for-your-buck cloud storage solution on the internet. Make sure to give it a go right now!