In this digital age, our smartphones have become an extension of ourselves, and the photos we capture on them are treasured memories that we want to keep forever. However, accidental deletion of these precious photos is not an uncommon occurrence. Losing these photos can be devastating, but thankfully, there are ways to retrieve deleted photos on Android devices.
In this article, we will discuss some of the most effective methods to recover your deleted photos, including using specialized apps and accessing the best cloud storage options.
So, if you accidentally deleted your photos or lost them due to a device malfunction, read on to learn how to recover deleted photos on Android and safeguard your memories.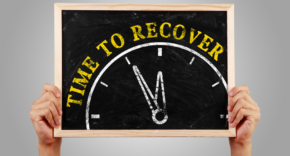 Where is Android Deleted Photos?
To locate your Android deleted photos, check the Trash folder on your phone first. Usually, when you delete a photo from your Android gallery, it is moved to the Trash folder and kept there for at least 30 days. However, if you delete the photo through Google Photos, it will be stored in the "Cloud" trash for 60 days.
If the photos were not backed up to Google Photos and are not found in the Gallery app's trash folder, they may be permanently lost and cannot be recovered unless a backup was previously made.
How to Recover Permanently Deleted Photos from Android Gallery?
1. TeraBox
TeraBox is an exceptional cloud storage service that offers a convenient and secure way to recover permanently deleted photos on Android devices. With 1TB of free storage, TeraBox provides ample space for users to store their precious memories and important data without worrying about running out of space.
One of the standout features of TeraBox is its Locked Box function, which provides users with a private and secure cloud storage solution. This means that only the user can access their data, ensuring complete privacy and security for their personal information.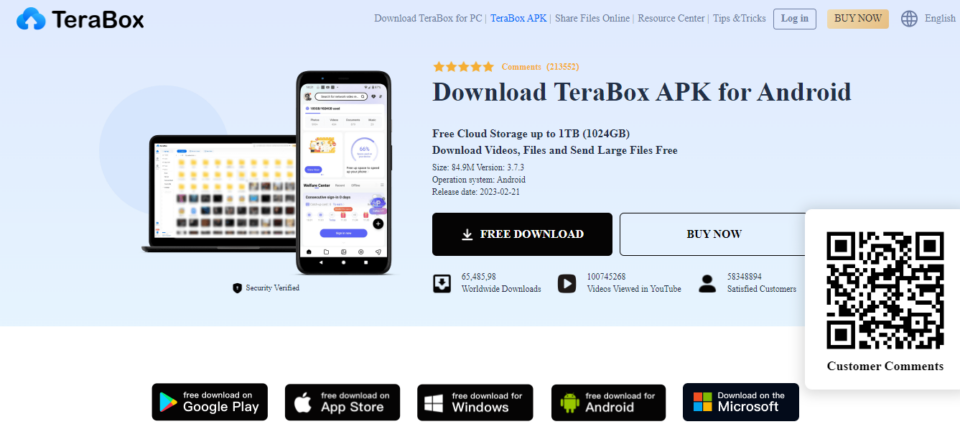 Another great feature of TeraBox is its automatic backup for photos. This ensures that users never have to worry about losing their photos due to device failure or accidental deletion. With the auto backup feature, all photos are automatically synced to the cloud, providing users with peace of mind knowing that their memories are safe and easily accessible.
TeraBox also offers a cloud photo vault that allows users to quickly flip, save, delete, share, and manage their photos. This feature gives users complete control over their photos, making it easy to organize and access them whenever needed.
In terms of speed, TeraBox boasts up to 4.7 M/s of upload speed, ensuring that users can quickly and easily upload their photos to the cloud without any delays or disruptions. Additionally, photos will not lose quality when uploaded to TeraBox, ensuring that users can enjoy their photos in their full resolution and clarity.
Here is a step-by-step guide on how to use TeraBox:
Step 1: Download and install the TeraBox app from the Google Play Store.Once installed, open the app and create a TeraBox account by providing your email address and setting a password.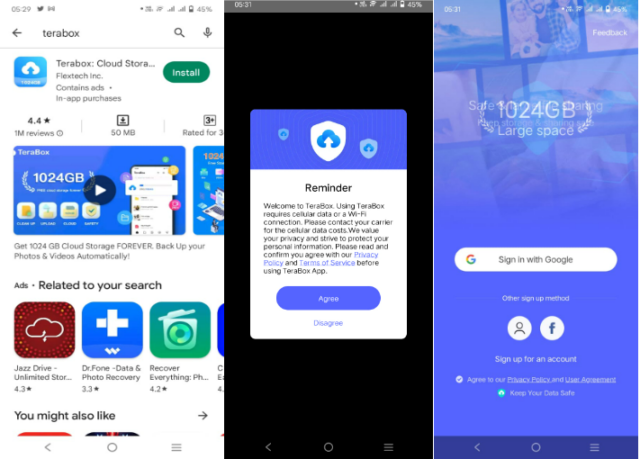 Step 2: After creating your account, go to the photos icon at the bottom menu section and click on 'enable photo backup', and then allow the required permissions. TeraBox will now automatically backup your photos to the cloud.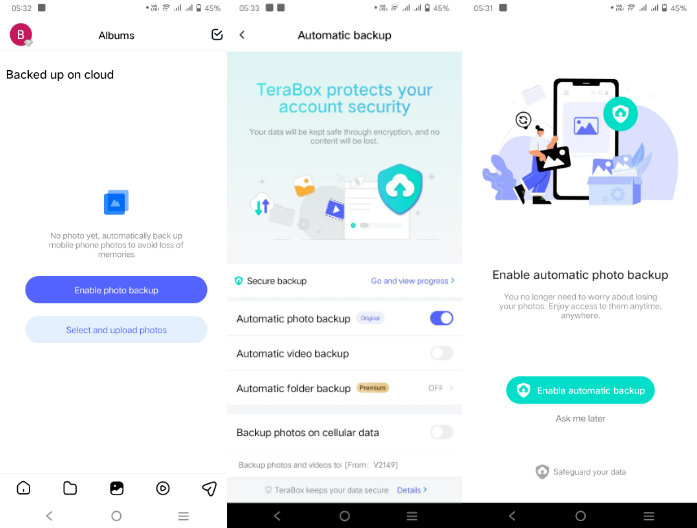 That's it! With these simple steps, you can easily use TeraBox to store your files and photos. Now, whenever, photos are permanently deleted from your Android gallery, you can easily retrieve deleted photos by accessing your TeraBox account. To access your files and photos from another device, simply log in to your TeraBox account on that device.
2. DiskDigger Photo Recovery
Still wondering how to recover permanently deleted photos from android gallery? DiskDigger Photo Recovery is an app that might just be what you need. With a rating of 3.8 on Google Play Store, this app can scan and recover deleted photos from your device's internal storage and memory card. It supports various file formats, including JPEG, PNG, and BMP.
DiskDigger also allows you to preview the recovered photos before restoring them. However, note that the success of photo recovery depends on various factors, such as the duration of deletion and whether the space has been overwritten.
Steps to Retrieve Deleted Photos Using This App
Step 1: Download and install ' DiskDigger Photo Recovery' app from Google Play Store.
Step 2: Open the app, click 'Search For Lost Photos'. Then select the photo that you want to recover and finally click 'Recover' to complete the process.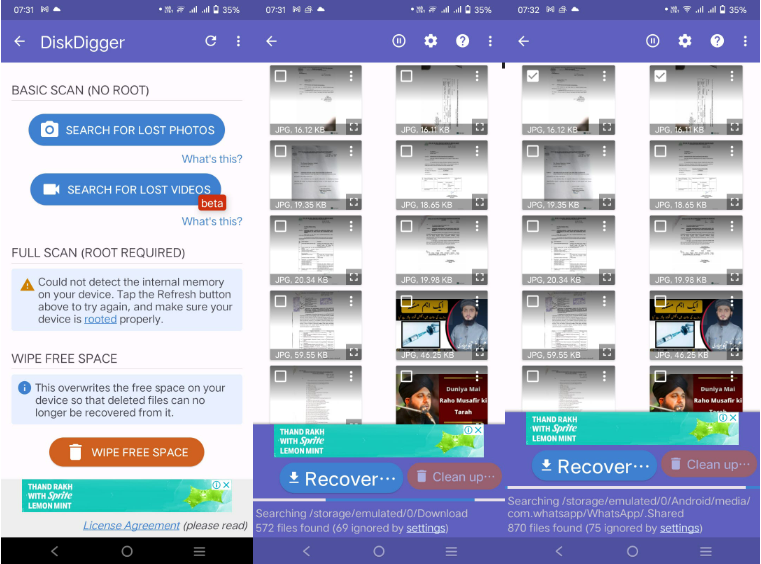 3. Deleted Photo Recovery
Deleted Photo Recovery app is another popular tool to retrieve deleted photos on Android devices. This app has a 4.1 rating on the Google Play Store, but users have reported downsides such as too many ads. Also, not all images are retrieved. So, some deleted photos may be lost forever. The app works by scanning the device's storage for deleted images and can recover them in most cases. Despite the limitations, Deleted Photo Recovery is still a useful tool for retrieving lost photos.
Steps to Retrieve Deleted Photos Using This App
Step 1: Go to Google Play Store on your Anrdoid device, install and open ' Delete Photo Recovery' app.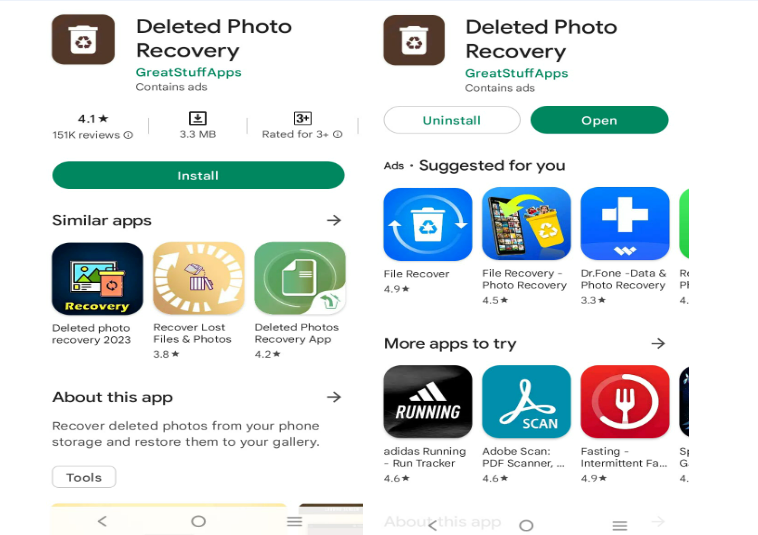 Step 2: Click on 'Search' and the app will show your android deleted photos, manually select to retrieve deleted photos and click 'restore' to complete the process.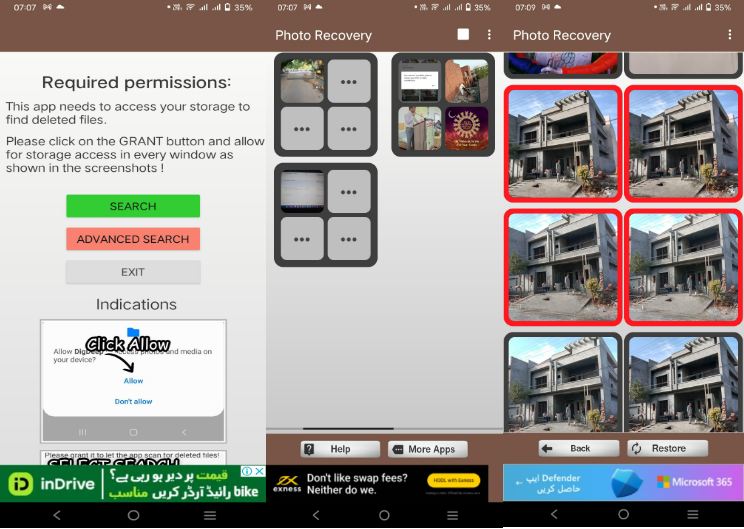 Final Thoughts
The process to retrieve deleted photos on Android can be a daunting task, but with the right tools and knowledge, it's definitely possible. With TeraBox, you have access to a reliable and secure data recovery service that can help you recover your precious memories.
Don't let a simple mistake or technical malfunction ruin your cherished moments. Download TeraBox APK today and enjoy peace of mind knowing that your photos and data are safe and recoverable. Don't hesitate, protect your memories now and join the TeraBox community.