How do I upgrade cloud storage to to archive more data? At some point, this question may come up to all data hoarders (I'm looking at you). Some data is too important that we can't bear to lose, so it is a must to have enough cloud storage space for backup.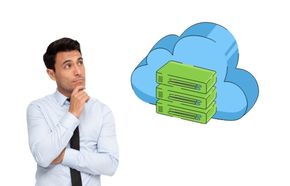 There are dozens of cloud service providers that you can easily find by searching on the internet. Most cloud storage services offer free storage for their users so that they can test the service. But the storage is only 5-20 GB; a few of them offer 50-100 GB storage as well. Therefore, many users will have to pay to upgrade cloud storage at some point.
If you are also looking for the right cloud storage app that's large enough, look no further: TeraBox is the only cloud service provider that offers a lifetime deal of 1 TB cloud storage free. It offers massive storage that is free for a lifetime, and it offers optimal security and tons of extraordinary features even to new users. In this article, we will discuss how to upgrade cloud storage in TeraBox. We will explain the step-by-step procedure and everything you need to know.
How Much is 1TB of Cloud Storage?
1 TB of cloud storage is more than enough for many users. You can store up to 400,000 photos, 51,200 one-minute videos, 250 movies, or 6.5 million documents (Word, Excel, PDF, etc.). It is massive storage that you can use to increase your phone storage, tablet storage, or computer storage.
There are many cloud storage service providers, and all of them have different price plans. But usually, 1 TB cloud storage is available for $10 or more per month. The cost can be over $50 or $100, depending on the features and services.
For many users, buying 1 TB of storage would be expensive. If they are not using it for commercial or business purposes, it is costly to pay about $10 monthly. Fortunately, TeraBox is the only cloud service provider that offers 1 TB of free storage. It does not cost you a penny, and you can enjoy a whopping 1TB of storage for a lifetime. It is an incredible offer, and anyone can get and store their files.

TeraBox not only offers 1TB of free storage, but it also offers tons of extraordinary features. It has an automatic backup feature that uploads your data automatically. You can enable it, and it will upload your photos, videos, or the selected folder on its own and create a backup in the cloud.
You can use the application on your PC and smartphone (both iOS and Android). Plus, there is also a web application that allows you to access, upload, and share data. So basically, you can access data from anywhere and on any device.
What's more, there is a built-in video player in TeraBox that allows you to play videos directly on the cloud. There is no need to download the video on your device, which saves your phone extra space.

Most importantly, the Safe or Personal Vault of TeraBox is the password-protected storage where you can store all personal data with additional security.
TeraBox ensures the security of users' data through encryption and advanced security protocols. It is the one secure cloud storage for users that pay extra attention to privacy and security.
As can be seen above, TeraBox is more than just a free cloud storage, but it has almost all the features you need so that you can fully enjoy all that 1 TB storage.
Get your 1 TB Lifetime Cloud Storage Deal in TeraBox
Surely, the 1 TB lifetime cloud storage deal might sound a bit too good to be true, so some new users have doubt about whether it's real. Simple answer, it is. And we are going to show you exactly how to get it.
Simply speaking, when a new user creates an account on TeraBox, 10GB is offered for free initially. If they want to upgrade the storage to 1024GB, they need to invite their friends to TeraBox. If their friends sign up for TeraBox, the 10GB storage is upgraded to 1TB or 1024 GB.
The steps are pretty simple, and the process won't cost you anything. We will demonstrate the procedures on PC, but it is pretty much the same on your smartphone.
STEP 1: Download the application from the official website, Play Store, App Store, or Microsoft Store. Install the application on your device.
STEP 2: Open the application. You will see the Create an Account option on the main interface. You can sign up using email, Google, Apple, Facebook, or phone number. Choose any of the suitable options and create your account.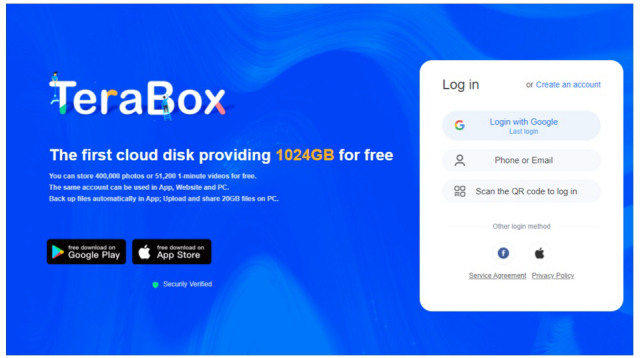 STEP 3: Now, you will see the main interface or home screen. Click on "Invite Friends Get 1024GB" in the lower left corner.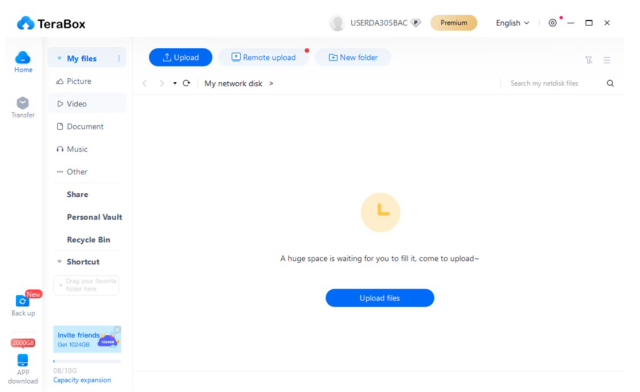 STEP 4: After clicking the button, a link will open in the default browser. You will see the QR code or link there. Share it with your friends and ask them to sign up.
STEP 5: Once your friends sign up for TeraBox, voila – you've upgraded your cloud storage to 1TB! The storage capacity will be updated automatically.
How to Get More Cloud Storage in TeraBox
The free storage on TeraBox is not limited to 1TB, but you can further upgrade cloud storage through various ways. TeraBox has some simple methods through which the users can get additional data for their usage.
Way 1: Sign in Every Day
The easiest way to get more storage space is to sign in every day. The more consecutive days you sign in, the more storage you'll get:
For 2 days: 4GB
For 4 days: 8GB
For 7 days: 1 Catch-up Card
For 14 days: 50GB
For 21 days: 2 Catch-up Cards
For 28 days: 100GB
Just remember to log in every day and win these rewards, and they will upgrade cloud storage space for you completely for free. Afraid to miss a single day? Just turn on notifications so that you can sign in with ease.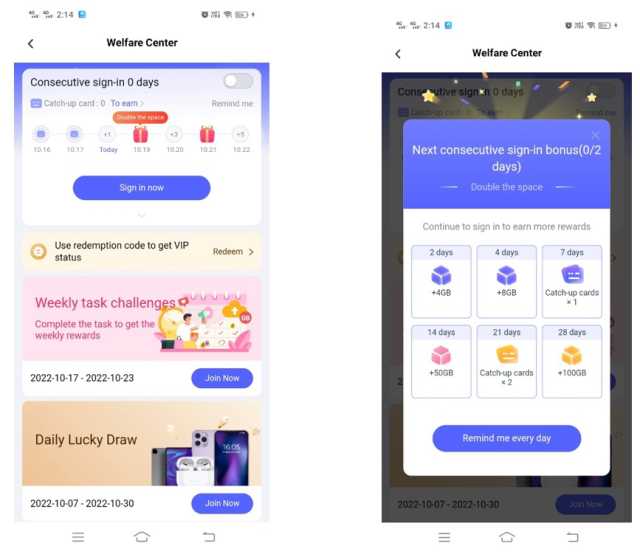 Way 2: Participate in the Weekly Challenges
The next way to earn more storage in TeraBox is through weekly challenges. TeraBox introduces new weekly challenges that are fun and simple every week. You can complete those tasks to earn rewards.
For instance, the tasks for this week are,
Forward 1 File
Play music online once
The reward for completing these tasks is 50GB of free space. It's almost like you don't have to do anything to get it.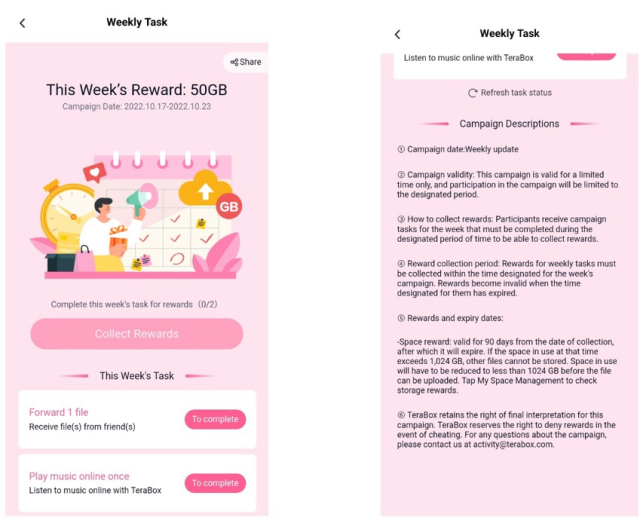 Way 3: Invite More Friends
If you can invite more friends, you can earn more free space. For every person who signs up using your link or QR code, you get 200GB of free space. This space is added to your storage. You can get up to 2000 GB of free space by inviting ten friends.
Using all the ways of getting free space on TeraBox, you can collect nearly 3 TB of storage easily and increase it more with daily and weekly rewards.
Check the Welfare Center every day to know about the weekly tasks, daily lucky draws, return gifts, and other campaigns. Stay tuned and earn more storage from the recent offers! It is so full of surprises that you might always discover things you didn't know about TeraBox.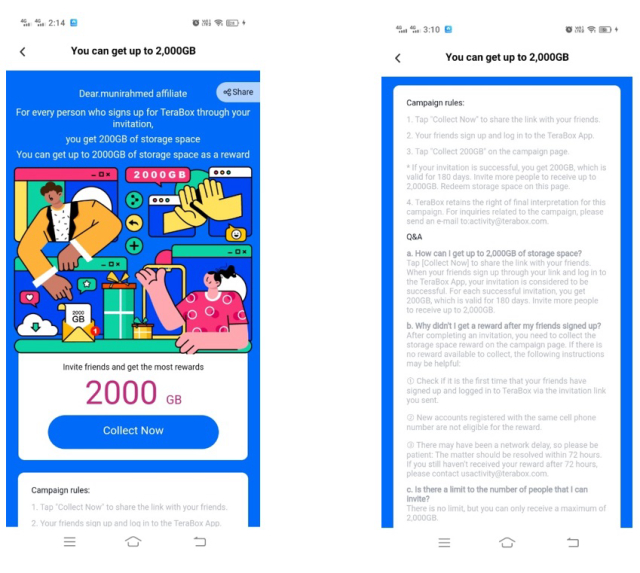 Final Thoughts
There are dozens of cloud storage services you can find these days. All these services have their own features, pros & cons, and pricing. Many limited free storages to the users. The capacity of the free storage is usually 10-20GB. In some cases, it can be up to 200GB. However, TeraBox offers 1TB of free storage space to its users, so you won't have to worry about the problem of upgrading cloud storage. This free space can be obtained by inviting friends. Plus, you can get more storage space by inviting more friends, completing weekly tasks, and signing into your account daily.
Undoubtedly, TeraBox offers exceptional cloud service for free. The whopping 1 TB storage is more than enough, but it can also be increased if needed. It is secure cloud storage that offers optimal security of data through encryption and advanced techniques. Moreover, the features that it offers are commendable. It has a personal vault to protect important data using an additional password. It is available on all devices, and you can easily access your data without any hassle. Other than that, it offers remote upload, a built-in video player, Space Analyzer, auto-backup, and a lot more.
Download TeraBox free and enjoy the free space and extraordinary features.