Happy 3rd anniversary, TeraBox!
Three years, 1000+ days and nights, TeraBox came out of nowhere and has now become the premier provider of free cloud storage solutions. Currently, our registered user base has reached 146 million worldwide, making us the preferred cloud storage service for countless people.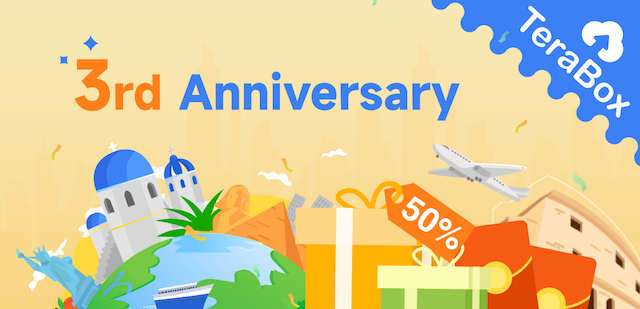 Therefore, to celebrate the third anniversary of TeraBox, we're rolling out a series of campaigns to thank all of our users for choosing TeraBox and giving us useful feedback that has pushed us to keep improving our services and making them safer for our users. As we gear up to mark this significant milestone, we are thrilled to reflect on the past and look forwards to the future with enthusiasm.
Part 1: The Growth History of TeraBox
Since the beginning, TeraBox has been focused on making cloud storage solutions that are safe, reliable, and affordable for people with different needs and budgets. In addition to providing 1TB of free storage space, TeraBox also offers automatic backup for photos, videos, and folders, a built-in photo editing tool, multi-speed video playback, and more.
TeraBox has been on the cutting edge of innovation for the past three years, providing top-notch cloud storage services that have changed how people store and access their data.We use cutting-edge security measures, like end-to-end encryption, two-factor authentication, and secure data centres, to make sure that our users' data inTeraBox cloud storage is safe and secure. Additionally, we regularly update our services to stay ahead of evolving cybersecurity threats.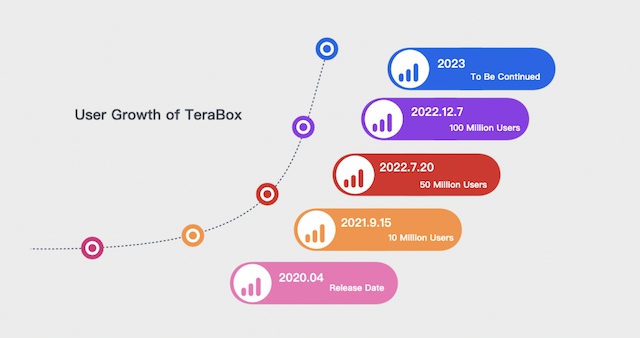 Lastly, the feedback we've gotten from our target users shows that a high-quality, new product will get noticed. TeraBox's user base has been continuously reaching new heights, from the initial one million to the current 140 million, within just three years. As a little hint, it is expected that good news of breaking 150 million will be received shortly.
Part 2: TeraBox 3rd Anniversary Birthday Discount Surprise
Over the course of three years, TeraBox has marked its presence worldwide. Leveraging its free, reliable, and cost-effective cloud storage service, TeraBox has become one of the most preferred and reputed names for the best cloud storage providers in the world. Now, on the occasion of its 3rd anniversary and as a special thanks to our loyal users, TeraBox is offering an exciting birthday discount surprise throughout April.
Whether you're a long-time user of Terabox or just starting out, you won't want to miss out on this limited-time offer. Read on to learn more about the Birthday Discount Surprise campaign and how you can take advantage of these amazing savings!
Surprise 1: TeraBox Referral Program – Earn 17% More Than Usual
Campaign Duration: From now until May 5, 2023 (GMT+9)
Participating Users: All users joined the TeraBox New User Plan
Campaign Details: Enjoy a nearly 17% rise in the New User Plan reward standard and easily earn over $160 a week. Additionally, you can get a higher standard if you share specified contents and fill out our registration form correctly.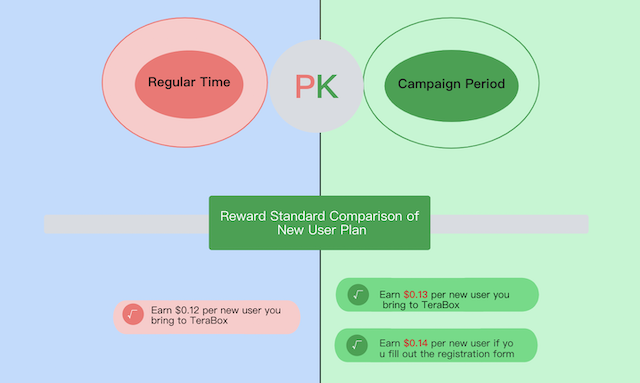 TeraBox referral program offers you a chance to earn big either by inviting new users to sign up for TeraBox or by getting more views on your shared TeraBox videos. Compared to other likewise programs, TeraBox offers more than 2 options(New User Plan; Video Plays Plan; Referral Program for Webmasters), which makes it more flexible and accessible to all users. Furthermore, there is no threshold for participation in the program.
Our birthday campaign targets new users of TeraBox, with a special focus on our New User Plan. During this campaign period, webmasters can earn $0.13 per user for each successful referral, compared to the regular rate of $0.12 per user (Bonus A). Our system calculates rewards on a daily basis.
To encourage sharing habits among users, we've created a registration form that collects information about their interests in sports videos (cricket, football, and basketball), non-adult animation, software, and games. Webmasters who bring in at least 300 new users and accurately fill out the form will receive a higher bonus of $0.14 per new user (Bonus B). Please note that the bonus earned can only be claimed if you bring in at least 300 new users in a legitimate manner.
Surprise 2: FLASH SALE – Get 50% off Your Premium Purchase
Campaign Duration: From now until April 30, 2023 (GMT+9)
Participating Users: Everyone
Campaign Details: Get 1-Year Premium at a 50% discount each day.

In order to give back to all users who choose TeraBox, we have launched a limited-time 50% off membership promotion. Everyone can participate in the daily flash sale during the campaign and enjoy a 50% discount on the TeraBox Premium plan starting at 11 a.m. on the event page. The offer is subject to availability and limited to a first come, first served basis. If the flash sale ends, users can try again the next day. Alternatively, users who miss the flash sale can still buy a year of Premium on this page at a 15% discount.
Another highlight of this campaign is that our premium can now be purchased for up to 5 years, whereas previously the maximum was only 3 years. Therefore, users who do not participate in this campaign will miss out on a great opportunity. However, you must download the TeraBox app to your mobile and join this campaign within the TeraBox app, otherwise, you will not be able to enjoy the discounted price. This opportunity is not to be missed, so make sure you take advantage of it.
Surprise 3: Earn Gold for Cash
Campaign Duration: From now until April 30, 2023 (GMT+9)
Participating Users: All TeraBox users
Participation Rules: Earn Gold within the TeraBox app and redeem it for cash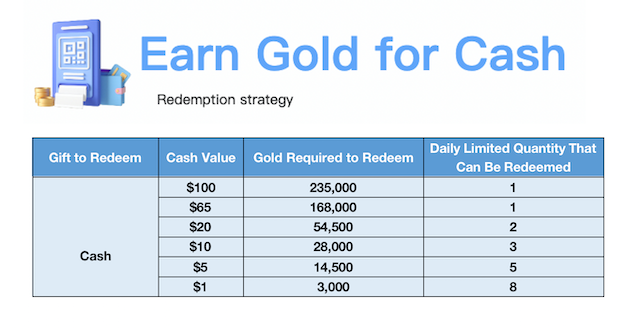 Users can participate in various tasks within the TeraBox app to earn Gold. Once a certain amount of Gold has been accumulated, users can redeem it for cash in the Gold Centre. Afterwards, our staff will contact the user for payment, which will be done through PayPal. If a PayPal account cannot be provided for payment, we support a Gold refund.
Of course, you can redeem your Gold for other prizes, including an iPad 10, an Apple Watch SE, a Catch-up card, and something else as usual.
Surprise 4: Collect Cards to Get Air Ticket(3rd-Anniversary Special)
Campaign Duration: From now until April 30, 2023 (GMT+9)
Participating Users: All TeraBox registered users
Participation Rules: Collect 8 types of postcards on the campaign page within the TeraBox app to redeem for air ticket.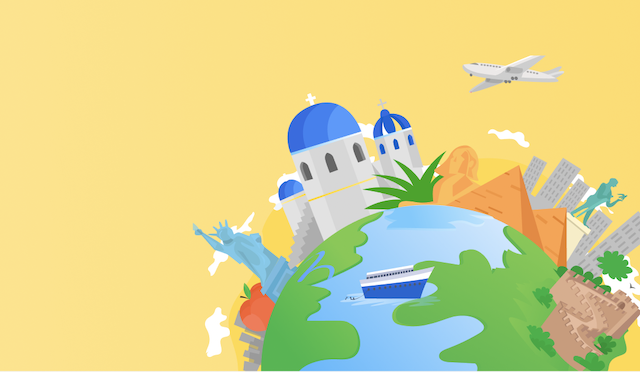 From now until the end of April, all TeraBox users can log in to the TeraBox app and draw postcards to win surprising gifts. During the campaign period, eligible users can receive different rewards by collecting different types of postcards.
At the same time, you can share the postcard you drew to social media platforms with one click, including the "TeraBox 3rd anniversary" tag while mentioning the topics, and sharing your travel stories or thoughts, and then you will have the opportunity to win additional travel funds. Come and give it a try!
Part 3: What's Next?
As always, we are continuously developing a range of new features and projects, and are dedicated to enhancing the user experience, as we enter TeraBox's fourth year. Our ultimate goal is to create a world where everyone's information is kept safe and private by default, with data owners having sole access to their information. Please stay tuned to our website application notifications or social media channels(Facebook, Telegram, and Twitter) for the latest updates!
Final Thoughts
TeraBox's surprise 3rd anniversary discount is an exciting opportunity for both new and existing users to save big on your cloud storage needs. Whether you're an individual or a business, don't miss out on this limited-time offer, and download TeraBox for free to secure your data and save money today.
If you have any concerns about these campaigns, please feel free to contact us, and our round-the-clock customer support team will assist all users with any questions or issues. Just remember that all these campaigns are only valid until the beginning of May, so don't waste any more time – hurry and join our campaigns now!