Although local mobile storage has increased in recent years, the truth is that it often falls short. Photos and videos weigh more every day, but there is also the problem of not accessing your files easily from other devices. These two scenarios have boosted cloud storage platforms, but most are only good if you pay. This is not the case with TeraBox, a cloud storage option that gives you 1 TB free cloud storage space for life to save what you want. TeraBox cloud storage has become popular over recent years because of its 1TB (1024 GB) storage space offer for free.
The app is available in over 207 countries and has over 10 million downloads on the worldwide. It is a free and secure cloud storage option. If you need a lot of storage to back up your photos, videos, documents, and other files to the cloud and access them anywhere, anytime, and from any device, TeraBox is perfect for you.
What Can You Store in the 1TB Free Cloud Storage Space Offered by TeraBox?
With TeraBox, you can store:
Over 300,000 photos in good quality
More than 2500 videos (also in good quality)
Almost 7 million pages of tables or documents
2 most advanced games
You will get a safe place for all your files, where you can backup, sync, and share all your essential content. If you love sharing good stuff like memes, funny videos, photos about your personal or family life, then TeraBox is the best option.
The advantages offered by TeraBox include:
You have multiple registration options.
It allows you to organize and categorize all your files.
There are no size limitations when uploading data, only your available space.
You can upload 300 files simultaneously.
It allows you to create links to share your files with whoever you want.
It lets you create an automatic backup of the photos you have on your mobile.
It handles excellent upload and download speeds.
4 Features You Should Know to Use TeraBox Better
Excepting  1024 GB free cloud storage space, TeraBox has several functions that can help improve your user experience. They include:
1. Remote Upload
If your phone memory is full and there is no space left to download games, TeraBox can sort you out. You can download movies, documents, games, and applications online with it. It supports the download of multiple links like magnet links, HTTPS, and HTTP. To create a download link, visit the homepage and choose Remote Upload.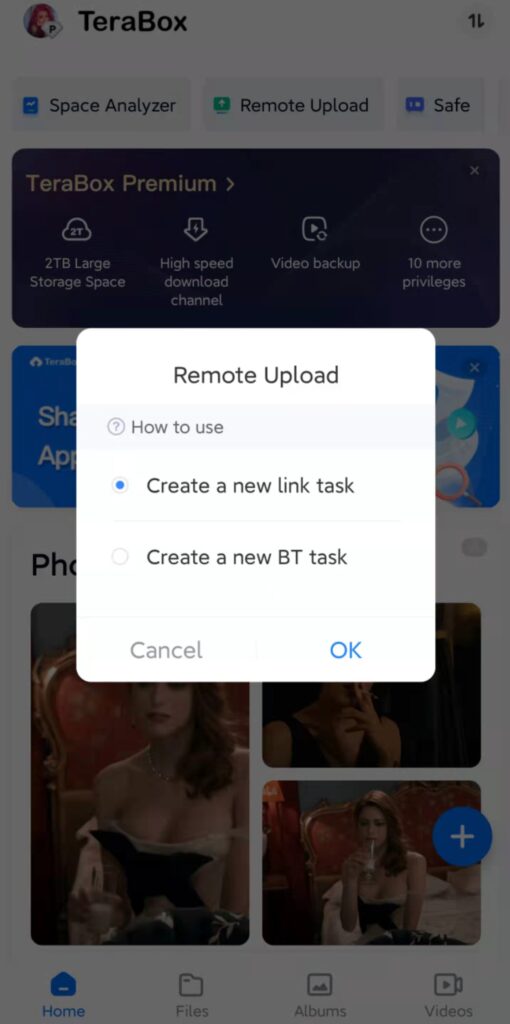 2. Built-in Video Player
Some functions simplify their work with the service for videographers: a built-in video player that supports most of the most popular video encoding formats. Your videos are now always at hand!
3. Large File Transmission
With TeraBox, you can quickly and without interruptions transfer a large file from a phone to a computer. You can forever forget about outdated flash drives and use only a convenient and modern cloud. Transfer files without delay! If you want to upload large files to your phone or computer, select the "+" upload button on the homepage, or you can drag the files, you need to upload if you are using a PC.Premium users can upload files up to 20GB!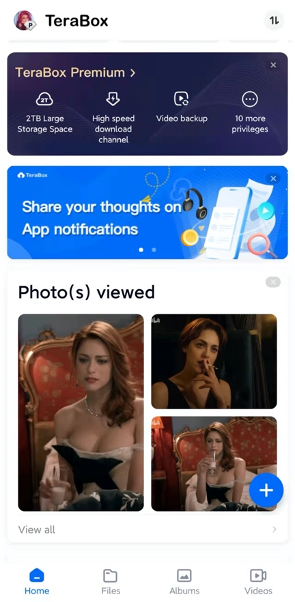 4. Upload Photos in Whole Folders
By the way, photographers will especially like this service, since you can upload pictures in whole folders and automatically. You no longer need to select photos for deletion – leave all the good shots because it does not take up memory space and is completely free. All you have to do is go to the picture option on the app, click the Upload File button, and select the folder containing photos from your device.  It is also the save for videos, documents, or music files for your entertainment.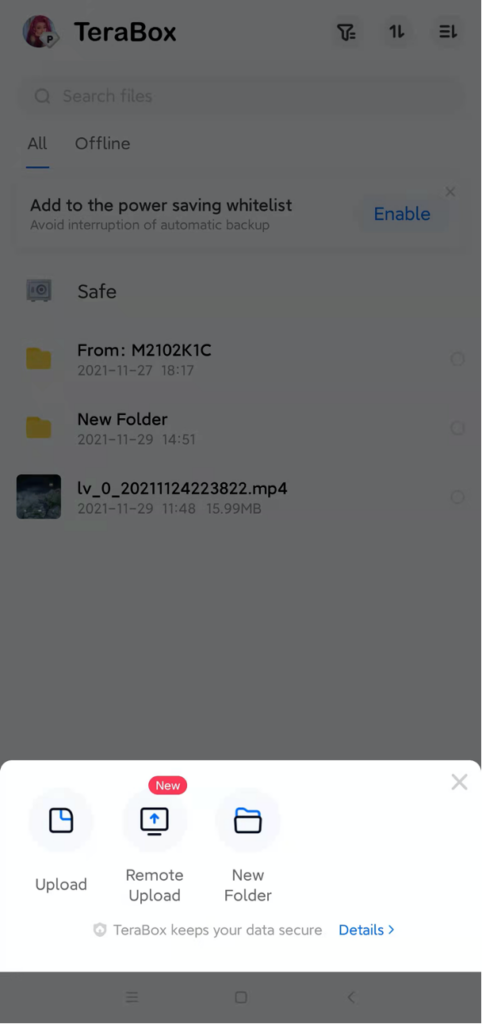 You don't have to worry when you accidentally delete photos, videos, or any other files from TeraBox because it has a Recycle Bin. All the files deleted within 10 days are saved in the Recycle Bin where you can retrieve them easily.
Working with the TeraBox Web Interface
You don't need to run anything extra to work: open the page in a browser, and you can immediately use the application's services. By the way, it is impossible to use all 1024 GB at once for free: you can upload only 300 files with a volume of no more than 4 GB at a time, which, however, is unlikely to be a problem for anyone. This is enough to transfer a small photo session, a couple of films, or even an entire book to the "cloud."
However, this limitation is easy to bypass, and you do not need to pay anything extra for this: just upload files to TeraBox using the remote upload.
How to sign up for TeraBox and get 1 TB of free cloud storage space to save files?
To register in TeraBox, you can choose between different automatic registration alternatives such as Facebook, Google, or your Apple ID. However, you can also opt for the classic registration using your email. Once the registration is complete, you will immediately receive the terabyte of space and start enjoying it.
TeraBox is one of the best cloud storage options to use in recent years. Companies and e-commerce platforms that cater to the 'lazy economy' also switch to this cloud storage option. You can create folders and move files, including transferring files to another file storage, previewing photos and playing videos on the Internet, sharing with other users, copying photos from your mobile phone, and much more.
The service's capabilities allow it to be useful in almost any area. You can download the application and get 1024 GB for free right now at the link. It is available on Google Play Store and Apple App Store. You can also download TeraBox for PC.
Meta Description
TeraBox is one of the best cloud storage solutions offering free 1TB cloud storage space. It has multiple features that simplify user experience, making it the perfect alternative to other cloud spaces.