In recent years, the demands of every user have risen since they want to save and download their files from wherever they are. For this reason, remote upload URL files for free has risen in popularity since it allows everyone to save files via links. Using a cloud service system that has implemented remote url upload truly makes everyday life easier than ever before. For example, you find online a game you really want to try but you are not in front of your computer. With the remote url upload function, you can save it on your cloud service immediately and access it later.
In this article, we are going to explain how TeraBox has revolutionized remote url upload by bringing you services of the highest possible quality.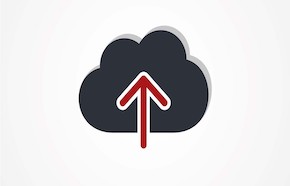 TeraBox: Remote URL Files Upload for Free
There is no denying that remote url upload is a function that understands the needs of our day-to-day lives. People are always searching the Internet for interesting content they can consume, such as music, movies, and games. Therefore, cloud service with remote URL upload is extremely useful to everyone. This means that whenever you see something you like, you can instantly save it to your cloud service space and find it from any device.
Since it is such a popular feature, all the biggest file management tools in the market offer free remote upload. However, when you are trying to use it, you will find a very common issue. While the remote upload free is an amazing feature, most applications don't provide you with enough storage space for free. Usually, the storage service will range between 2GB and 15GB. This means that you might not be able to save the file from the link if it exceeds the available cloud service space given to you by the tool you are using. Even the 15GB of storage space will quickly become unavailable when you start using the app to store all of your files.
In most file management tools, you will be asked to get one of their paid plans to increase your storage space so that it fits your game. For making matters worse, there are some apps in the market that don't even offer the remote url upload feature for free. It is only available to the tool's paid plans.
The TeraBox Remote Upload Feature
TeraBox is an excellent file management tool that has many advantages. First of all, it is an app that offers 1TB of free storage space to every user, even when they choose to remain on the free plan. This storage space is more than enough to fit all of your files and still have enough available space for saving files through URL links. Namely, you could save around 400,000 photos, 2,500 movies, and even 6.5 million documents for free on this app.
However, the TeraBox Remote url Upload feature is what makes the app truly stand out from the rest. With this tool, you can upload by link in just a few simple steps without needing the premium plan. What TeraBox is offering you is that you can use any HTTPS, HTTP, magnet links, and BT files that you have found online. The files will be directly saved to your TeraBox folder.
And the greatest thing is that the remote URL upload to TeraBox is available to everyone for free. The app has also introduced a premium plan that increases your storage space to 2 TB that you can immediately try by taking advantage of the free 7-day trial. After this period, you can keep using the premium plan for just $2.99 per month, which is much more affordable compared to other similar apps.

How to Use Remote Upload on TeraBox
The TeraBox Remote Upload allows you to upload files from anywhere via a link just by following some simple steps. By getting this app, you will be able to save any file you happen to find on the Internet in a matter of seconds.
Below, you will learn the steps for using the TeraBox Remote Upload function:
Step 1: Get TeraBox on your device. The app is readily available on the official website, Google Play, and the App Store.
Step 2: Once you have installed the app, create an account and verify it.
Step 3: Launch TeraBox on your device. Click the "+" sign and select the "Remote Upload" button.
Step 4: Then, you must select the file you wish to upload to your personal TeraBox folder. First of all, you can upload a BT torrent file by selecting it from your device's directory. Moreover, you can copy and paste HTTPS, HTTP, magnet links to the files you want to save.
Step 5: The uploading process will begin. Once it's complete, you will find the files in the Transfer list.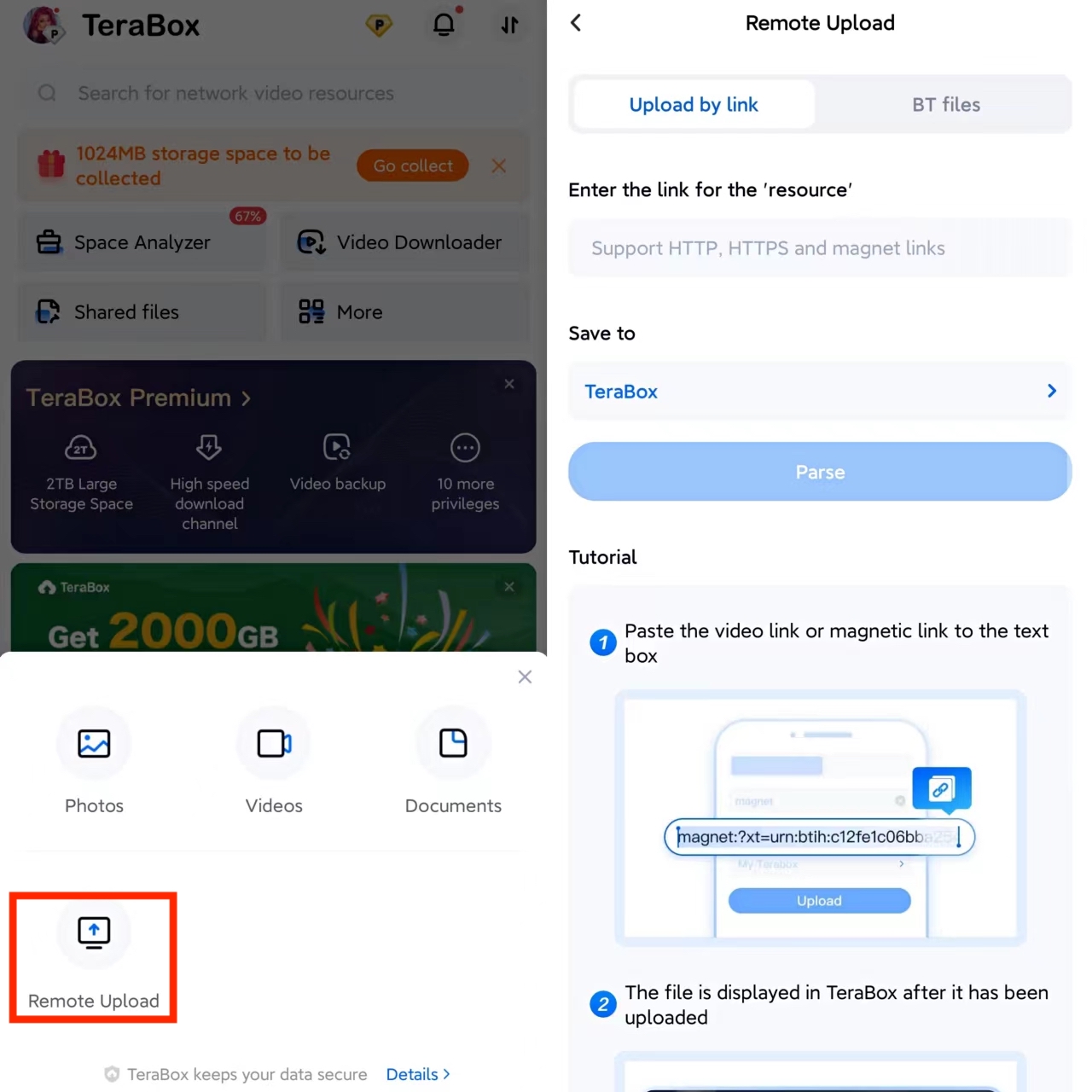 In Conclusion
Remote URL files upload for free to TeraBox has never been easier. This tool is very convenient since it both offers you a huge cloud service space for free and it has implemented amazing features, such as the TeraBox [Remote Upload]. Download TeraBox to discover its high-quality functions that will help you easily reach your files from anywhere and on any device.