Are you losing sleep over limited storage capacity on your devices? With TeraBox – the world's biggest free cloud storage – you can access all your data on numerous devices absolutely free of cost! The 1024 GB permanent free space makes TeraBox stand out from all other cloud storage solutions in the market.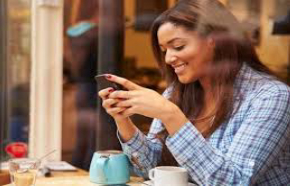 Cloud storage is excellent for storing and sharing files, but sometimes it can be quite expensive. You have to make a tradeoff between the size of the storage and its price. Nevertheless, there is still cloud storage for free out there with an ideal capacity.
TeraBox is your one-stop-shop for all your storage problems. With TeraBox, you can stop worrying about the security of your data. We provide 100% secure cloud storage solutions to make your life just a little bit easier.
Cloud Storage Lineup: Who's the Winner?
With other players in the market offering only a handful of GB of free storage, TeraBox is here here to change the game!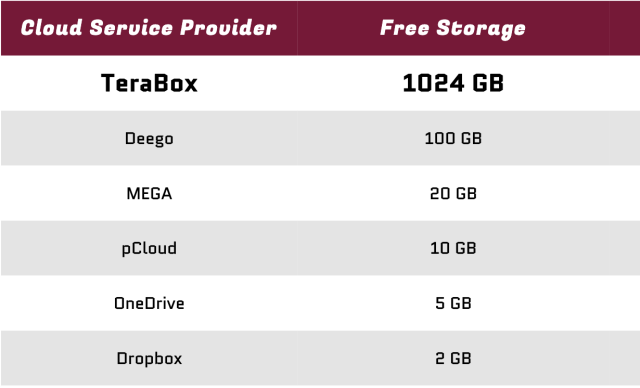 In researching of the biggest free cloud storage, we look into tens of cloud providers and their plans. When it comes to the size of free cloud storage, it is an undoubted win for TeraBox.
The cloud storage offers over 500 times the storage space of Dropbox, 200 times that of OneDrive, and 100 times that of pCloud, making it an all-in-one solution for all your devices. The vast amount of free cloud storage space allows you to never worry about your data again.
What is TeraBox Cloud Storage?
TeraBox is a revolutionary cloud storage app that packs all your favorite features under one roof. It is now available on Android, iOS, PC and Mac, so that you can access your data from anywhere, any time. It is not only the biggest free cloud storage; our seamless user interface and amazing customer service will allow you to forget your storage woes for good.
1024GB Free Large Space
Traveling on a big trip and worried about losing your pictures and videos afterward? Or is your iPhone portrait mode eating up all your phone space? Do you have constantly download and delete movies from your laptop to make space for new ones? TeraBox is now offering the largest space in any cloud storage service available. With 1024 GB of free storage, you don't have to worry about losing your movies ever again! With TeraBox, you no longer have to prioritize between your favorite memories. Instead, keep it all stored in a safe space, free of cost, forever!
High-Speed Multimedia Player
Are you a movie buff who is tired of slow video players on cloud storage apps? Well, we solve that problem too! TeraBox provides a seamless HD stream of all your favorite movies anytime, anywhere.
Our in-built high-speed player allows you to enjoy your cinematic experiences anywhere you want! So whether you're on your way to work or getting home after a long day of college, log on to TeraBox instantly and dive right into your favorite content.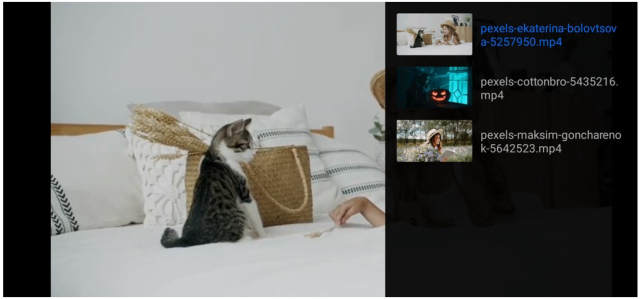 Auto-Backup
Too lazy to manually back up your data? TeraBox has got you covered with its automatic backup feature, freeing up space on your devices on the go. You can live hassle-free without having to set daily reminders for data backup. Our backup software is fast, reliable, and runs seamlessly in the background without slowing your device.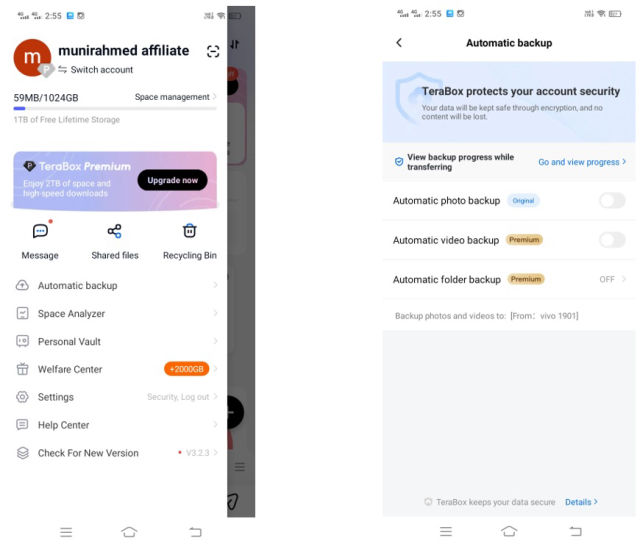 Multi-End Collaboration
Never risk losing out on the heavy, important files that are taking up all your storage space. Instead, download TeraBox on your computer and upload everything on our fast and free cloud storage solution!
TeraBox's multi-end collaboration means it is available to be downloaded on all your devices including phones, PCs and tablets so that you can stay connected to your data anywhere!
File Sharing
When we say all-in-one solution, we mean it! TeraBox also comes with a seamless free large file share option specifically designed for both public and private link sharing.
Our private link sharing option allows you to share sensitive files with only a limited number of people. Moreover, these links will be password protected to ensure the better security of your precious files! On the other hand, the public links can then be used to share memories, invites, and working documents with friends and families.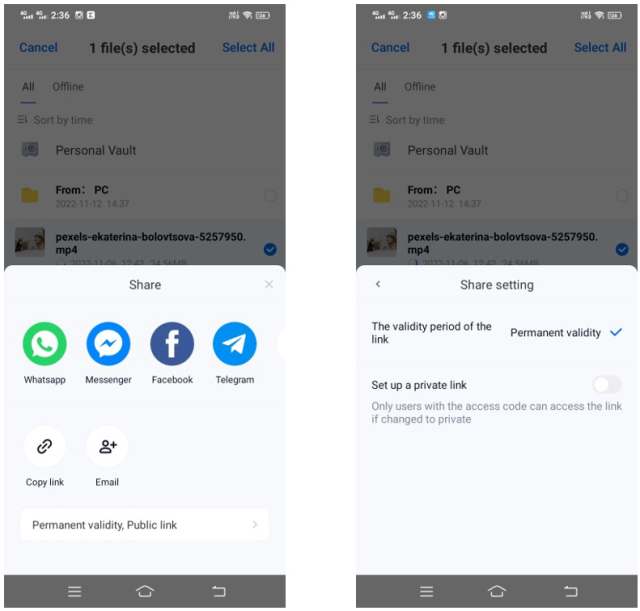 Privacy Password Lock
With all of your important and private photos, videos, and files uploaded on our app, we understand how important secure storage is! This is why TeraBox comes with a Personal Vault, which allows you to set a password for added secondary verification. So, you can enjoy our free cloud storage without fretting about data leakage!
Never worry about getting your data in the wrong hands. With TeraBox password protection services, safeguard your files with a unique pin. Sharing sensitive data has never been easier.
Conclusion
Are you tired of cloud services overcharging you for storage space?
Do you want a one-stop solution for all your storage needs on various devices? TeraBox has the ideal package for you with the biggest free cloud storage of 1024 GB, no strings attached. Our fast, reliable and secure software is here to solve all your cloud storage problems with just one app!
Access your data on any of your devices on the go. Never lose out on viewing your photos/videos due to limited storage space. TeraBox's cloud services allow you always to have access to your precious memories.
Get access to TeraBox's free cloud storage services on your android, apple, and PC devices. Download our desktop and mobile app and never worry about losing your precious data ever again!