With cloud backup service, you can back up and stores data and apps on a distant server. It is of great use and the best solution for data loss, because it keeps on backing up for you regularly with permission.
What Is Cloud Backup?
Cloud backup, also known as web backup or remote backup, is a method of storing a copy of a physical or virtual file or database in a secondary, off-site location in case of disaster or equipment failure. A third-party service provider typically hosts the backup server and data storage systems, charging the backup client a price depending on the amount of storage space or capacity utilized, data transmission bandwidth, number of users, number of servers, or number of times data is accessed.
Cloud data backup can enhance an organization's data security plan without adding to the workload of its information technology (IT) employees. The time savings might be significant enough to compensate for the increased expenses associated with cloud backup, such as data transmission fees.
The majority of cloud subscriptions are paid on a monthly or annual basis. While internet backup services were once primarily used by consumers and home offices, they are now widely employed by small and medium-sized organizations (SMBs) and more giant corporations to back up certain types of data. Cloud data backup may be used as a complement to traditional backup for bigger businesses.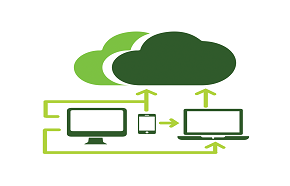 How Cloud Backup Solution Works?
A backup program copies data and saves it on different media or another storage system in an organization's data center for quick access in the case of a recovery crisis. While there are various off-site backup choices and methodologies, many businesses choose cloud backup as their off-site facility. If a firm maintains its cloud service, the company may own the off-site server. Still, if the company chooses a service provider to operate the cloud backup environment, the chargeback mechanism will be comparable.
Benefits of Cloud Backup
In general, backing up data with a cloud backup service is less expensive than setting up and maintaining an in-house backup system. As the volume of backup data grows, the corresponding cloud backup prices will climb, but the economies will likely continue to make cloud backup an appealing option. Select providers may provide free cloud backup. However, backup space is often limited, making free backup only suitable for some home users and the smallest businesses.
Cloud backups are easier to maintain since the service provider handles many of the administrative activities that are necessary with traditional types of backup.
Because backups are done outside of the workplace network, they are often more safe against ransomware assaults. Backup data is usually encrypted before it is sent from the customer's site to the cloud backup service, and it is usually encrypted on the provider's storage servers as well.
Cloud backups reduce the chance of frequent data backup failures due to insufficient storage, physical media breakage, or inadvertent overwriting.
Because it can back up primary data center storage systems, distant office servers, storage devices, and end-user devices, a cloud backup service can aid in the consolidation of a company's backup data.

TeraBox: Cloud Backup Free
TeraBox offers 1TB of free storage space, automatic backup, and multi-end collaboration capabilities, and it is far less expensive than similar alternatives even for its Premium version.
Features:
TeraBox provides a secure storage and encrypted sharing links for the user's data. The user can even create a password lock, and password verification is needed every time he enters the designited Safe zone, protecting the user's most private and confidential files.
A massive 1024 GB of storage space is hundreds of times more than similar goods offer. It's free, and the password setting prevents anyone from accessing it, making it relatively safe!
You can save over 400,000 photographs, 2500+ videos, or 6.5 million document pages on TeraBox. We provide a secure location for all of your files and storage and protection against data theft.
TeraBox is less priced than similar programs, and new customers get all of the premium features for free for the first seven days! TeraBox Premium is also less expensive than similar programs, costing only $3.90 per month, and its quarterly and yearly membership pricing is much lower. The automatically renewed monthly subscription only costs $2.99/month!
Some other features are:
Automatic backup photos & videos
Files hosting and management
Remote url upload
Encrypted share link
Files recovery from recycle bin

Conclusion
We've emphasized cloud backup services, which have become a need for everyone these days. We compared several providers' feature sets, simplicity of use, stability, and price. The ultimate result is that TeraBox is the best product on the market. It's simple to use and inexpensive, with a few unique features. Hesitate no more, come and get TeraBox free storage now!