Want to have a free cloud storage space that offers free storage of up to 1 TB? Read this article and find out about amazing 1 TB free cloud storage services.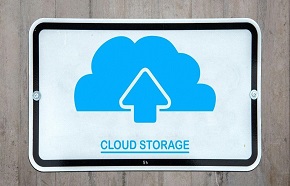 Most of the time, we are out of space on our smartphones and computers. The massive data takes up too much space. Therefore, cloud storage is necessary to store important data and access it whenever needed.
In this article, we will share the best six free cloud storage like TeraBox free cloud that you can try. You can store your data according to the limited free space.
The top six cloud storage on our list are,
TeraBox
Icedrive
iDrive
pCloud
Mega
Sync
1TB Free Cloud Storage: Top 6 Picks
TeraBox
TeraBox is the best free cloud storage service that offers 1 TB of free cloud storage. You only need to sign up and create a new account to get the free storage. It is ideal for storing excess data on your computer or smartphone. The 1 TB storage is completely free for a lifetime, so there is no need to pay anything.
TeraBox supports large file transfers up to 20 GB. Then, these files can be transferred easily to iOS, Android, or Windows; applications are available easily. You can also send the password-protected link of the files to anyone. It can also create an automatic backup of your photos and videos.
If you want to upgrade to 2 TB, it only costs $3.9 per user per month.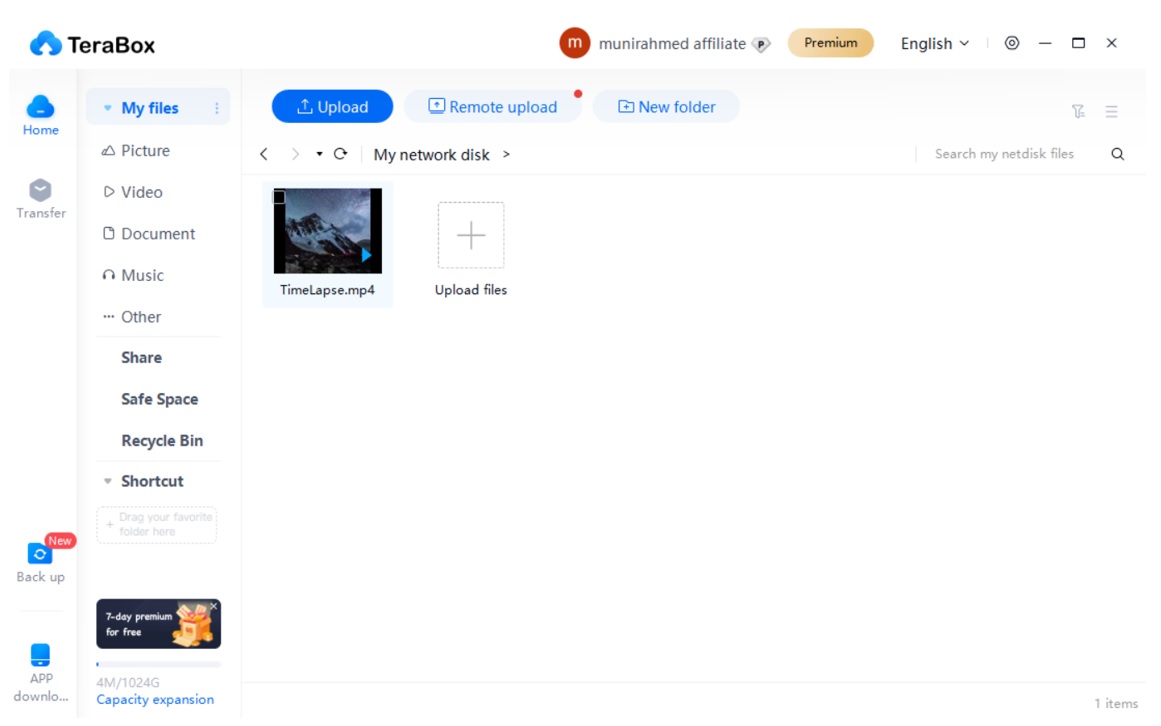 How to Get 1024 GB of free cloud storage with TeraBox?
TeraBox is the ultimate free cloud storage app. It offers 1 TB of free space where you can store 400,000 photos and 2,500 movies. The space is more than enough, and it does not cost a penny. If you have a lot of photos on your smartphone, it is a free online photo storage app. You can free up space on your smartphone and computer. It also helps in creating an automatic backup of your photos and videos.
Step 1: Download TeraBox on your device. It is a free photo storage app that can store almost anything. Install the application on your device.
Step 2: Open the application. Click on Create an Account button. Create a new account, or you can also use any social media account.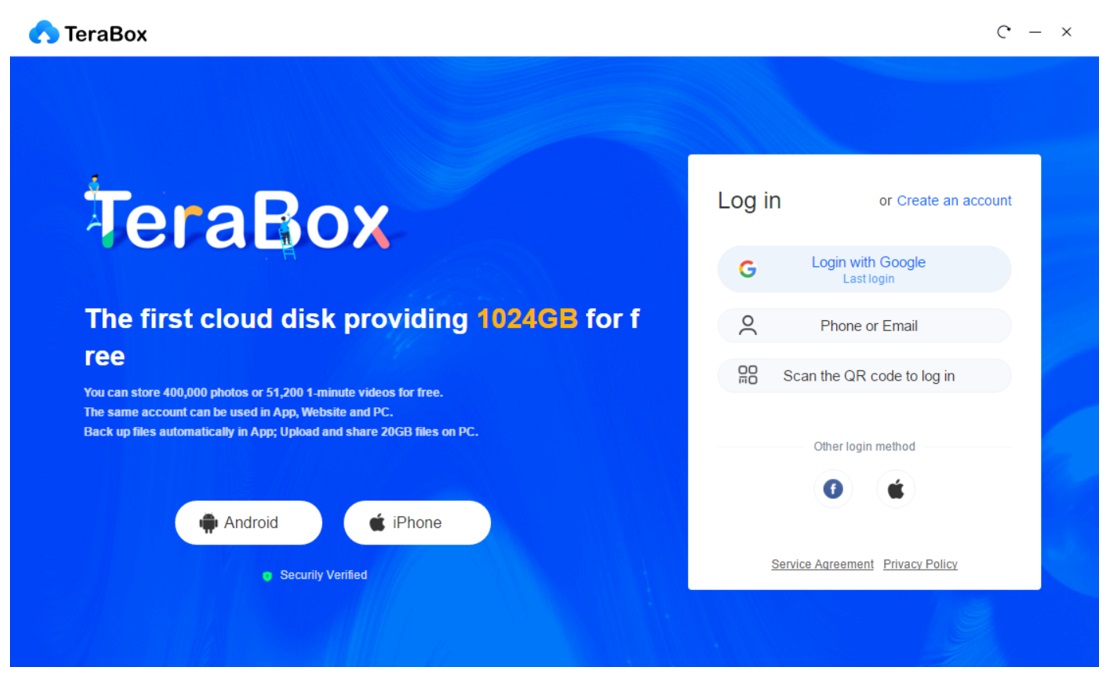 Step 3: After creating the account, you will see the interface. Click on the Upload button to upload anything from your device. Select files from your computer.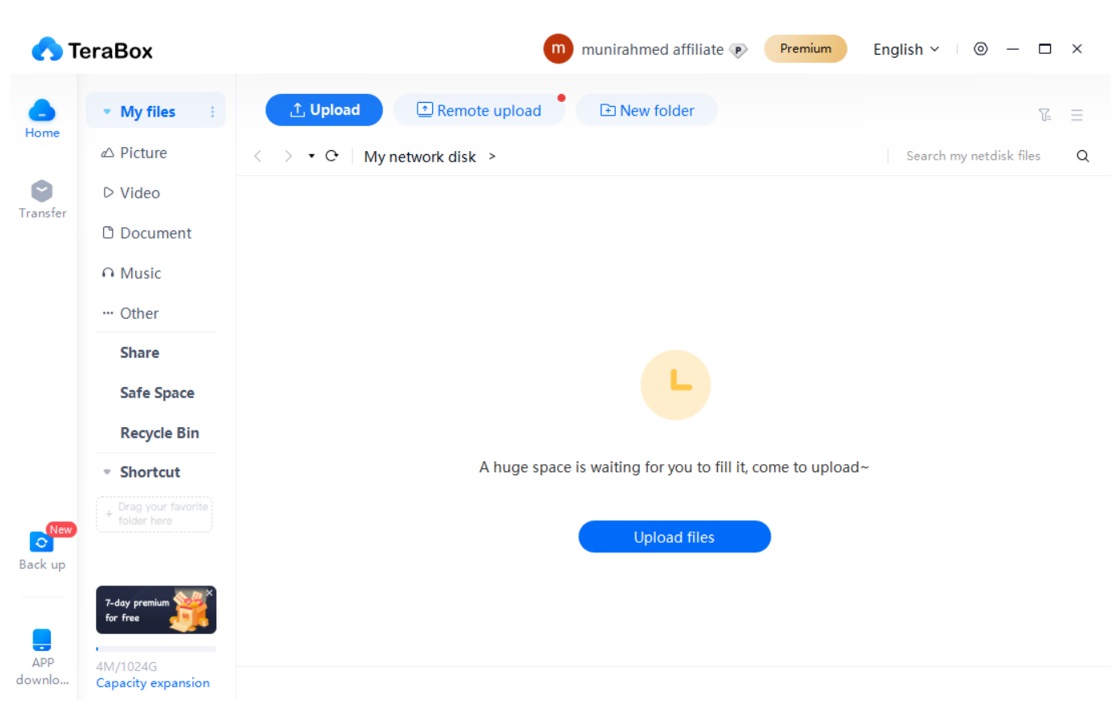 Step 4: If you want to share those files, select them. Click on the Share button and get the sharing link. If you want to download any file, click on the Download button.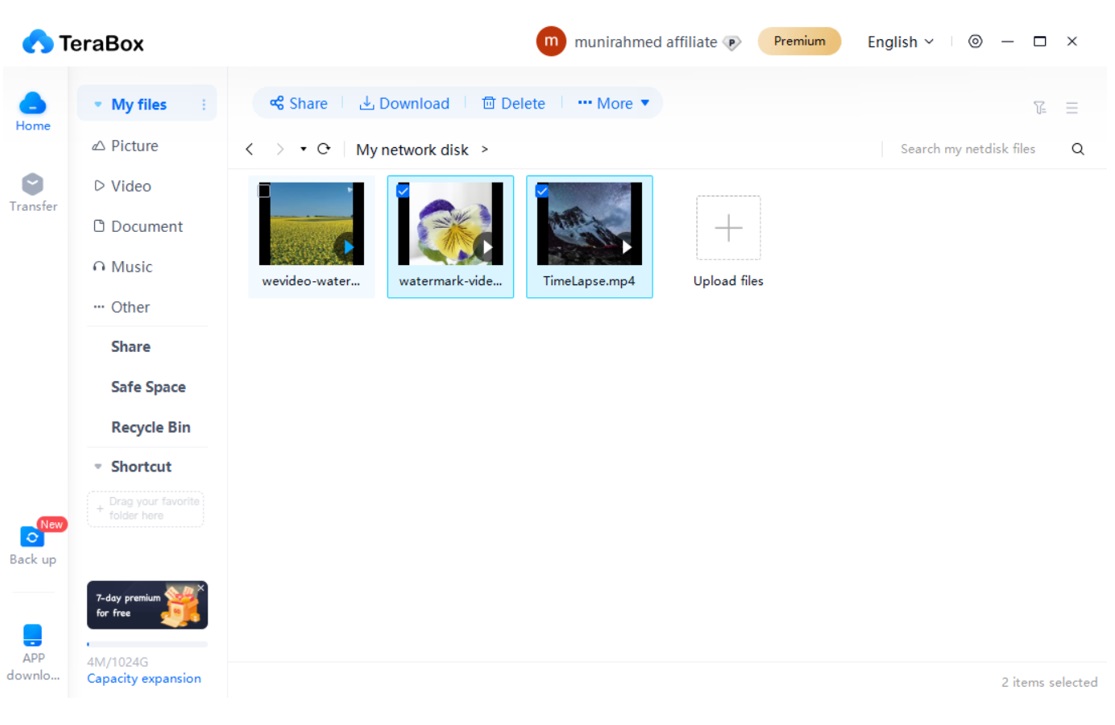 icedrive
Icedrive is splendid cloud storage that offers 10 GB of free storage space. Create an account today and get free storage. The web app, mobile apps, and desktop applications are available. The cloud storage is encrypted, so there is no need to worry about the security of the data.
For 1 TB storage, you need to pay $4.17 per month.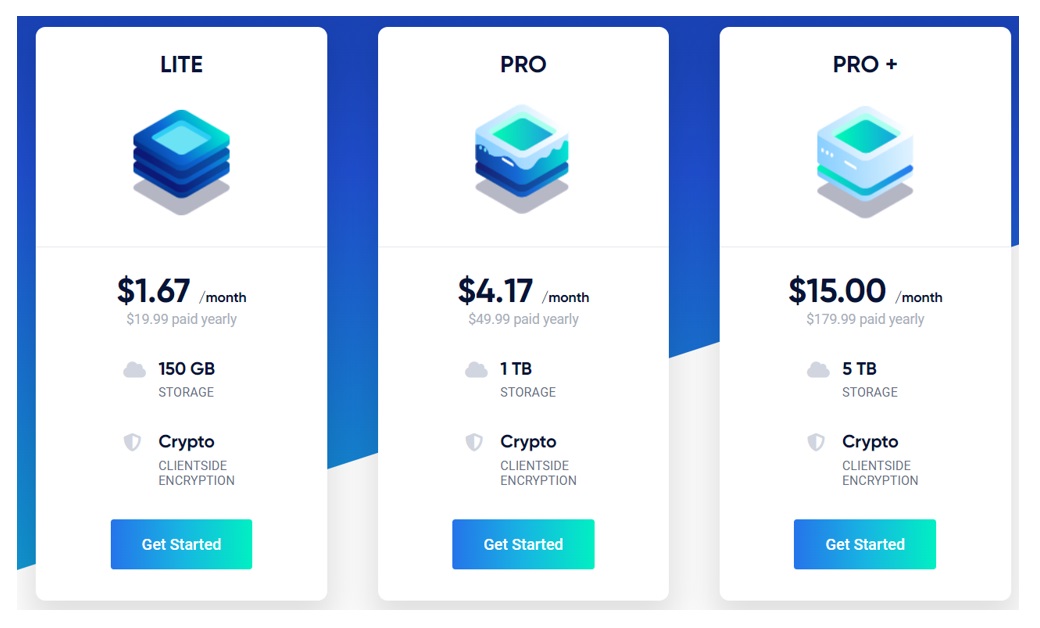 iDrive
iDrive also offers a 10 GB free storage capacity to new users. It is one of the preferred cloud storage for almost any purpose. It is suitable for personal, team, and business purposes. It offers secure storage space with its advanced technology.
There are different plans available for users. 5TB of storage is available for only $59.62 for the first year, and you need to pay a bit more in the next year.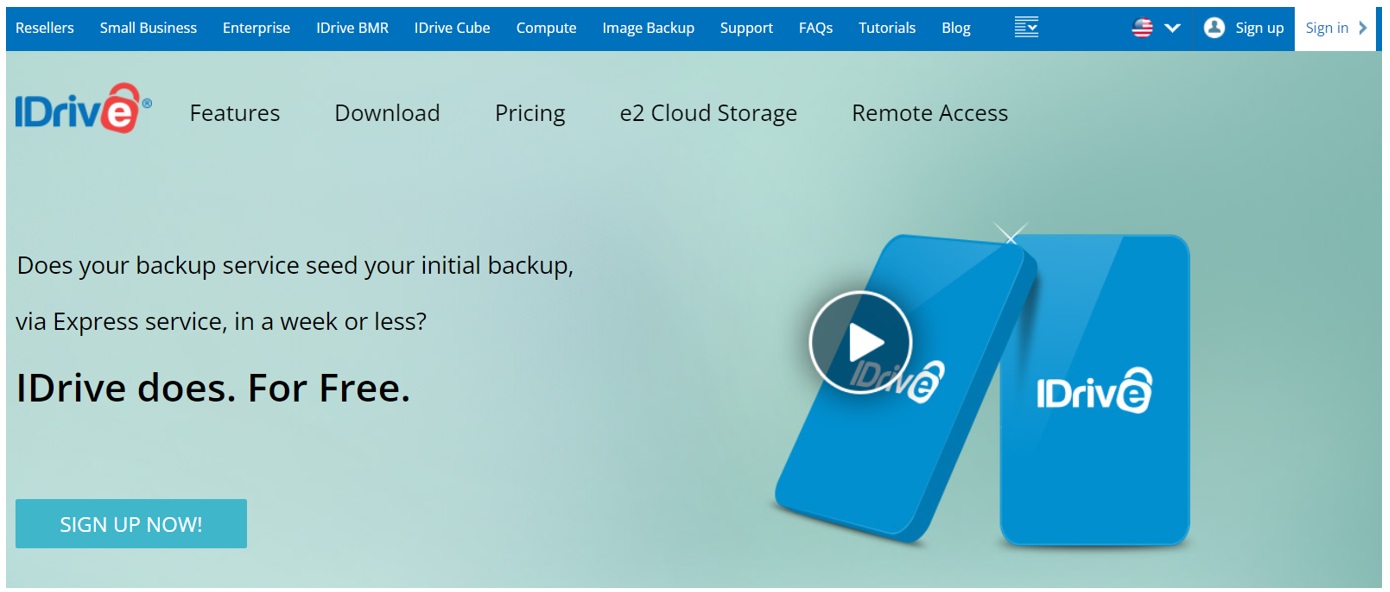 pCloud
pCloud is excellent for storing smartphone and desktop excess data. Unlike the free 1 TB cloud storage TeraBox offers, pCloud provides 10 GB of free storage space if you create a new account. It is available on all devices, including smartphones. It makes file sharing and transfers easier.
It is a bit costly, and 2 TB space is available at $99.99 per annum.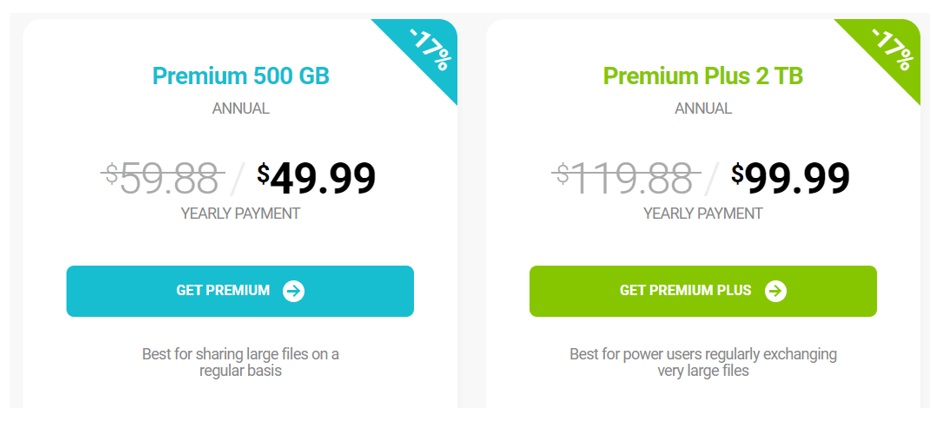 Mega
Mega also offers 20 GB of free cloud storage space, which is a better space compared to other similar services on the market. It is excellent storage for teams because it also offers a built-in chat that makes communication easier.
The applications are available for smartphones and desktop users. It offers a reliable and secure platform for data storage. It only costs €1.56 per TB per month.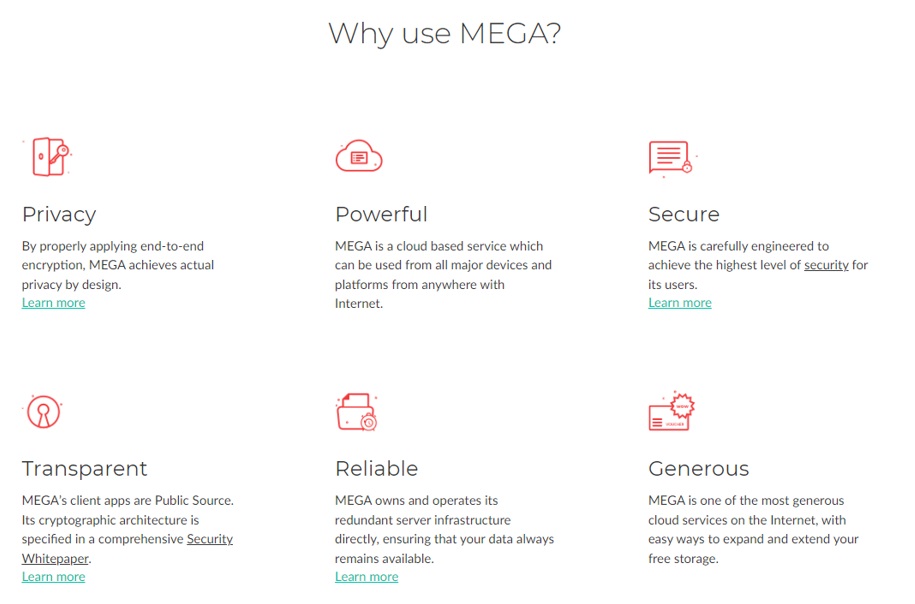 Sync
Sync is an all-in-one cloud storage service that is perfect for saving space on your computer. You can have Sync CloudFiles that are accessible on demand. It is also suitable for backing up data. It offers 5 GB of cloud storage for free, which is not enough for the users. If they want to upgrade, they can get the Solo Basic plan of 2 TB storage at only $8.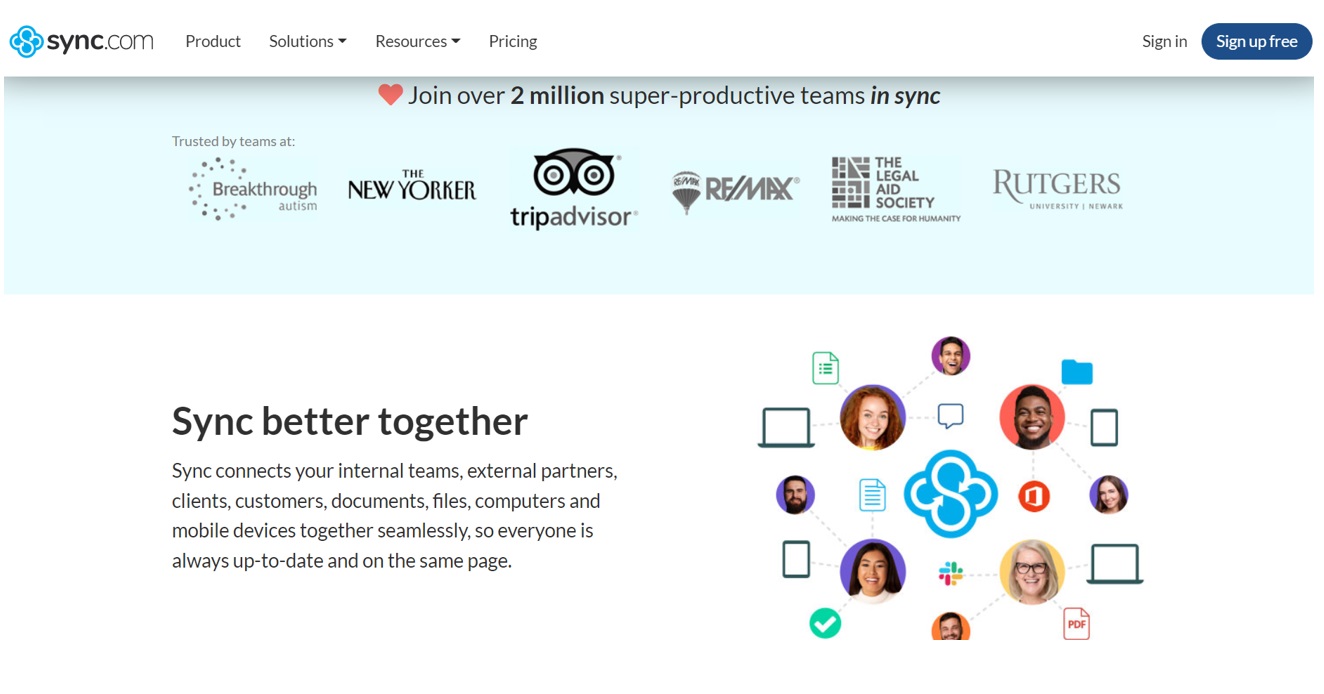 Final Thoughts
We have seen different cloud storage applications and services to store data for free. All of them provide limited free storage space; however, TeraBox offers a massive 1 TB free cloud storage. This space is more than enough where you can store almost anything. Download TeraBox today and create an account to get 1 TB of free storage.