TeraBox is one of the most recommended cloud software; it caters to a wide range of audiences. It is used not just by me but by my entire family. My daughter has been using TeraBox for quite some time. As far as I know, it is due to her university class requirements. She needs to record an online lecture, save some learning materials, and submit her assignments.You learn to appreciate the importance of a 1TB free cloud storage space at moments like these. The TeraBox cloud storage space was perfect to suit her requirements. She also regularly saves DVDs on the cloud for her father and me to see.
Perhaps since my daughter and I both use TeraBox, my husband was impressed by this and decided to download TeraBox aswell, since he generally likes to shoot some life images, particularly some everyday photos of cooking . And storing those pictures takes a toll on his phone memory, and he frequently had to erase his phone memory. But ever since he shifted to TeraBox, he has been completely rid of this problem and seems content with the Software's performance.
TeraBox has turned out to be a blessing in disguise for me and many individuals who were in dire need of cloud storage to back up their files but couldn't afford to buy other products.
What is TeraBox bring to Users?
TeraBox has proven to be a revolutionary cloud storage tool that secures and organizes all your device's contents, allowing users to rapidly back up and manage photographs, crucial papers, and files using sophisticated Artificial intelligence. How can I say this? It's because I have been a TeraBox user for years, and my experience has been worthwhile. TeraBox is bringing the promise of data recovery and cloud storage options to people worldwide.
The TeraBox offers 1TB of free storage space, automated backup, and multi-end collaboration capabilities, and the TeraBox subscription is much less costly than comparable alternatives. Once a user joins up for TeraBox, they will receive 200MB of free private space and 2TB of secure space with premium.
It features an automatic backup option that allows you to store and browse various devices such as mobile phones, tablets, and laptops, allowing you to save a lot of space on your phone. You may also view movies on TeraBox from anywhere, at any time! It's also far less expensive than other products, making it an excellent alternative for students!
User Favorite Features of the TeraBox
TeraBox has proven to optimize the consumer experience of many users and families just like mine. It also you the treasure of space and that too, and minimal to no cost, making it a must use. Following are some of the reasons why I chose TeraBox, and I'd like to share with you:
Remote Uploads
My favorite feature of the TeraBox software is that it supports a variety of link downloads, including HTTP, HTTPS, and magnet. Now I don't have to worry about generating download links; just go to the site and select Remote Upload.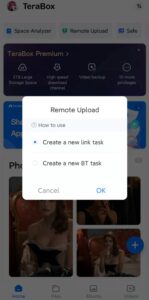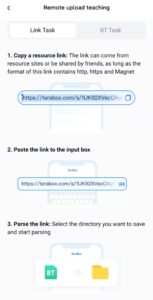 Transferring large files
TeraBox supports large file transfers. Formal users may upload 4GB of huge files for free, and premium users can transfer up to 20GB of large files.
Privacy space coffer
Users set a password lock and require 2-step verification every time they log in to TeraBox, ensuring their privacy and data security. In addition, TeraBox promises never to invade user privacy for the sake of ad personalization.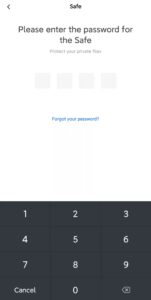 Cloud storage
Worried about your phone or laptop storage? Well, worry no more! The TeraBox brings you a whopping storage space of 1024 GB, which is hundreds of times more than that offered by similar products. Not only is it completely free, but it also has a password setting function that restricts access by others, making it super secure! With the ability to store 500 2GB HD movies, hundreds of thousands of travel photos, or millions of documents, you have a completely free 1TB drive on the go!
Price advantage
Unlike all other relevant products, the TeraBox has been extremely relaxing for my pocket. It is far less expensive than similar products and allows all new users to enjoy premium benefits for free within seven days! At roughly $3.90 a month. I have opted for the TeraBox premium,whichhas been very economical for me, and I find its quarterly and annual subscription prices to be even more affordable!
Back up photos & videos:
The TeraBox app has completely saved my life; with its Automatic photo backup from your phone, you can now preview your photos online and save space on your phone.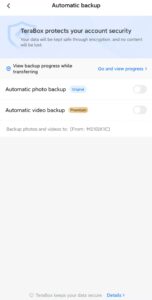 Search
Now you don't even have to look for the files manually, considering my job and routine. I don't have a single second to waste. The TeraBox lets you easilysearch docs by name and keyword, making your life so much easier!
TeraBox Moments with my Family
TeraBox has been the source of comfort for my family and me for years. Whenever we plan on watching a movie together, the TeraBox comes to our rescue. The TeraBox lets you back up all your personal images and videos on the cloud. So whenever we have a family gathering, it has become a ritual to connect the multimedia with our TV and play the videos and pictures, relishing our memorable moments spent with family.Now you can easily access all your digital content through the TeraBox software anywhere, anytime.TeraBox brings not only moments of beauty in life but also long-lasting memories.
How to Download TeraBox
So what are you waiting for? Download the TeraBox app form https://www.terabox.com. Download the app and join up for your free TeraBox Cloud Storage account right now. You will have adequate capacity to save data from all of your connected devices. You may also quickly sign in using your Fb, Gmail, or Apple ID profile. They also provide a secure environment for you to upload data from numerous devices such as cellphones, tablets, and desktops. The backup function can securely back up your information, such as movies, images, and documents, so you don't have to worry about losing them. You may also quickly create folders to organize your files and papers. So don't waste anytime and embrace all the beneficial features of this app, just like me!