If you are a Samsung user, you might have wondered what is the Private Share app on your phone. It is a native sharing application developed for Galaxy users, and it can help share data with high level of privacy. It is indeed a useful function, which is why a lot of people have tried Private Share app at least once to make file sharing more secure.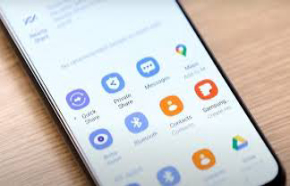 Some people prefer using it to transfer files to Android. However, most of the users have not liked it very much because of various usability issues. In this article, we will take an in-depth look at the Private Share application. We will tell you what it exactly is and what it does. We will explore the pros and cons of using this application. Most importantly, we will also share an incredible alternative to the same purpose, TeraBox. It is online cloud storage that allows you to share files with minimum security concerns.
What Does Private Share App on Samsung Do?
There are various methods of sharing files, but in most of them, you lose control after sharing the file. For instance, you share a document with someone through email. Once the email is sent, you cannot control what you have sent. It means you cannot restrict the receiver from using the file or resharing it. It is the main downside of most file-sharing methods.
The Private Share app on Samsung was developed to solve this issue. It gives you better control over the shared data. When you share a file using Private Share, you can set an expiration date, prevent the recipients from resharing, limit the users, and revoke the permission of the recipient. Thus, you can control how your shared file or data is used.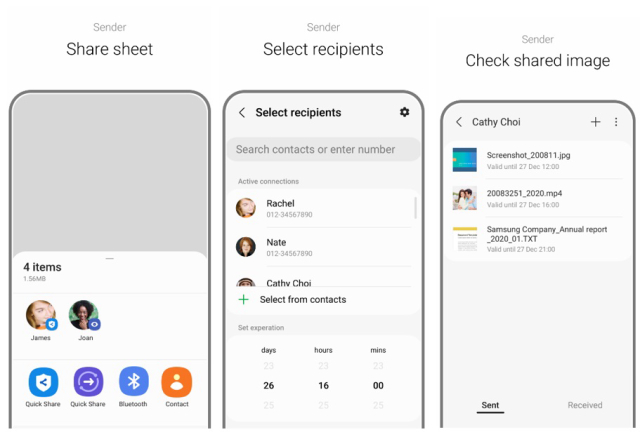 On Private Share, the data is sent in a peer-to-peer manner, which means you can send data directly to one person. You can share files in two methods. One is by going to the Private Share directly to upload files and share it. The other way is better, which allows you to share the data from your Gallery with the desired person through Private Share.
Though the Private Share app has gone a long way to enhance security in data sharing, there are still various problems and issues with the applications, so users may want a better tool that can offer better features and more control. Let's dive into the pros and cons of Private Share to understand it better.
Pros and Cons of Private Share App
Private Share on Samsung allows users to share files privately and control them. It is shared on a one-to-one basis; however, you can send up to 5 recipients. You can select the people from the contact and send them the files you want.
The best feature of the application is the expiration date. You can set the file reading period from 1 minute to 180 days. If you have not set the period, the recipient has one day to view it. With this feature, you can control the period and exposure of the data to the recipient. Moreover, the expiry data can be changed even after sending the file.
Sharing files is pretty easy through Private Share app. You can also revoke the granted permissions when needed. If you have sent the file to the wrong person or the person has turned out to be different from your expectation, you can stop sharing and revoke permissions instantly.
Private Share has its pros and cons, but some might say its cons outweigh its pros. First of all, it has various file-sharing restrictions. There can be a maximum of five recipients, which is not feasible all the time. Of course, it's only a minor defect, but the main issue is the limits on the number of files and the total file size. The file quantity cannot be more than 20, which means you cannot send images or other data in bulk. Secondly, the total size of all files cannot be more than 100MB. Generally speaking, this application is not suitable for sharing large files.
In addition, Private Share app is capable of sending only selected file formats. You can send the popular formats of image, video, audio, and text. For instance, in text format, you can only send PDF and txt files; there is no way you can send docs, excel files, and other file formats.

Another major problem of the application is compatibility. The app is only for Galaxy users, so even if you have an Android, you cannot use the application unless you have a Samsung Galaxy device. Plus, it is only for Android O and P operating systems. Therefore, the market for the application is very small, and people cannot use it on their Android devices of other brands. Using it on a computer is nothing but a dream at the moment. There are a few users only, and the application, so the application is not worth it.
Fortunately, we have an amazing alternative – TeraBox, which is better suited for file sharing. It is cloud storage that allows you to share files online and have control of their privacy. It is the right application with all features you need, and there are no restrictions. Let's learn more about it in detail.
TeraBox: The Best Way to Transfer Files to Android
With TeraBox, you can share almost any type or format of files with anyone with ease. It is the only cloud storage that offers 1TB of free storage space that can be used to store files and share them with others. You can store millions of documents, over 50,000 one-minute videos, or more than 400,000 images with this massive storage.
In terms of transferring large files, TeraBox is by far the best option, hands down. It can transfer large files up to 20 gigabytes. There is no restriction on the number of files you can share as long as the file size is less than 20 gigabytes. What's more, TeraBox file sharing also allows you to set an expiration date and choose the recipients. You can also set a password on the files you've shared to maintain control and protection from theft. You can either add the emails with the recipients or share the link to the file. All these measures make managed file transfer in TeraBox easier than ever.
With one click, you can share as many files as you want. You are free to transfer files not only between Android, but also between and across iOS, Windows, and macOS. The applications are available to download on your Android device, iPhone, or Windows PC. For Mac computers, you can also use the web application to transfer files directly.
In the following part, let's see how to transfer files freely from Android or iOS phones as an example.
Step 1: Download and install TeraBox from the Play Store.
Step 2: Launch the application. You will see the sign-up option. Tap on the button and create an account. You can create an account using your Google, apple, email, Facebook, or phone number.
Step 3: Once you sign up, you see the main screen. Click on the "+" button. You will see various options. You can choose Photos, Videos, Documents, etc. Select the file type and choose the files from your mobile.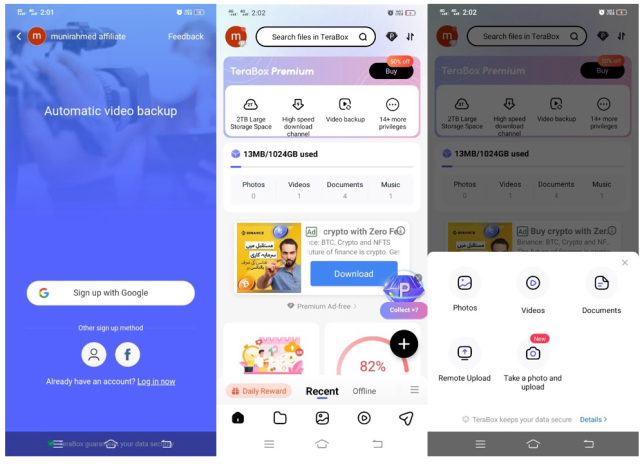 Step 4: Let the files upload. Once the file is uploaded, select it. Tap on the Share button. Now, you'll see a new window. Tap on Permanent Validity and Public Link to set the expiration date and accessibility. After that, you can enter the email of the recipient, copy the link, and share it through social media, email, or any other platform.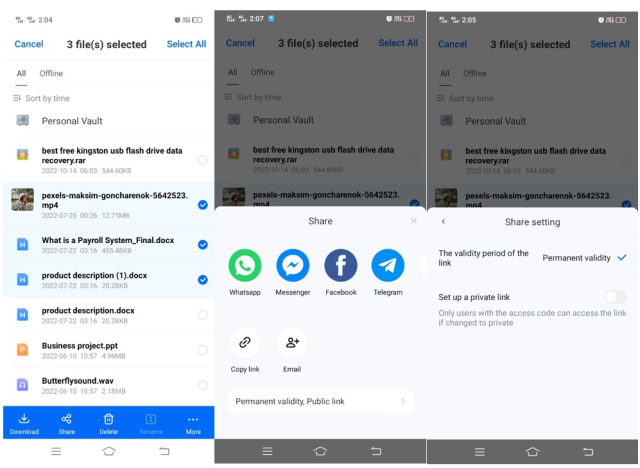 And there you have it. Your selected recipient(s) can view and download the files you share, and the whole file sharing process is smooth and seamless. If you want to transfer files to another Android user without using Private Share app, TeraBox is absolutely your go-to choice.
Final Thoughts
Samsung introduced the Private Share application for Galaxy users. It is a special application that allows you to transfer files and control them through expiration dates, re-sharing restrictions, and revoking the permission of the recipient. The idea is incredible, but there are various problems with the application. First of all, it is only available for Galaxy users, so you cannot use it on other Android devices and computers. Therefore, the use of the application is limited. Furthermore, there are various restrictions on the file size and the number of files. Plus, you can only share the files with a maximum of five people, and it only supports a few common formats.
Private Share app is not a useful application for Android users because they cannot use it on their devices. Therefore, we have introduced a TeraBox, which is cloud storage that offers you 1TB of free space text to all your files and data. You can install as many calls as you want, and there's no restriction on the format. TeraBox also helps you protect your shared data by limiting its access, adding a password, and sudden expiration dates. It is a completely free tool that allows you to transfer large files for free. It is the best alternative to Private Share as it can be used on any device.
Download TeraBox APK for your Android phone today and install it on your device. Enjoy sharing files with utmost privacy and without any hassle.