Many of you may have such a question:what is the premium price for TeraBox? Not to worry—the answer is just in the following passage!
---
In recent years, the increasing demand for online services has driven us to look for larger storage solutions. However, it often costs us a big sum of money to buy a large-capacity device. Even the portable external hard drives with 1 TB capacity cost an average of more than 50 dollars, which also comes with great labor of carrying it around all the time and a great risk of losing data due to improper operation.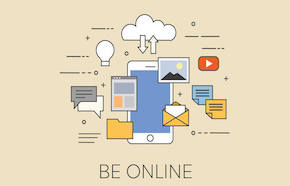 In this case, you may consider giving cloud storage a try. If you are in need of a big-capacity one with the lowest costs, you are coming to the right place. TeraBox, a perfect solution to all your storage-related demands, offers you the cheapest price along with the best quality services! Download it from the TeraBox official website or your app store and log in, then a large 1024 GB of storage will become 100% yours totally free of charge! In addition to 1 TB permanent space, multiple benefits are at your disposal as a free user:
• save millions of HD photos and files pages
• 720P maximum resolution for video playback
• maximum file size of 4 GB for uploading
• 200 MB of best-class confidential space
• retrieve the deleted files in 10 days
Find them not enough? Have a taste of the Premium version!

What are my Premium privileges?
For TeraBox Premium users, a fantastic memory capacity of 2TB (2048 GB) is provided in an amazingly cost-effective way. From your portable devices to office computers, TeraBox empowers you with ultra-fast uploads and downloads both through the application and the browser. Once becoming a Premium TeraBoxer, various exciting functions are waiting for you to unlock. As your secure cloud service supplier, the TeraBox premium version is able to:
automatically back up your videos at original quality
provide several multi-speed playback choices when playing videos
help you get rid of any kind of advertisement
offer you 2 TB of best-class confidential space
1080P maximum resolution for video playback
retrieve the deleted files in one month
maximum file size of 20 GB for uploading (APP&PC)
generate a Premium badge demonstrating your membership status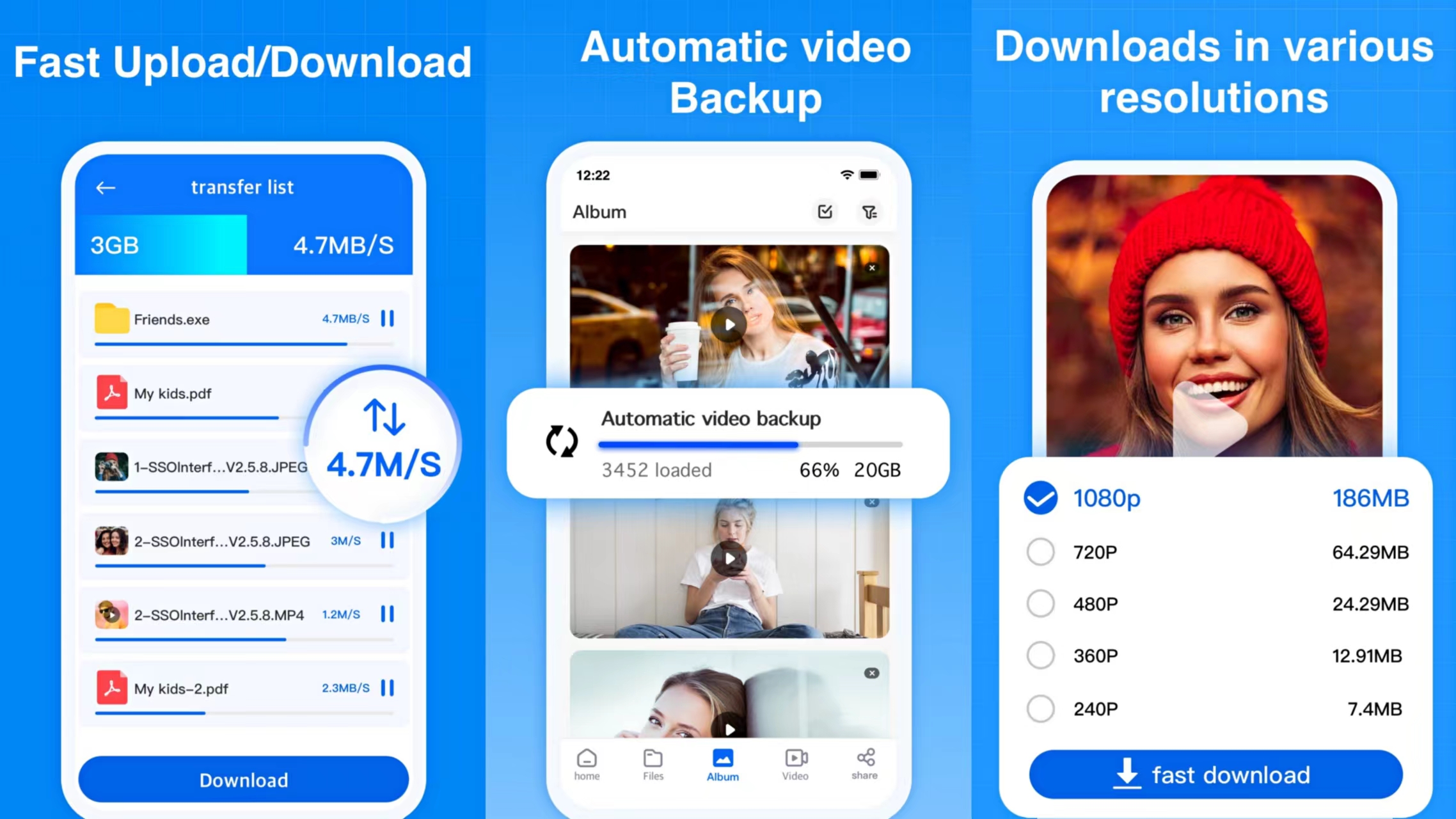 How much do I pay for TeraBox Premium?
In regards to the TeraBox Premium price, this trusted cloud service provider assures you that you can enjoy the lowest cost (almost 50% cheaper than that of other contenders) with the largest capacity here. No tricky schemes or astronomical prices are offered for substantial TeraBoxers. Here at TeraBox, you can choose your own purchase plan in terms of different billing cycles as you like:
Up for your own renewal:
one-year membership: $38.99 (average $3.25/month)
one-quarter membership: $10.99 (average $3.49/month)
one-month membership: $3.99/month
Automatic renewal:
automatically renewed monthly subscription: $2.99/month
if you don't want the automatic renewal to continue, you are free to cancel the subscription at any time before the next billing cycle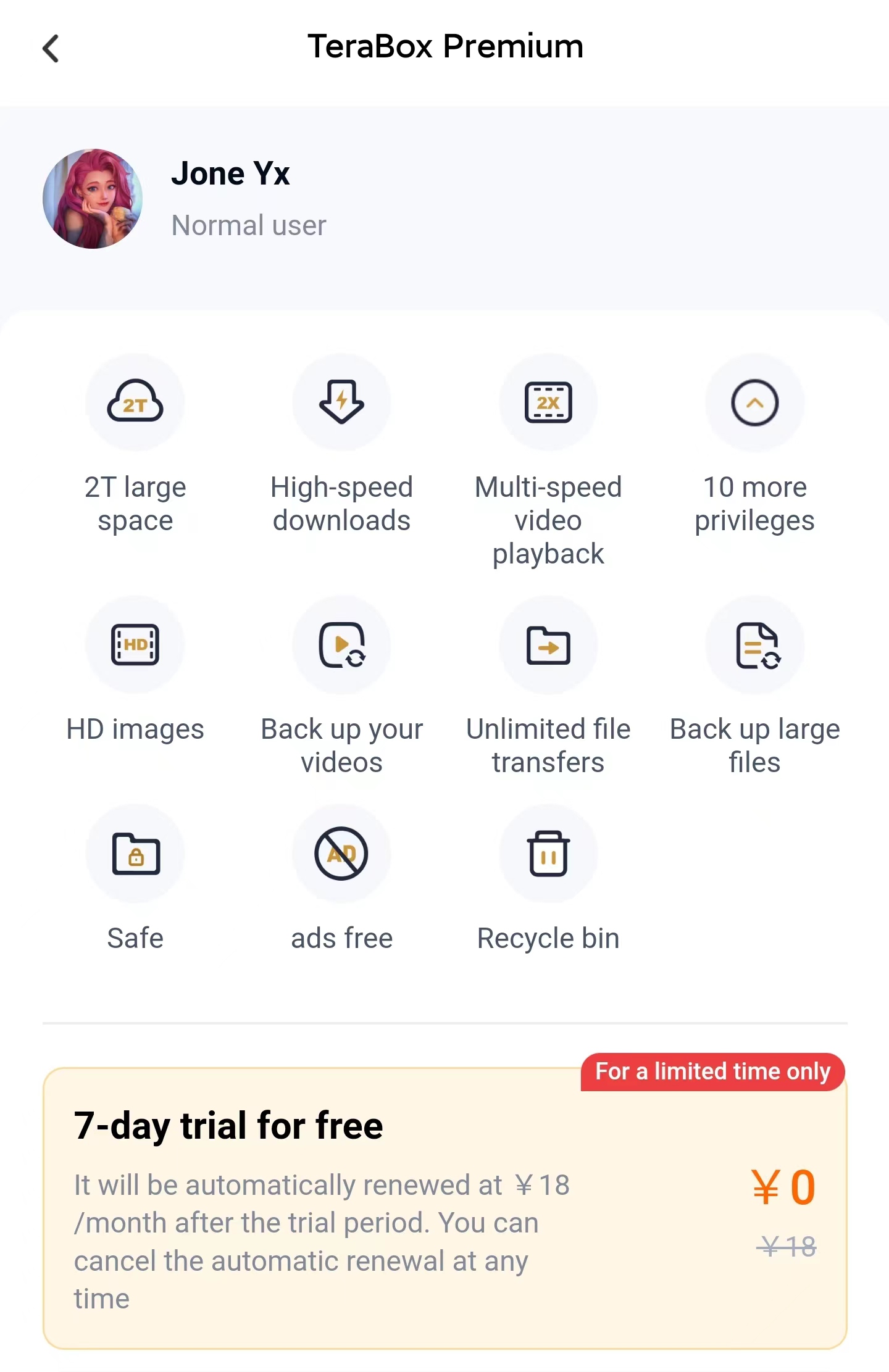 Every penny you spend on TeraBox is worth it!
Find it exciting but still hesitate? Don't worry, nothing is more valuable than good faith. In order to better protect your freedom of making choices, TeraBox launches a 7-day application trial with zero charges. After the trial, the TeraBox Premium will be renewed automatically for one month, and you can cancel it at any point. Take your time and give it a try before making your final decision.???