Most people today spend a majority of their time streaming videos online, with YouTube being the most popular platform, leading the likes of Netflix, Vimeo, Twitch, and DailyMotion. But streaming these videos involves a lot of data, which can be expensive. Thankfully, you can download or capture videos online and watch them later offline, allowing you to watch the content as many times as you wish without using data. In this article, we will show you how to find free online video downloader.
Almost all online video streaming platforms don't allow the option to download videos, and therefore you will need a third-party tool for this purpose. Luckily, there are plenty of options when it comes to apps that let you download videos online, and the best of them all is TeraBox.
How Can I Download Videos from the Internet Using TeraBox?
TeraBox is one of the most reliable and trusted cloud hosting service providers, offering 1024GB of free space. The app also provides a free URL video downloading function that you can use to capture videos from any website without any hassle.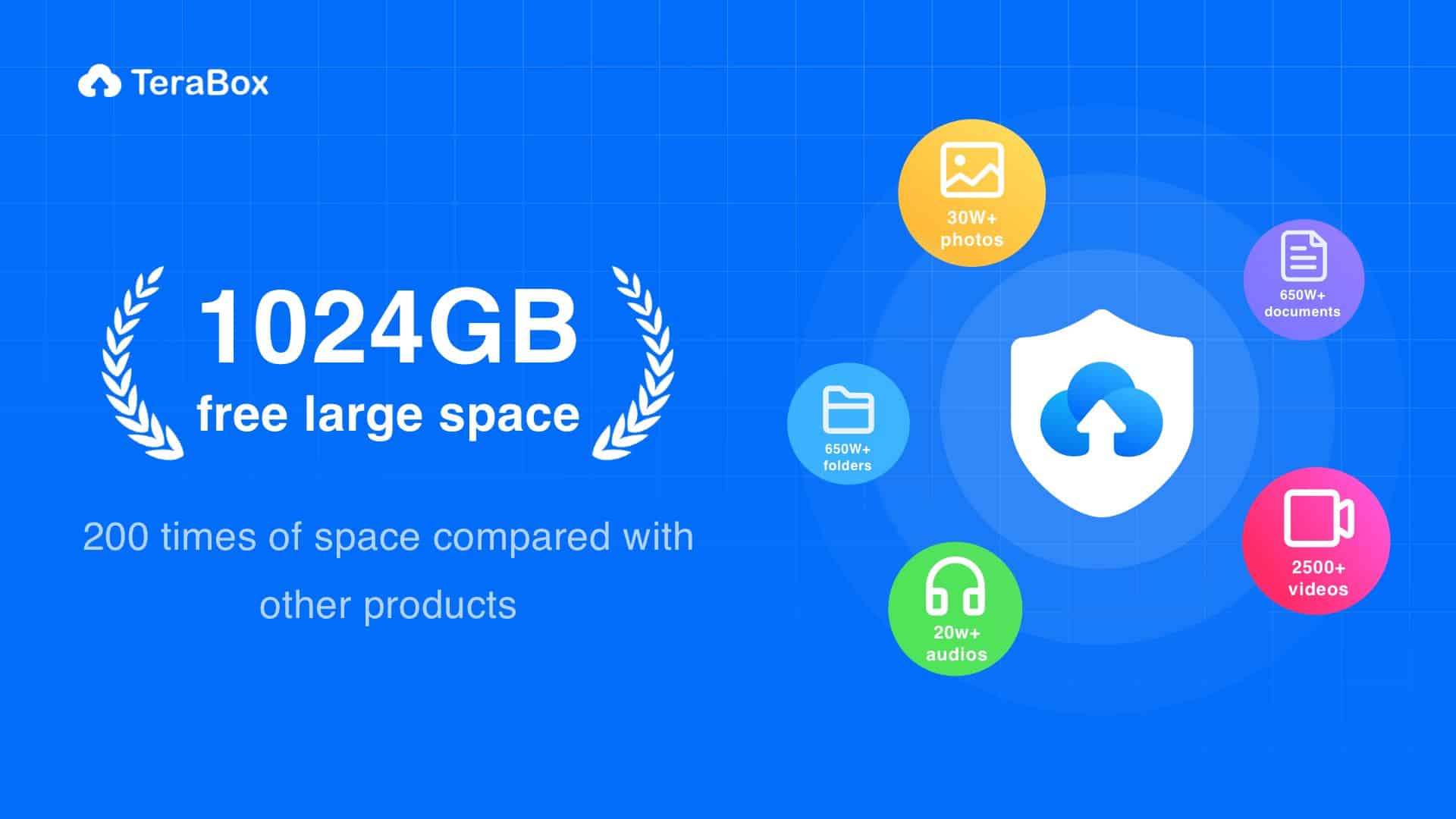 The app gives you the best possible experience while downloading online videos for free. It is fast and safe and you will find it easy to use and navigate its features. The best part is, that you don't need to store the downloaded video on your device – that is what the 1TB free space is for. Just store your downloaded videos in the cloud and access them easily provided you have a device with an internet connection.
Since videos are larger in size compared to photos, you need enough space if you want to store a couple of videos. And the best place to find download videos on the internet and store them is TeraBox. Of course, there are plenty of popular options in the market, including OneDrive and Google Drive, but the problem with them is that they are too expensive and their free storage is not spacious enough.
The 1TB free storage offered by TeraBox is enough to store hundreds or even thousands of videos for free. And if you run out of space, you can simply upgrade to $3.99 per month and get an additional 1024GB of storage, bringing the total amount of space at your disposal to 2TB.
There are two ways to download videos from the internet using TeraBox – via remote URL upload and storing streaming videos in the app for later download.
Way 1: Use TeraBox Remote URL Upload to Save Videos Online
Remote URL upload features are perfect for our day-to-day lives because you can simply save the URL of videos you come across while browsing the internet to your cloud storage and access them from any device. The biggest cloud file handling service provider, TeraBox offers a free remote URL upload function, allowing users to upload videos by the link in a few steps for free. The file will then be saved to your TeraBox. Here is how you can download any video from the website using TeraBox.
Step 1: Download the TeraBox app (from App Store or Google Play) if you don't have it.
Step 2: Sign up and verify your account.
Step 3: Open the app and tap on the "+" icon and click on the Remote Upload button to proceed.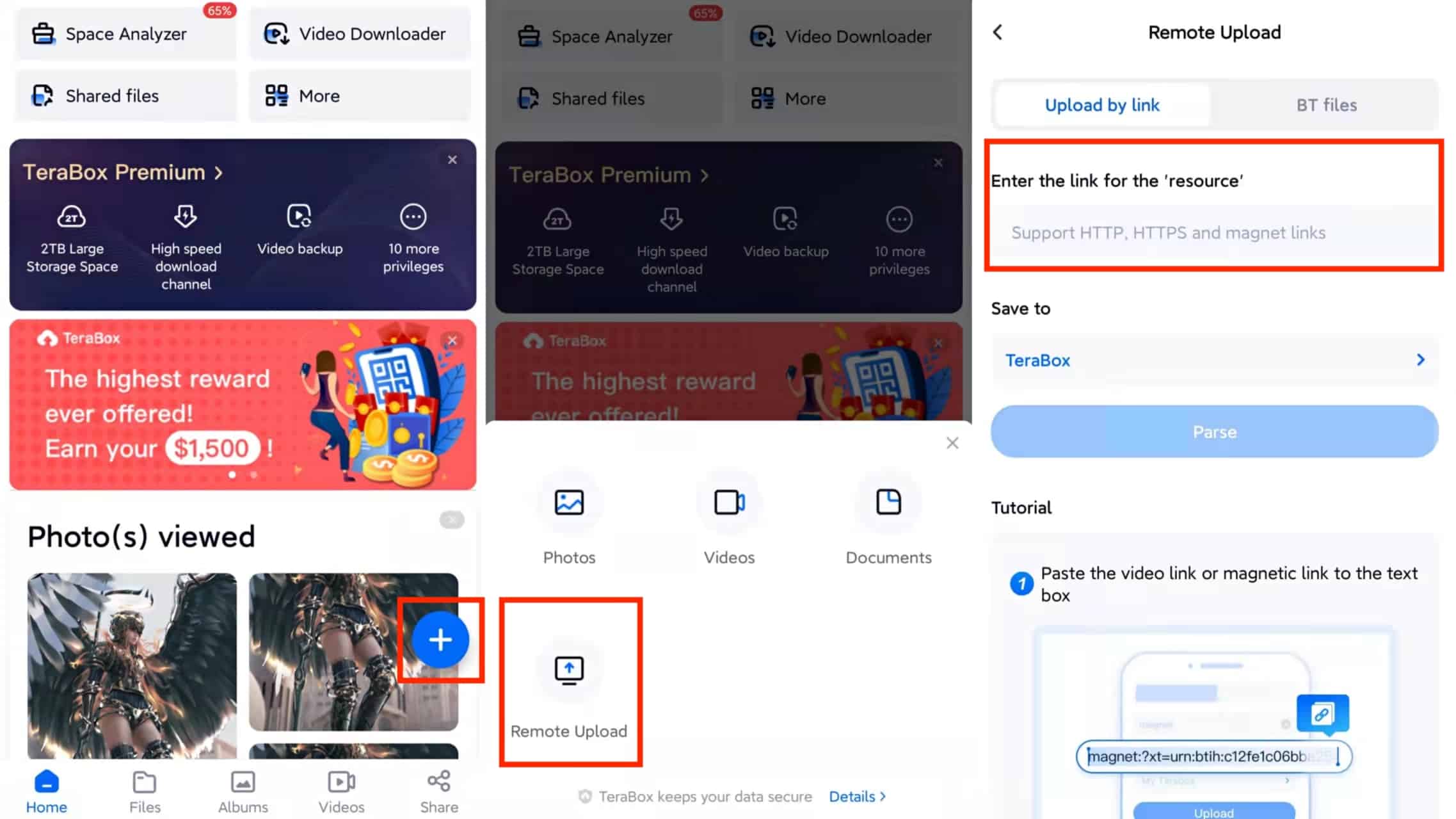 Step 4: Choose the file you want to upload to your TeraBox folder. Note that you can upload a BT torrent file by selecting the file address from your directory or upload any file by copying and pasting HTTP, HTTPS, and magnet links to the videos you wish to save to your TeraBox folder.
Step 5: The app will begin to upload the file and once it is done, you will access it in the Transfer list.
Way 2: Use TeraBox Video Downloader to Store Streaming Videos from the Internet
You can use this feature to store your videos on the internet. Once you save, your videos will be stored safely on the cloud and you can access them whenever you wish from any device. Here are the steps to use:
Step 1: Download, install and launch TeraBox on your device (iPads, iPhones, Android, or computer).
Step 2: Sign up and create an account – use Apple ID, Google, Facebook, or email).
Step 3: Select the video on the Internet that you want to download and then click "Share".
Step 4: Find and Click "Save to TeraBox", and select a location to save it to.
Step 5: Access and download the video from the location.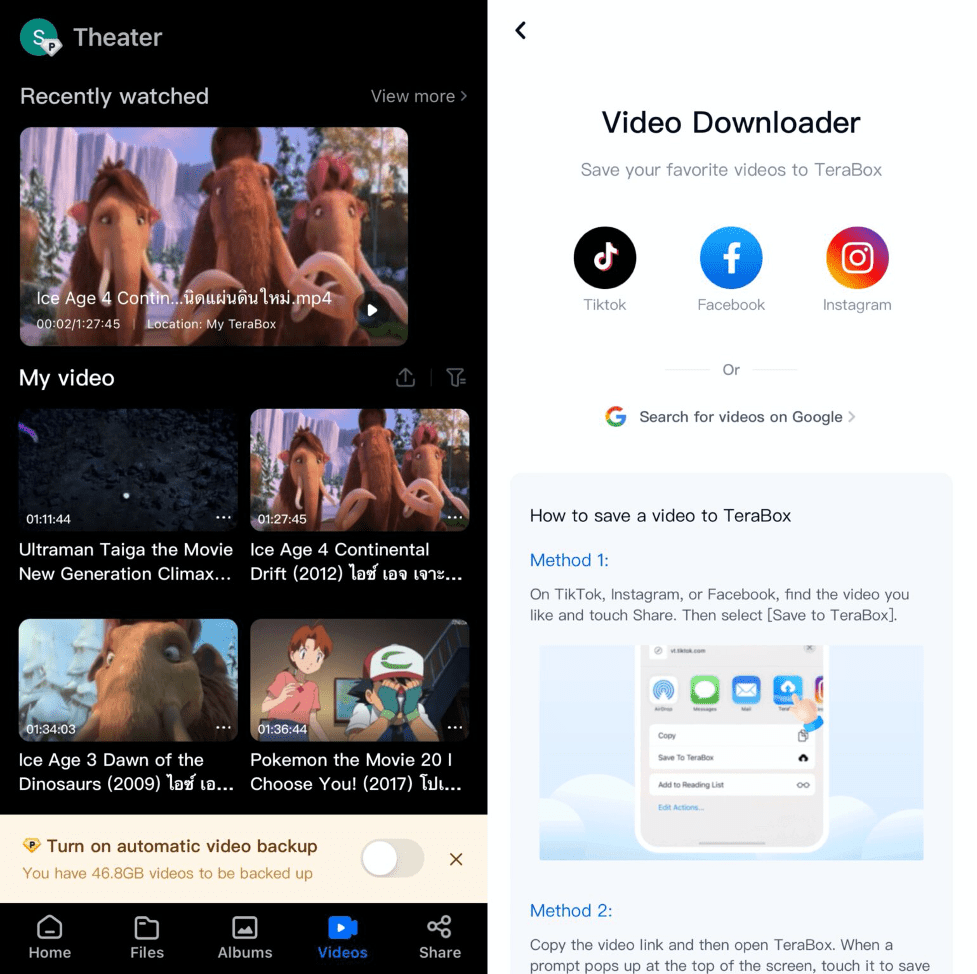 Conclusion
Cloud storage offers one of the best and safest ways to download videos from the internet and store them in the cloud. While there are plenty of options currently out there, TeraBox remains the best option because it is safe, fast, reliable, and offers free 1TB cloud storage space. Even better, you can download TeraBox free. If you are looking to download internet videos, TeraBox might just be the application to help you get the job done. The app focuses on cloud storage, but that is where video downloading comes in. You can use this app to download videos from sites such as YouTube, DailyMotion, Twitch, and just about any other website.