How much does 1TB cloud storage cost in India? What's the most affordable option? Are you making your money worth it?
In the modern world, with the boom of digital media and the cult of going paperlessness, we expect all of our data to be easy to find online. Be it our favorite songs and movies, our most treasured photos, or important work files (on which our lives depend), we want everything to go cloud.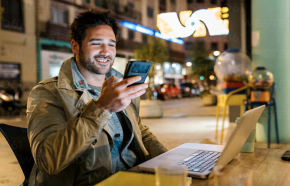 Choosing the right cloud storage service can be overwhelming. Users are commonly interested in how much does 1TB cloud storage cost in India. While pricing is certainly a factor, it is not the only deciding factor.
That's why we have compiled a list of 3 best cloud storage in India in 2023 to help you make well-informed decisions. They are not necessarily the cheapest, but they certainly provide the best value for your money.
How to Choose the Best Cloud Storage for Personal Use?
Personal cloud storage is just as hard to choose as business cloud storage. Price may be the first thing that comes into your mind. You don't want to overspend on a plan that has all those flashy features you won't need. On the other hand, you also don't want to settle for a cheap, low-quality service that can't save your files properly.
What you need is the cheapest cloud storage that meets as many of your demands as possible; that's why you need to check the pricing against the whole package. Versatility is one critical factor to consider when selecting the best cloud storage. Unless the service is compatible with different operating systems, devices, and web browsers, there's not much point in using it.
Since not everyone is a tech whiz, user experience should also factor in. The best cloud storage should be the most user-friendly one. It should have a straightforward and easy-to-use interface, especially for uploading and downloading files.
The best cloud storage prioritizes security above everything else. Though zero-knowledge encryption is a desirable feature, not all cloud storage services offer it. But the service you choose needs to have the bare minimums of robust password protection, two-factor authentication, and end-to-end encryption. Plus, it should also have a backup and recovery plan in case of a security breach or natural disaster.
[Top 3] 1TB Cloud Storage Cost in India & Features
TeraBox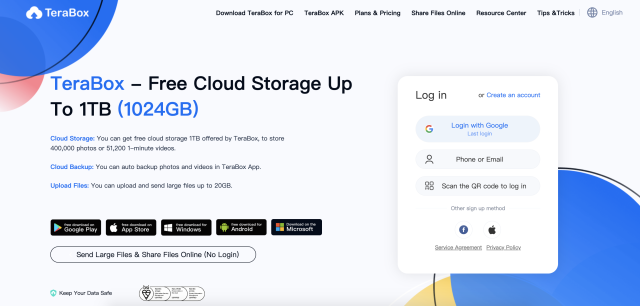 1TB Price: Free
Pros:
Large File Transfer: Easily upload and transfer large files up to 20 GB each, across Android, iOS, Windows and macOS
Advanced File Sharing: Share and control access to your data with TeraBox links, with password protection and expiration date options
Folder Syncing: Keep local folders on PC and Android securely backed up in the cloud
Intuitive User Interface: Upload, download and share files effortlessly
Best Multi-Media Experience: Automatically arranged albums, online photo editing and multi-video playback available
Private Vault: A separate, password-protected security vault to store sensitive data
Excellent Support: Helpful and quick response from customer service
Cons:
Slow download speeds: High upload speeds, but relatively slower download speeds
Limited Free Features: Features like automatic video, folder backup and photo editing are not accessible in the free plan
TeraBox is the best cloud storage in India overall. When it comes to free cloud storage, TeraBox is king, offering free space on a terabyte level. Free users can take a full, automatic backup of photos without worrying about storage space. The file transfer and sharing features are highly effective, with almost no restrictions other than slightly slower download speeds.
The free plan is adequate in a lot of aspects. But if you want more storage and features, TeraBox Premium's 2TB cloud storage costs $3.49 (₹349.00)/month or $35.99 (₹3499.00)/year. You'll enjoy greater freedom of file transfer and unlock many advanced cloud features.
IceDrive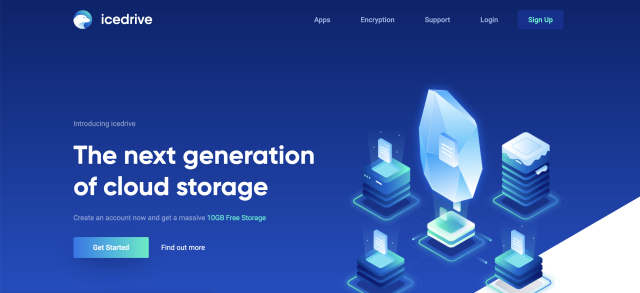 1TB Price: $4.99/month or $49.99/year
Pros:
Zero-Knowledge Encryption: Uses the lesser-known Twofish protocol for file encryption, and has zero-knowledge encryption and end-to-end encryption
Fast Transfer speeds: Lightning upload and download speeds
Amazing User Interface: Sleek design that is attractive and easy to use
Cons:
Limited Sharing Features: Password, expiration date, download limits and download disabling only accessible through the web app
IceDrive's 1TB cloud storage price is relatively competitive. But what truly sets it apart is its impressive focus on security. While some of its productivity features are lacking, since IceDrive is a relatively new company, we can expect further developments in the future.
OneDrive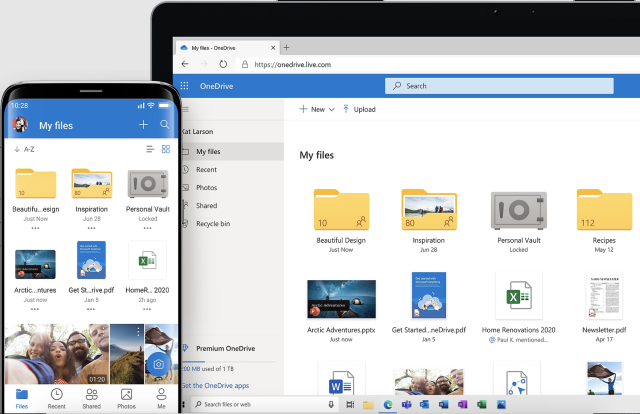 1TB Price: $6.99/month or $69.99/year
Pros:
MicroSoft Office Suite: Comes with access to Microsoft's Office Suite, which works on 5 devices
Online Editing: Tightly integrated with Microsoft's software ecosystem, allowing you to create and edit documents, spreadsheets, and presentations right within the app
Smart Versioning: Keeps track of changes in your files and allows for restoration to previous versions
Link Sharing: Share files and folders with others with fine-grained control over their access, including viewing, commenting and editing
Cons:
Poor Download Speeds: Fast uploads, but slow and unstable downloads
Lack of Zero-Knowledge Encryption: OneDrive employees and the authorities may have access to your files
OneDrive's 1TB is the most expensive of the three. Yet, since it is offered as a part of the Microsoft 365 Personal package, it is one of the best cloud storage for personal use, especially for students and professionals who need to work on the go.
Final Verdict
Cloud storage is vital for storing, managing, and accessing digital assets. When picking a cloud storage provider, price isn't the sole factor; it's important to consider adaptability, user experience and security. TeraBox offers the cheapest 1 TB cloud storage in India, beating out competitors like OneDrive and IceDrive. In addition to the massive space, you also get top-notch multi-media experience and efficient file sharing tools. Download TeraBox free today to find out more!