People look for various cloud services for auto backup for Android devices. Lots of people use MEGA cloud drive to auto backup Android phone in order to keep their data safe and prevent any data loss, corruption, missing files, and other issues, while some others may choose TeraBox because of its super large 1024GB free cloud storage. So, what are the differences between them?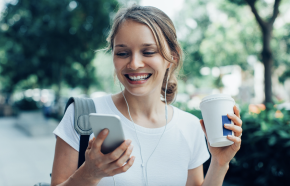 Before we begin with the differences, lets cover the basics which include what TeraBox and MEGASync are.
What Is TeraBox?
TeraBox, as the name implies, provides one terabyte (1TB) of cloud storage, however in contrast to other cloud storage providers, this service is completely free. It's accessible from any platform and has top-notch security, making it one of the safest places to save your data.
It's important to verify the security of a cloud storage service before uploading sensitive information there. TeraBox would be a great option for you. Large amounts of data can be stored safely, and that is another of its guiding principles. TeraBox will exceed your expectations for data protection because to its robust security measures, safe space functionality, and the highest level of encryption available.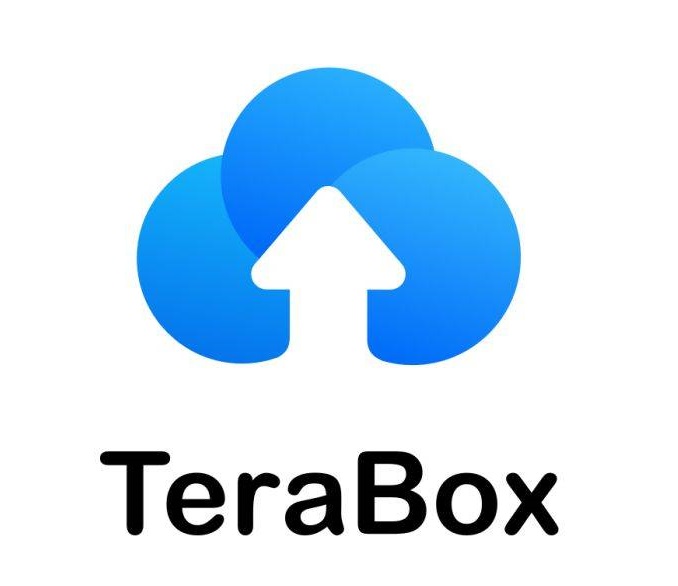 The auto-backup function is another useful feature offered by TeraBox. Your photos and videos from any device can be safely stored. The system stores your precious data safely and makes them accessible from any device, anywhere.
What Is MEGASync?
MEGASync was an older version of the MEGA desktop client. MEGA is available on multiple platforms; it has Desktop App for Windows, Mac, and Linux, and it has Mobile Apps for all types of smart devices. Despite the name MEGA"Sync", the app actually has many use cases.
MEGA is a popular cloud storage that features security. There are various extraordinary features and benefits that it offers, such as secure messaging, file backup, file sync, and file sharing. It is great for storing data and backup, but along with that, there are some issues and areas where it lacks.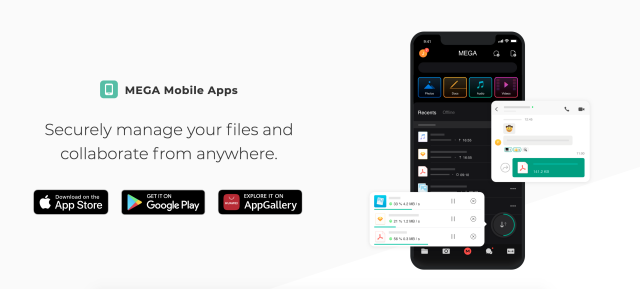 It is a reliable option for backup if you want to store your photos, videos, and important files. You can use the automatic backup feature to upload the data automatically to the cloud. Once the data is uploaded, you don't need to worry about data loss. With the help of syncing, you can upload your files from any device and access them whenever and wherever you want.
Your data always remains available through MEGA's redundant server infrastructure. Your data is available, and it is backed up to the cloud with maximum security. It allows you to transfer your data at a very high speed, which ultimately saves you time. Therefore, people should sync files on MEGA if they want to keep them safe.
So how do TeraBox and MEGA auto backup Android phones? Let's start with MEGA cloud drive.
Test: Auto Backup of MEGA Cloud Drive for Android Phones
Auto backup is the built-in feature of the MEGA cloud. It is commonly known as a tool that helps you sync the photos and videos of your Android device to the cloud. The data is automatically uploaded once you enable the feature, so you don't have to upload anything on your own.
In this part, we are going to take a closer look at the auto backup service of MEGA, and test it out to see what are its biggest pros and cons. You can follow us easily to enable and test the auto backup of MEGA cloud drive on your own Android device. Follow the steps below.
Step 1: First, you need to install the MEGA application on your Android device. Open the application and log into your account. If you are new, you can create a new account.
Step 2: Once you are logged in, you will see the main interface. At the bottom, you will have five icons. You need to tap on the image icon (second from the left).
Step 3: You will see the option to upload videos and photos from your device. You can enable this auto backup from here. Tap Enable.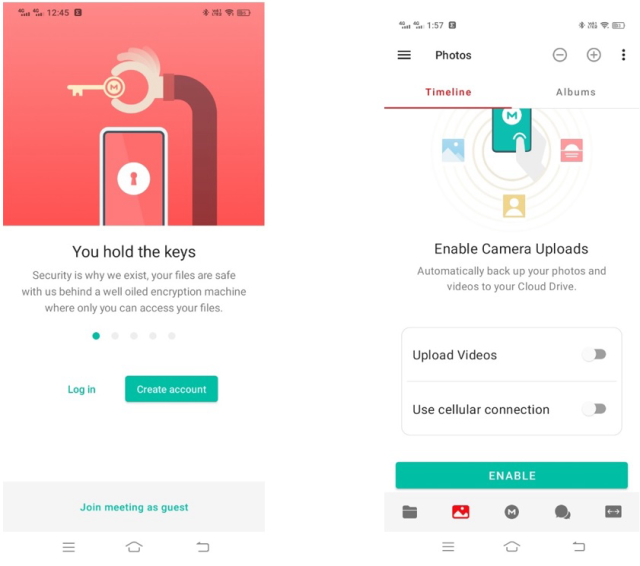 Step 4: Now, the application will check the files and start uploading them to the cloud. You need to wait for the backup to complete. The images and videos can also be synced and updated in real time if the internet connection is available. Of course, you can also choose to upload the files can on cellular data.
The process of enabling the auto-backup is so simple that even beginners can do it. MEGA's auto backup updates the images and videos in real time. The cloud data is always up to date once you enable syncing.
However, we have also encountered some issues when using MEGA auto backup. Firstly, you can only back up a finite number of files in the free account because of the limited storage. It is no more than 25GB. Upgrading to premium may partly solve this problem, but the premium space is quite expensive.
Another major issue is the bandwidth limit in data transfer. In the free plan, there is a bandwidth limit of 10 GB, and once you hit that limit, your upload speed will be slowed down. Though it resets within 30 minutes, it is still an annoying restriction of MEGA. In simple words, you cannot do unlimited data transfers from the device to the cloud smoothly.
We've also discovered that you can only sync images and videos. There is no option for syncing folders from your Android phones. This is definitely not enough for more formal purposes.
Due to these issues, users want to switch to the best cloud storage manager they can find. In such case, let's have a look at a TeraBox, which is an excellent alternative for cloud backup, as it makes up for all that's inadequate in MEGA's auto backup.
Try TeraBox's Clickfree Automatic Backup for Android
TeraBox is the best alternative to auto backup of MEGA cloud drive for Android phone. It offers you a clickfree automatic backup that does everything on its own.
Firstly, you get 1TB of free storage where you can store all your data without any hassle. You can also increase the free storage to 3TB to store more data. Using its Auto Backup option, you can create a backup of your images, videos, and folders automatically in the cloud. Once this feature is enabled, the data is automatically synced.
You can create a backup of multiple devices and sync all files in one place. TeraBox is available for Windows, macOS, Android, and iOS. Therefore, you can access, upload, and download data from any device. Most importantly, there is no restriction on the transfer; you can upload and download as much data as you like.
Follow the steps below to enable auto backup on your Android device.
Step 1: Download the TeraBox application from Play Store. Once the application is installed, open it. On the main screen, you have the sign-up option. Click on it and create a new account. You can also use your social media account.
Step 2: After creating the account, you will see the main interface of the cloud. You can upload data by tapping on the "+" button. Select the file type that you want to upload and select the files. The files will be uploaded in no time.
Step 3: To enable auto-backup, tap on the profile icon. Tap Automatic backup. Here, you will see the option to enable auto backup for images, videos, and folders. You can enable the function, and now, your data will automatically be uploaded to the cloud.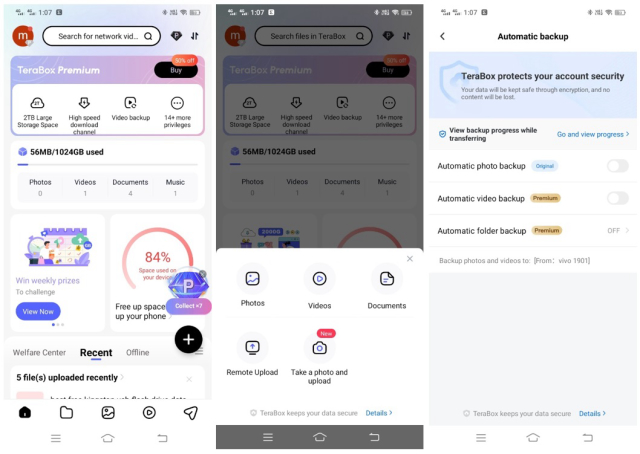 Step 4: If you want to download or restore data to your PC or smartphone, you only need to select the files. Then, click on the Download button. Your files will be downloaded or restored to the device.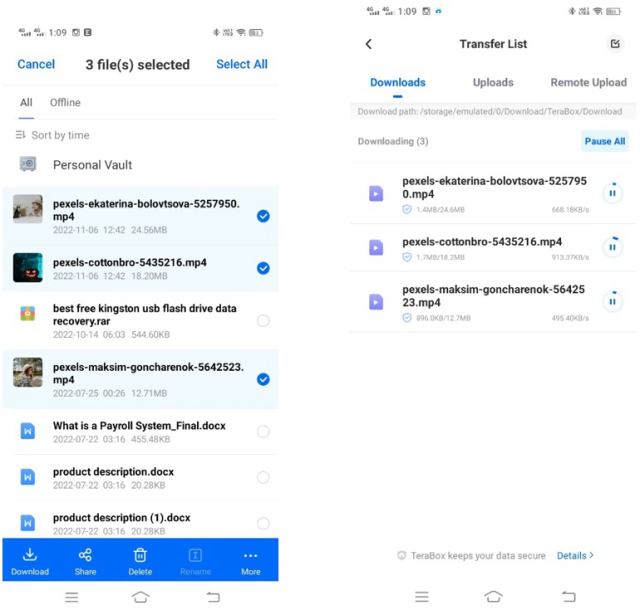 TeraBox is the best file sync APK for Android. It offers various other extraordinary features, like Recycle Bin and Space Analyzer, which are quite helpful for backup. The Recycle Bin folder saves your deleted files. For instance, if you accidentally delete your files from the cloud, you can restore them from the Recycle Bin. Your files stay there for a few days. Therefore, you don't need to worry about accidental deletion.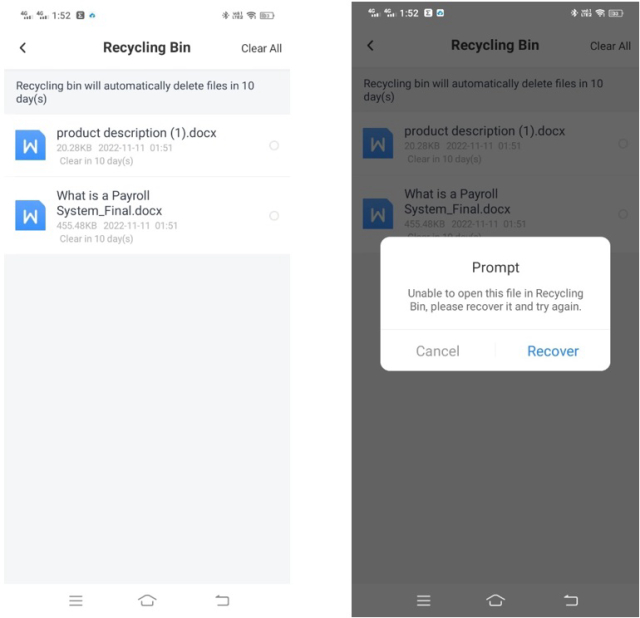 Space Analyzer is an innovative feature of TeraBox. It helps you free up the storage on your device by deleting the backed-up data. It analyzes all files and helps you delete the ones that are already backed up in the cloud. With only one tap, the storage on your device is cleared. This feature is exceptional as it makes backup and storage cleanup easier than ever before.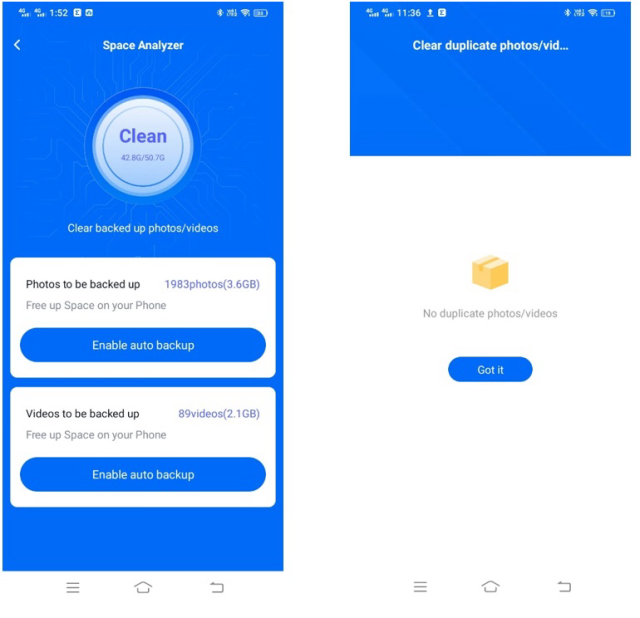 Final Thoughts
MEGA is a well-known and secured cloud storage that offers automatic backup services. It can be used for computers as well as smartphones. You can transfer all your data in one place and free up the space on your device. It is a reliable option, but it is quite expensive, users have experienced low speed during transfers, and there are various issues that we have discussed. Therefore, people look for a better alternative that can offer everything needed.
TeraBox is the best alternative to auto backup of MEGA cloud drive for Android phone. It is reliable cloud storage that offers you 1TB to 3TB of free storage. You can enable auto backup on your Android device and back up images, videos, and folders. It is an ideal option for storage, backup, data transfer, and sharing. You can easily sync your files from multiple devices as it supports macOS, Windows, iOS, and Android. Download TeraBox APK and get free storage to back up your data.