The answer is no, I will explain it to you in detail.
---
The lack of storage space has always been a major issue for smartphone users. With thousands of images, files and videos, you need more storage space to store your data. This is the reason why people are looking towards cloud service for effective file management.
In this regard, we have introduced TeraBox, a cloud storage system that provides more space to store your photos and videos. With this service, you can store unlimited photos with the free version and even get a free 1024 GB free storage disk.
Some people may ask what function does TeraBox have?
What is TeraBox?
TeraBox is a cloud storage service that provides you with unlimited private storage space. The users are able to access their files from anywhere using the web browser or smartphone at any time. It provides a secure and encrypted multipurpose data archive for your files and folders on TeraBox for easy access. TeraBox is accessible anywhere with an Internet connection.
The users can use it on any computer, tablet, or mobile phone. Therefore, you can quickly see the files uploaded on your mobile phone by logging in to TeraBox through the web page. This convenient function does not need to worry about the DRM restrictions imposed by some top file sharing service providers.
In addition, TeraBox has many useful functions. For example, if you allow, TeraBox can automatically back up your photos, share large files via links, and upload multiple files at the same time.
TeraBox is the most powerful file management tool in 2022. At this time, users will worry that TeraBox is so easy to use, so how can its security be guaranteed: Can anyone else access my TeraBox?
Can anyone else access my TeraBox?
No one can access your account unless you want to reveal your login credentials to others. And TeraBox also includes a special 『Safe』space, which must be accessed by entering a four-digit password, allowing you to safely store the largest possible files in TeraBox.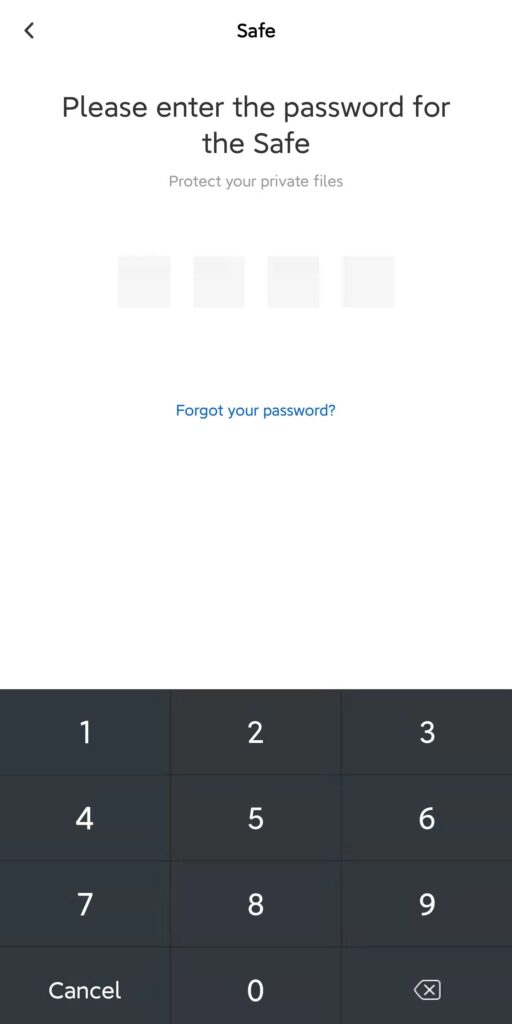 Only Authorized Users can access your TeraBox
TeraBox allows authorized users to access their files from anywhere in the world with an internet connection. It is a secure online data storage that offers a wide range of applications to fulfill your data sharing needs.
The free version has basic features including 1 TB free storage, file transfer and sharing, and there are no restrictions on file size and uploads. You can choose to upgrade it to a premium version with more storage if you want, and with TeraBox Premium, you can enjoy 2TB of cloud storage.
TeraBox is one of the best cloud service sites which provide more space for your photos and videos.
Is TeraBox Safe for Online Storage?
Technically, TeraBox is safe for your data storage. It provides a secure online space to store and share files with your friends and family members.
TeraBox uses the most reliable and strong encryption standards in the world today. It works on any operating system and is compatible with all versions of different operating systems, so you can always rely on the security it provides.
And when you're transferring files, they will be encrypted by HTTPS transmission encryption protocol to ensure that there is no security risk in uploading and downloading.
When sharing files, TeraBox will also use the extraction code to share by default. The extraction code can prevent crawler from encrypted crawling, and the robot will also organize crawling, and does not allow search sites to contain shared links.
TeraBox is safe to use, and its usage is encrypted in various ways, so you can rely on it.
Conclusion
TeraBox is a great cloud service system because it comes with many benefits for those who want to share their personal data. It provides the best privacy for the users and ensures that only authorized people can access it. TeraBox is also very easy to set up and most importantly, you will get free 1 TB space when you sign up.
The free version allows users to store around 300,000 photos, over 2,500 movies or 6.5 million documents for free. TeraBox provides a safe place for all your files and storage and protects your data from theft. You can securely backup, sync, access and share your important content.