iPhone users often have to backup up iPhone data to free up some space. Most of the time, the internal storage gets full because of minimal storage capacity, tons of files, and improper handling of data.
As there is no option for SD cards, the only option is online storage backup. The native cloud service of iOS backup is iCloud, but many people consider it expensive, and some people need better features, speed, compatibility, and user experience compared to iCloud.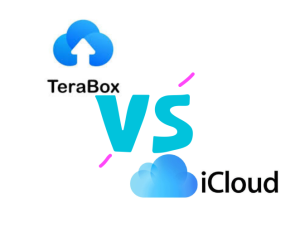 In this article, we will discuss how to backup iPhone without iCloud. We explain what you can do when your iPhone storage is full. We will also share the best alternative to iCloud – TeraBox – and how you can use it to back up your iPhone data without any hassle.
What to Do When iPhone Storage is Full?
The common problem that almost every iPhone user faces is the lack of storage. There could be various reasons behind iPhone storage being full.
When you purchase a new iPhone, there is nothing on the device, and there is enough free space. But it gets filled up when you install apps, receive data on WhatsApp and other applications, create music playlists, capture images/videos, save eBooks, and store your important files.
When the internal storage of your iPhone is filled up, you must delete unwanted applications and data first. If the free storage is still not enough, the only option left is to back up data to the cloud.
iCloud may be users' g0-to option when iPhone storage is full. You can login and and upload the data you want to save in the cloud. You can also use the automatic backup feature for video, files, and photo backup.
However, iCloud only offers only 5GB of free space, which is practically nothing. It gets filled in no time, so you eventually need to buy the plan to continue using it. It is a bit expensive for many users, so they try to find better options for iOS backup. Moreover, many people face various computability issues and a lack of features, so they prefer to switch to a better option for the iPhone backup app. Therefore, many users may ask, "How do I back up my iPhone without iCloud?"
Well, fortunately, TeraBox can solve these problems. It is a commendable cloud storage service that offers various features and options that users would love if they don't want to use iCloud to backup their iPhones.
The Best iPhone Backup App: TeraBox vs. iCloud
In this section, we will compare TeraBox and iCloud. We will discuss the features, pricing, and other options that both iPhone backup apps offer. It will give you a better idea of the services so that you can select the right one for iOS backup.
TeraBox
TeraBox is an extraordinary cloud service with excellent features for iPhone backup if you want backup without iCloud.
To start with, the whopping 1TB storage it offers is more than enough to store all your data and free up a lot of space on your iPhone. It is an ideal option to create a backup of your iPhone and store most of your data. You can store up to 400,000 photos or 51,200 one-minute videos in this storage. Some might have concerns about how much 1 TB costs. Well, heads up: you get 1TB of free storage! You cannot find this much storage for free from any other cloud storage service provider on the internet. Just sign up now, and you can get the free space.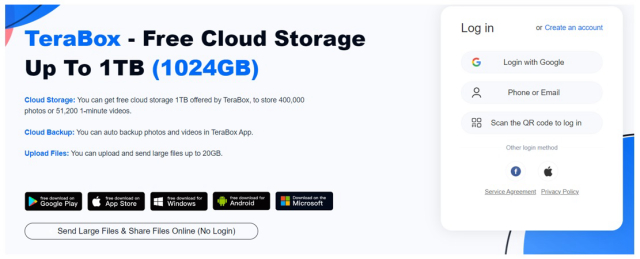 Moreover, if you want to increase the storage from 1TB to 2TB, it only costs $3.49 per month, and if you buy the yearly plan, it will cost you $2.99 per month. With the premium plan, you will get tons of features along with storage.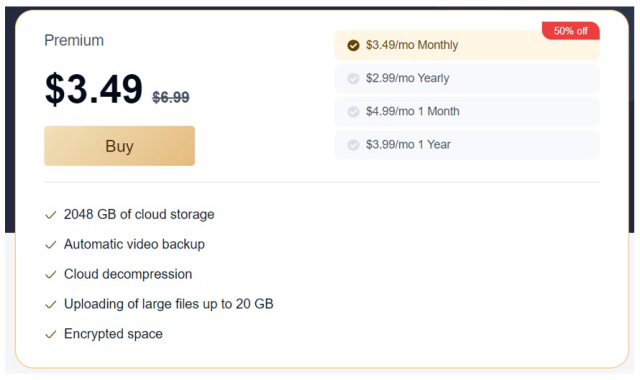 Another feature of TeraBox is cross-platform compatibility. The applications are available for Windows, iOS, and Android. You can also use web applications on any operating system. Thus, it makes data transfer and access easier and quicker.
The backup and download speeds are incredible and can reach up to 4.7 M/s. You can easily back up anything you want and access it from anywhere. It also offers you the feature of auto-backup. It can back up your photos, videos, and the content of the selected folder automatically. Any changes you make to the folder are automatically updated in the cloud. It is the one data backup app you need for your iPhone.

The user experience of TeraBox is also excellent. The interface is intuitive, and it offers features that make it more convenient. For instance, it has a Recycle Bin that keeps your deleted data. So, even if you have deleted something accidentally, you can recover it from the Recycle Bin.
iCloud
iCloud is the native cloud storage for Apple devices. People prefer it because it can be used easily across iPhones, iPads, iPods, and Macs; however, it is not available for Android devices at the moment. Thus, if you use both types of smartphones or have switched to Android, you won't be able to get your data using the application. But you can use the web and go to the website to restore your data.
In terms of pricing, there is almost no free plan because you only get 5GB of free space per account. It won't take much time to get full, and then you have to buy the premium plan. The pricing of iCloud is not fixed; it depends on the region or country you live in. In the United States, it costs $0.99/mo for 50GB, $2.99/mo for 200GB, and $9.99/mo for 2TB. It is a bit expensive compared to other storage services available. However, it is used because of the convenience it offers on compatible devices.
With the premium plan, you get various distinctive features, such as Hide My Email, iCloud Private Relay, Custom Email Domain, and video support for cameras. It also has a recently deleted folder from where you can retrieve your deleted files.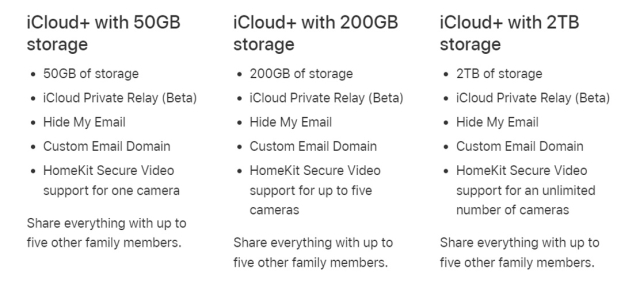 With iCloud, you can easily back up your iPhone data. It can not only save the files but also the application data to your account, so basically, you can backup the whole phone. The uploading speed is also incredible, and the best part is, just like TeraBox, it can also automatically backup that uploads files automatically to the cloud.
How to Back Up Your iPhone with TeraBox?
TeraBox is without doubt the best cloud storage to back up your iPhone data without any hassle. You only need to follow a few simple steps, and your data will be uploaded to the cloud.
Step 1: Download the TeraBox application on your device. Whether you are using Android or iOS, you can download it from the relevant stores.
Step 2: Launch the application. On the main screen, you will see the option to sign up. You can sign up with Google, Apple ID, Facebook, or email. You can choose any of them and create your account.
Step 3: Once your account is created, tap the "+" button. Select the file type that you want to upload, such as photos, videos, or documents. Finally, select the media that you want to upload.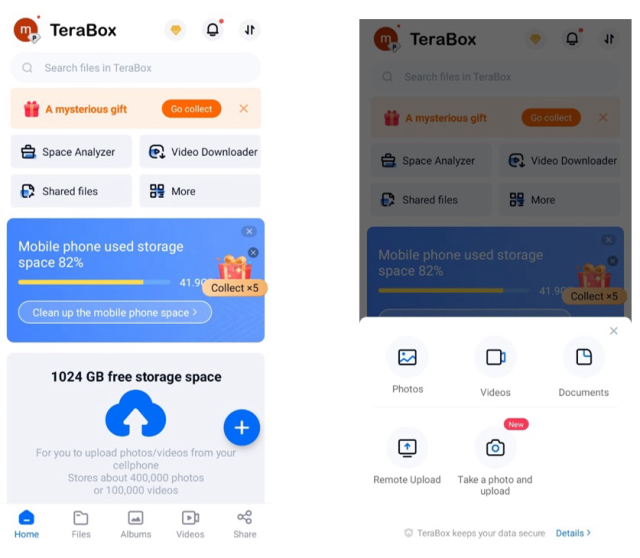 Note: You can also enable the automatic backup on your device. For that, tap on the profile icon in the top left corner. Tap Automatic Backup, and you can turn on the backup for photos, videos, or folders.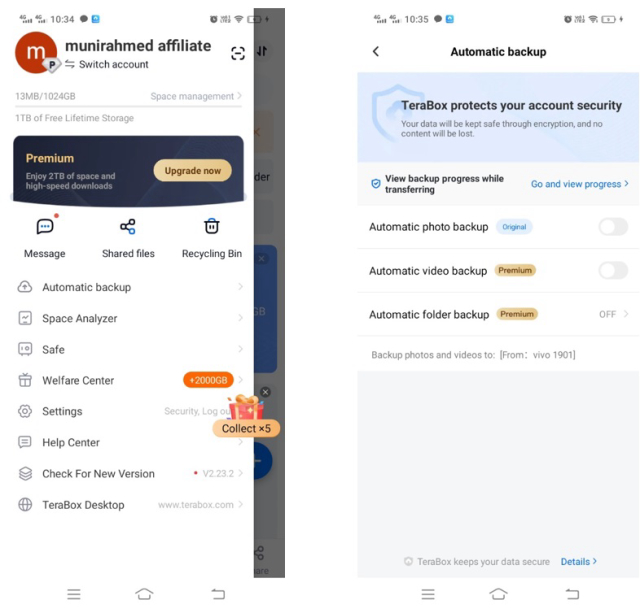 Now, let's have a look at how to restore the uploaded data backup to the iPhone. It is also pretty simple.
Step 1: Log in to your TeraBox account and select the data that you want to restore
Step 2: Tap on the Download button at the bottom. It will save the files on your device.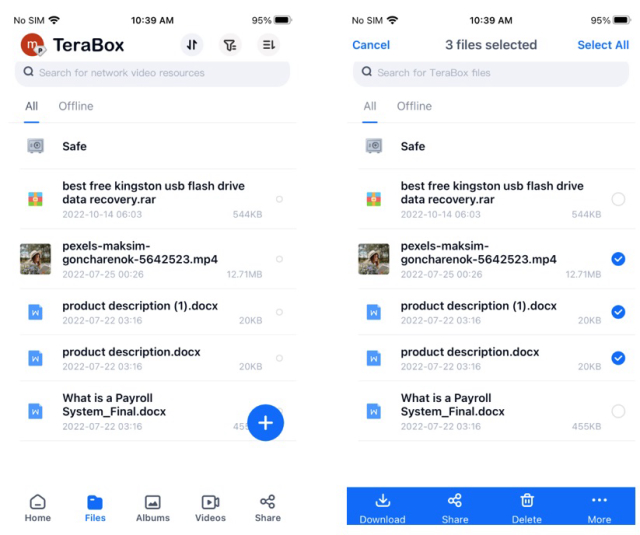 Besides the awesome backup functions mentioned above, TeraBox is also equipped with other features that empower your iPhone storage management.
First of all, it has a Space Analyzer to helps you manage your data. It analyzes and categorizes the phone storage, and actively scans your photo and video upload to identify similar files, so that you can choose to delete potential duplicates to free up space.
In addition, TeraBox has a built-in video player that can directly play videos on the application. You don't need to download the video first. With that being said, you can watch movies and other videos directly from the cloud without downloading them, which if of great help if your iPhone storage is almost full.
Final Thoughts
Creating a backup of your data on an iPhone is very important. First, it frees up a lot of space on your device, and secondly, you can access that data from any device whenever you want and restore it if your data gets lost or corrupted. It is truly a lifesaver for iPhone users.
We have discussed how you can use iCloud on your iPhone. It is the native application or cloud storage that many people use. But it is expensive and lacks some advanced features. If you are looking for how to back up iPhone without iCloud, you can try TeraBox. It offers 1TB of free space without any cost, and you only need to sign up for that. You can then use that storage to back up your photos, videos, and files from your iPhone and free up space on the device. Plus, you can also use the automatic backup to make an iOS backup automatically. There are tons of features that TeraBox offers, and it is an incredible cloud storage service.
Download TeraBox free now and enjoy the free space.