With the release of the new version of iOS, many users are curious about how to clear storage on iPhone for iOS 16 update. Indeed, those high-resolution photos and videos you capture with your iPhone may be stunning, but they quickly fill up the storage. Other apps are also responsible for that pesky alert saying "storage is almost full". So, it is imperative to clean iPhone storage to update to iOS 16.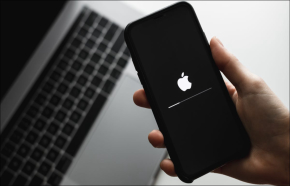 Using online storage backup services can be the most effective solution. You can also uninstall seldom used apps and clear cache data of apps regularly to keep the storage free, especially when you are using 32GB or 64GB versions.
Now that iOS 16 have already been launched, we will give you a quick overview of the features in the latest version of the operating system. Learn how to clear storage on iPhone and how to backup iPhone photos on cloud services in detail down the lane.
What's New in iOS 16?
With the launch of iOS 16 on September 12, 2022, Apple has come up with some cool new features and security updates to smoothen the user experience. iPhone 8 or its successors are now ready to install this update to enjoy the new features. Take a look at what's new in iOS 16 here.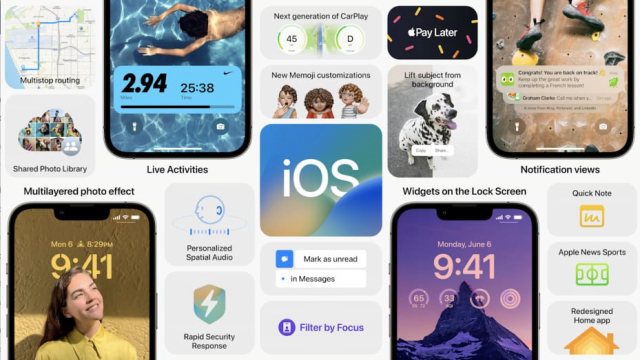 Customizable Lock Screen
iPhone users can now customize the lock screen to their liking by changing fonts, widgets, clocks, and so on.
Edit or Unsend Texts
Even if you have already sent a text using iMessage, iOS 16 will allow you to edit or unsend the text within 15 minutes. But the receiver can see that you have edited or unsent the text.
Email Scheduling
Besides undoing sent emails, you can now schedule emails in the Mail app. The search feature has also got updated in the new iOS 16.
Managing Notifications
In the iOS 16 update, you will see notifications appearing at the bottom of the lock screen. You can hide notifications or change the Focus mode from the lock screen.
Using as a Webcam
If you have the latest version of macOS on your laptop, iPhone can be used as a webcam with a suitable mount.
Apple Home Update
The Home app is updated to show things more accurately, and it now supports matter. So, using smart home gadgets will be much easier for iPhone users.
Health App Update
Besides sleep tracking, the Health app will now notify users about medications depending on manual inputs.
3 Fastest Ways to Clean iPhone Storage
For most people, photos and videos might be the biggest culprits for eating your iPhone storage, so the easiest way to clean iPhone storage is by backing up photos and videos to cloud storage. You can also try deleting rarely used apps from the phone to keep it lightweight. Here are the three fastest ways to clean iPhone storage.
Backup Photos and Videos and Delete Them
You should backup photos to cloud and delete the copies on the phone to save storage. Uploading photos to iCloud can be a good way to free up your iPhone storage. But the problem with saving photos and videos on iCloud is the limited space you get in the free package. It has only 5GB of cloud storage that might quickly get full. You can delete some photos or videos on the cloud to free up space.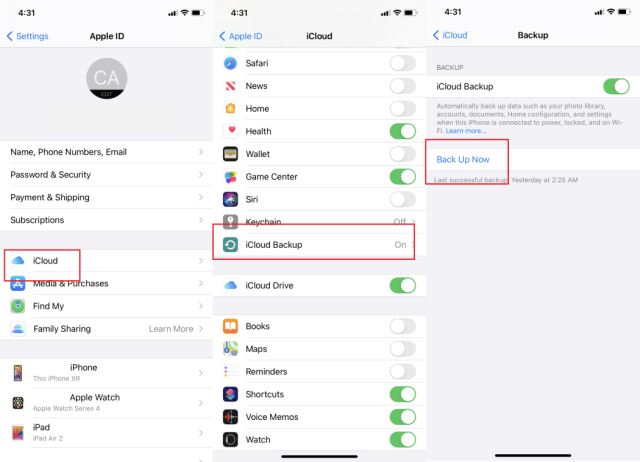 Upgrading to a premium package with more storage can be another solution. You can use from 50GB to 2TB storage at varying costs. But what if your free iCloud storage is full and you don't want to spend so much for additional storage?
You can backup iPhone without iCloud by creating a free account on TeraBox. It allows you to store up to 1TB of data for free, which will be good enough to back up about 400,000 photos. When saved on TeraBox cloud storage, it will be easier for you to access the files from any device.
Delete Rarely Used Apps
Deleting apps that you don't use frequently can save a lot of valuable storage space. To identify those apps, you need to go to Settings on your iPhone. Tap on General and then go to the iPhone Storage. It will show you a chart of apps with their usage data. You can directly select those apps from here and remove them.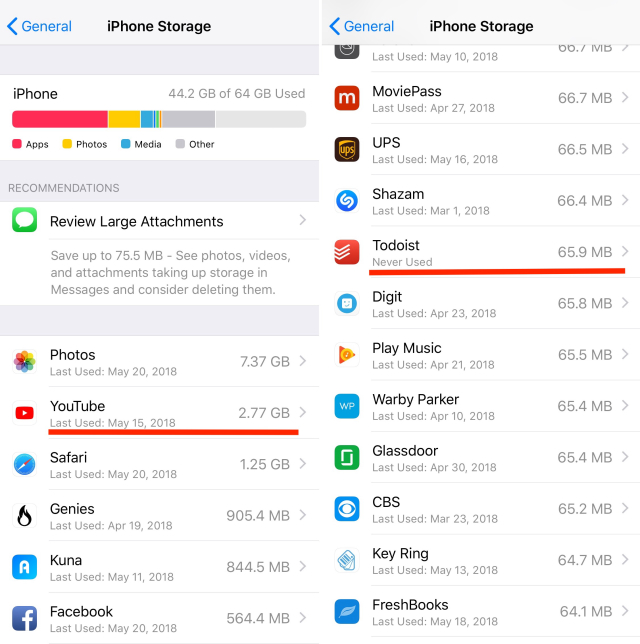 Another way is heading to the home screen and long pressing the app icon you want to remove from the phone. A menu will appear, and you should select Remove App. Choose Delete App on the pop-up box to confirm the removal.
Clear Apps' Cache Data
Deleting cache data of your apps might free up a significant amount of storage on your iPhone. You need to go to Settings > General > iPhone Storage and see which apps have the highest amount of app data and cache data. Go to the apps and clear cache data.
How to Backup iPhone Photos on TeraBox?
When your iPhone is running out of storage space, you might want to backup iPhone photos on TeraBox to ensure universal access. You get 1TB of free space after opening an account. And you can get the 2TB package, which costs just  about $3 per month.
Uploading photos on TeraBox is no fuss. Follow these simple steps to backup iPhone photos and clean iPhone storage.
Step 1: Download the TeraBox App
Go to the App Store on your iPhone and search for TeraBox. Download and install the application on your iPhone.
Step 2: Create a Free Account
Once you open the TeraBox app, the Login and Signup option will be right on the screen. If you already have a TeraBox account, you can simply login with your credentials. But if you don't have any, select Signup to create a TeraBox account. You can open the account using your Apple ID, email, or phone number.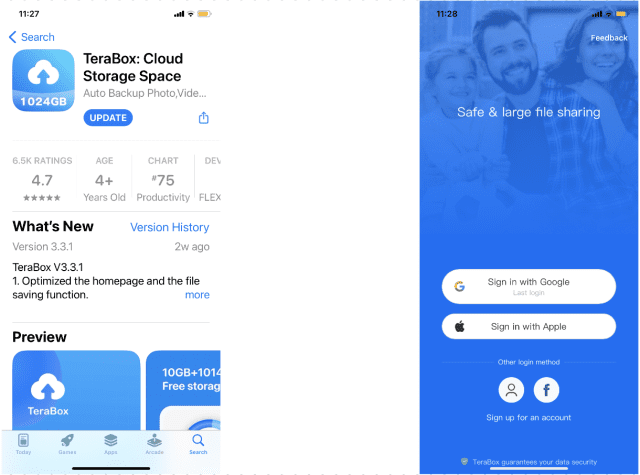 Step 3: Log in to Your Account
After the signup is complete, you need to log in to your TeraBox account. Once you are logged in, you will see a '+' icon on the bottom left corner of the screen.
Step 4: Backup Photos and Videos
Tap the '+' icon to select your desired file type for backup. For example, you can choose photos, videos, or something else to upload. After selecting the file type, select individual photos or videos to upload to the cloud. You can also choose files in batch to do this faster.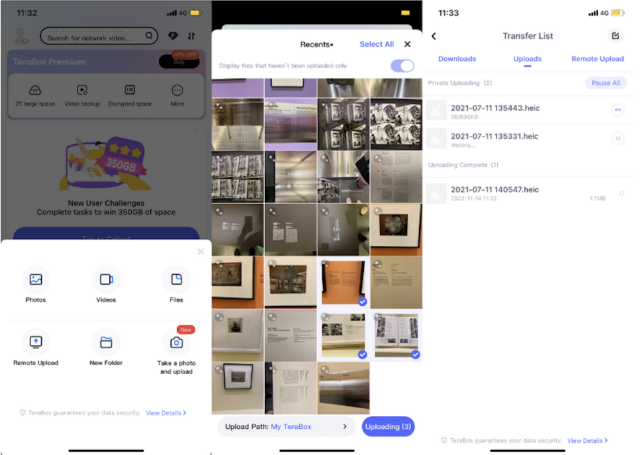 TeraBox also has an automatic backup feature that allows you to avoid the manual uploading process. Tapping on the profile icon opens the left sidebar, and you will find the automatic backup option there. Select that option to turn on automatic backup for photos, videos, or folders.
Remember, the Free plan offers automatic photo backup only. You need to upgrade to the TeraBox Premium plan to use automatic video or folder backup. Once you select the file type or a specific folder, all files under the category or inside the folder will automatically be backed up on the cloud in real time.
Another exciting feature of TeraBox is the Space Analyzer, which allows you to make the best use of cloud storage. It identifies duplicate photos and videos or previously backed-up files and prompts you to delete them with just one click. It allows you to save even more space on your iPhone. If you accidentally delete anything, you can easily restore it from the Recycle Bin.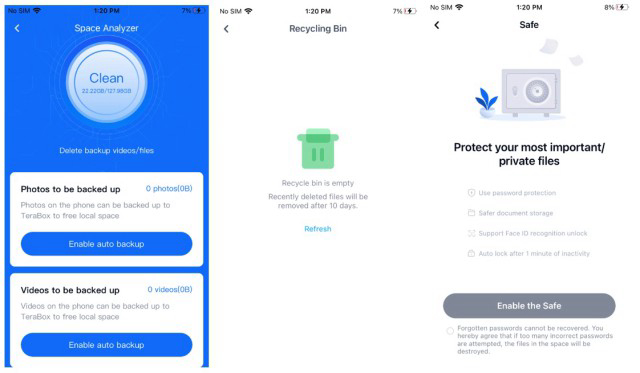 Final Thoughts
Even if you use 128GB versions of the iPhone, the storage can quickly get out of your hand if you don't backup iPhone photos to cloud storage. Knowing how to clear storage on iPhone is also crucial to keep the storage from running out.
Among all cloud storage services, TeraBox is an excellent option for iPhone users to back up their photos, videos, and other files with free storage of 1TB. Extending the storage limit costs only a bit compared to the Premium iCloud package or other premium cloud storage. Plus, TeraBox offers automatic backup to reduce your hassle while backing up files on your phone.
The Space Analyzer helps you detect duplicate files and delete them quickly and clean iPhone storage. And backed up files can be accessed from various devices at the same time. Download TeraBox on iOS phone or iPad now and enjoy the comfort of keeping your iPhone storage clean and photos or videos safe.