If you are an iPad user, you might have an idea of how it feels when you run out of space. The problem with iPads is that there is no MicroSD card slot, so you cannot increase the storage space. The only storage is the internal storage, which can get full after some time. Therefore, users would love to know how to get more storage on iPad to store their data.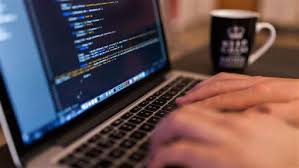 In this article, we will discuss everything you need to know about iPad storage. We will share different ways to get more storage on your device. We will also share online cloud storage where you can create a backup to free the space on your device and restore it whenever needed. Even if you are a beginner, you can easily follow the step-by-step instructions to get rid of the space constraints on your iPad.
How Much Storage Do I Need on My iPad?
It is necessary to understand the storage you need on your iPad before you buy one. You need to make up your mind and make the right decision according to your needs, such as study or office work.
Before we dive into the topic, it is better to understand the commonly available storage options and their prices. Therefore, we are going to compare the M1 and M2 iPad Pro to give you a better idea.
The maximum storage you can get on M1 and M2 iPad Pro is 2TB. Moreover, the prices of both iPads are also the same for all variants. The 2TB variant of the 11-inch M1 iPad Pro costs $2,099, and the same is the cost for the 11-inch M2 iPad Pro. These are the prices for the cellular variants. But if you want to use Wi-Fi only, you can get a 2TB 11-inch M1/M2 iPad Pro for $1,899. Moreover, there are also 12.9" variants of both iPads, and they cost $2,399 each.
If you can afford to go with the 2TB variant, you can buy one without any confusion. Obviously, more storage is better for the long term. But if you cannot afford or want to save money smartly, you can go with the lower storage iPad options and look for other ways to get extra storage for the iPad.
The other options are 1TB, 512GB, 256GB, and 128GB. The price ranges from $799 to $1,999, depending on the storage, cellular/Wi-Fi version, and screen size.
The storage required for office use depends on the work. If you are a graphic designer, video editor, filmmaker, or someone who stores large files, you should select the 1TB or 2TB variant. Because of the hefty amount of data, large storage is a good option. But if you can store media in the cloud, choose the 256GB or 512GB variant.
If there are only documents and simple files, 128GB or 256GB is more than enough. For extra storage, you can use the cloud or other ways to store files.
How to Get More Storage on iPad?
If you are running out of space on your iPad, you can try the following methods to get some extra space.
Clean Up Existing Storage
The first method is to clear storage on your device. There could be tons of unnecessary data that you don't need anymore. Plus, there could be duplicate files, junk files, etc. You need to clean this space first. The best way is to check your gallery and delete unnecessary videos and photos.
Applications also take up too much space on your iPad, so you must delete unused and unnecessary applications to make more space. This method can be helpful, but it does not always work because you cannot delete all your data. However, you can try it in the first place.
Get an External Drive
Another way to free up some space on your iPad is to transfer some of your data into an external drive. You can buy an external hard drive to store your old photos, videos, and other data. After copying the data to the drive, you can delete it from the internal memory.
Keep in mind that the data you put in an external drive can be lost due to a virus attack, accidental deletion, physical damage, hard drive failure, etc. Thus, it is not a reliable or preferred way to make extra storage on iPad.
Use Cloud Storage
The best option to get extra storage for iPad is to use cloud storage. It is the most reliable, easiest, and most affordable option. Once you get cloud storage, you can easily transfer all your photos, videos, and other files to the cloud. It will save a lot of space on the device.
The best part is that you can easily access the data from your iPad, so it is just like using internal storage or increasing the existing storage of your device. You can view the pictures in the cloud, like the gallery, and watch videos without sacrificing internal storage.
You can also backup an iPad to the cloud and transfer the data. Your data remains safe, and you can easily download and share it whenever needed. There is no need to worry about data corruption or data loss. Moreover, you can access cloud storage from any device, such as your smartphone or computer.
Guide: Backup an iPad into TeraBox
TeraBox is an excellent cloud storage option for iPad. You can get free cloud storage 1TB to 2TB where you can store all your data. The storage is free for a lifetime, so you can get extra storage for iPad without paying a penny. It is more than the storage of an iPad, so you can transfer almost everything or store data from multiple devices.
Here are some simple steps to backup an iPad using TeraBox.
Step 1: Download and install the TeraBox application from the App Store.
Step 2: Open the application and tap Create an Account. Sign up via email, phone number, or social media account.
Step 3: Once you are logged in, you can transfer your data. Tap on the "+" button and select the type of data you want to upload. Select the files and they will be uploaded to the cloud.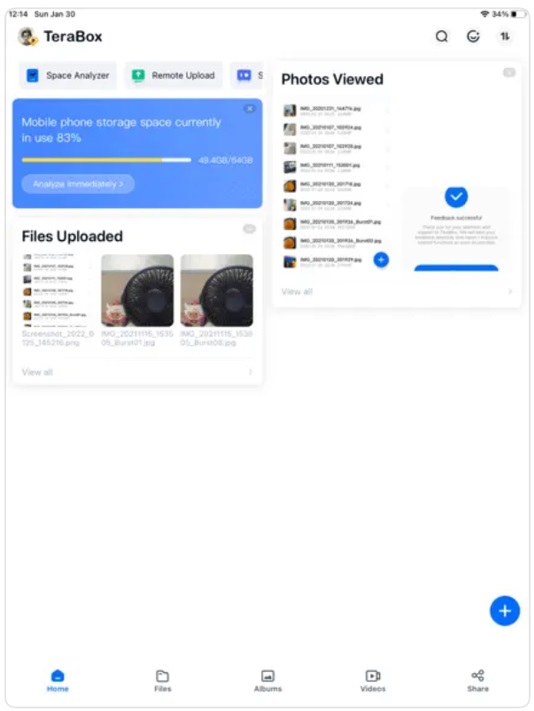 Step 4: You can also enable the auto-backup. Tap on the profile icon. Tap Automatic Backup. Now, enable the backup for photos, videos, and folders. It will upload the data automatically.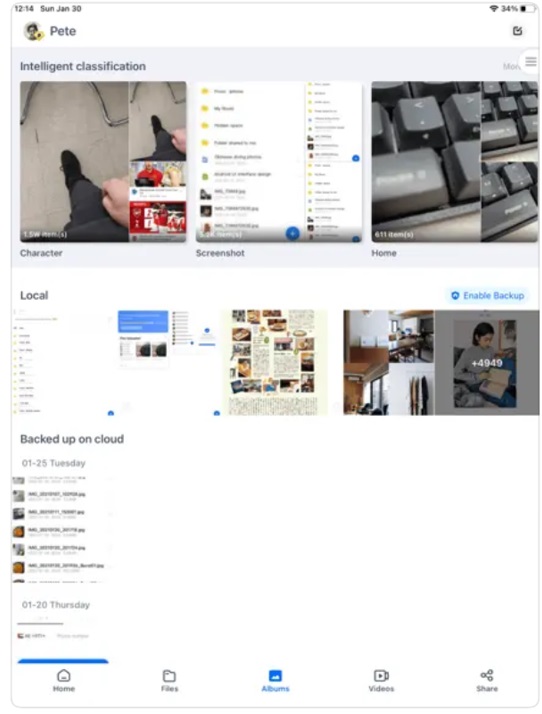 Step 5: After uploading data, you can free up the internal storage using Space Analyzer. You will see the option on the main screen. It will automatically analyze your data. Tap on Clean to delete the duplicate files from the device.
Step 6: If you want to restore your files, select them on the cloud. Tap Download and save the files to the iPad.
Final Thoughts
iPad storage is limited, and it can fill up in no time if you use too many applications and keep a lot of data. However, there are ways to get extra storage for iPad. You can use those methods and free up some space on your device. The best way to get extra storage is cloud storage. It is a reliable and excellent option for keeping data.
There are many cloud options available, and you can choose any of them according to your needs. But if you are wondering how to get more storage on iPad for free, then TeraBox could be the right option. It gives you 1TB to 3TB of free storage that you can access from iPad, iOS, Android, Mac, or PC. You can store whatever you want in the massive storage and free up the space on your iPad. Plus, its auto-backup, space analyzer, and other incredible features make everything easier and quicker. Download TeraBox and get free storage space.