"Is OneDrive free?" This is a question that gets asked by a lot of people. We need to back up our files to keep them safe in case of any issue with the computer, hard drive, or files. In such circumstances, OneDrive is a popular cloud storage service that people use.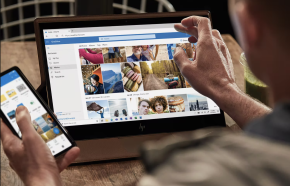 However, the problem with OneDrive is that it fills up too soon, so we would have to upgrade the storage, and some might wonder if it can be done for free. Well, in this article, we are going to answer that question.
We will also introduce another online cloud storage, TeraBox, and compare it to OneDrive. It will give you a better idea of which cloud storage is suitable for your needs.
Is it Possible to Get OneDrive 1TB Free?
Short answer, you cannot get OneDrive's 1TB cloud storage free. It offers only 5GB of free storage when you sign up for a new account. This 5GB storage is almost nothing; it fills up in no time. But it gives you a better idea of the cloud service. For those who ask, "Is OneDrive free?" Certainly, it isn't.
You will have to upgrade to a premium plan if you want more space. You can get 100GB of space for $19.99 per year.
However, you can get OneDrive 1TB free storage if you purchase a yearly subscription to Microsoft 365. It costs you $69.99 per year, and you get office apps (Word, Excel, Outlook, and PowerPoint) and free 1TB cloud storage space. But still, it is not completely 1TB; it is 1000GB. The plan is for one person only.
There is also a family plan for 6 people. It costs you $99.99 per year, and each member gets 1TB of free space, or 1000GB, to be accurate. So, it is 6000GB in total. It also includes Office apps and Skype.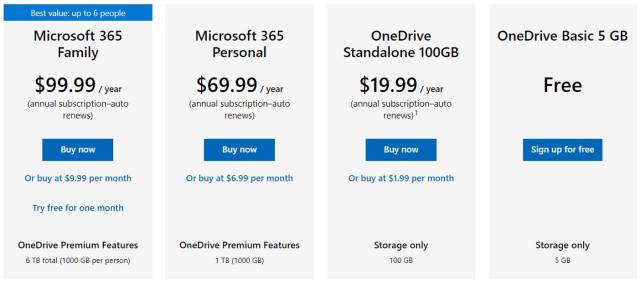 Thus, if you want to get 1TB of free space on OneDrive, you need to purchase a membership of Microsoft 365.
If you are looking for 1TB of free space, then TeraBox is the right option to go for. It gives you 1TB of free space without spending a penny.
Get Down to the Specs: TeraBox vs. OneDrive
Let's have a detailed look at the specs to know the difference between TeraBox and OneDrive. It will give you a complete idea of the features and services.
Storage
We have already discussed that the free space that OneDrive offers is 5GB. You cannot store much in this tiny storage. If you want more cloud storage, you either need to upgrade or buy a Microsoft 365 subscription.
In contrast, TeraBox offers free 1TB cloud storage without buying any subscription or spending a dime. You can store a lot of this in this free storage. For instance, you can upload 400,000 photos, 51,200 one-minute videos, 250HD movies, or 6.5 million documents. Thus, it is massive storage that is suitable for personal as well as business use.
Pricing
OneDrive's price is way higher than other cloud storage. It is very expensive, and if you need more space, you need to buy the Microsoft 365 plan. You can check the OneDrive price for that in the previous section of this article.
In contrast, TeraBox is completely free. You get 1TB of free storage, and there is no need to buy any subscription or pay a penny for anything.
Automatic Backup
Many users face issues with the backup of OneDrive. It starts uploading files without the permission of the user. It becomes irritative sometimes when you don't want to upload a file, and it gets uploaded. For instance, it can upload everything on the Desktop of your computer without any reason. Therefore, many users turn off the syncing or auto backup of OneDrive.
TeraBox offers a more satisfying automatic backup function. You can select the folder that you want to back up, and then it will upload or update the files automatically in the cloud. There is no need to do it manually. It ensures the reliability of data. The best part is that it only starts the auto-backup when you enable it.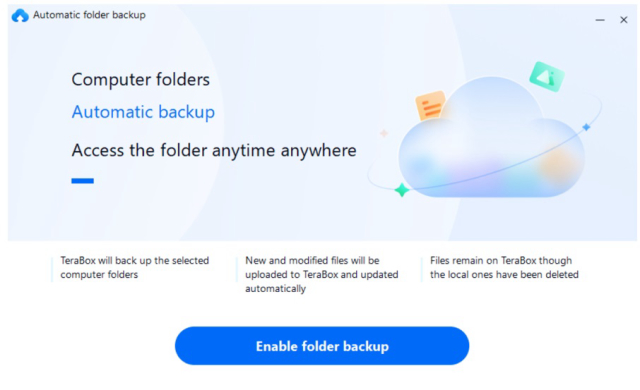 File Sharing
File Sharing becomes easier with the cloud. You can share files with OneDrive as well as TeraBox. Both cloud services offer file-sharing security by offering passwords and the validity period of the file. The user can send large files without any hassle. The file can be directly shared via email. You can also share the password-protected link to ensure more safety.
TeraBox is one-step forward. It offers 1TB of free space; therefore, a lot of data can be stored and shared. It allows users to share large files more smoothly. Most importantly, you can also share files using TeraBox without having an account. The file stays on the server for 24 hours.
Remote Upload
Simply speaking, Remote Upload means uploading a file through a link. The remote upload of OneDrive is simple, but TeraBox offers some exceptional features. You can create a link task. It supports HTTPS, HTTP, and Magnet Link. Other than that, it offers a BT file task, so you can upload .torrent BT files. It makes uploading these files a lot easier than ever before. With Remote Upload, you can download online videos from many sources.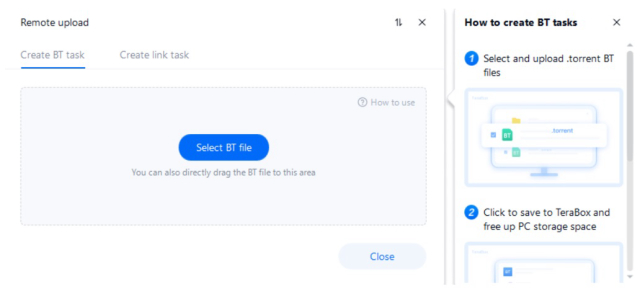 However, there is no such equivalent in OneDrive. Although OneDrive offers something like requesting others to upload files by sharing a link with them, there is no remote upload function that enables users to download files online through URL. It supports link uploads and directly uploads the file to the cloud storage.
Security
In regards to data security, one can never do too much. Luckily, the Private Space or Vault is available on both cloud storages. It is a function that allows you to set an additional layer of security for your important files. You can set a password for the files so that they can be more protected.
In addition, TeraBox pays extra attention to the security of file sharing. With each file sharing generates a unique encrypted link, so that the data embedded in link won't be crawled. In addition, you can set a passcode and expiration date for the sharing; in this way, you have more control over the things you share, and with whom you share.
How to Get Your Free 1TB Cloud Storage (and More) in TeraBox?
We have discussed that TeraBox offers 1TB of free storage. It is available to everyone. You can also get free storage by following the steps below.
Step 1: Download TeraBox on your computer. You can download it from the official website for free.
Step 2: Launch the application. First, click on Create an Account. You can create an account using your email, phone number, or any social media account listed.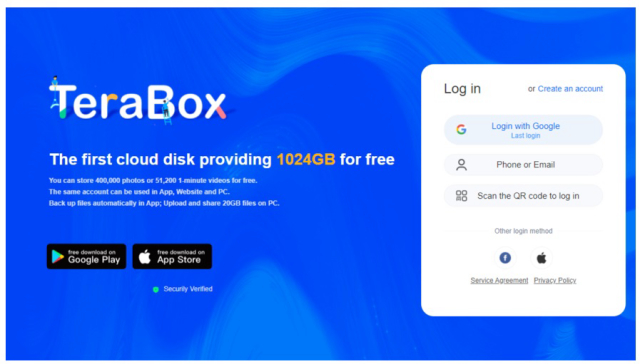 Step 3: Once your account is created, you are ready to get the free space. At first, you get 10GB of free space after signing up. On the main screen, click on Get 1024 GB. You will see this option over the capacity bar.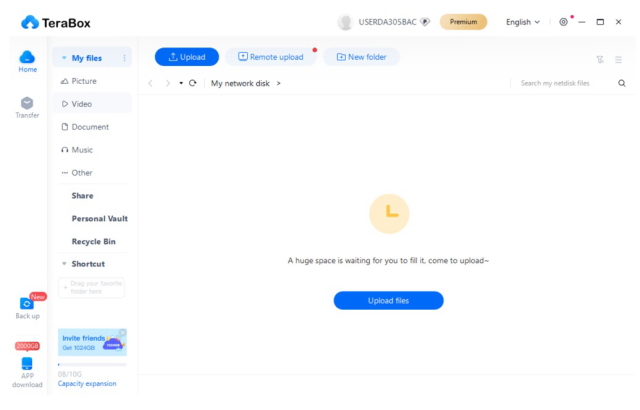 Step 4: It will open a link in the browser. You can copy the link or QR code from there. Now, send this to your friends. If they sign up for TeraBox, you get 1024GB of free space.
Besides the basic 1TB cloud storage, TeraBox offers more free space to users through various competitions and tasks.
The easiest way is to sign in daily. After two days, you get 4GB. The reward increases with days, and on the 28th day, you will get 100GB for free.
Secondly, there are weekly challenges in which you can participate. The challenges are pretty easy. You might need to forward a file using TeraBox, upload something to the cloud, or play a video once. You can get a reward, which can be anything, such as 50GB or 100GB of storage.
Another way to get more space on TeraBox is by inviting more friends. You can get up to 2000GB of storage for free. You will get 200GB for a friend who signs up using your invite link.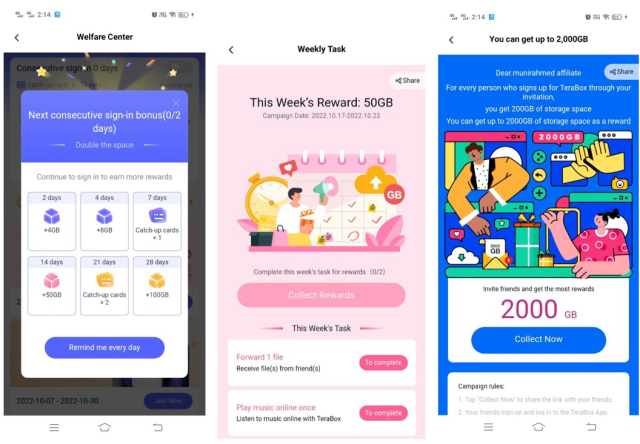 Adding these all up, you can get approximately 3 TB of cloud storage, and it costs you nothing at all. Therefore, if you are looking for large, scalable, and affordable cloud storage, TeraBox is definitely the one cloud storage you should pick.
Final Thoughts
Nowadays, it is important to create a backup of your data in the cloud storage. Your data can be lost due to various reasons, and if you want to keep your data safe and sound, then you must create a backup. We have discussed OneDrive. It is an excellent cloud storage service that offers you 5GB of free space. However, you cannot get more space on OneDrive for free. If you want more, you need to upgrade to the premium plan or buy a Microsoft 365 subscription. It is an expensive cloud storage service compared to others.
If you want to get free 1TB of storage, you can use TeraBox. It offers the space for free. 10GB space is free initially, and then you increase this space to 1024 GB and more. We have discussed how you can increase your TeraBox space without spending a penny. You also get tons of features, such as auto-backup, personal vault, password-protected link-sharing, recycle bin, and a lot more. It is available for Windows, macOS, Android, and iOS. Download TeraBox free and create a backup of your data to keep it safe.