TeraBox is one of the most widely-used free cloud storage tools out there. Despite its popularity, we are still getting questions like "Is TeraBox legit?" or "Does TeraBox work?" now and then.
But in fact, many of these questions stem from common misunderstandings about TeraBox's features and pricing. For example, some users give up using the app too soon because they cannot find the right way to get the 1TB free cloud storage. Others are pretty frustrated when they think TeraBox will start charging for the free storage seven days after registration. Furthermore, some users are wary of data security because they cannot retrieve some of their files in TeraBox.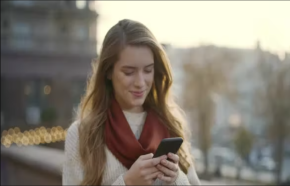 Is TeraBox legit? Can it be trusted? In this article, we will present unbiased and comprehensive evidence on whether TeraBox is legitimate. You will also learn some channels to reach out for technical support if you find TeraBox not working.
Is TeraBox Legit?
Launched in 2020, TeraBox has become a leading cloud service provider in the playing field, offering a rare and whooping 1TB of secure cloud storage completely free of cost. You can use it for a wide variety of purposes, including backing up files, transferring large files between devices, downloading and saving online videos and so much more.
As a formal commercial software providing legitimate services, TeraBox has been reviewed and approved by mainstream app stores, including App Store, Google Play Store, and Microsoft Store, where you can download the app for free.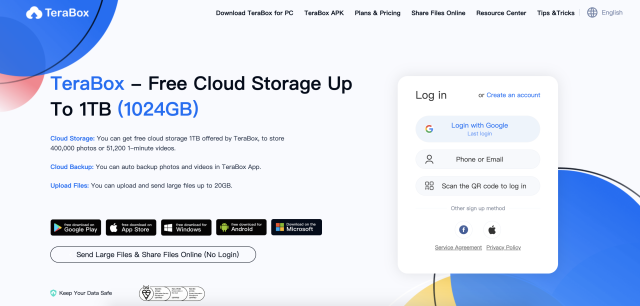 TeraBox's security and legitimacy are endorsed by three ISO certifications: ISO 27001, 27018, and 27701. Together, they qualify TeraBox as an organization that is able to manage information assets, and a cloud service provider capable of protecting users' cloud privacy and data security.
With powerful and convenient cloud features, TeraBox has also earned itself a reputation on third-party platforms. Best mobile app awards, an established website where expert designers, developers, and publishers evaluate submitted apps, chose TeraBox as the silver award winner of the best new mobile app for May 2022. The website highlights TeraBox's massive free space and unlimited file sharing feature.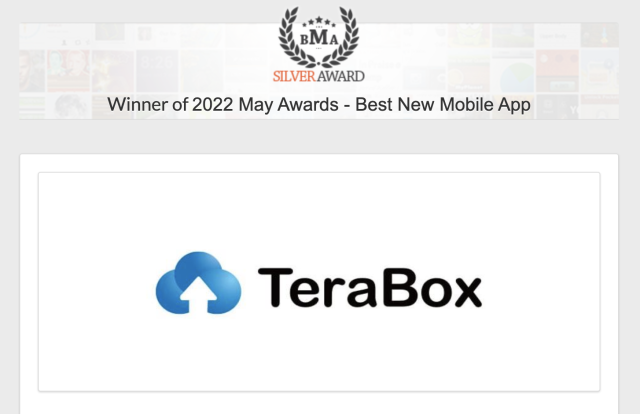 But of course, nothing underwrites TeraBox's legitimacy like the trust and fondness of our users. Only four months after its launch, TeraBox has acquired over 10 million downloads; by December 2022, it has more than 100 million registered users, which is a ten-fold growth. The rapid expansion of users is solid proof of the quality of TeraBox's services. Just as App Store user ACStephens06 said, "TeraBox helps me keep all my precious memories safe and accessible in one place with just an email, and keeps my devices from exploding from storage capacity overload. It has everything I could ask for from a free app!"
So as you can see, all these facts point to the conclusion that TeraBox is legit and works well.
Does TeraBox Work?
After investigating across different platforms, we have come to realize that sometimes the reason why users ask "is TeraBox legit?" is that they are having trouble using particular features, which gives them the impression of a scam. But what they truly demand is technical assistance. Let's clear the air of some common misunderstandings.
TeraBox Does Not Give 1 TB?
One of the most frequently asked questions is whether TeraBox really offers the 1TB free cloud storage as it is marketed. Since the initial free storage on signup is only 10GB, many users frown upon it, thinking they have been tricked into downloading the app.
However, TeraBox has always been giving users the promised 1TB on time and in full. The only precondition is to invite a friend to join TeraBox in a few simple steps. Here's how to do it:
Step 1: Download TeraBox and sign up for an account. After logging in, you should be able to see a banner like the one below. Tap "Upgrade Now".
Step 2: Tap "Upgrade Now" again, and a link exclusive to you will be generated and copied to your clipboard automatically.
Step 3: Tap "OK", and choose how you want to share the link with your friend.
Step 4: After your friend signs up and logs in to TeraBox, your invitation is considered successful, and your storage will be upgraded to 1TB automatically.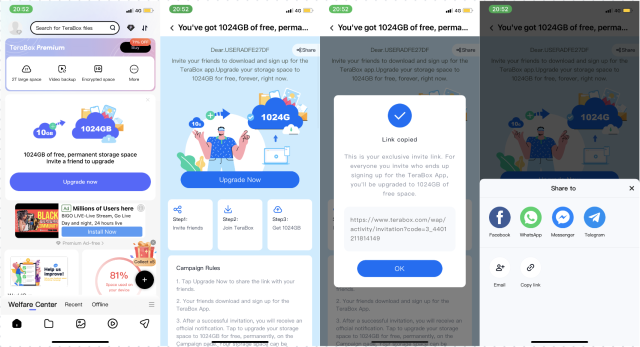 Not a Free App After the Free Trial?
Another concern is about the period of validity of the 1 TB free cloud storage. Some users think it is only free during the seven-day trial, but it is not the case. The large free cloud storage you get by signing up actually stays with you for as long as you want.
The aforementioned "seven-day trial" refers to the free trial of TeraBox premium. Users can first try the premium plan for free for seven days, and then decide whether they want to proceed with the transaction.
In fact, many users did subscribe to the premium plan after the trial. They enjoy 2 TB cloud storage, ultra-fast download speeds, file upload up to 20GB, online file unzipping, a 1080P video player, and a number of other features. However, if the premium plan does not suit you well, you can always stick with the free plan, where you can still have access to the 1 TB free cloud storage.

TeraBox Deleted Some of My Files?
Some users found out, to their horror, that some of their photos and files stored in the cloud were gone, and they thought it was TeraBox that had deleted them. However, TeraBox only provides cloud storage without making any changes to whatever stored in it.
But in case you do find some files missing, we have some suggestions for finding and recovering them. First of all, check if you have more than one account. If you do, there is a chance that you have mixed them up, and have not uploaded data to one consistent location. For photos, you might want to check if you have granted access to all photos in your phone's album or only part of them. If you haven't, they cannot be uploaded to TeraBox at all in the first place, even if you have enabled automatic photo backup.
TeraBox Not Working: What to Do?
Though we try our best to respond to users' needs and cover the most frequently asked questions in the blog, we understand that you might have some other difficulties that are more personal and specific. TeraBox provides 24/7 customer service, and here are some of the ways to get in touch with us in case you need support.
1. TeraBox official website: Visit "Resource Center" and tap "Question feedback" to submit your question.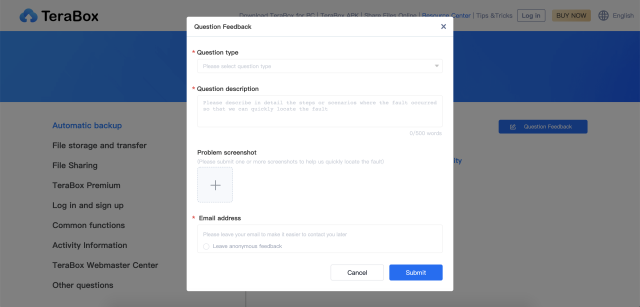 2. TeraBox app: Tap on your profile and then the "Help Center". Tap "Help and Feedback" to find answers to common questions. Submit a question in the "Help and Feedback" or "Give advice" section.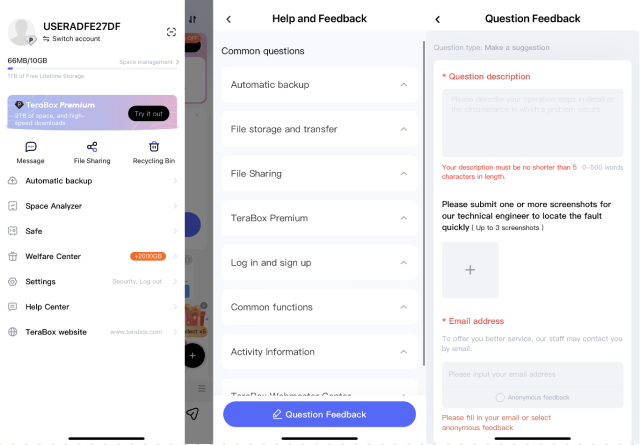 3. Social media: Leave a comment under our blog or social media posts, or leave us a private message. Find us on Facebook (@teraboxofficial), Quora(@TeraBox) or Reddit(@TeraBox_Official).
Final Verdict
Is TeraBox legit or not? After reading this article, we believe you have got the answer. Whether by authoritative standards, users' experience, or the reviews of third-party professionals, TeraBox is a legitimate and trustworthy cloud service. If you know how to get and use its 1TB free cloud storage properly, you will be convinced that TeraBox is a legit cloud storage. If you find TeraBox not working, do not hesitate to reach out to us for help, for it is our responsibility to give you the best possible service. Download TeraBox free now to start the exploration!