We often run out of space on our devices, including smartphones and computers. Therefore, we need separate storage to save our photos, videos, and files. Moreover, the physical storage is not reliable as the data can be lost due to any damage, virus, or other reason. Thus, it is essential to get personal cloud storage.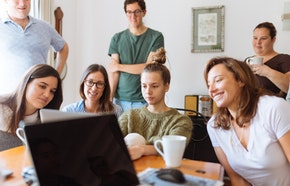 There are many options for personal cloud service, but TeraBox is exceptional. In this article, we will discuss why TeraBox is the perfect personal cloud storage. We will discuss all its features and services in detail. We will also share some of its alternatives for comparison. Let's begin.
Best Personal Cloud Storage App Services
There are dozens of cloud storage apps available, but you cannot trust all of them. Some of them are trustworthy, but their features are limited. Thus, you need to be careful while selecting a cloud storage app. Here are some of the best options you can try.
1. TeraBox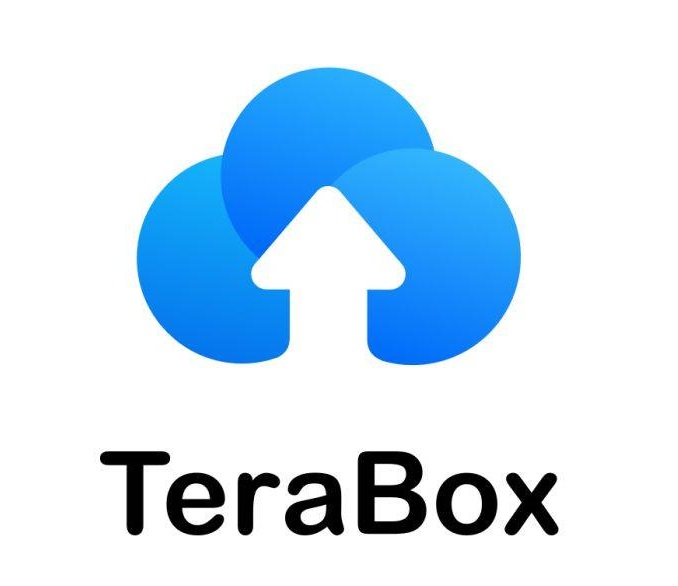 TeraBox is undoubtedly one of the best cloud storage app services because of the facilities it offers and, of course, the 1 TB of free storage space.
The cloud can be used for almost any purpose. You can use it to store your personal photos, videos, and files to free up the local storage. It can also be used for business purposes to ensure secure file sharing with clients. Most importantly, TeraBox can help you create a data backup of your photos, videos, and files. The automatic backup feature is commendable as it uploads the new data directly to the cloud.
It also supports remote upload of files and data. You can directly download things to the cloud storage if you are short of space on your smartphone or computer. Moreover, it is an excellent way to organize your files. It categorizes the data into different categories, such as video, picture, document, and music.
2. Box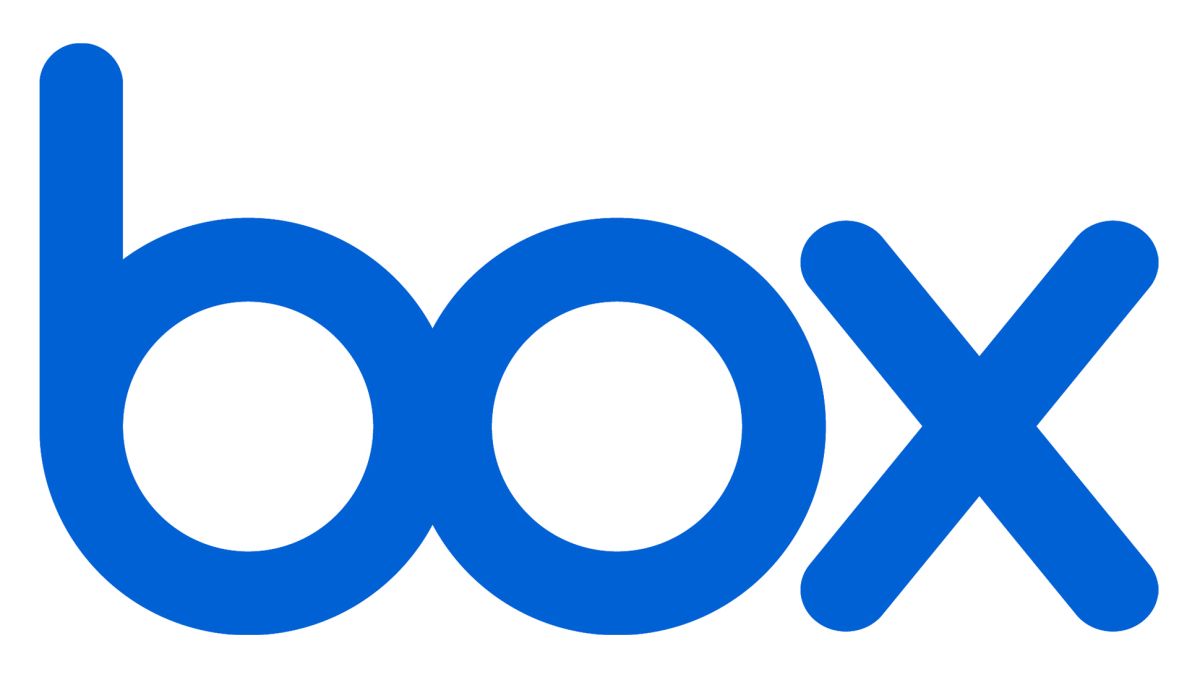 Box is one of the preferred cloud storage for personal as well as commercial use. The most important thing about Box is its unbreakable security. It protects your files and data from cyber threats. Moreover, it ensures data privacy and complies with industry standards.
The most important feature of Box is the 1500+ app integrations. It is integrated with almost all types of applications and services, and this makes creating, accessing, sharing, and saving content easier. There is no need to worry about data security.
Box is a bit expensive for users because of its extraordinary features, but it also offers individual plans. You get 10 GB of storage for free. If you want to upgrade, you can get 100GBs at $5.
3. Icedrive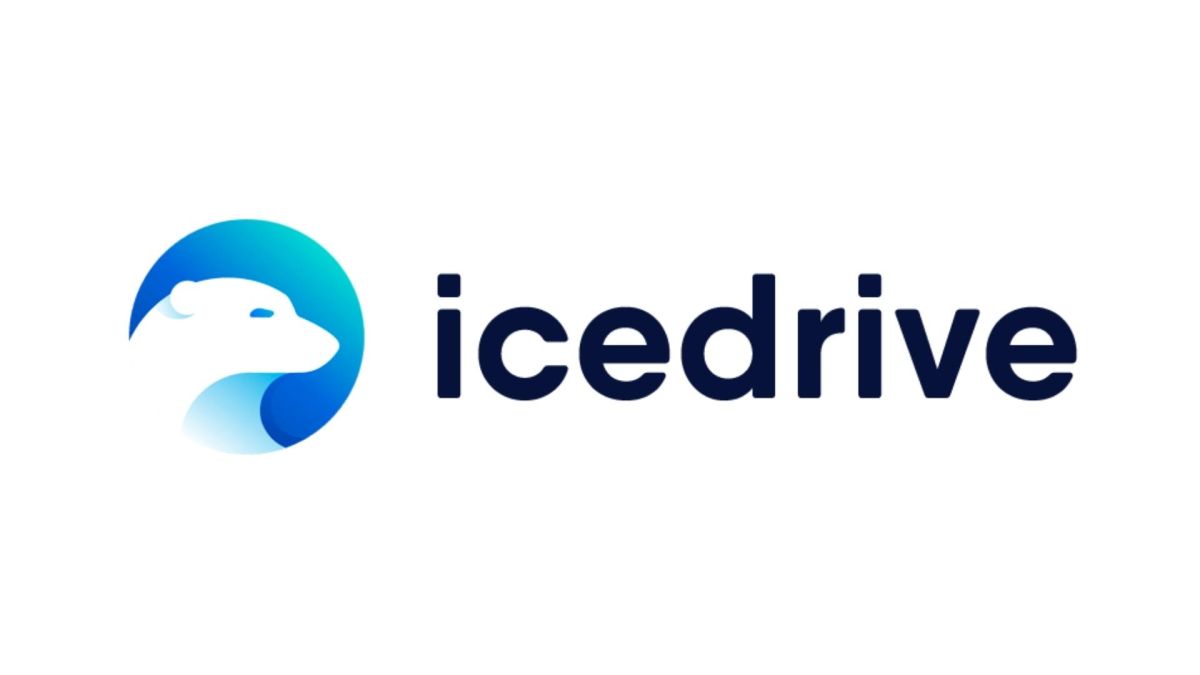 Icedrive is another personal cloud storage option. It is a secure, reliable, and easy-to-use storage. It offers 10 GB of storage for free.
Icedrive has a special drive mounting feature. It gets mounted on your PC like a physical hard drive and increases the storage space. You can easily save data and access it without any hassle.
Whether you need storage for home, office, freelance work, or anything else, Icedrive is more than perfect. You can install the application on your PC or mobile, and the web application is also available.
You can get 1 TB storage space for $4.99 per month.
Why is TeraBox a Private Cloud Storage?
TeraBox is excellent private cloud storage because of multiple reasons. The first reason is its unbreakable, advanced, and cutting-edge security. It is completely safe and secure due to its advanced security protocols and a dedicated team to deal with cyber threats and other issues. Thus, once your data is stored in the cloud, you don't need to worry about intruders and hackers.
The data that you upload to the cloud is completely secured using encryption. Only you can access the data and decrypt it. It is encrypted at the client's end, so even if someone sneaks into your drive and tries to get something, there is no way to decrypt data, and it will be useless.
Moreover, when you share files with anyone, they are secured end-to-end. Only you and the receiver can access the data. You can protect the link using a password and set a limited validity period.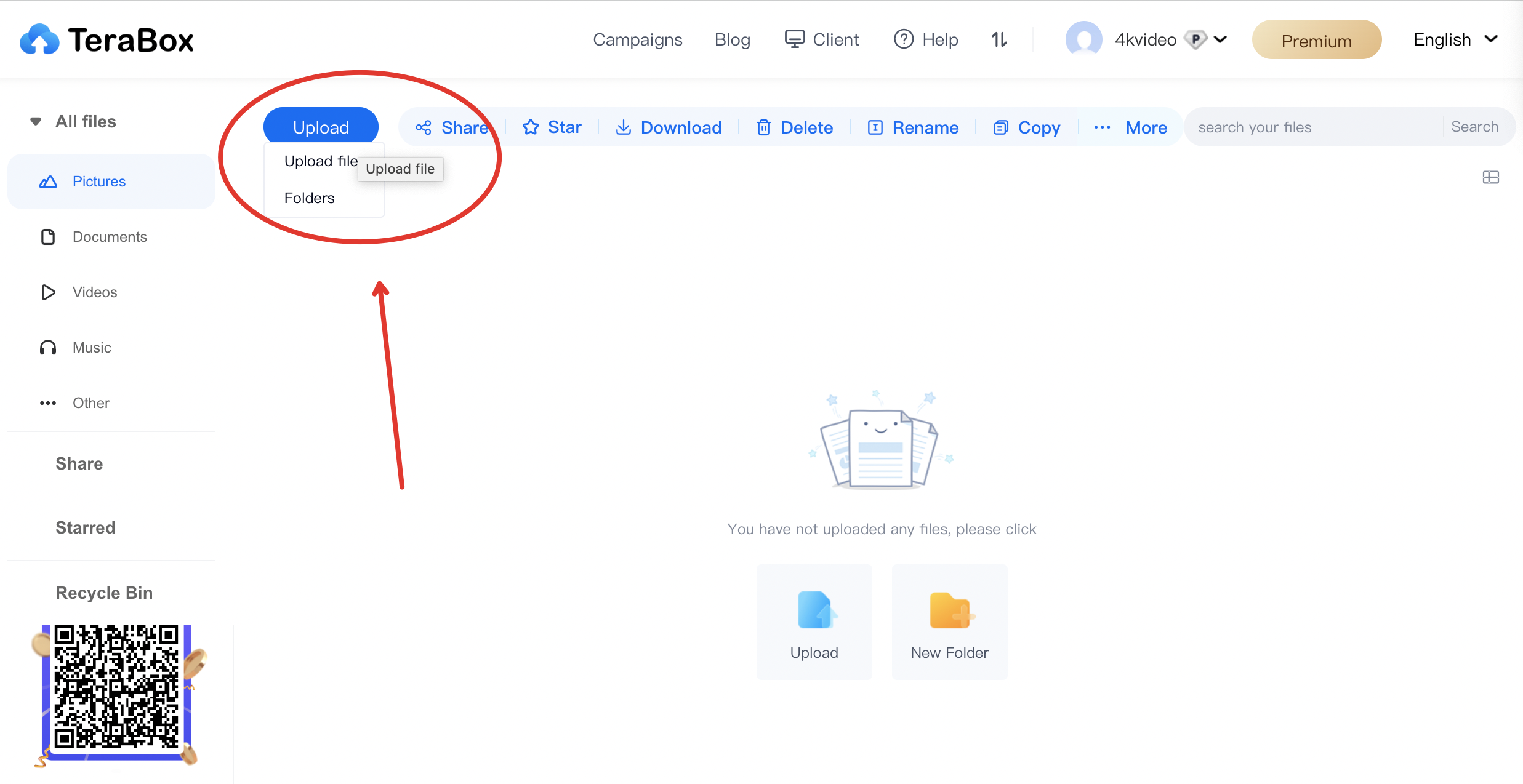 TeraBox also has a dedicated space for your private images, videos, and files. It is called Locked Box, and it is protected by an additional password. It works like your file is safe. You can store almost anything you like and remain worry-free about security.
TeraBox is the most secure private cloud storage. It maintains security and privacy to the highest level. There is no way your data can be leaked or privacy can be breached. Thus, it is an ideal personal cloud option.
Why is TeraBox Ideal for Storage Files?
TeraBox offers 1 TB of storage for free. You don't need any subscription and plan to get the free storage; all you need to do is create an account and store the files. The space is permanently free; it is not a trial version or limited-time offer. This 1 TB of free storage is more than enough to store a massive quantity of files. You can store 400,000 photos, 2,500 videos, and 6.5 million documents in storage, and it will not cost you a penny.
The files can be easily uploaded to the cloud. You can upload from the desktop or mobile application. The applications are available on the Play Store and App Store. You can also use the web application to store and upload those files. The best thing is that the uploading and downloading speed are commendable.
TeraBox is an easy way to transfer files from one device to another. You can transfer files from your computer to your smartphone and vice versa. The synchronization helps you access the files easily whenever and wherever you want.
With the help of TeraBox, you can share large files. It can share large files of up to 20 GBs in one go. It makes file sharing easier than ever before.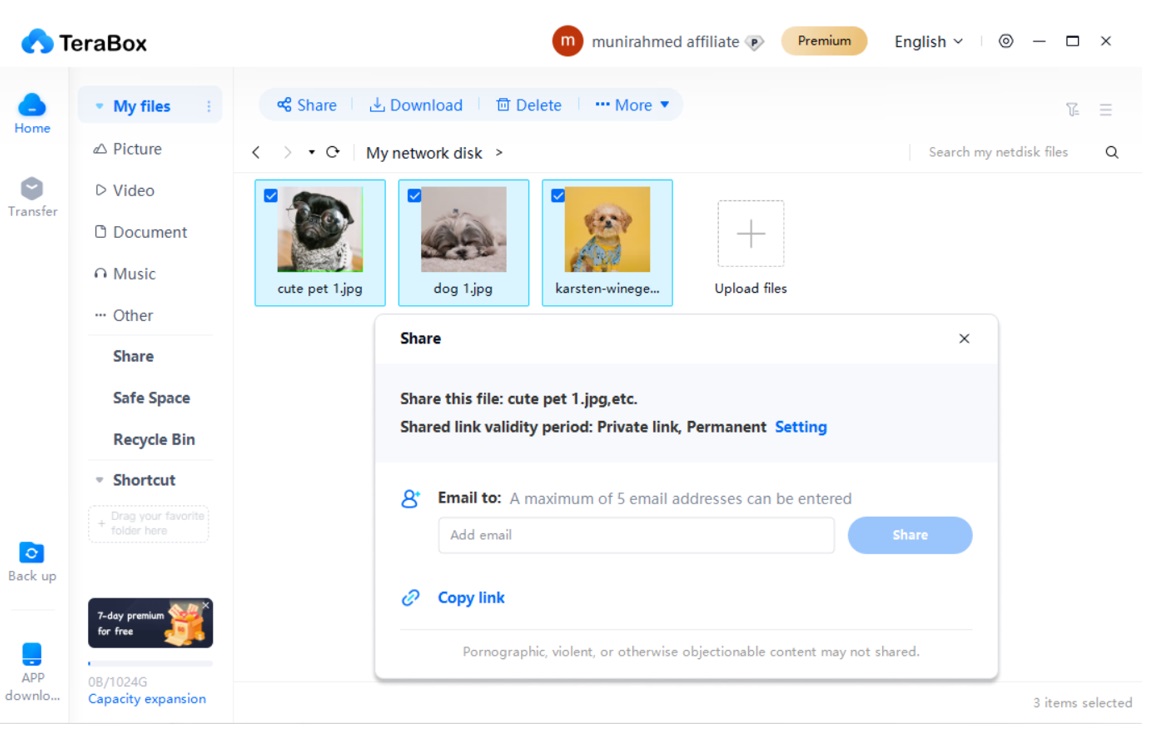 1 TB storage is free for all users. If you need more space and want to upgrade, 2 TB is available for $3.99 per month. With the premium plan, you will get additional benefits such as high speed, recycle bin, auto backup, private storage, and a lot more.
Final Thoughts
If you are looking for the best personal cloud storage, then TeraBox is a perfect choice. It offers 1 TB of free storage space that you can use for personal as well as business purposes. It has excellent security, automatic backup, private storage, and tons of other features. Download TeraBox APK on your smartphones and install the application on your computers to enjoy the free space.