The answer should be TeraBox!
In an era where digital data and information overload, our lives are intertwined with the convenience of cloud storage, so finding the best choice for free cloud storage has become a top priority.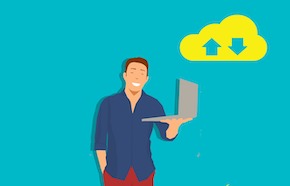 With countless providers and various features to consider, it's essential to explore the options that not only offer generous storage space but also prioritize privacy, accessibility, and ease of use. So, let's embark on a journey to unravel the mystery of the best free cloud storage solution that suits your needs perfectly.
Factors to Consider the Best Free Cloud Storage 
Before exploring the top contenders for free cloud storage providers, it is crucial to have a clear understanding of the key factors that should influence your decision. By identifying and evaluating these factors, you can make an informed choice that aligns with your specific requirements. 
So, let's delve into the essential considerations that will guide you toward finding the best free cloud storage solution for your needs.
● 
Free Storage Space
Selecting a generous free cloud storage provider is crucial, as many services may only offer a meager 10GB or 20GB of storage, which falls far short of meeting most users' needs. It's essential to find a provider that offers ample storage space to accommodate your data requirements.
● 
Security and Privacy Measures
Security is paramount when it comes to storing your data in the cloud. It's crucial to assess the security and privacy measures implemented by the provider. Look for features such as end-to-end encryption, SSL/TLS protocols, and robust data protection policies. Understanding the security measures helps ensure that your data remains safe from unauthorized access or breaches.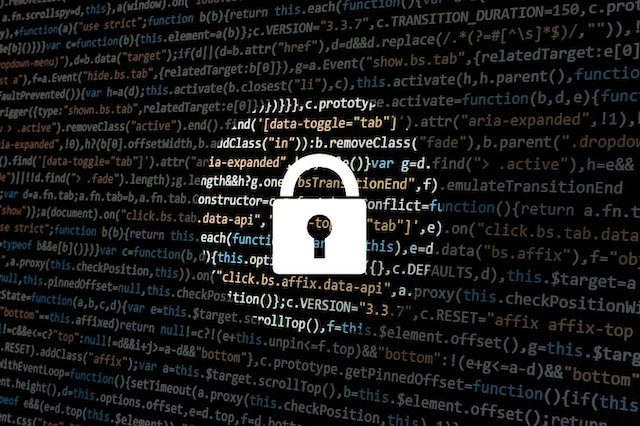 ● 
Accessibility and Synchronization
The accessibility and synchronization features of a cloud storage provider play a significant role in your user experience. Consider the provider's compatibility with different operating systems and devices. The ability to access and sync your files seamlessly across multiple platforms and devices enhances productivity and convenience.
● 
User Interface and Ease of Use
A user-friendly interface contributes to a positive cloud storage experience. Assess the provider's user interface for its simplicity, organization, and ease of navigation. An intuitive interface simplifies file organization and management tasks.
● 
Additional Features 
In addition to ample storage space, additional features can greatly enhance the functionality and convenience of the service, making it a valuable asset for your storage needs. While storage space addresses the basic requirement of storing your files, supplementary features, such as file sharing, real-time editing capabilities, and photo management, take the user experience to the next level.
What Is the Best Free Cloud Storage?
Based on a careful evaluation of the factors mentioned above, we highly recommend considering TeraBox as a rising star in the cloud storage field. TeraBox stands out for its exceptional performance and features that cater to users' diverse storage needs.
It is a fast-growing open-source software solution for data storage and backup that provides 1024GB of personal cloud storage. Designed especially for end-user ease that allows the user's data to be encrypted and accessible. Terabox delivers maximum value to the business world by improving productivity and reducing the cost of data loss.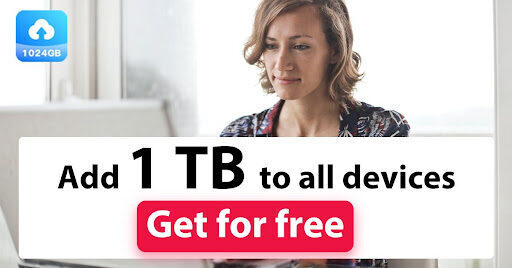 This cloud storage app solution has reached 156 million global users due to high storage space. Many Terabox competitors offer free storage space, but only a very small amount of storage space. While TeraBox provides 1TB free cloud storage space without a paid subscription. This 1TB is equal to the storage space of approximately 300,000 photos or 64 mobile phones with 16GB storage space.
Secondly, TeraBox's ability to protect our privacy is the most remarkable feature for us as all family members can use this to store private and personal data. TeraBox prioritizes data protection through robust encryption protocols, safeguarding your files from unauthorized access. With TeraBox, you can trust that your data is in safe hands.
Another feature of Terabox is an easily accessible and cross-platform-supported app. Files stored in Terabox can seamlessly be synchronized across multiple devices, including iOS, Android, and Windows PC. You can store and sync everything you upload to the cloud from any device you like.
No technical expertise is needed to upload the files with TeraBox. As the best photo sharing App for families, it enables you to share good stuff with family and friends by sharing links to files and accessing the data when necessary. 
Considering these factors, TeraBox emerges as a promising and recommended choice for your best choice for free cloud storage. Its impressive performance, generous storage space and strong security measures make it an excellent option to fulfill your storage needs. 
Popular Functions of TeraBox Free Unlimited Cloud Storage
TeraBox offers some eye-catching features listed below:
1TB Safe Free Cloud Storage
TeraBox provides a generous 1TB of safe and secure free cloud storage. With this ample storage space, you can comfortably store a vast amount of files, including documents, photos, videos, and more, without the worry of running out of space.
Large File Transmission
TeraBox excels at facilitating large file transmission. As free users, you can upload up to 4GB of files depending upon the internet connection speed. Meanwhile, premium users have the luxury of storing 20GB of data effortlessly in one go.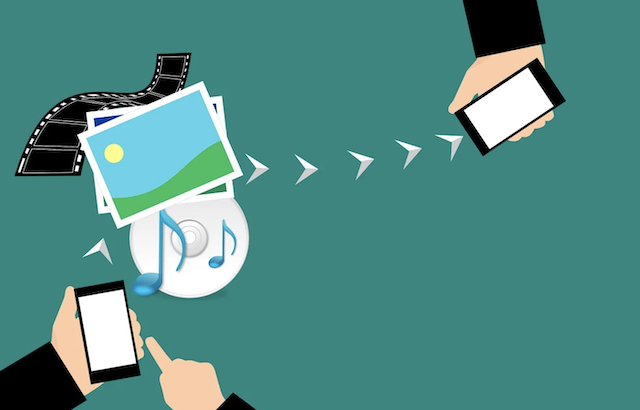 Automatic Backup Photos, Videos & Folders
With TeraBox, you can automatically back up your precious photos, videos, and folders to the cloud. This feature eliminates the risk of losing important memories or essential files, providing peace of mind knowing that your valuable data is securely stored and backed up.
Extracting from the Cloud 
TeraBox offers an exclusive feature for premium users, allowing them to extract files directly from the cloud. This convenient functionality saves time and effort by enabling you to access and extract specific files or folders without the need to download the entire content.
Photo Editing
The TeraBox app provides a built-in photo editing feature, empowering you to enhance and edit your images directly within the app. With intuitive editing tools at your fingertips, you can refine your photos and make them look their best before sharing or storing them in the cloud.
With these exceptional features, TeraBox proves to be a versatile and reliable free cloud storage solution. Of course, there are more TeraBox premium features for you to unlock.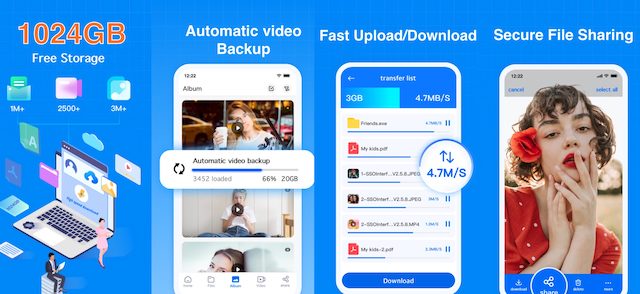 How to Get a FREE TeraBox Account?
To get started with TeraBox and avail of free unlimited cloud storage, go to the official TeraBox website or go to your device's App Store.
Step 1: Download and install the TeraBox on your device, or try out the web version.
Step 2: After launching TeraBox, you'll need to create an account for TeraBox, and several options are offered for you. You'll be able to use 1024 GB of free cloud storage after logging in with the account.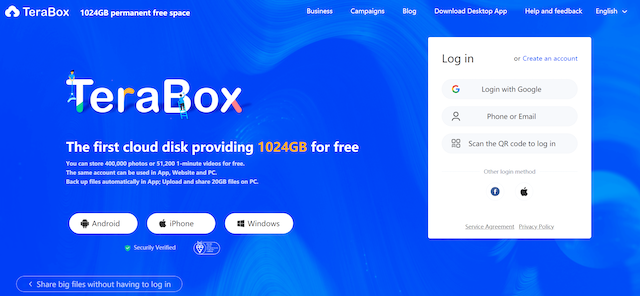 Once your account is verified and activated, you will have access to the 1TB free cloud storage provided by TeraBox.
Final Words
No other dares to offer you 1024GB of cloud-free storage for a lifetime. TeraBox aims to provide users with an efficient and reliable solution for storing and accessing their files in the cloud. Thus, you shouldn't hesitate anymore and have a go at TeraBox! Download TeraBox free and enjoy starting your TeraBox journey today!