There are simply too many reasons why you should sign up for TeraBox Premium: you get twice as much cloud space, built-in photo editing tools, multi-speed video playback, ad-free experience …… Whether you are looking for cost-efficient cloud storage or thinking about leveling up your TeraBox game, this article is for you. We will break down the latest privileges and prices of TeraBox Premium, and hook you up with some insider tips to try it for free.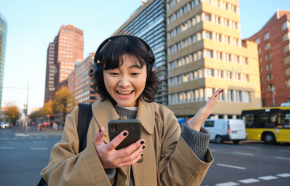 TeraBox Free Vs Premium
Storage Space
Total Storage Space: 1 TB of free cloud storage – that's the reason why lots of users were drawn to TeraBox in the first place. It is unmatched in the cloud storage market. But as time goes by, you may find TeraBox has become such an essential part of your digital life that you need more storage. In this case, TeraBox Premium offers the option of 2 TB of cloud storage.
Personal Vault Space: Paid users also have a larger Personal Vault space, which is a password-locked folder for sensitive files. The free plan includes a 200 MB Personal Vault, while TeraBox Premium increases it to 2 TB, turning the whole cloud storage into your digital safe. This is perfect for businesses or individuals with high demand for cloud data security.
Recycling Bin Preservation Time: Another safety benefit that comes along is the extended timeframe for file recovery in the Recycling Bin. TeraBox's free plan allows users to restore files within 10 days of deletion, while the subscription plan gives you 30 days. This buys you additional time to retrieve accidentally deleted files, as well as peace of mind.
Ad-Free: With TeraBox Premium, you can finally say farewell to the distractions and focus on what really matters – your precious files. No more interruptions, no more pop-ups, no more ads!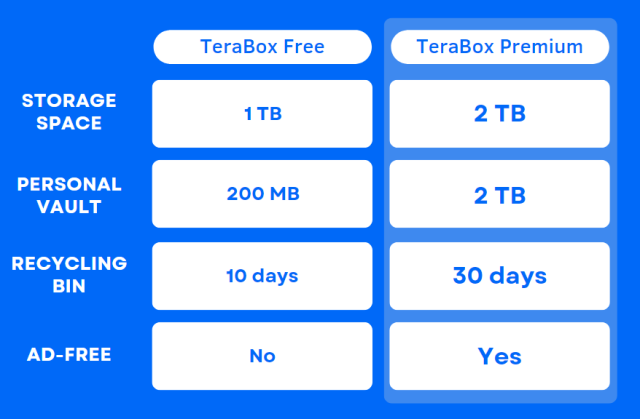 File Transfer
Download Speeds: TeraBox's free plan offers download speeds of 200-800 KB/s (1.5-6.25 MB/s), depending on your network status. It is pretty high for a free app, but for those who have the need to download large files frequently, TeraBox Premium may be a better option, which boosts your download speeds to 15-20 MB/s easily.
Bulk Upload: Bulk upload refers to uploading files from either your own device or other TeraBox users' shared resources. The free plan allows for a maximum of 500 files to be uploaded at once, while the paid plan has no limit in this regard. So if you want to save the entire 700-episode The Simpsons or thousands of e-books, TeraBox Premium is the way to go.
Single-File Upload: Of course, one way to get around the bulk upload limit is to compress multiple files into a single zip file. Just be aware of the size limit of single-file upload if you are uploading a big zip file, video, or the like. You can upload a large file of up to 4 GB for free, and up to 20 GB on TeraBox Premium.
File Extraction: Zip files are completely harmless in cloud storage …… if and only if your sole purpose is storing them. Your hands will be tied when you do need to access certain files within them. In this case, the paid plan offers the privilege of decompressing in the cloud. With this feature, you can access zipped files quickly and easily without having to download and decompress them locally.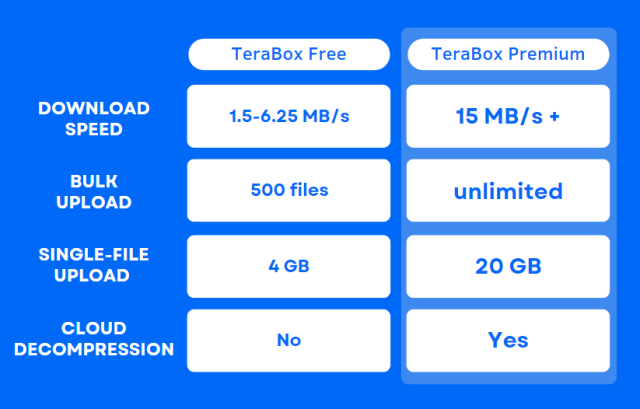 Automatic backup
Automatic Video Backup: While you can manually backup as many videos as you want for free, TeraBox Premium offers the more convenient option of automatic video backup. In this way, you will have a truly and fully secure cloud album.
Automatic Folder Backup: You may be familiar with how to backup photos and videos automatically, but automatic folder backup is also one of TeraBox's most-used features. It is accessible on TeraBox Premium APK and PC. Simply select the folders you want to backup, and TeraBox will sync it when you make changes locally.

Photo Editing (mobile apps only)
Find it bothering every time you have to download, edit, and then re-upload photos? With TeraBox Premium's seamless photo editing experience, you can now edit them in the cloud album directly. You will have all the tools at your disposal, ranging from basic parameters to advanced designs such as text, stickers, and frames. It's like having a personal photo studio in your pocket!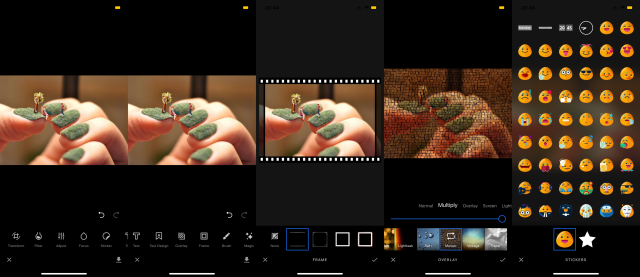 Video Player
Multi-speed Video Playback: Whether for study or recreation, multi-speed playback is a must-have of the best video player. With TeraBox Premium, you can play videos whenever you like and at whatever speed you like.
Video Resolution: While TeraBox's large cloud storage is ideal for storing movies, you also deserve the best experience watching them. That's why TeraBox free plan offers smooth 480P video playback, and the Premium plan allows 1080P.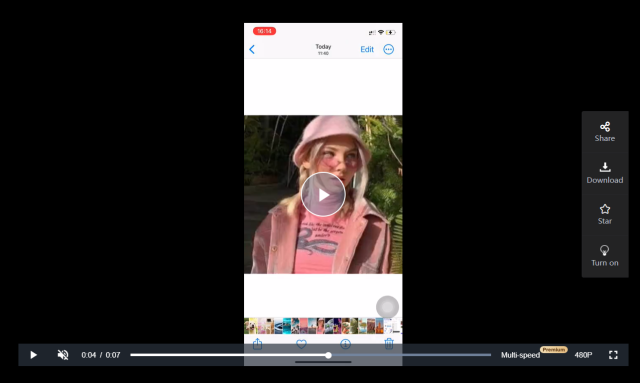 TeraBox Premium Price
TeraBox is often praised for its affordable pricing. You can get all these cool features above without breaking the bank:
$3.49/month or $35.99/year (automatic renewal; cancel any time in the app store or "Personal Center" on TeraBox website)
$4.99/month or $47.99/year (one-time subscription)
If are new to TeraBox Premium, and want to try it at an even lower price, there are ongoing discounts for first-time subscribers in the mobile app:
$1.99/month (renew for $3.49 next month)
$19.99/year (renew for $35.99 next year)
Plus, TeraBox often offers astoundingly low prices for our returning users. For example, till March 20, 2023 (GMT+9), you can save 40% by purchasing a yearly Premium for just $27.99! On top of that, by sharing your purchase order on Facebook or Twitter with the hashtag #TeraBoxPremium40off, you get a chance to get TeraBox Premium for free. But if you happened to miss out this time, don't worry; there is always more to come.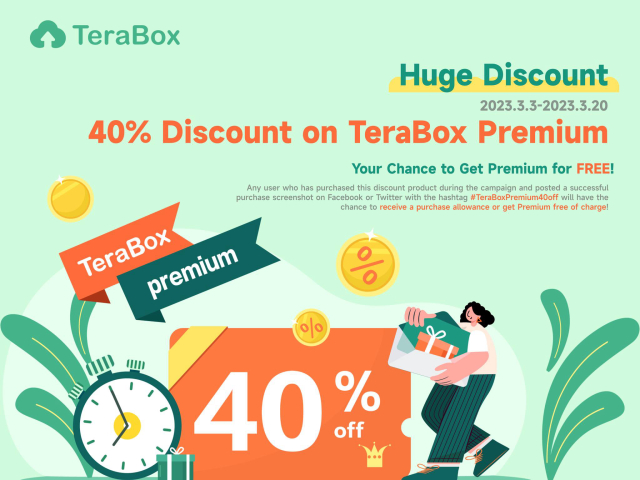 How to Get TeraBox Premium for Free?
Want a Premium plan free trial? No problem! You can get 1 to 3 days of TeraBox Premium without spending a penny. Here are two ways to get it:
Earn Gold and Deem Reward: Visit Welfare Center, and check out the various tasks you can sign up for. Most of the tasks only involve using the basic features of TeraBox, such as uploading and sharing files. After getting them done in minutes, go to the Gold Center's Premium section. Redeem 1 day of Premium for 45 Gold, or 3 days for 130 Gold.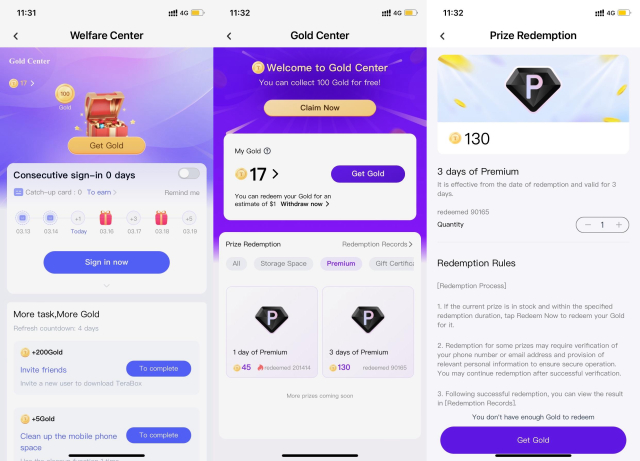 Watch Videos to Get Rewards: Tap the diamond icon on the home page. Then tap "watch videos to get rewards". After watching 3 videos, you will get 1 day of free trial; after watching another 4, you will get 3 more days.

Wrapping It up
If you are looking for cheap cloud storage with advanced features, there's nothing like TeraBox. From large file transfer, automatic folder backup, to online photo editing, our Premium plan excels in every area. Download TeraBox APK, and try one month of Premium at the lowest price of $1.99 today! Or, simply sign up for a 3-day free trial and see where it goes. Why not give it a shot?