It is essential to learn how to backup and restore Android apps and data if you do not want to lose them. There is a probability that your data could be lost due to a software or physical problem with the device. There are multiple reasons for data loss, but if you have a backup, you can restore your data whenever needed.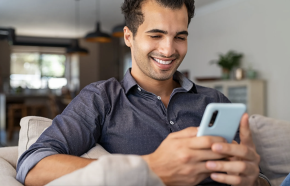 In this article, we will explain how you can restore deleted contacts, app data, and files. We will share different effective ways you can try to get your data back. Some methods are free, while some require a little expense. We will also share a free cloud for online storage backup. You can easily back up your data in the cloud and restore it whenever you want.
How to Restore Contacts on Android
There are two common ways to restore contacts on Android devices. If you have Google backup of your contacts, you can use it to restore contacts and other data. But if you do not have any backup, you can use a third-party Android data recovery tool that can recover data with ease.
Way 1: Restore Contacts from Google Backup
Step 1: You must be logged in to the Google account on your Android device. If you haven't done it, add the account first.
Step 2: Go to the Settings application.
Step 3: Scroll down and tap Google.
Step 4: You will see an option for Set up & Restore. Tap on it.
Step 5: Tap Restore contacts.
Now, Google will automatically restore all the contacts from the backup and save them to your device.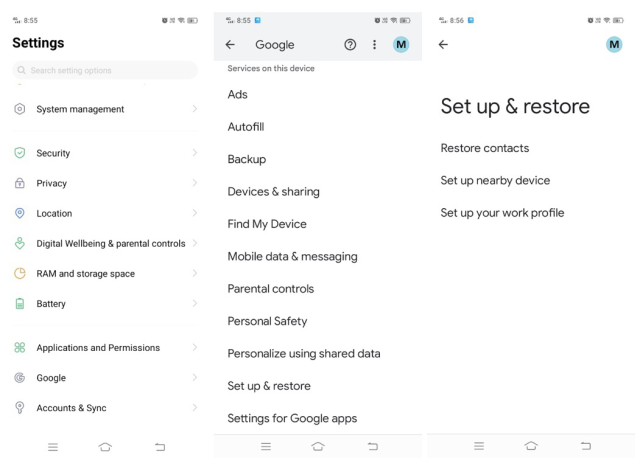 Way 2: Restore Contacts Using Data Recovery App
For those who did not turn on backup beforehand, they can use a data recovery application, which does not require a backup. There are many data recovery apps available that you can choose from.
Most of the data recovery apps work on a computer. After selecting the application, install it on your computer. Then you need to connect your Android device and start the recovery process. These tools help you create a file of contacts. You can export the contacts in a file, and then this file can be used to restore data on the smartphone.
Using data recovery apps can be inconvenient without a computer. On top of that, price may also be a problem; even though there may be free versions, the quality of service may be simultaneously compromised. In addition, usability also troubles data recovery app users, as most of these apps can appear intimidating to non-technical users, putting them at a loss.
Nevertheless, the greatest benefit of data recovery apps is that they may be able to recover different types of data, including contacts, call history, messages, and so on. Still, it depends on what services each provider offers.
How to Recover Deleted App Data Android
App data is stored in Google backup by default. If it is lost, you can recover deleted app data Android back to your phone. It is exceptionally simple, but it works if you have enabled Google backup before.
Step 1: Go to Settings.
Step 2: On different Android devices, you will find the backup option under different fields. It could be inside the system or system management.
Step 3: Tap Backup & Reset or any other similar option.
Step 4: Tap Restore data. Now, you will see the option to recover from Google backup. If there is any other cloud option, such as vivoCloud, you can also use it.
If you have never created a Google backup, you can try other methods.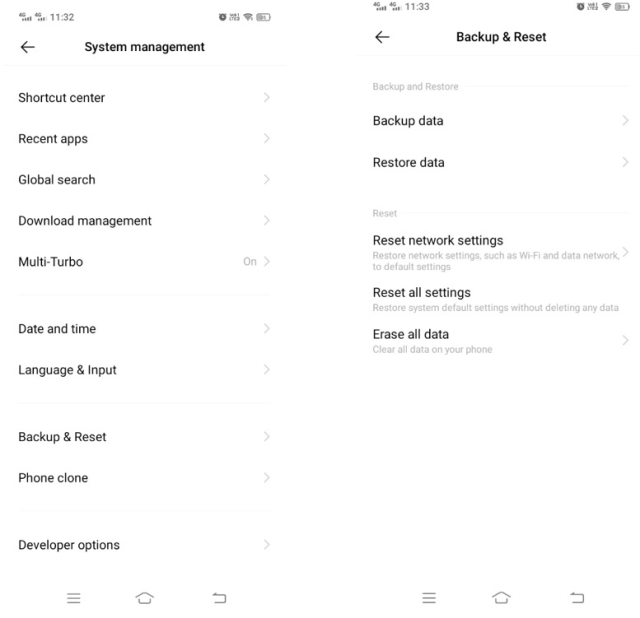 How to Recover Deleted Files on Android
Commonly, there are three methods used to recover deleted files on Android. Let's see these methods in detail.
Way 1: Recovery from Recycle Bin
You might accidentally delete a file from your Android device. It usually happens, but fortunately, there is a Recycle Bin folder where the deleted files land. You can use it to recover deleted files on Android. In most cases, the files in the Recycle Bin stay for 30 days, and after that, they are deleted automatically.
Step 1: On your Android device, go to File Manager.
Step 2: You will see the Recycle Bin option there. Otherwise, click on the three-dot menu icon. Click on Recycle Bin.
Step 3: Select the file that you want to restore and tap on the Restore button. The files will be restored to the original location.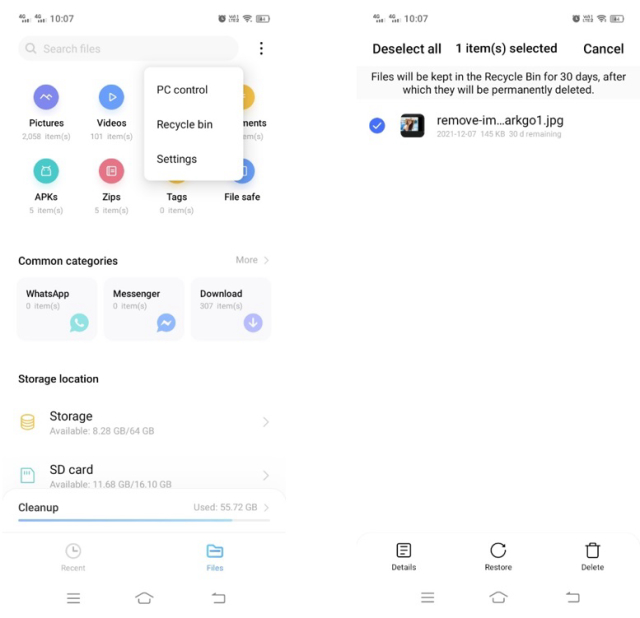 Way 2: Recovery Through Data Recovery App
Again, if you have not turned on Google Backup beforehand, you can choose to use a data recovery app. Since it supports the recovery of many types of data, restoring files is naturally a piece of cake. Install the app on your computer, connect your device, and you can start recovering.
However, as we have discussed, this method is flawed in many ways. If you don't want to lose your files, or when you do lose them and want to recover them with the slightest bit of efforts, it is always a good idea to back up files on Android when possible, whether on Google or other cloud storage. Rule of thumb: always better to back up in advance than to recover after loss.
Way 3: Use Cloud Storage to Restore Apps and Data
The most reliable and preferred option to backup and restore android apps and data is cloud storage. It allows you to create a backup of all your data and apps. You can back up the data of multiple devices in a cloud and restore it whenever needed.
Cloud storage is a reliable option because your data remains safe. It is protected by advanced encryption techniques and safety measures. The data can be uploaded from anywhere and can be restored without any hassle.
If you want to ensure reliability, you can use the automatic backup option. It will sync your data and upload it to the cloud automatically. So, your data is never lost, even if it stops working.
Sure, Google backup seem to be the easiest way to backup and recover deleted files on Android, yet it is not without flaws. In one of our reviews, we have inspected Google Drive as a document management system, where we found that it is not as robust and only offers limited storage of 15 GB. Therefore, a better cloud backup solution in needed to make sure you can backup and recover all your important files smoothly.
Why Should You Backup and Restore Android Apps and Data with TeraBox?
TeraBox is such a commendable cloud storage service that you can use to create a backup of your Android data. It offers you 1 TB of free storage space, which can also be increased up to 3TB. You can store almost anything you like because there is enough storage.
The features and services of TeraBox make it extraordinary cloud storage and an ideal option to back up and restore Android apps and data.
TeraBox has massive free storage where you can store almost anything. All your images, videos, documents, and other files are properly organized. You do not need to worry about the data once it is uploaded to TeraBox. It also has a Recycle Bin from where you can recover deleted files on Android or any other device.
The auto-backup feature of TeraBox is exceptional. You can select a folder for the backup, and the data will be uploaded automatically to the drive. It syncs your files in real-time, so whatever changes you have made will be uploaded.
You can back up data from multiple devices. The data of your computer and smartphone can be uploaded to the drive. That means you can also backup Android phone to computer. There are applications for Android, iOS, Windows, and Mac. Thus, you can easily upload and recover deleted files on Android or any device.
File sharing also becomes easier with TeraBox. It allows you to transfer large files up to 20GB. Secondly, you can control the shared files through the password and expiration period of the link.
You may ask, "Is TeraBox safe?" TeraBox ensures data protection and privacy. The data is encrypted at the customers' end, so there is no chance of data leakage or any other issue. It is protected via advanced encryption techniques, authentication methods, verification, etc. There is also a dedicated team that takes care of cloud storage security.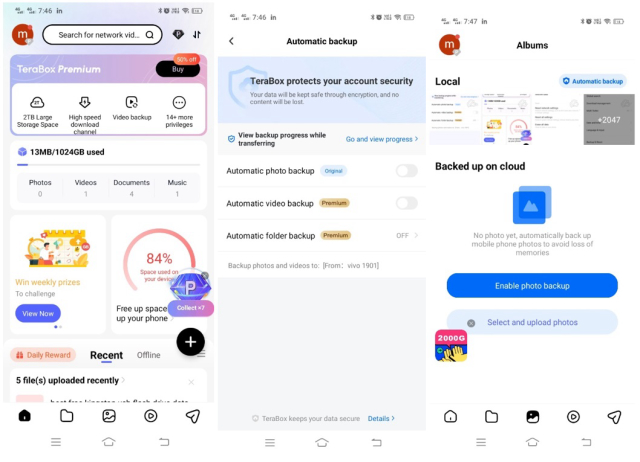 Final Thoughts
Backup and restore android apps and data is very important for the safety and security of important data. If you do not want to lose it, you must create backups regularly. We have discussed how you can restore your deleted contacts, files, and other data on your device through various methods. All these methods have some prerequisites and conditions to work. You can try these to restore your data.
The best and most reliable way to create a backup is cloud storage. It helps you create as many backups as you like, and you can easily restore lost data whenever you want. TeraBox is an exceptional cloud service that offers 1TB of free storage space. You can use this free space and create a backup of your device. It offers auto-backup and can create multiple backup devices at a time. You get tons of extraordinary features without paying a penny, and it becomes a savior when you lose data. Download TeraBox APK for free, sign up for a new account, and create a backup regularly.