Has it ever happen to you: when scrolling through Insta, you came across videos you like, but then you realize you don't know how to download Instagram videos.
People like to save those videos on your mobile for various purposes. You might want to send it to someone, edit it and make it better, or use it in your content. The problem is that Instagram does not allow you to download videos. This is because Instagram protects the intellectual property rights of content creators. Some people repost the content of the creator without any permission or giving credit, which is unethical.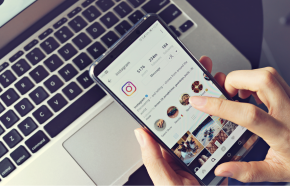 But not everyone's intention is to steal the content, so people need to know how to download Instagram videos. In this article, we will explain how you can download Instagram videos in various ways. We will share how you can use our free cloud storage, TeraBox, to download Instagram videos.
Can I Save Videos and Reels from Instagram?
Due to the evolution of Instagram, we have seen various changes in the past years. Instagram now has Reels and Videos, which are different in various aspects.
A reel is basically a short-form video, just like you see on TikTok. The video length can be from 15 seconds to 60 seconds, not more than that. Therefore, a reel is most likely to represent a short idea, summary, or trailer.
On the other hand, Instagram videos are long-form videos that can be up to 60 minutes long. If you have been using Instagram for several years, you might know about IGTV, which is a special platform for longer videos than regular Instagram feed videos. But now, IGTV and Instagram feed videos are merged, and they are known as Instagram videos that can be 15 seconds to 60 minutes longer.
There are other differences between reels and videos. For instance, reels have better discoverability because they are not dependent on following. They also have more editing features, such as filters, audio, sound, etc. In contrast, the Instagram video is shown to the followers.
You can save Instagram videos and reels in Instagram's Saved section. The option is available on Instagram. But if you want to download the videos to your device, there is no direct way to do that. However, there are various techniques to do that, and we will discuss them in the next part. The videos can be downloaded on Android, iOS, and computers.
3 Simple Ways to Save Videos from Instagram
There are three simple ways to save or download Instagram videos. You can pick any of the suitable methods that you like. All of them have their pros and cons that we will discuss.
Way 1: Mark Videos as Saved
The quickest way to save videos to the camera roll or Instagram's Save section is by using Instagram's native save options.
For that, you need to open the video or reel. You will see the three dots icon on the video. Tap it, and you will have various options. Tap on Save.
To see those saved videos, you need to tap the profile icon at the bottom right corner of the screen. Tap the hamburger icon at the top right corner. Tap Saved.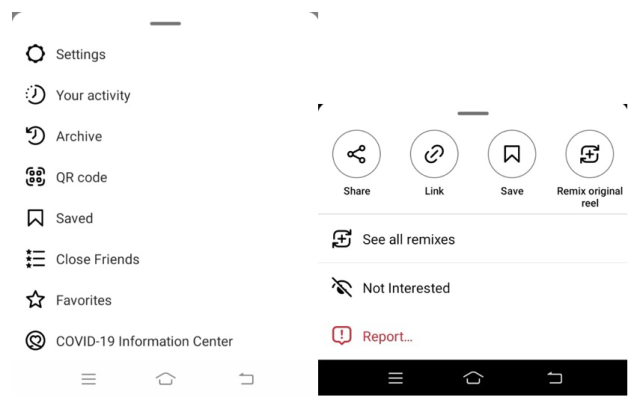 However, it should be noted that with this method, you can only save the video to your collection; you are not actually downloading the Instagram video to your smartphone's album.
Way 2: Record Screen
The second option is to record the screen. You can use you phone's native screen recording function, or there are various screen recording application, which are available on Play Store and App Store.
After installing the application, turn on the recording and then play the video or reel. Once the video is over, stop the recording.
In this way, you can save and find the video in your cell phone's storage. However, the problem with screen recording is that you need to use a video editor to cut the desired part of the recording.
Way 3: Download TikTok Videos with an App
The best way to download Instagram videos is by using a video downloader. It downloads the video directly from Instagram and saves it to your device. It does not need further editing, and there are no Instagram icons and watermarks.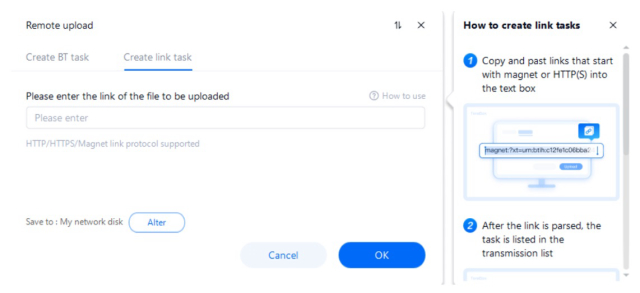 With most of these video downloaders, you only need to copy the Instagram video link, and paste it into the app. First of all, you can get the link by tapping the three dots icon on the video. Tap Link, and the link will be copied to the clipboard. Now, you need to paste it into the video downloader tool or software.
You can use any Instagram download video app available on Play Store and App Store. Moreover, there are dozens of online tools as well that can help you download the videos directly. However, the best way is to use a cloud storage service, such as TeraBox.
Cloud storage is preferred because it can easily download the video in high quality, and then it allows you space to store that video. You can store the video in the cloud, and then playing and sharing becomes a lot easier. Some cloud storage services like TeraBox also have a built-in video player that can play your videos directly on the cloud without downloading them to your computer.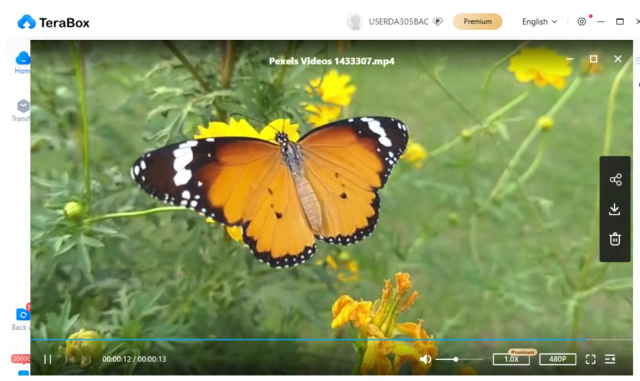 Best App for Downloading Instagram Videos
As mentioned, TeraBox is a perfect option for downloading Instagram videos. It offers every feature you are looking for.
The best thing about TeraBox is the free storage space. It offers 1 TB of storage for free, which is incredible, and you can store up to 51,200 one-minute videos in this storage.
It also has a built-in video player that can play the videos stored in the cloud. The videos are played directly in high resolutions, and there is no need to download the videos. That is to say, you can save tons of Instagram videos and others in the TeraBox cloud and watch them whenever you want without sacrificing the computer or smartphone storage.
TeraBox also allows users to easily send large files to anyone, which is perfect  if you want to share Instagram videos, for you can share the link easily. It is completely secure and exceptional cloud storage that offers you a lot for free.
As a matter of fact, you can use TeraBox to download videos not only from Instagram, but from a wide variety of social media platforms. For instance, it is no problem to download videos from Facebook using TeraBox.
But for the moment, let's focus on the steps to download Instagram videos with TeraBox.
Step 1: First, open Instagram and open the video you want to download.
Step 2: Tap on the three dots icon and tap Link.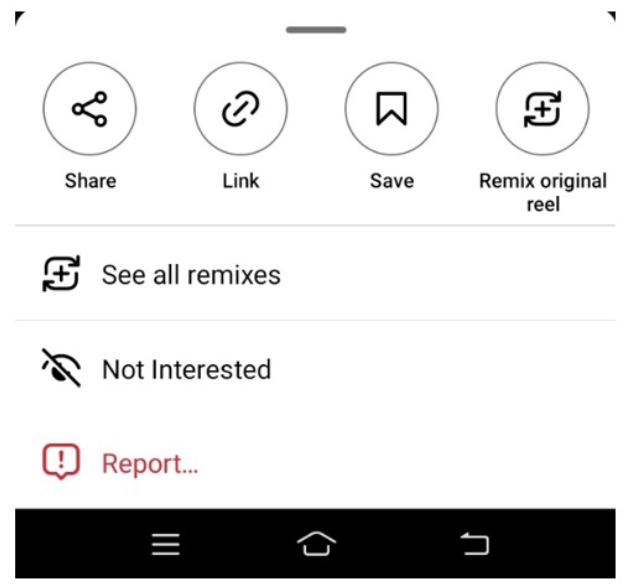 Step 3: Now, open TeraBox. If you have not downloaded it yet, download it from the official website.
Step 4: TeraBox offers you an option to create an account. Click on it and create an account using email, Facebook, Google, Apple, or phone number.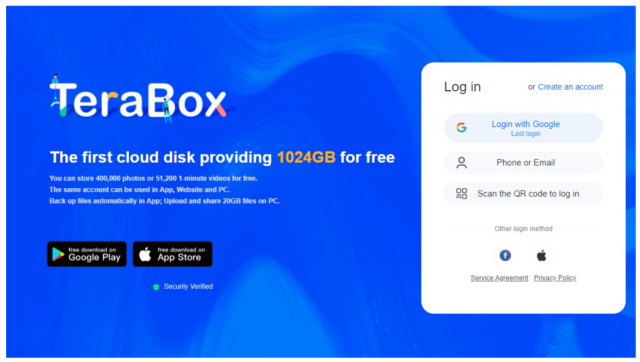 Step 5: Once you log in to your account, click on Remote Upload. Click on Create Link Task. Paste the video link here and click on OK.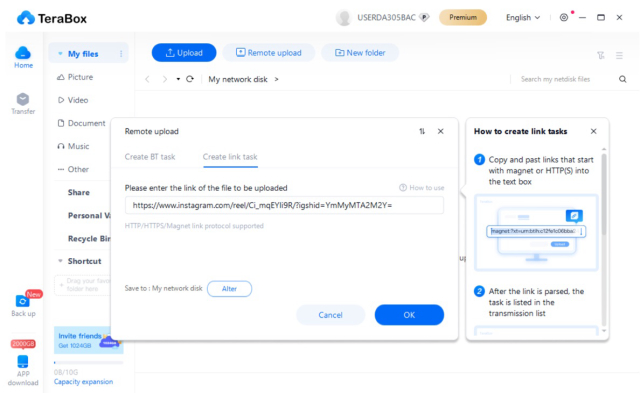 Step 6: TeraBox will automatically detect the video. It will start uploading. Once it is complete, you will see the successful upload message.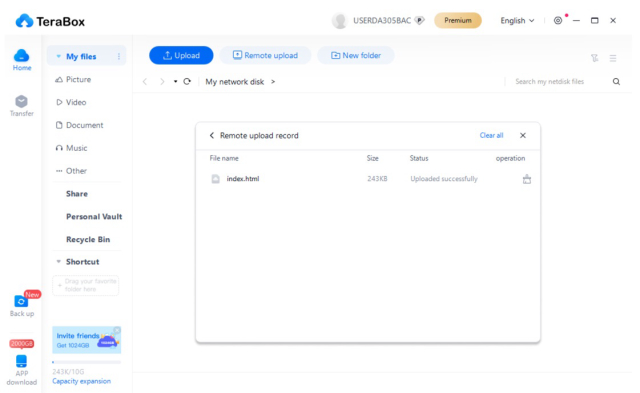 Final Thoughts
Sometimes, we like some Instagram videos we come across, and we prefer to download them and save them on our devices. But Instagram does not allow you or give you the option to do so. It only permits you to save the video in the Saved section. If you still want to download the video, you can do it in various ways. You can either use the screen recorder or a video download application. Both these methods can work, and you can pick the suitable one.
The best way to download an Instagram video is by using TeraBox. It is cloud storage that offers you the option of remote upload through which you can save the video directly to the cloud. You can also download it to your device from the cloud if you want. Secondly, it offers a massive storage space of 1 TB for free, which is more than enough to save a lot of videos. You also get a video player that can directly play the videos stored in the cloud. In all aspects, TeraBox is an excellent choice if you want to download Instagram videos. Download TeraBox today and enjoy downloading Instagram videos and massive storage for free.