As the world's largest free cloud storage, TeraBox has every solution for your needs. From the day it was developed, TeraBox has made the user experience its top priority. Known for low-cost combined great services, TeraBox has attracted an increasing number of new "TeraBoxers" from all over the world. Don't swipe it away, a wonderful quick start guide to the best free cloud space solution is waiting for you to read!
How to sign up for TeraBox?
First, you need to download from TeraBox Official Website. After installing the application, you are immediately entitled to 1 terabyte of free cloud space. To activate it, you have to login to your account. From your phone number and e-mail address to your Google and Facebook account and your Apple ID, you can easily register for it without great effort. After 2 steps of simple operations, you'll be able to own your free 1024GB of cloud memory with remarkable features.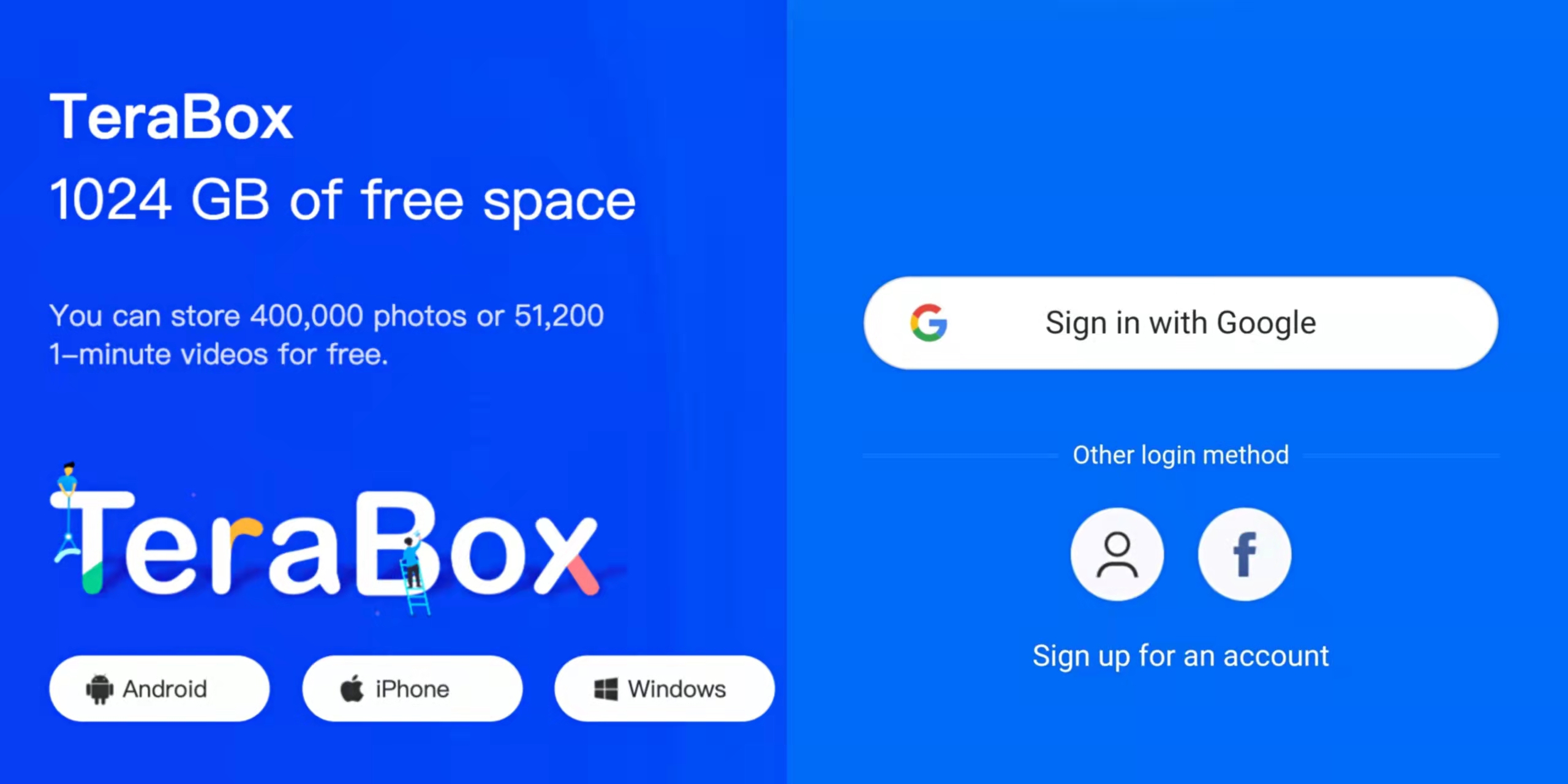 How to back up my photos automatically?
There are 5 columns at the bottom of the app, and they are Home, Files, Albums, Videos, and Share. In the second one, you can upload any kind of file to your TeraBox cloud space and view it even when there is no network service. If you find it troublesome, you can use the automatic photo backup function by turning the mode on. Also, TeraBox helps you to organize photos with intelligent classification and enables you to preview your pictures and playback the videos. There is no need for you to worry about the safety of your files and cherished moments, TeraBox employs the best-class encryption technology and adopts the highest-level security protocols to safeguard everything you store in it.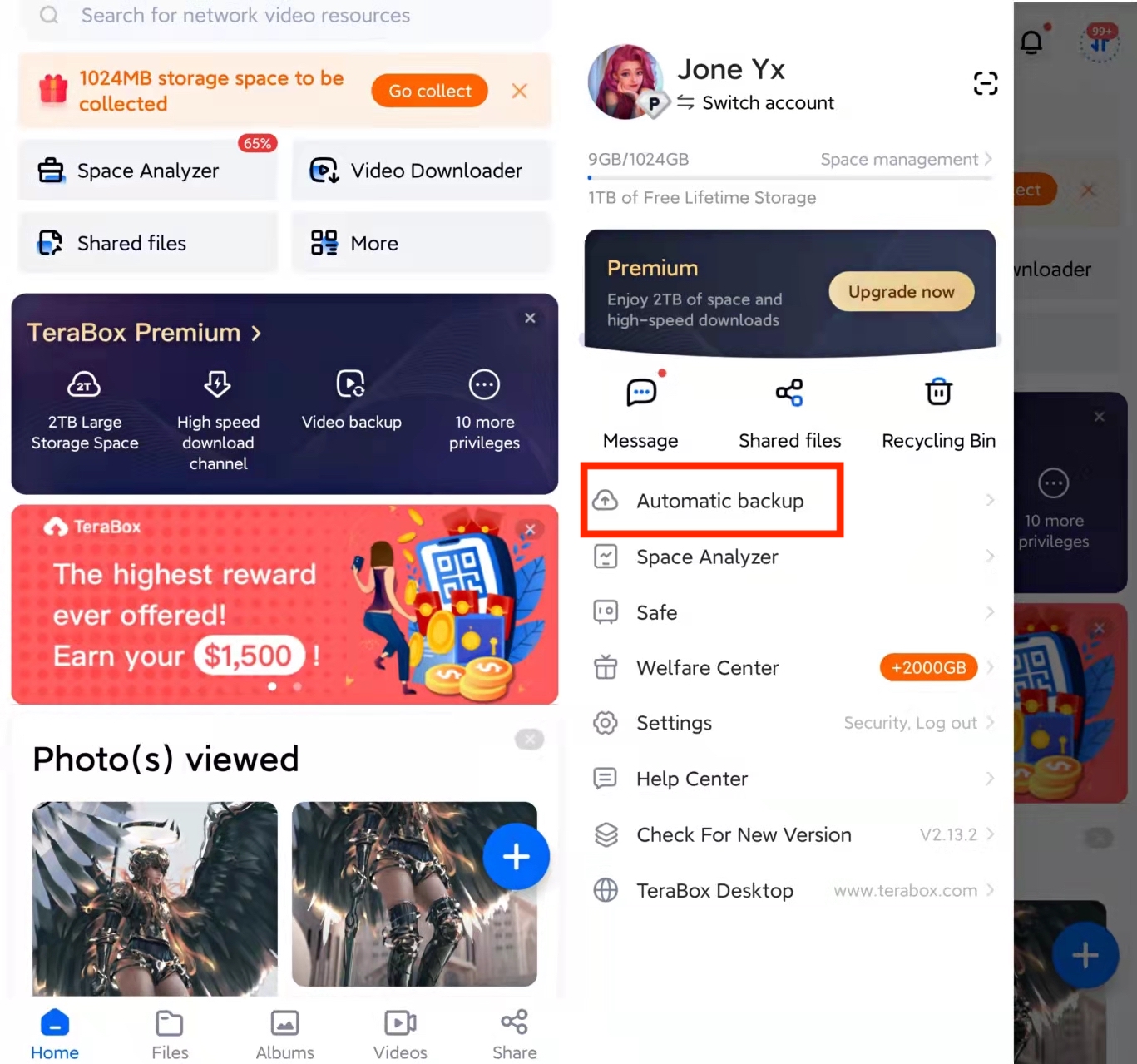 How to achieve remote upload through TeraBox?
In daily lives, there are many occasions when you have to process some important files with no personal laptop or work computer by your side or want to try out some freshly released video games only to find out no memory space is left. Now, you don't have to worry about it anymore. With TeraBox, you can upload types of files to it and download various applications, advanced video games, and diverse movies from the Internet through a great variety of download links, ranging from magnet ones to HTTPS ones. Everything you have uploaded to your TeraBox can be viewed and downloaded from all devices anytime and anywhere.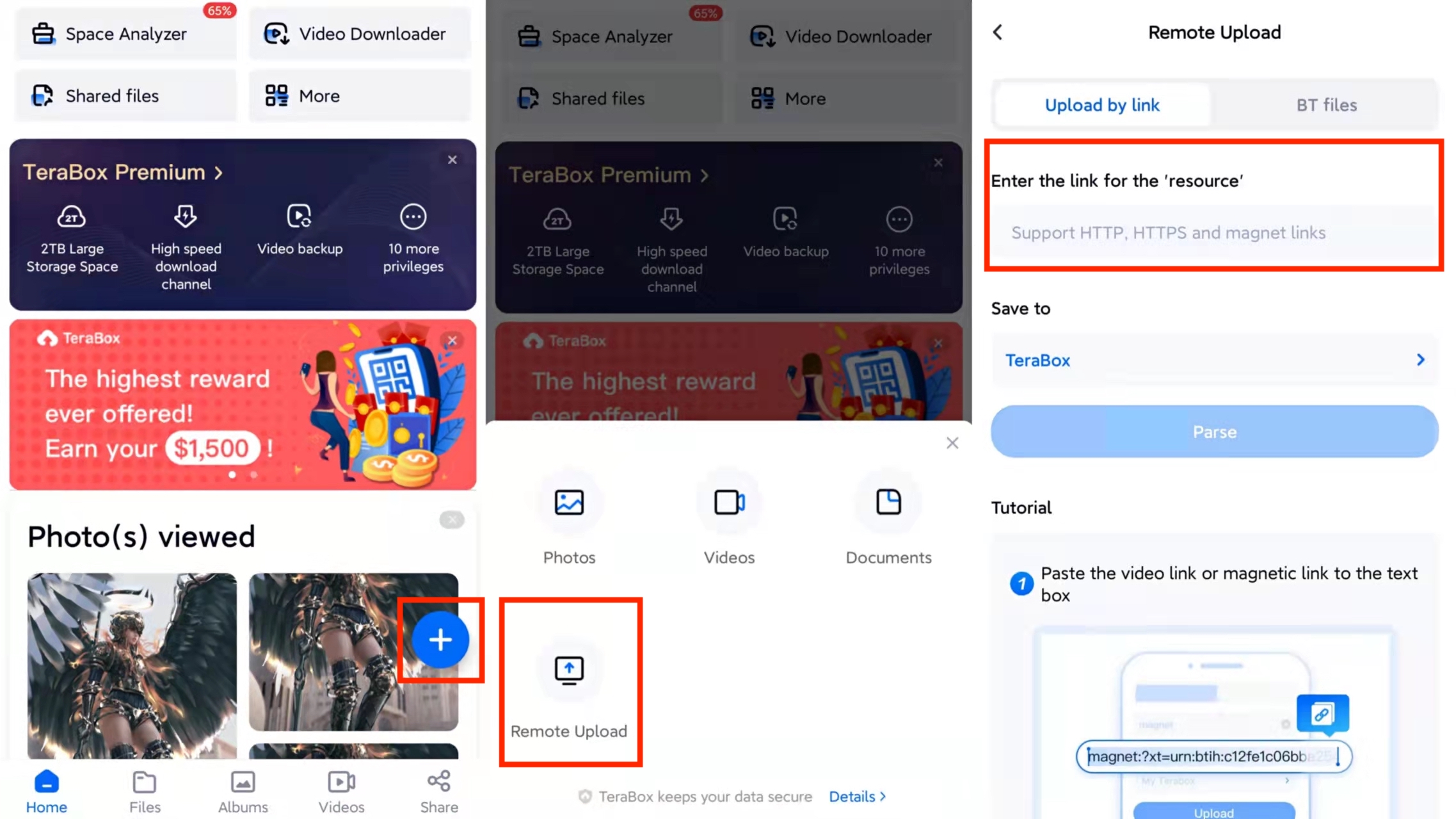 How to transmit my large files through TeraBox?
No one would deny that speed is everything for large file transmission. As a registered user for TeraBox, you can upload large files with a quick tap of the "+" at the bottom half of the second Files column. The max file size for uploading can be up to 4GB (20GB for Premium users) of documents at one time, and TeraBox also makes it possible even when it's offline. Each file you have stored in TeraBox is synchronized on every device. Furthermore, TeraBox can save you from losing your way among millions of files. Each time you need to find a designated file, you can search it by its name or keywords related to it in your TeraBox.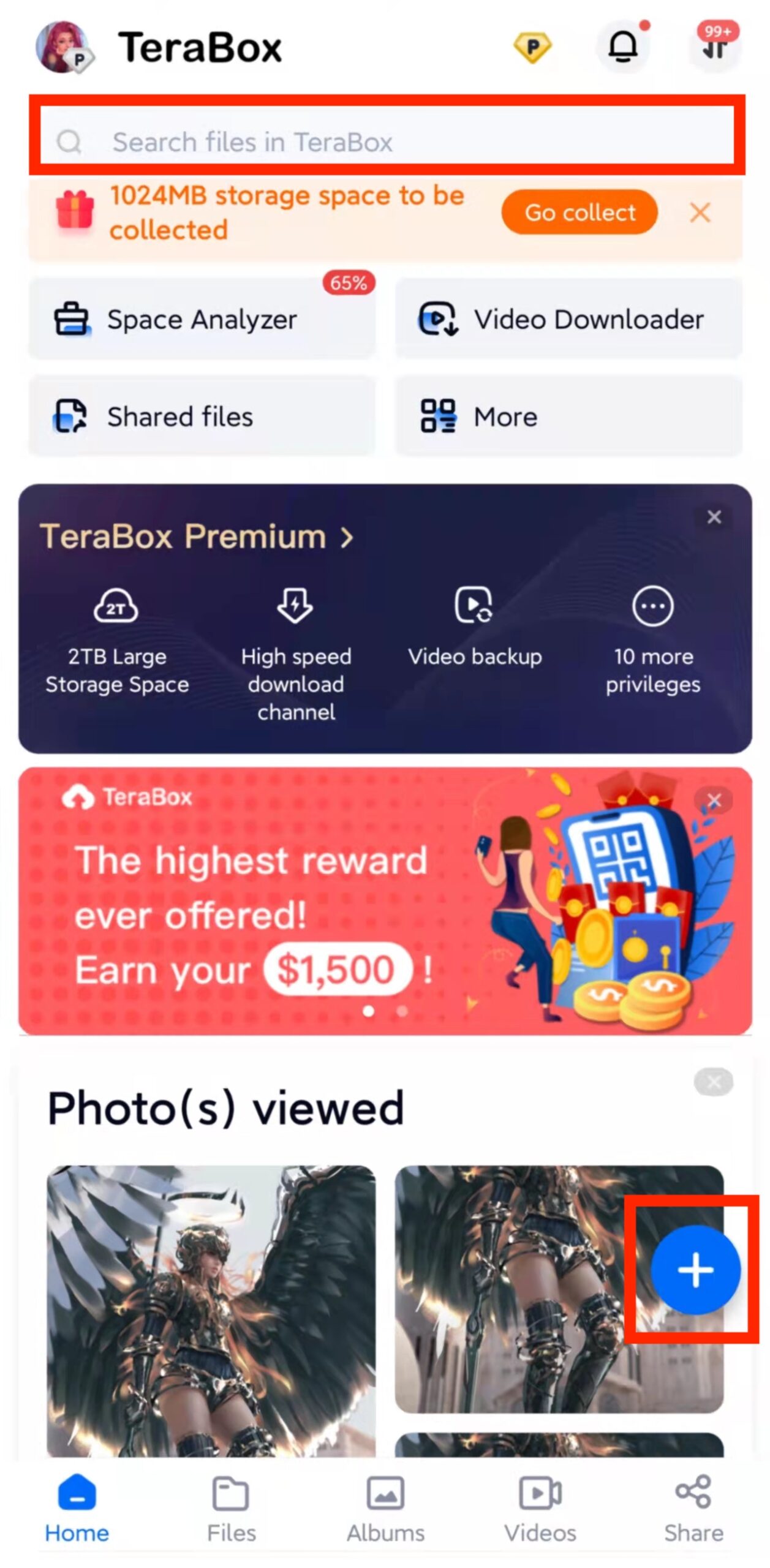 How to share my files and pictures with my friends?
If you want to share files or treasured moments with your colleagues or friends in a secure and easy way, TeraBox is your safest ideal choice! It enables you to create your own share link for your files or pictures with a special password and expiring date, and it's even possible for sharing the ultra-large ones. TeraBox makes you feel assured that everything you store and share is encrypted so that no crawlers or hackers or anyone you don't want to share can access your files or share links. Everyone you share the link with must put in an extraction code in the right way before accessing the files in it.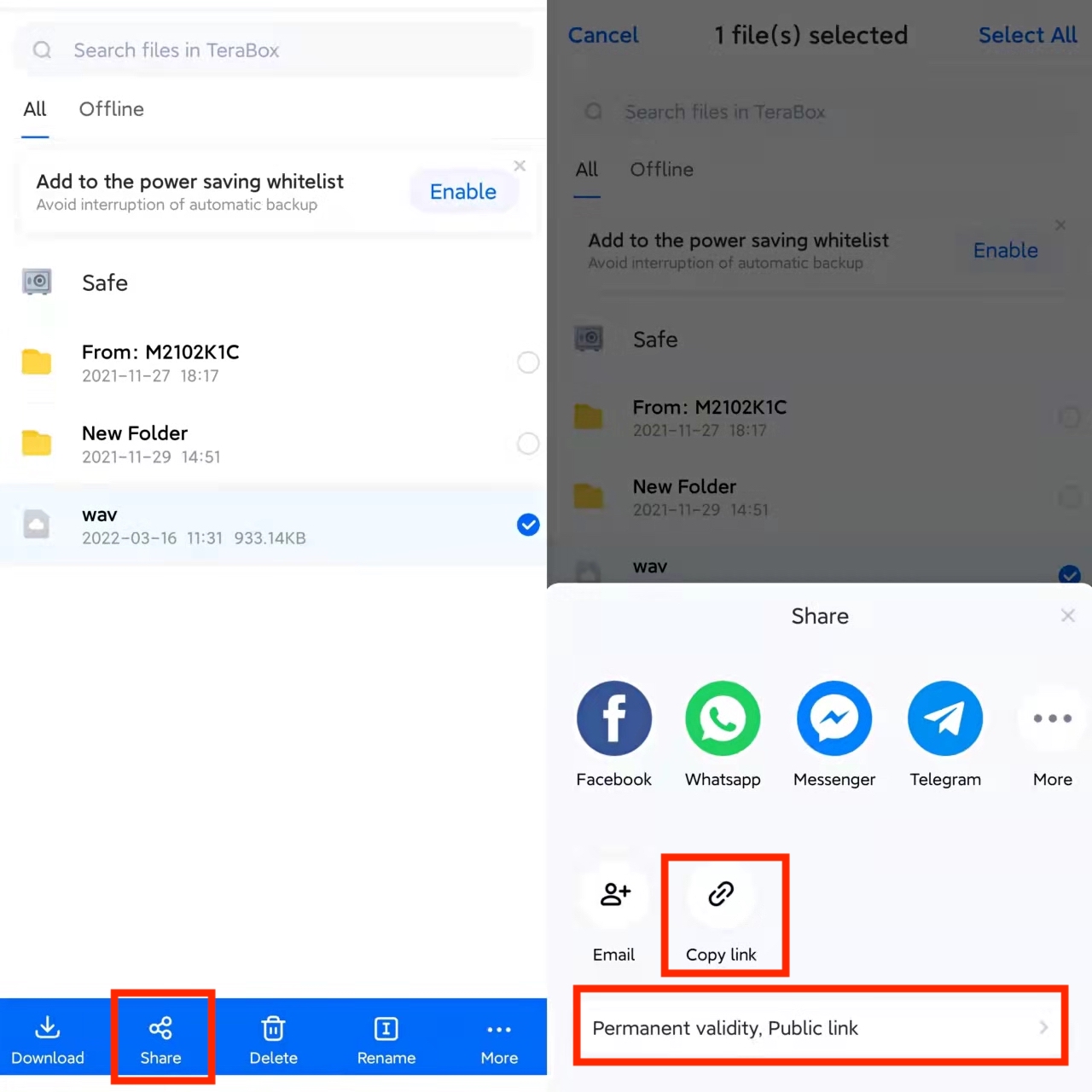 More features for your different needs!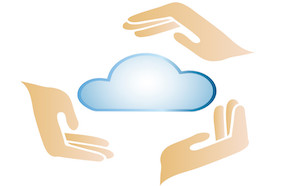 Space analyzer — analyzing and categorizing your cellphone storage and clearing all the junk files with a round button above.
Video downloader — saving the video you like on the Internet to TeraBox, whether it is a TikTok one or Facebook or Instagram one.
Safe — safeguarding your sensitive or confidential data with four-digit password verification.
Recycling bin — organizing and retrieving your recently deleted files within 10 days.
No more waiting, download TeraBox and count your blessings!