If you're an iPhone user, you'd have wanted to transfer iPhone data to a PC to clear up some space on your device or get it done before resetting the device.
Many people tend to transfer iPhone data to PC via iTunes as it might be the easiest way to do it. But are there any other ways to transfer data?
This article will talk about other options that can help you transfer files from iPhone to PC.
How to transfer files from iPhone to pc without iTunes?
If you want to transfer iPhone data to a PC without iTunes, we'll show the three best ways to put things in order.
Method 1: Transfer Files via Cable
Step 1: After running your Windows PC, you'll need to connect your iPhone device to your PC.
Step 2: You'll need to navigate the iPhone notification panel and select the "Portable Device" icon from there. Next, you need to select the files you'd like to share.
Step 3: Once the PC detects your iPhone, you'll need to copy the files from your iPhone devices and then paste those files into your computer's hard disk.
Method 2: Transferring files via iCloud
When connected to a WiFi network, iCloud tends to create the back of your iPhone files regularly. Hence, you can access the iPhone data on your PC via iCloud Drive and iCloud.
Step 1: After launching iPhone settings, you'll need to enter your Apple ID credentials and tap iCloud. Now, all you need to do is enable the iCloud Backup option.
Step 2: In this phase, you'll only need to install the iCloud app on your app before logging in with your iCloud account.
Step 3: Now, you'll need to select the files you'd like to transfer from iPhone to PC and then hit " Apply" to get it done.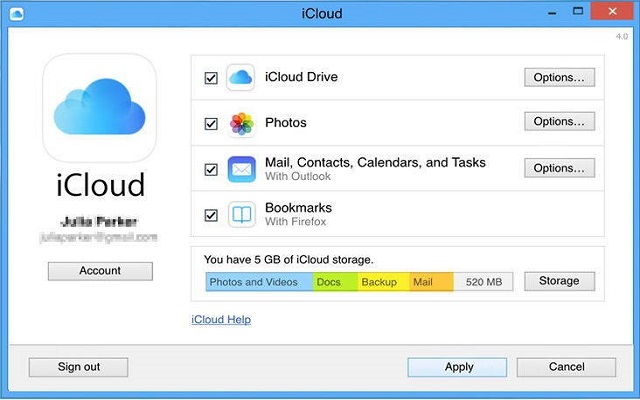 Method 3: Use TeraBox Cloud Storage
The ways of transferring files from iPhone to PC are reliable. Still, TeraBox cloud storage sets apart both methods fairly easily. Using a cable to transfer can take a lot of your time, and you can only store at most 5GB files in iCloud storage. Meanwhile, as the best file transfer device, TeraBox allows you to store 1024GB of files with rapid speed for free. On top of that, TeraBox is a completely credible tool, and you won't have to worry about the integrity of data courtesy of the unbelievable protection.
Step 1: Launch TeraBox and Select the Files on Your iPhone
Download and install TeraBox on your iPhone and PC or try out the website version. Then launch the application and sign up with your social media accounts/email address/phone number. Next up, you'll need to tap the "+" icon on the bottom of the home page and select the photos or videos or any kind of files you'd like to upload.
Step 2: Access the Files from PC and Enjoy other Brilliant Features
After uploading the files, you can access them on your PC with the same account you've logged in with your iPhone. It's up to you whether you want to store it in the cloud or download it on your personal computers. Also, there are multiple salient features like high-speed file transmission, remote URL upload, and auto backup waiting for you to activate!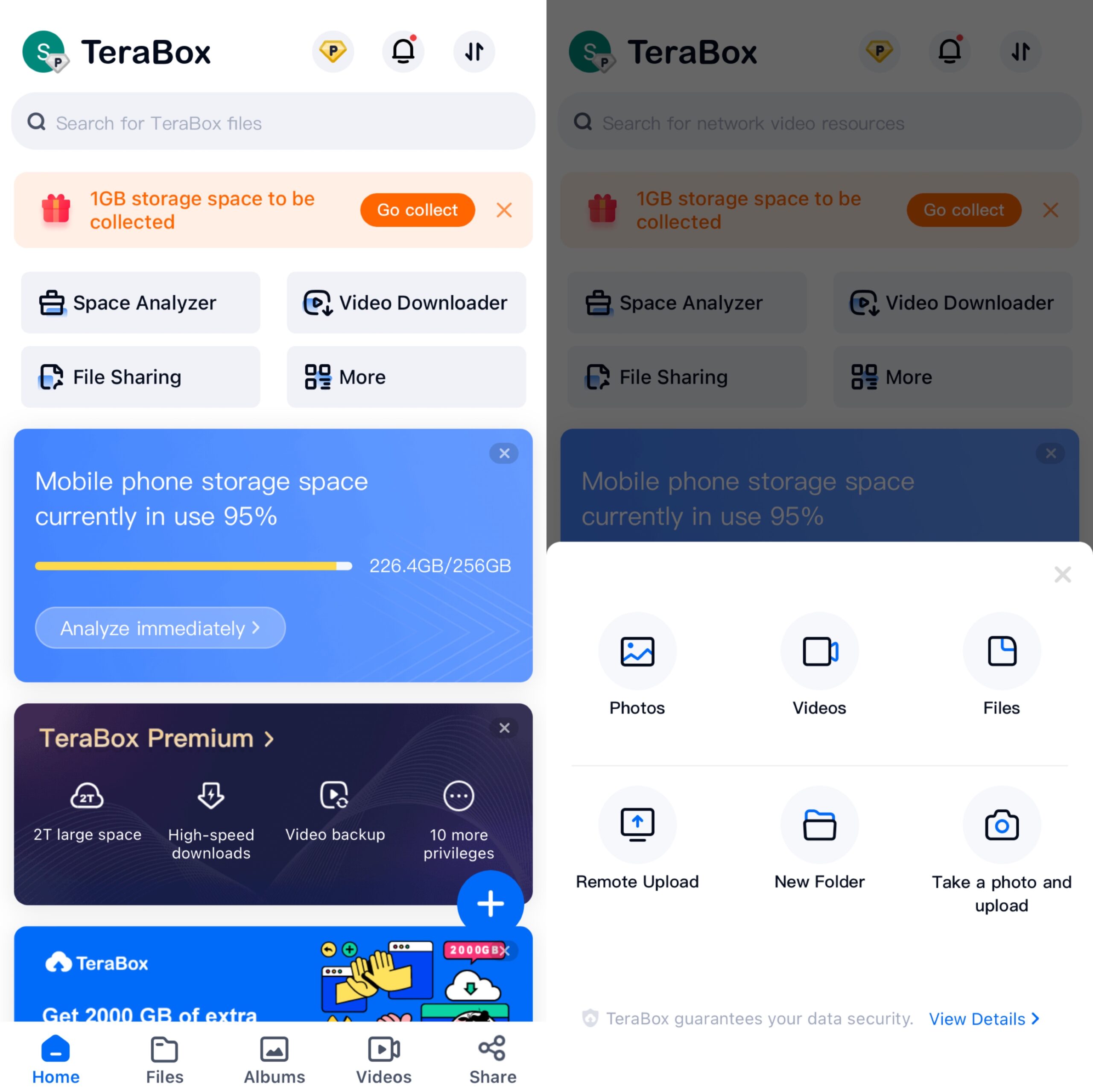 What Is the Fastest Way to Transfer Files?
Although there are many ways to transfer files from one mobile device to another, TeraBox is undoubtedly the fastest way to do big file transfer, and it comes with brilliant features.
TeraBox enables you to store 1024GB of data for free, equal to about 6.5 million document pages, 400,000 photos, and 2500+ movies. You can also upload 4 GB (20GB for the premium version) of data in one go.
Using TeraBox, you can also log in with the account on multiple devices. It means when you tend to store files on a mobile device, if you've signed in with the same account on a PC, you'll also be able to find the files on a PC.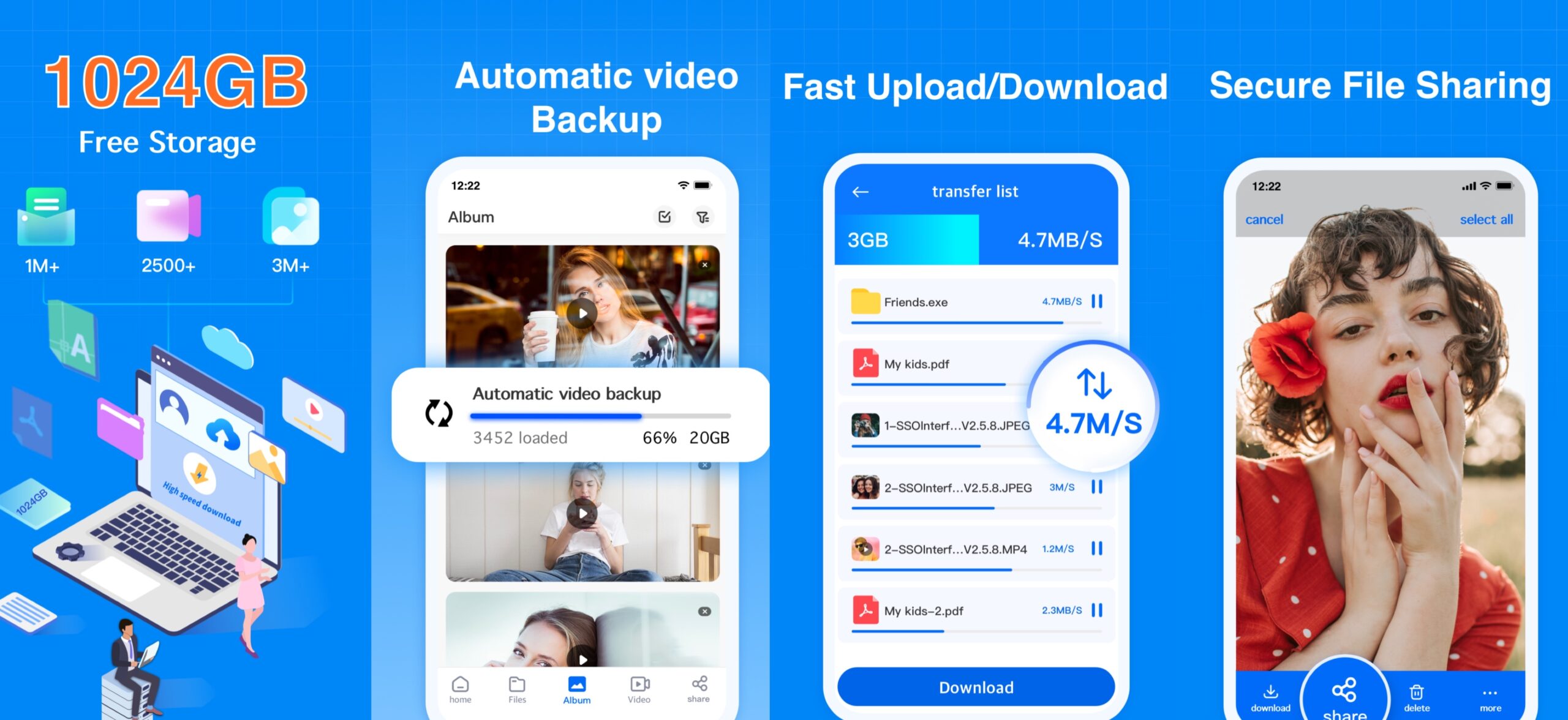 Of course, you can share files to another Android device via Google backup if you're using Android, but normally these methods won't allow you to share large files. Hence, it would help if you went for TeraBox, which lets you transfer 4 GB files for free and 20 GB at affordable rates. Meanwhile, you can also share large files with your friends or business partner through a secure share link protected by a four-number code.
Using TeraBox, you'll need to launch TeraBox on your mobile and then upload the desired files after logging in with your account. Next up, you'll need to create the link to the uploaded files, and then you can paste that link into another mobile device to access the data.
Final Thoughts
Transferring iPhone files with a PC without iTunes is fairly easy, as we've mentioned the top three methods to get it done.
Of all the solutions we've explored here in this blog, TeraBox is the best option. TeraBox enables you to transfer large files with minimal effort, apart from being comparatively fast. Hence, we highly recommend you to sign up for TeraBox and enjoy a flawless experience!