Large file transfer has always been an issue for every user. However, TeraBox, a cloud space application with powerful file transfer capabilities, provides the best solution to this common problem. With this app, users can upload files to TeraBox and then share them with anyone, regardless of the file size. For this reason, this tool is undoubtedly the best file management system of 2022.
TeraBox – What Is It
TeraBox is a cloud storage service application with a powerful file transfer system. The app offers you 1024GB of free cloud memory space so that you can upload any file you don't want to lose. The 1TB of free cloud service can fit more than 400,000 photos, 2,500 movies, and 6.5 million documents. For this reason, more than 20 million users have already downloaded TeraBox. Furthermore, free users can transfer files up to 4GB, and TeraBox Premium can transfer files up to 20GB.
So how do I transfer large files through TeraBox?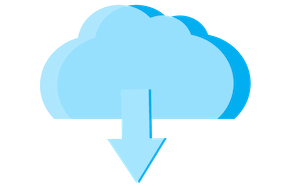 How to Transfer Large Files via TeraBox
#1 Big File Transfer Through the App
If you use TeraBox for file transfer, you won't want to use another application because TeraBox file transfer is so easy to use. Just a few simple steps:
Download the app from the TeraBox official website.
After the download is complete, open the app and click the "+" sign on the home page to select the file type to upload the file.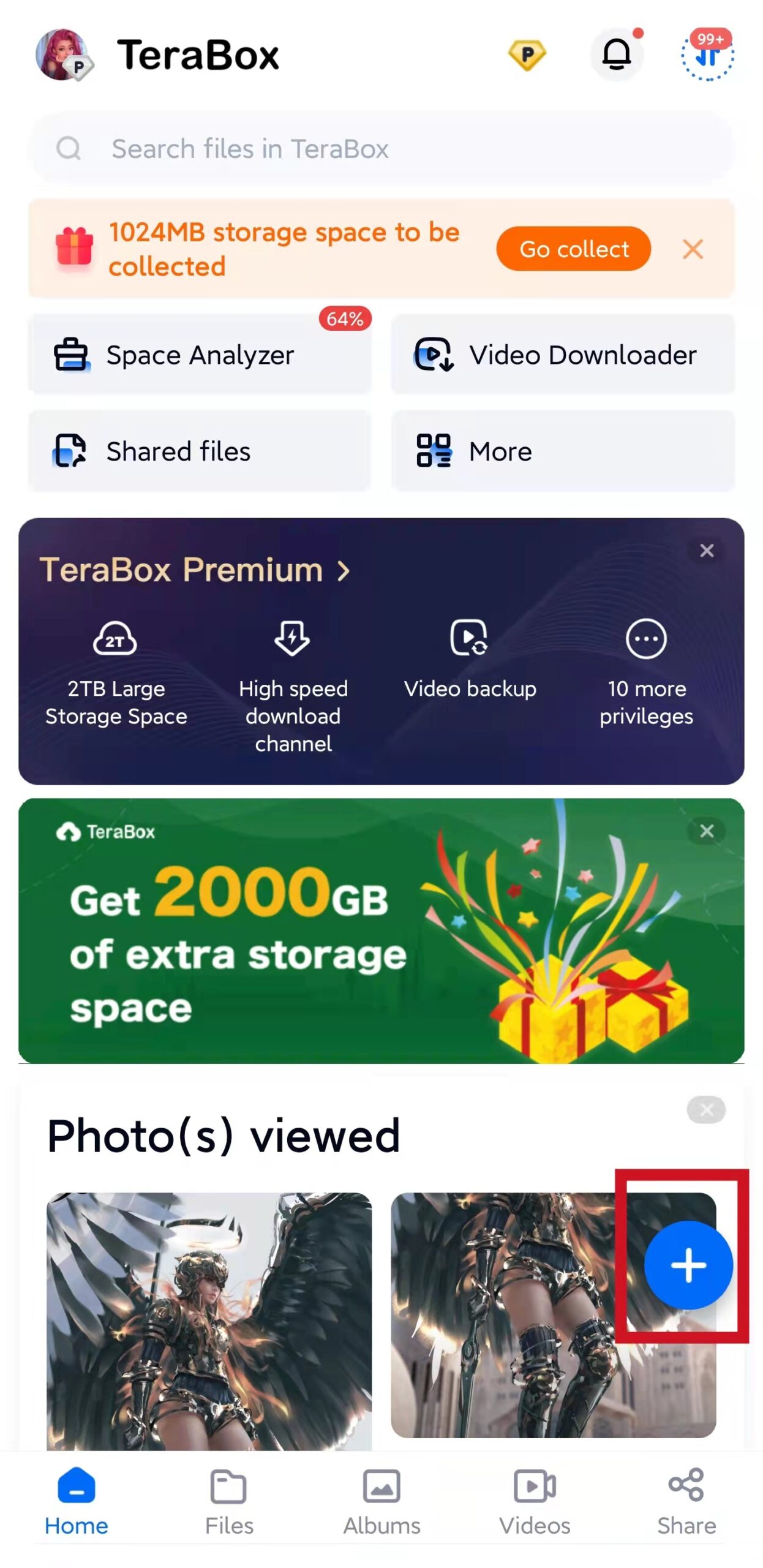 3.Then you can click on the upper right corner of the page to enter the transfer list and view the files you uploaded.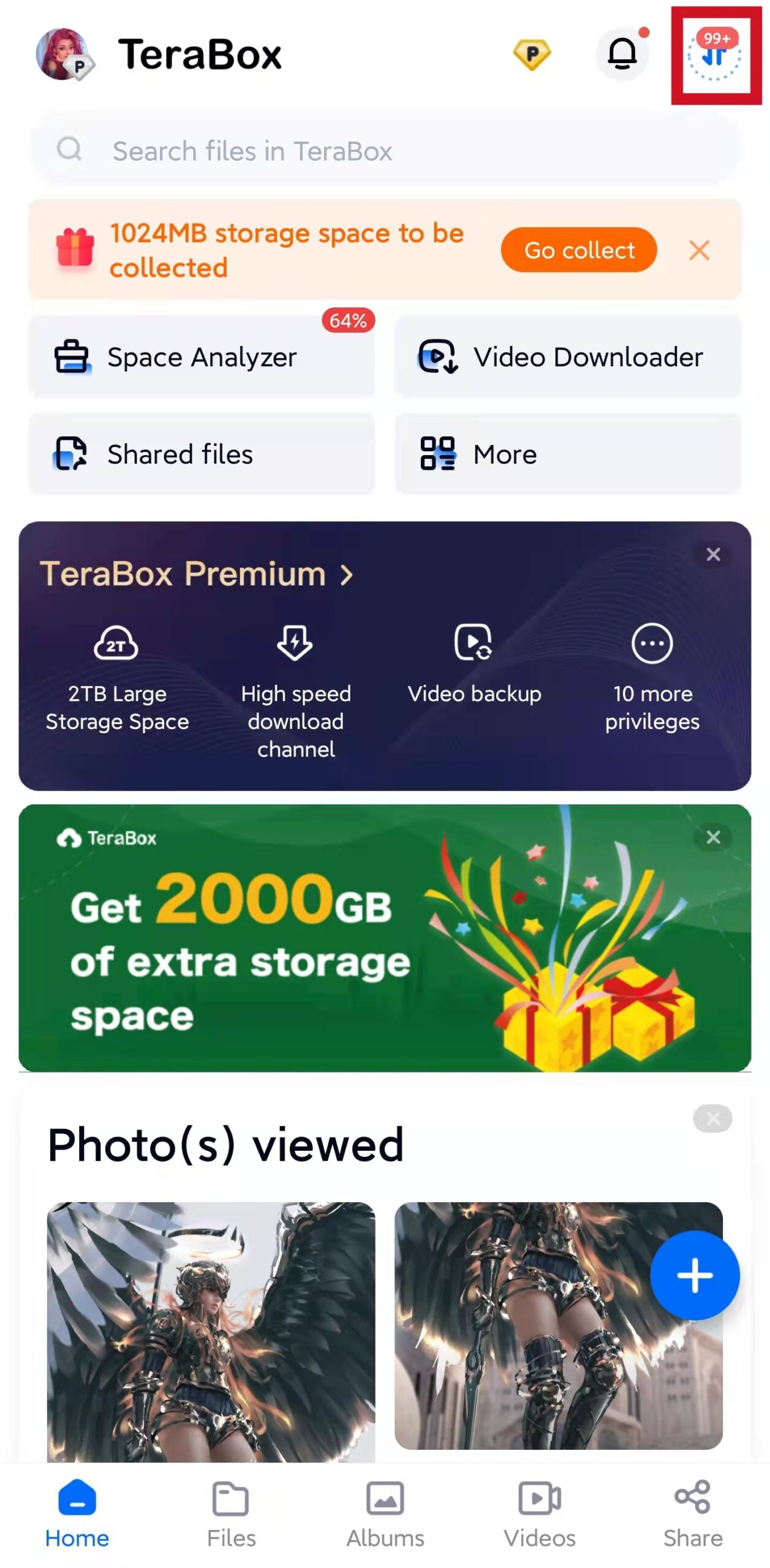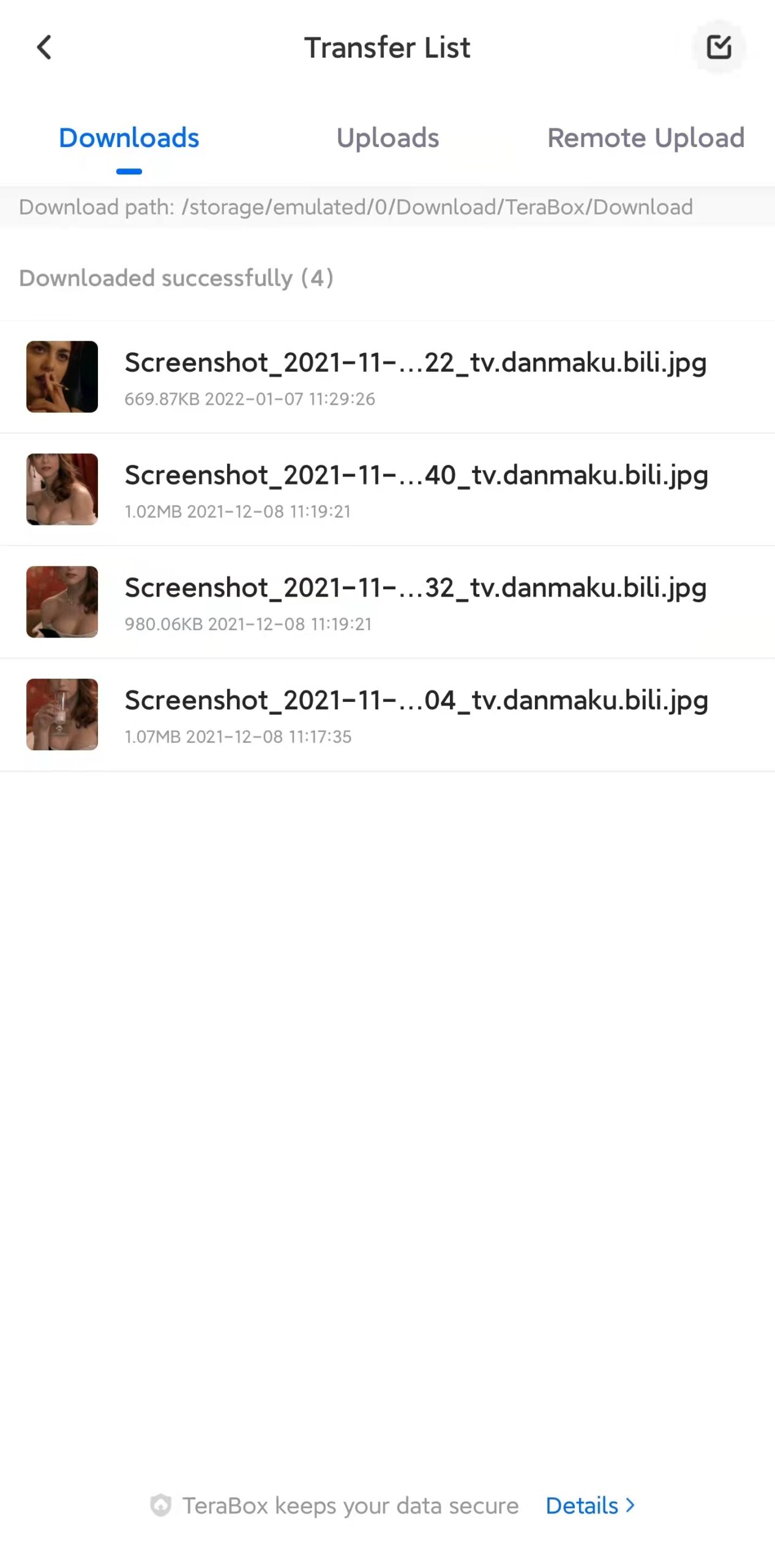 4.If you want to download files from the cloud to your phone, it is also very simple. Find the file you want to download from the app, check it and click "Download" to start downloading. The downloaded file can also be found in the transfer list.
With TeraBox Web, the number of files you can download simultaneously is limited by your browser, and you can download up to 300 files simultaneously. But if you have the TeraBox app installed, you will not be limited by this.
The powerful file transfer function also supports remote url uploading of files, as long as there is a link to it, it can be directly saved to TeraBox from the Internet.
#2 File Transfer Through Remote Upload
Apart from the above method, TeraBox also has the Remote Upload feature, with which you can upload files directly from the Internet. Moreover, you can generate .torrent files to send to anyone, making the large file transfer easier than ever before.
The steps for using remote upload are the following:
01.Download and install TeraBox to your device.
02.On the main screen, tap more, then find the "Remote Upload" button and click it.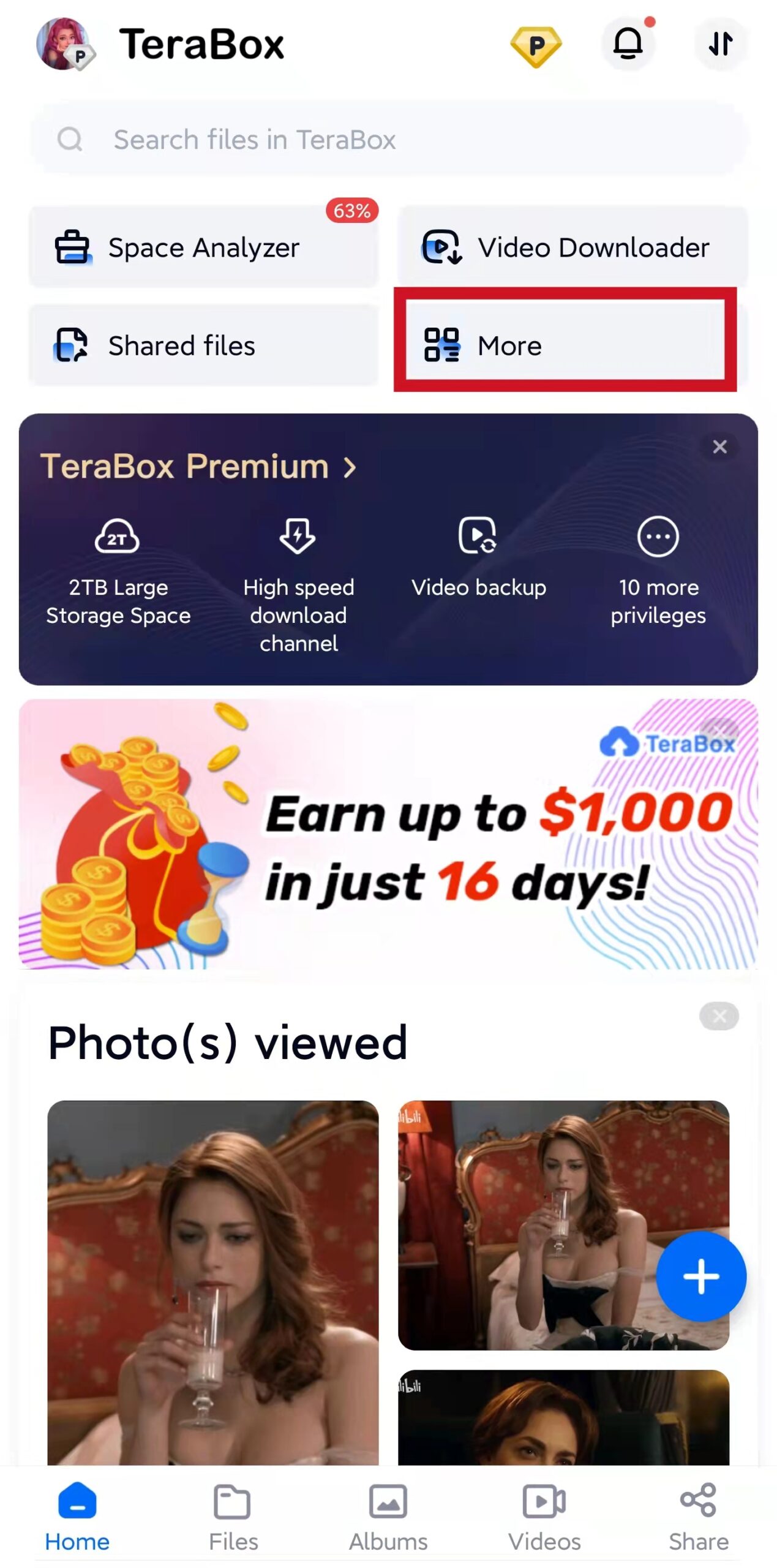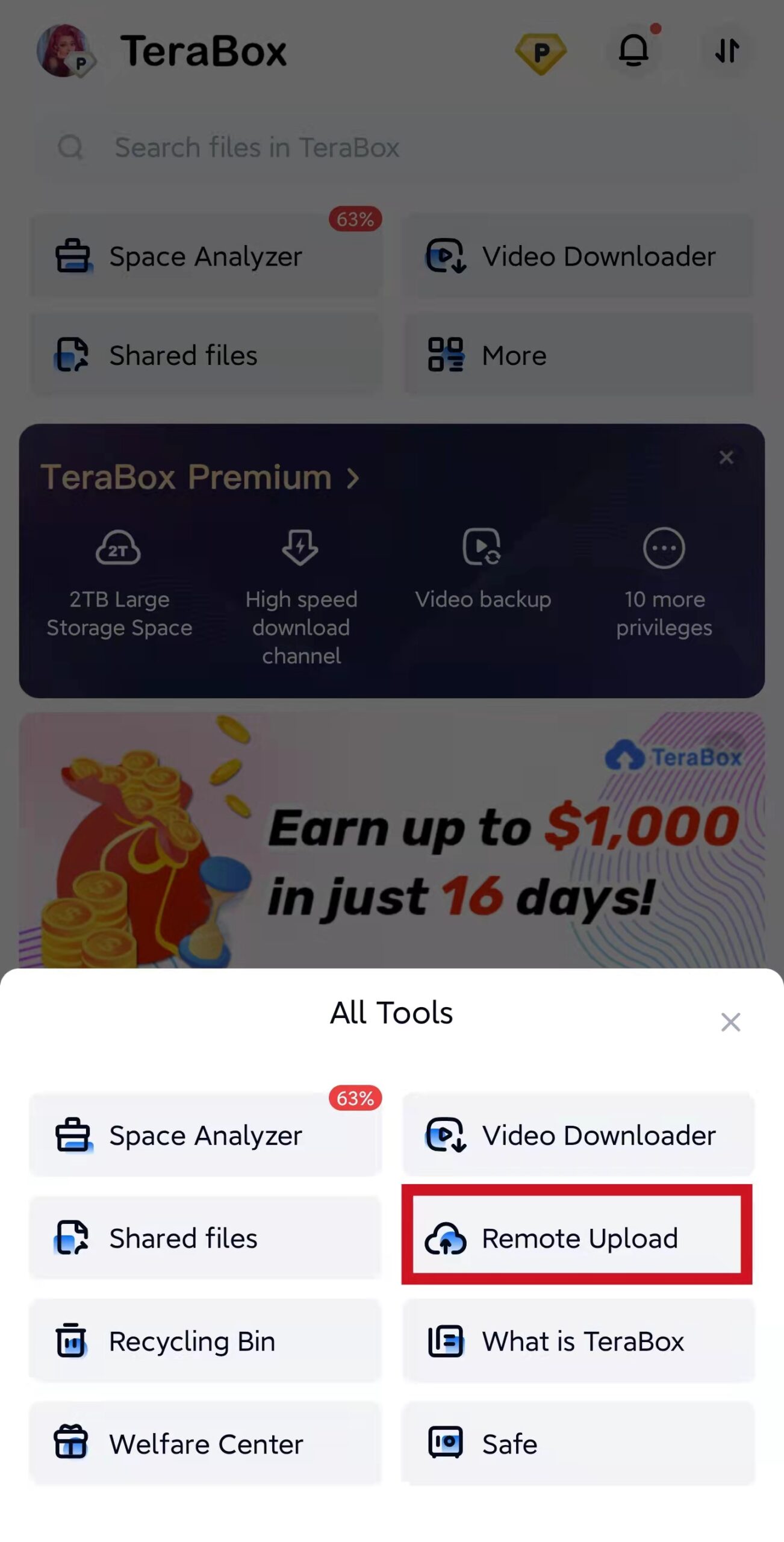 03.A new popup window will ask you to choose the files you wish to store on the cloud. You can either select a BT torrent file or copy the files' HTTPS, HTTP, magnet links.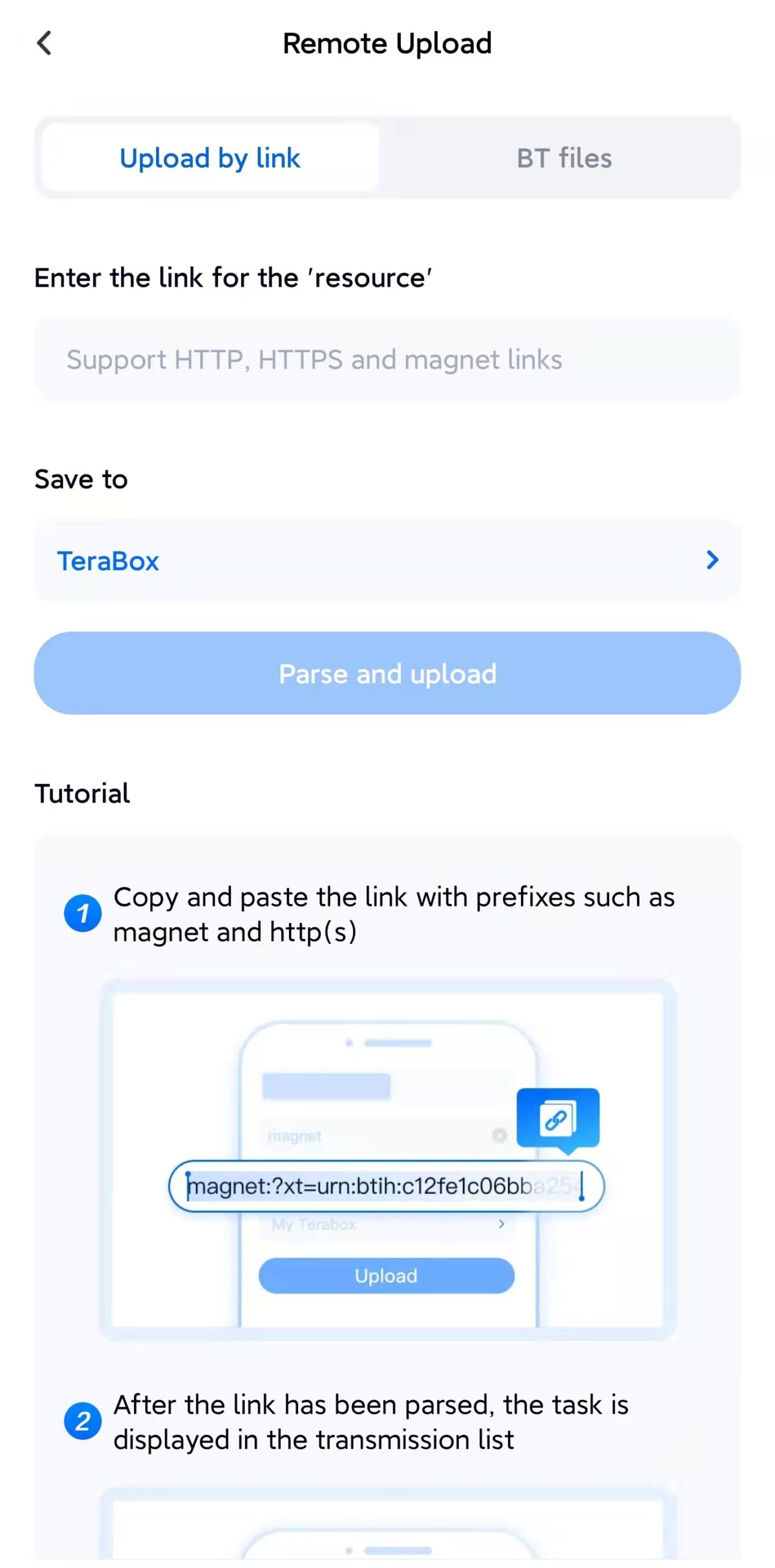 04.After a while, the files will appear on your TeraBox folder.
TeraBox Premium – Gain Even More Freedom
Even though the free plan offers you exceptional services, you can also upgrade to the TeraBox Premium plan. When you upgrade your plan, you will instantly get 2TB of storage space and can transfer files up to 20GB.
Any user can try the Premium plan with the 7-day free trial, which will introduce you to all the amazing features that this app has to truly offer. After the trial period is over, the cost of the premium storage space is just $2.99 per month, which is significantly lower compared to the other popular file management systems.
What Makes TeraBox Stand Out
#1 Automatic Backup of Your Photos
There are many reasons why TeraBox is the perfect app for you. One of the most important reasons to get it is the automatic backup of your photos When you are connected to the Internet and automatic backup is turned on, the app will detect all the new photos on your device and transfer them to the cloud service.
#2 The TeraBox Safe Space
Another amazing feature is the TeraBox Safe Space that adds an extra level of security to your data. All the files that you place in this folder will be protected with a password. Only those that have access to the verification code will gain access to them.
#3 Links with Expiration Date
Sending large files with TeraBox is very easy. Now, you can also protect these files so that no unauthorized person can view them. When you generate the download link, you can specify an expiration date for it. When this date passes, the link will not work.
The Bottom Line
With TeraBox, you can upload files online and use them in any way you like regardless of their size. In fact, this file management application is your best option for sending large files quickly and easily. Download TeraBox for free and explore its premium features with the exclusive 7-day trial.