iPhone users look for different methods how to send long videos on iPhone because sending such videos is not a piece of cake. These take up several GBs in the storage space, and most of the traditional transferring methods do not support large files.
Sending large files has always been an issue for iPhone users. There are various restrictions on the file size, device, cloud storage space, Bluetooth coverage area, etc.
In this article, we will share how to send a long video to someone through an iPhone. We will explain different methods along with the limitations, features, pros & cons, etc. We will also share free cloud storage to make file-sharing easier.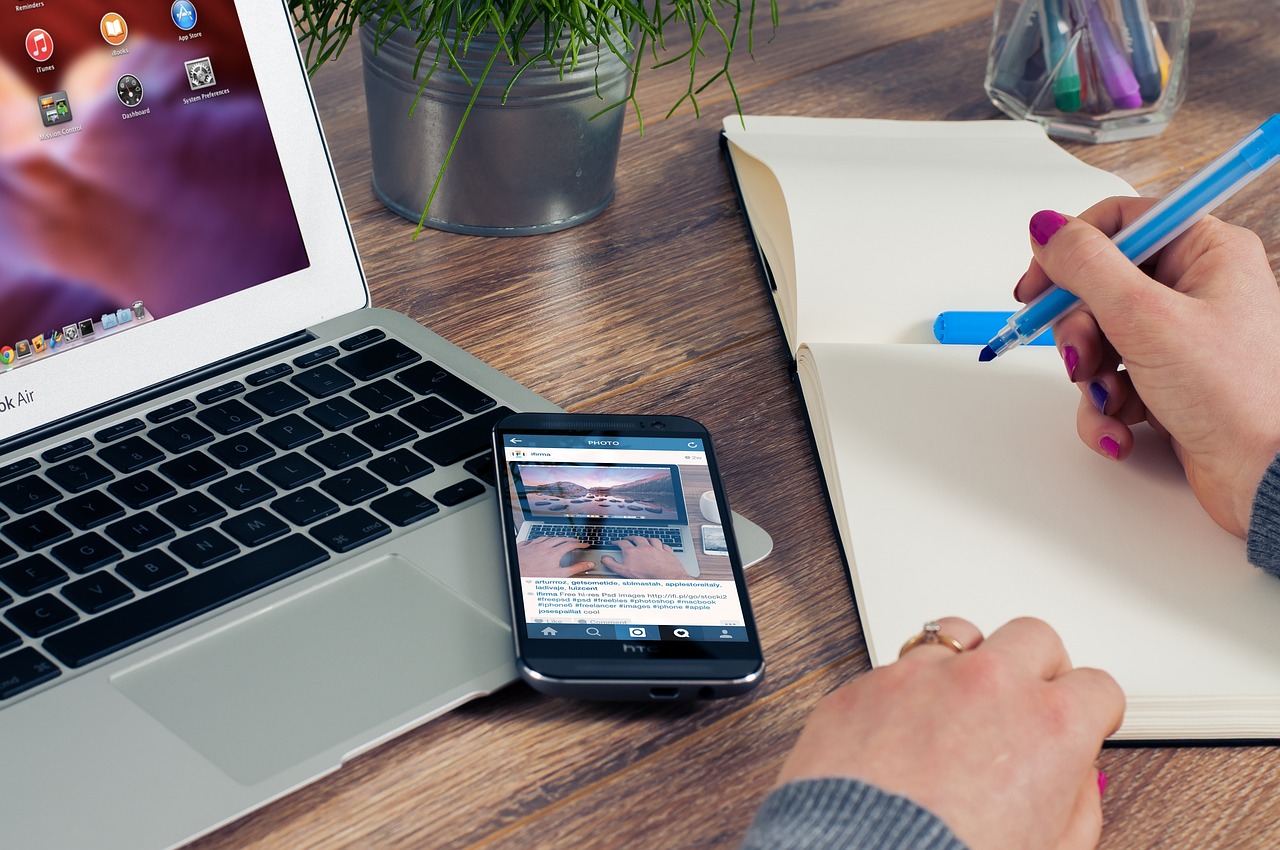 The Challenge of Sharing Long Videos from an iPhone
There are multiple challenges in sharing long videos using an iPhone. These create hindrances and problems for the users. Therefore, they look for better and alternate options that can make sharing large files easier and quicker.
The common challenges and issues are:
File Size Limitations: File-sharing methods usually have a limit on the file size. They are suitable for sending photos and short videos, but sending a file of multiple gigabytes is not possible. Large videos can be over 1 GB, and most of the methods only support the size of up to several MBs.
File Compression: In some methods, the long videos sent on iPhone are automatically compressed. When you upload the file, the algorithm compresses the file to reduce the file size, which affects the quality of the video. It can't be used for further editing and production purposes. The worst part is that you cannot prevent compression because it is automatic.

Slow Uploading: The uploading of large video files usually takes a lot of time. It could be hours, depending on the size of the video and the speed of the internet connection. It creates a hindrance in doing other jobs. Often, the uploading is interrupted in the middle, and you have to start the process again. In short, the user's time is wasted.
The traditional methods on how to send long videos on iPhone have multiple drawbacks. Let's have a look at these methods and their issues.
Email Attachments
You can attach photos, videos, and other documents to the email. It is a quick way to share files with others. But this method is not suitable for large videos because it only supports files up to 25MB.
iMessage
iMessage can also send media to the phone number of the recipient. But it is also suitable for small files only. If you try to send large video files from iPhone with it, the message will fail.
Social Media
Social media apps, such as Messenger and Instagram, also have limitations on file size. The video cannot be more than 25MB. Secondly, they automatically compress the video you share from iPhone and decrease the quality.
Popular Ways to Send Long Videos on iPhone
The traditional methods do not work in the case of long videos. Therefore, Apple has addressed this issue, and there are better options that are specifically created for sending large files using the iPhone.
1) Send Long Videos on iPhone Using AirDrop
AirDrop is a built-in feature in iPhones, which can be used to send large video files to other iDevices, such as iPhones, iPads, and Macs. But it can only send the files to nearby devices because it works on Bluetooth and Wi-Fi.
You cannot use this method to send videos to your clients and other people who are far away. Secondly, it is only for iDevices, and you cannot send files to a Windows computer or Android.
Before you follow the steps, make sure both devices are within the range. AirDrop can transfer files if the devices are in the range of 30 feet. Secondly, both devices should be connected to Wi-Fi.
Here is how to send a long video to someone nearby through AirDrop.
Step 1: Open the Photos app and go to the video. Tap on the video and hold it. You will have a few options. Tap on Share.
Step 2: Once you click to share, you will have multiple sharing options. The first one would be AirDrop. Tap it.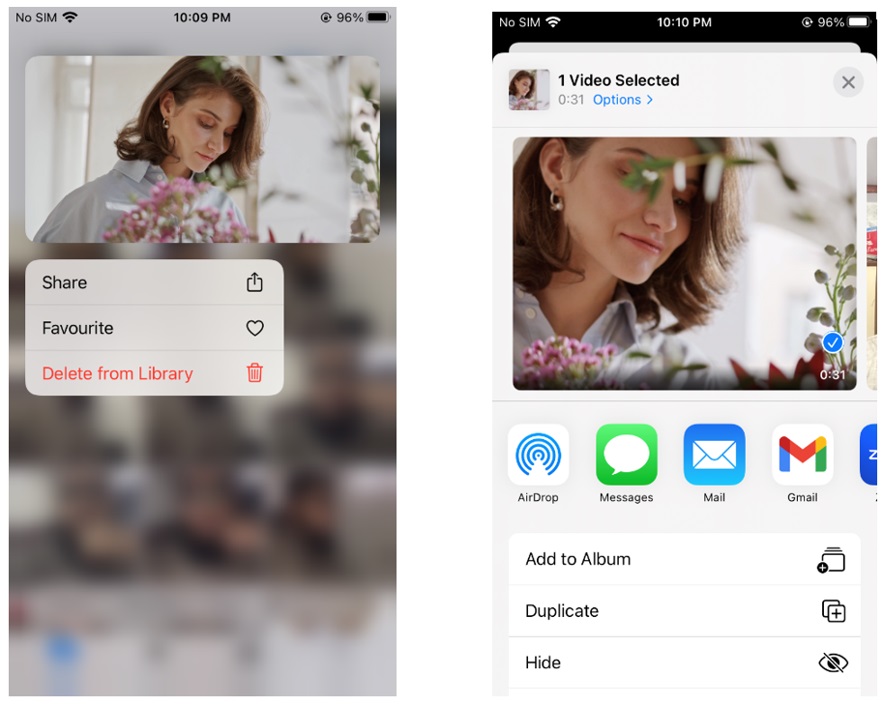 Step 3: Now, you will see the devices nearby. Tap on the device you want to share the video with. If you don't see any device, it could be because the device is not added to your contacts. Then, ask the recipient to go to Settings > General > AirDrop and tap Everyone or Everyone for 10 minutes.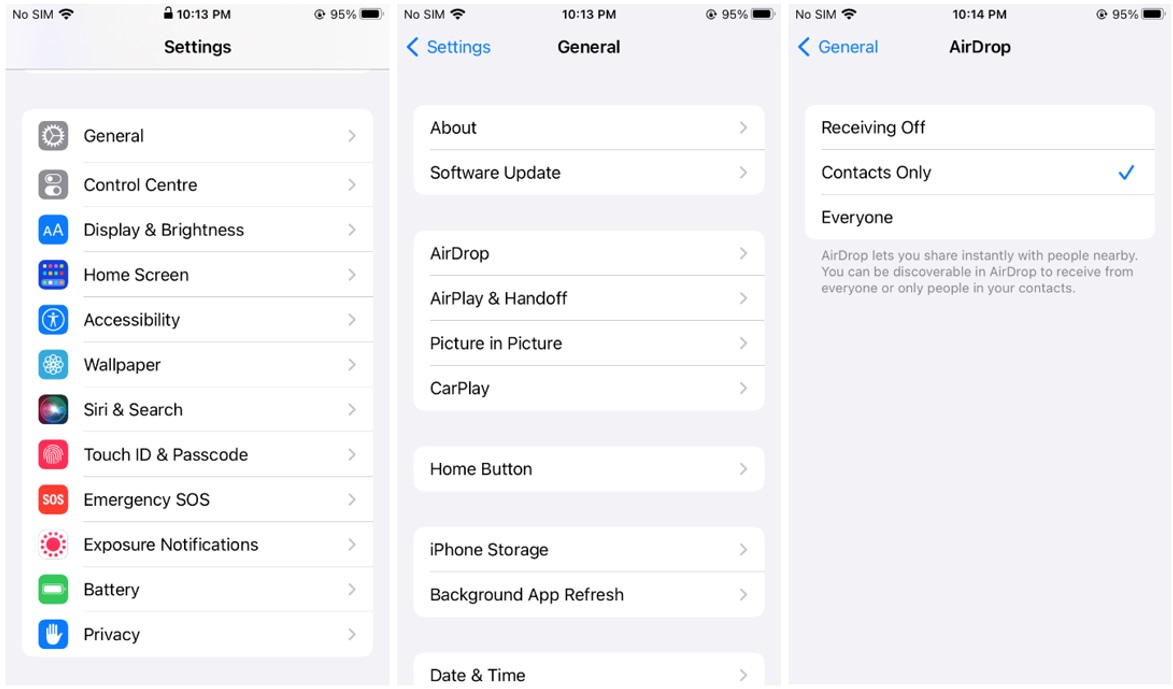 Step 4: Ask the recipient to accept the AirDrop transfer and let it complete.
2) Send Long Videos on iPhone Using iCloud
iCloud is the native cloud storage for iPhone and other iDevice users. You can share long video files through this cloud storage. All you need to do is upload the desired file to the storage and then share the link.
However, you only get 5GB of iCloud storage for free. If you have enough space in your iCloud, you can upload your video or you have to buy the premium plan for more storage.
You can directly create the iCloud link from your device. It will automatically upload the file to the cloud storage and give you the link to share.
Step 1: Open Photos and tap and hold the video that you want to share.
Step 2: Tap the Share button. You will see multiple options. Scroll down and tap Copy iCloud Link. The link will be generated and saved in the clipboard.
Step 3: Now, open the Message or Mail app and paste the link there. Share with the desired person.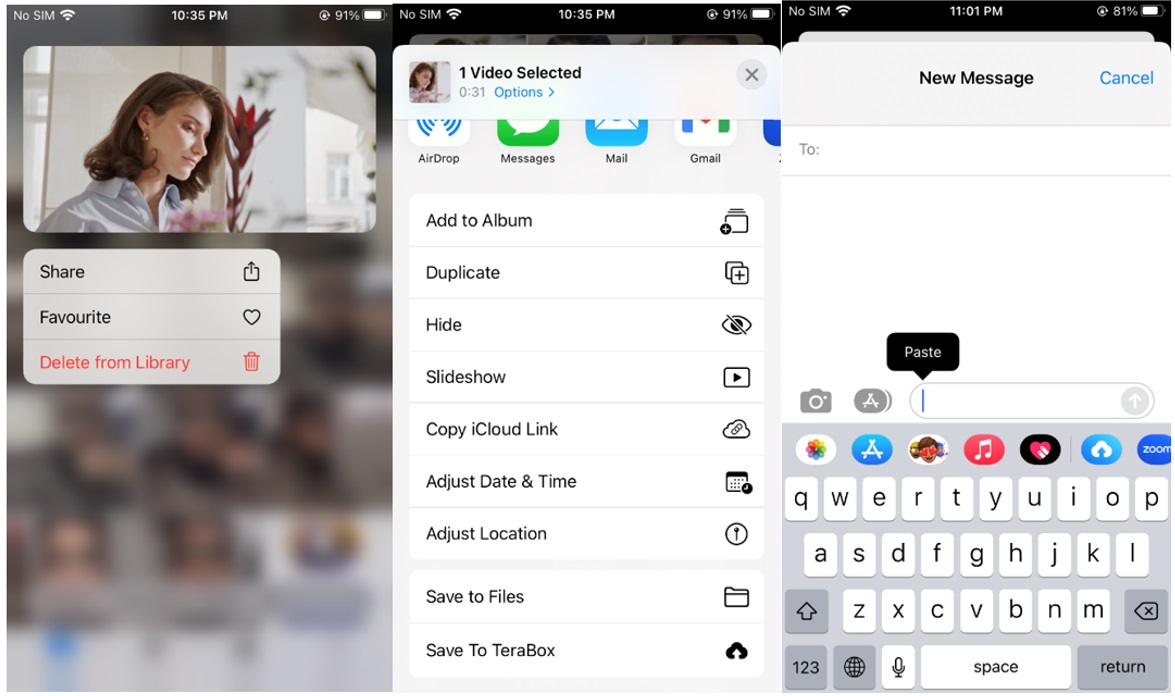 3) Send Long Videos on iPhone Using Cloud Services
Another way to send large videos from an iPhone is by using third-party cloud services. You can upload the video directly from your mobile device and share the link with the recipient.
You need to choose a suitable cloud service that offers enough free space where you can easily upload your videos and send them to others. Obviously, your videos will remain in the cloud for some time, which is why you need enough space for future videos.
Some excellent cloud storage options are: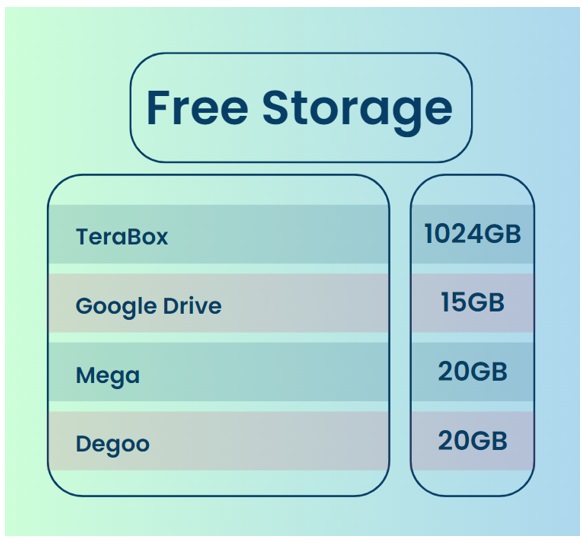 TeraBox is the only free cloud storage that offers free storage up to 1024 GB (1TB). You can store up to 51,200 1-minute videos in this space. It supports large file transfers of up to 20GB in one go. With that being said, you can store tons of long videos and share them with others without any hassle.
The application of TeraBox is available on the App Store. You can download it for free and enjoy up to 1024 GB of free space. However, the video uploading feature from an iPhone is Premium. You need to purchase the monthly plan, which costs only $3.49, and you get 2048 GB of cloud storage, automatic backup, large file upload, and tons of extraordinary features.
How to Send Long Videos from iPhone with TeraBox?
Sending long videos from an iPhone by using TeraBox is simple and straightforward. Follow the steps below.
Step 1: Download the TeraBox application from the App Store.
Step 2: Open the application and register your account. You can continue with Apple, Google, or Facebook. You can also get registered with a phone number or email.
Step 3: Once you have logged in, tap the "+" button at the bottom right corner of the screen. Tap Videos. Select the file and upload it to the storage.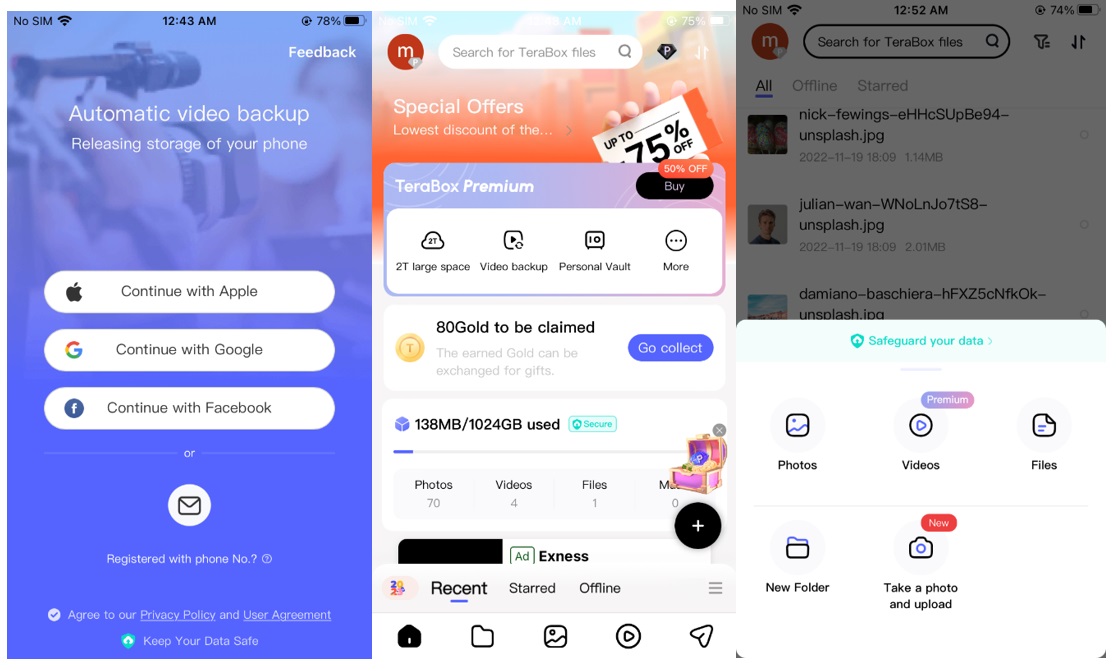 Step 4: Now, you will see the video in your storage. Select the video, and you will have some options at the bottom. Tap Share.
Step 5: TeraBox will offer you multiple sharing options. You can select any social media or copy the link and share it wherever you want. The validity of the link and access code can also be set to ensure cloud data security.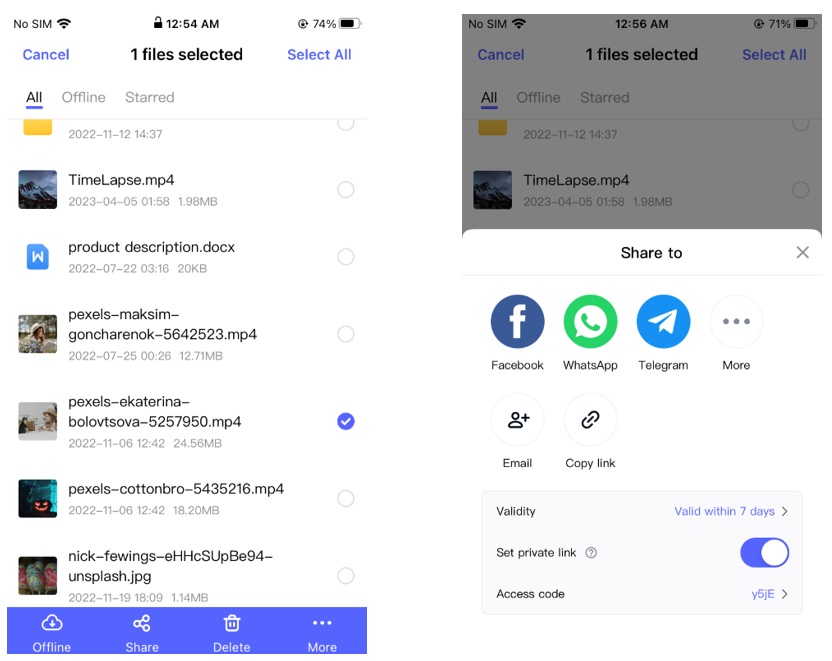 Step 6: The recipient can easily access the video through the link and download it.
TeraBox has made sharing files, including videos, photos, music files, documents, etc., easier for iPhone users. There is plenty of storage where large files can be stored easily. You will never run out of space on your iPhone.
It supports large files up to 20GB, which is more than enough for long videos. The videos can be directly uploaded and shared from the mobile application without compromising on the quality.
Final Words
We have explained how to send long videos on iPhone. The traditional methods are useless because the file size is huge. Other suitable methods are AirDrop, iCloud, and third-party storage. However, these also have some restrictions and limitations.
The best way to share long videos from iPhone is TeraBox. It offers incredible storage space and sharing file limit, which allows you to share long videos without compromising on the quality. We have shared step-by-step instructions on how to share long videos from an iPhone using TeraBox. It is simple and user-friendly. Download TeraBox on your iPhone and share long videos without any worries.