Nowadays, it has become essential to learn how to send large videos. We need this skill for various reasons, such as for professional projects, personal memories, or entertainment. Traditional methods of sending large video files can be frustrating, as different devices may require different tools and methods. Tricks that work on your phone may not work on your tablet.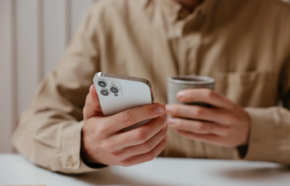 Fortunately, with TeraBox, a one-stop-shop file transfer solution, you won't have to worry about that anymore. This powerful and flexible cloud storage service makes it simple to share lengthy videos from and to anywhere. To help you make the most of it, we will examine three methods of sending large video files using TeraBox: cloud storage transfer, file sharing, and remote upload.
How to Send Large Videos through the Cloud?
TeraBox is best known for the 1 TB free cloud storage it offers, which can be used to store and transfer files. The maximum size for a single file is 4 GB. Combining these two features, as well as rapid transfer speeds and exceptional data security, TeraBox is unmatched when it comes to sending large video files.
And best of all? It's completely free. But if you plan on using it for more professional purposes, you can also upgrade to TeraBox Premium at $3.49/month, or $35.99/year (which equals to $2.99/month), enjoying 2 TB of storage and 20 GB single-file upload, along with faster download speeds.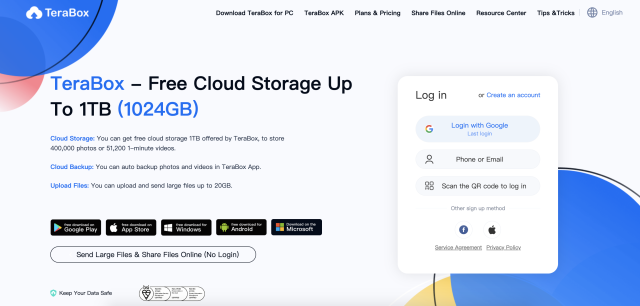 Cloud storage transfer is the simplest means to send large video files in TeraBox. Here's how:
Step 1: Download TeraBox on any device, and register for an account.
Step 2: If you are on a computer, click "Upload"; if you are using a phone or tablet, tap the "+" icon, and select "Videos".
Step 3: Select the long video(s) you want to upload, and choose the upload path.
Step 4: Start the upload. Check the upload progress in the transfer list.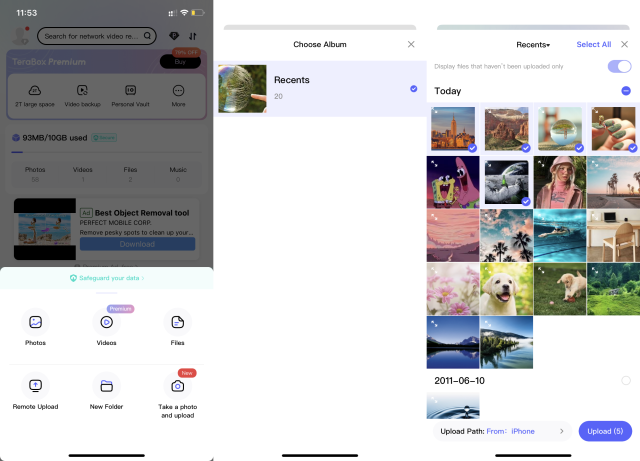 Step 5: After the upload is completed, log in to that same account on another device.
Step 6: You will find the exact video you uploaded previously. Select and download it.
How to Email Large Videos?
Currently, major email services have a disheartening file size limitation for attachments; for example, Gmail and Outlook only support 25 MB file transfer. You may fail to send some really large video files, even after compressing them. So how to email large videos if you really need to?
There is actually a way to work around the limitations. Here are the steps:
Step 1: Upload the large video(s) to TeraBox cloud storage.
Step 2: Select the videos, and then select "Share".
Step 3: Set the expiration date to make the file sharing process more secure. The link will be inaccessible after that date.
Step 4: Set an extraction code to create a private link. Only people who have the code can open the link and see the files.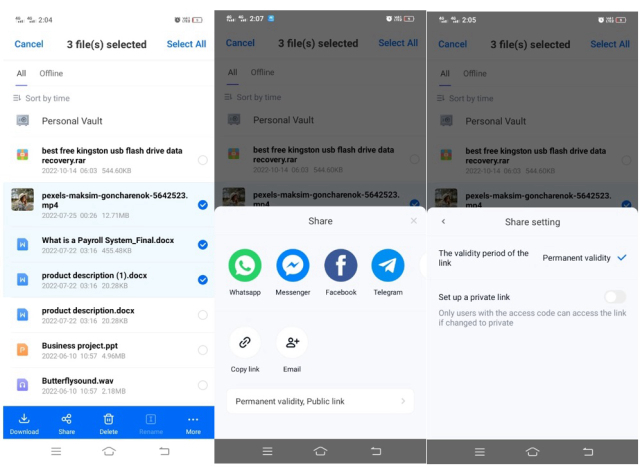 Step 5: Enter the recipient's email to send the link. Alternatively, copy the link and compose an email yourself.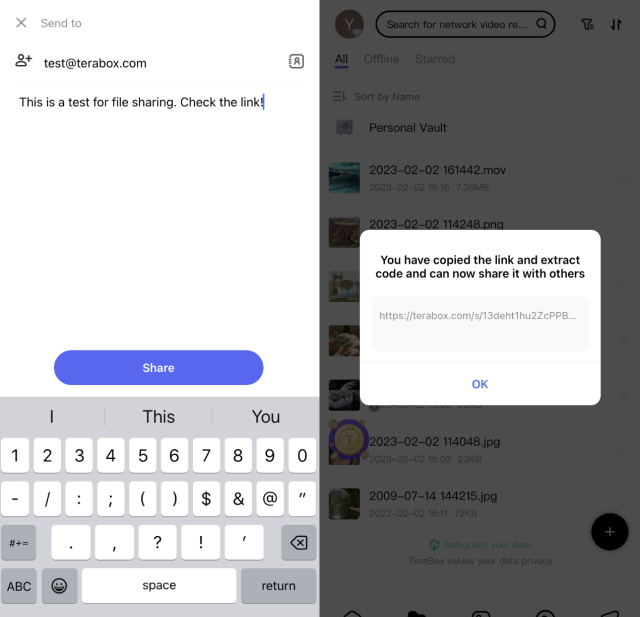 Alternatively, you can also send large files directly through TeraBox's website, no login required. Compared to in-app features, it has some restrictions due to the limitations of browsers; you can only upload a video as large as 4 GB. But other than that, it can fulfill the task of file sharing as smoothly as the app.
How to Share a Large Video File as Torrent?
Using torrent files to share large videos has established itself as a popular and reliable practice. The BitTorrent communication protocol enables users to share files among many peer nodes, reducing the chance of central failure. Torrents can accommodate many users without slowing down the transfer speeds.
On the other hand, to access the videos stored in the torrent file, users have to download them to their local storage with a torrent client; sometimes the download can be slow or interrupted. This is where TeraBox comes into play. You can directly parse the torrent link with Remote Upload, and save the videos to the cloud. It is a relatively stable and fast solution.
To achieve that, follow these steps:
Step 1: Install a torrent client such as uTorrent, qBittorrent, or Deluge.
Step 2: Create a new torrent file, and select the video file you want to share. Set any additional options, such as tracker information and download speed limits.
Step 3: Confirm and share the magnet link with others.
Step 4: Open TeraBox and go to Remote Upload.
Step 5: Paste the link, and start parsing. The video will be saved to the location you select.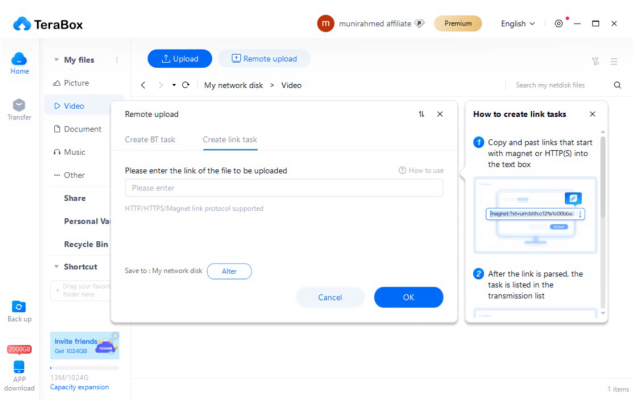 Step 6: If you want to download the video to your local storage, select it and hit "Download".
Final Thoughts
How to send large videos to anywhere with ease? Look no further than TeraBox. With 1TB of free storage and fast transfer speeds, TeraBox makes it simple to share and transfer long videos. You can use TeraBox to send large videos, and practically any large files, in three different ways, namely, cloud storage transfer, linking sharing, and remote upload. All these methods promise minimum effort and maximum convenience. Download TeraBox free today, and give it a try.